Young Vietnamese Talent in Futsal World Cup Got Good Words from FIFA
FIFA has chosen Nguyen Van Hieu among five youngsters illuminating Futsal World Cup Lithuania 2021
"Ready for an astonishing fact? When the last FIFA Futsal World Cup took place, Van Hieu had never even played the sport. He took it up in 2018, was a Vietnam international just 12 months later and is now dazzling at Lithuania 2021," FIFA wrote.
"The winger who looks like a schoolboy had old pros feeling their age on Matchday 5. Van Hieu thwarted a Panama attack with an excellent tackle inside his own half, whizzed the length of the court, shrugged off two challenges, rounded the goalkeeper and cut the ball from an acute angle," FIFA described Hieu's goal.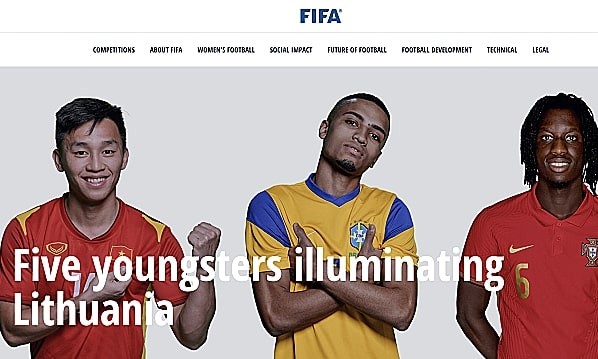 Nguyen Van Hieu (L) is celebrated among other players at Futsal World Cup on FIFA's website. Photo by FIFA
Vietnam head coach Pham Minh Giang also praised Hieu's talent via FIFA, as reported by VNE.
"Van Hieu is the talent of Vietnamese futsal. His playing philosophy is very up-to-date. He is a very promising player," Giang said.
Hieu's goals is reportedly leading the votes for the best goal in the group stage of FIFA Futsal World Cup 2021.
The official Facebook page of FIFA World Cup Futsal 2021 uploaded a video of the nominated goals Tuesday, including those of Hieu, Raul Gomez (Spain), Anaskhon Rakhmatov (Uzbekistan) and Andre Coelho (Portugal).
Fans can vote for their favorite goal by reacting to the post. So far, Hieu has been leading the tally with over 18,000 votes, followed by Gomez with 136.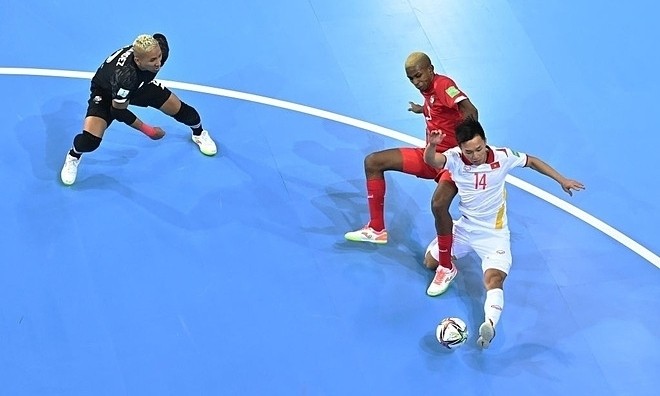 Nguyen Van Hieu (number 14) dribbles past a Panama player and the goalkeeper to score for Vietnam in the FIFA Futsal World Cup on September 16, 2021. Photo by Vietnam Football Federation
Hieu's goal helped Vietnam win 3-2 against Panama in the second game of the group stage last Thursday night. It was an amazing solo effort as Hieu started from midfield and dribbled past two Panama players and the keeper to finish in the open net.
In the next game, Vietnam drew against the Czech Republic and made it past the group stage, with four points after three games.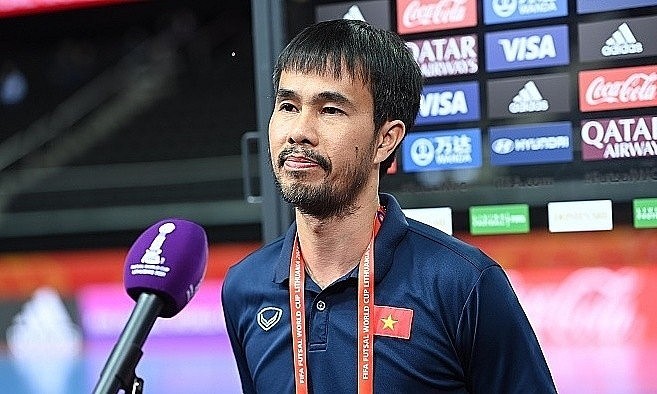 Coach Pham Minh Giang answers the press after the FIFA Futsal World Cup game between Vietnam and the Czech Republic on September 19, 2021. Photo by Vietnam Football Federation
"I'm really proud of the players. They were fighting non-stop to achieve this result," the national futsal coach said after the 1-1 draw against the Czech Republic on Sunday night.
"Vietnam are perhaps the weakest team in this tournament. Therefore, we have to give the players a boost," he added. "For example, we let them watch some of the games against the big teams in the past, especially the Japan victory in 2016 to make them understand that the weak teams can beat stronger ones. Their mentality was improved thanks to that and they have given their best on the field to advance."
On Wednesday night, Vietnam will play world number four Russia in the round of 16, as reported by VNE.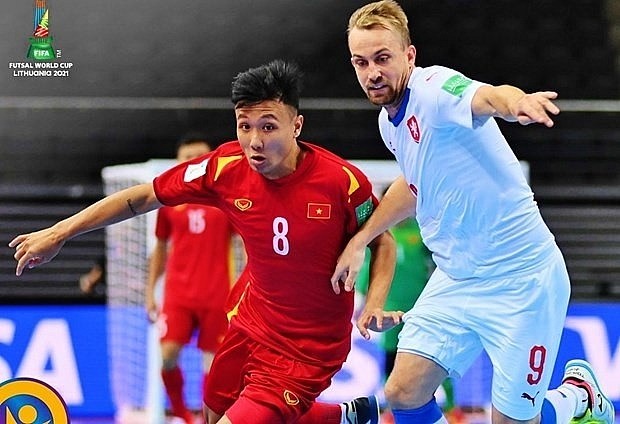 Players of Vietnam and Czech Republic vie for the ball. Photo: FIFA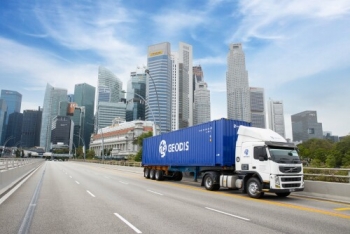 Economy
GEODIS, a global leading transport and logistics services provider, has expanded its road network in Southeast Asia to Vietnam; another step towards its ambition to develop a scheduled road service connecting Singapore to China.