Youth volunteer campaign marks 20th anniversary
The summer youth volunteer campaign has been providing an active and practical playground for young people over the past 20 years.
The summer youth volunteer campaign has been providing an active and practical playground for young people over the past 20 years.— VNA/VNS Photo
That was a message delivered by Deputy Prime Minister Trương Hòa Bình during a conference held in HCM City on Saturday, which reviewed and evaluated the activities of a volunteer campaign for Vietnamese youth during the past two decades.
Launched in 2000, the campaign takes place every summer and is a chance for members of the Hồ Chí Minh Communist Youth Union to take part in a wide range of community and social welfare services.
Activities include cleaning up garbage, fixing damaged roads and properties, providing free medicines and medical consultations for poor people, donating blood, helping high schools students to prepare for their university entrance exams.
Figures presented at the conference show that over the last two decades, volunteers have repaired and built some 290km of rural roads, repaired nearly 182,280 houses and constructed more than 67,430 others.
Some 21,370 teams of medical volunteers have been established nationwide to give medical counselling, checks-up and treatment to 14 million people.
Two million members of the youth union and other young people have joined blood donation drives, collecting 1.8 million blood units.
Speaking at the conference, Deputy PM Bình said: "The summer youth volunteer campaign has helped thousands of young Vietnamese people to improve themselves and make positive contributions to society.
"As our country is in the process of industrialisation, modernisation and integration with the world, and especially with the impacts of the Fourth Industrial Revolution, the youth union must undergo drastic changes to build on what they have achieved, and continue guiding the youth volunteer movement."
First Secretary of the youth union's central committee Lê Quốc Phong said: "Through practical activities, the campaign has attracted a large number of young people to dedicate their skills and knowledge and also served as a lighthouse guiding the operation of volunteer groups in society."
He called on young people to take part in the campaign, since it will help them learn new things and understand that "giving means receiving", which will become a spiritual motivation for them to gain more successes in their lives.
Collectives and inpiduals with excellent performance in the campaign were honoured with State-level rewards at the conference.
VNF ( VNS )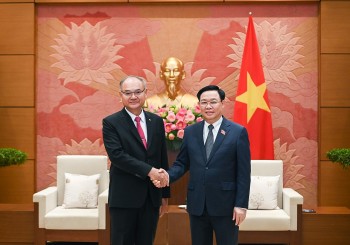 National
A Thai delegation is visiting Vietnam to learn about the guidelines and policies in the fight against corruption in Vietnam; exchange experiences with relevant Vietnamese agencies.