YouTubers in Highlands Introduce Vietnamese Culture to the World
Without millions of subscribers, the meaningful work for the homeland of young Vietnamese YouTubers leave a good impression on many viewers.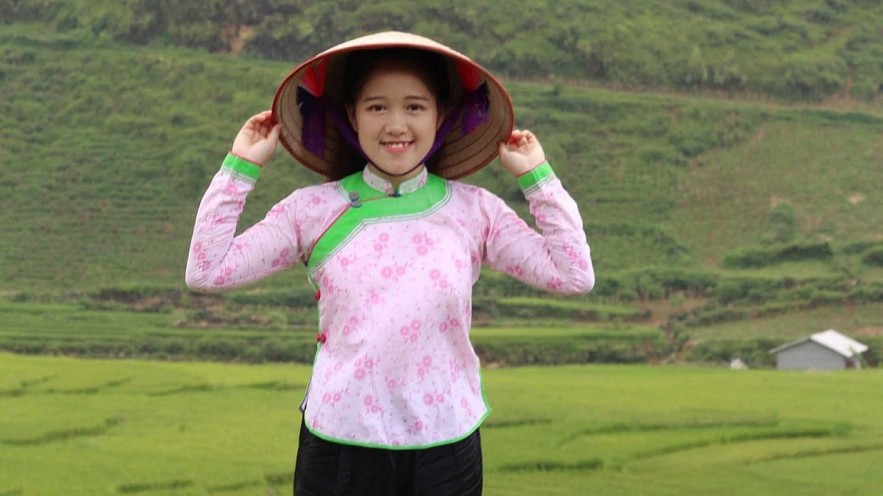 Vu Thi Ngoc Huong from Giay ethnic group. Photo: Vu Thi Ngoc Huong
Recently, there are YouTubers making content about culture, tourism, and cuisine, in the mountainous provinces of Vietnam's Northwest region. They have contributed to communicating tourism, preserving the local culture.
However, the following are people who have only been doing YouTube for 1 or 2 years
"Forest flower" in Sapa
When watching the clips on Huong Giay Sa Pa channel, people will be impressed with the simplicity, friendliness and pure beauty of the Giay ethnic girl, born in 1999. After graduating from the Faculty of International Studies, Hanoi University, Huong Giay was determined to return to her hometown of Lao Cai to help preserve the national culture.
Huong established her own YouTube channel Huong Giay Sa Pa to upload interesting videos about food, read stories in two versions: in Giay and Vietnamese, and music videos. After each video uploaded, she received positive responses and words of encouragement from the Giay ethnic group in many places.
At her house, Huong also planted a herbal garden to introduce to viewers the precious and natural medicinal plants of the ethnic people. She also plans to organize leaf picking tours and show how to cook medicinal plants. Participants will also be able to bathe and eat dishes from the plants they collected that day.
For over a year, Huong's channel currently has 19,000 subscribers. A great success last year was that the girl participated in the contest "Business Initiatives Challenge" organized by Aide et Action Vietnam for ethnic minorities. She won the Gold Award with VND120 million (US$5279) of investment capital for the project "Online experience tourism with Sa Pa people."
Through this project, Huong said that she wanted to spread the spirit and understanding of the ethnic culture to young Giay people. It is so that Giay culture will sparkle like a precious jewel, and is the pride of every Giay ethnic people.
She said: "Thinking about the efforts of some people of the Giay ethnic group in preserving the culture, I believe that they will eventually recover the values, ​​that have been and are in danger of being lost. Preserving and spreading Giay ethnic culture also contribute to building an advanced Vietnamese culture imbued with national identity."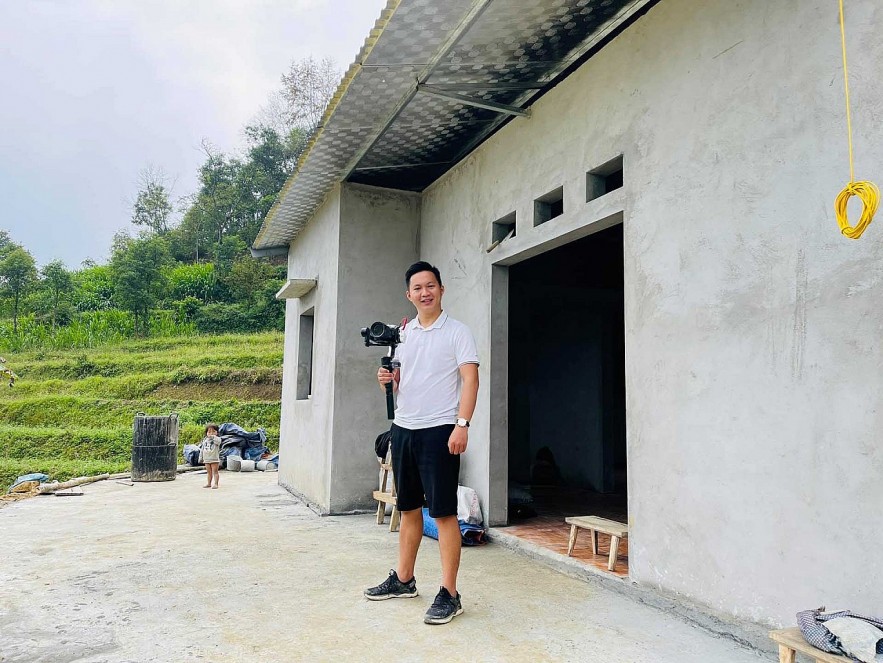 Young teacher Ha Xuan Hiep in front of a new house built for people in the highlands. Photo: Ha Xuan Hiep
Young teacher passionate about volunteering
Joining YouTube with the original purpose of introducing tourist attractions, people and activities of ethnic minorities in Ha Giang, young teacher Ha Xuan Hiep from Yen Minh district participated in volunteer activities in the highlands.
Currently, his YouTube channel called Tam Giac Mach has become a bridge to connect the donors across the country and abroad, with people in difficulty in ethnic minority areas.
During the past two years, Hiep has traveled with friends in the highlands around the remote areas of Ha Giang to learn about people's lives, thereby connecting and helping to change their lives.
On this YouTube channel are clips recording the work of this man, building hundreds of new houses for disadvantaged ethnic minorities.
Perhaps, it is his enthusiasm and updated clips that have made donors everywhere join hands to support. His joy is not only in the views, subscriptions, shares or YouTube Play Button, but also in the good things he did for other people.
As a person from the Northwest growing up in poverty, he understands well how hard the lives of ethnic minorities can be. Therefore, when having the opportunity to travel and meet people, he sympathizes with the lives and difficulties that people experience and are ready to support when needed.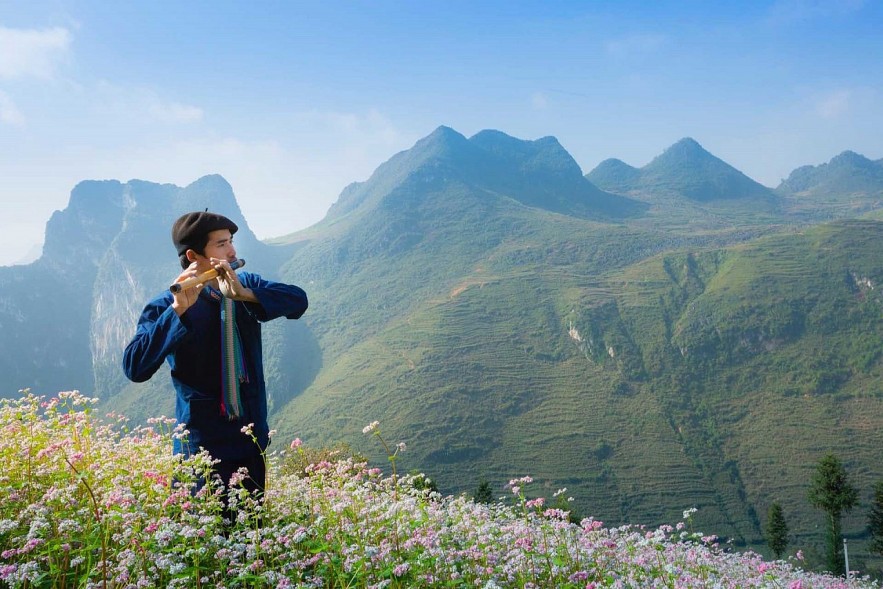 The flute player A Pao. Photo: A Pao
"Oriental skylark" of the mountains and forests
On a flower-filled hill in a remote corner of Vietnam, A Pao creates musical videos in the mountains of Ma Pi Leng.
Therefore, when traveling to the top of Ma Pi Leng, tourists can feel the melody of the H'Mong flute of A Pao. On an old wooden bench lying on the side of the road, he introduced the melodies of the mountains and forests, to make the experience of domestic and foreign tourists in Ha Giang more complete.
Currently, on the YouTube channel, there are many music videos shared by A Pao. Although newly established, this channel currently has more than 100,000 subscribers and followers with positive comments.
Not only focusing on developing ethnic music in mountainous areas, A Pao also participates in many social activities in the mountainous areas of Ha Giang.
Recently, he collaborated with many YouTube friends to help a blind boy named Di in a poor village of Ha Giang. For many months, he went to the boy's house to teach music and flute, with the hope that he could become a performer in the future.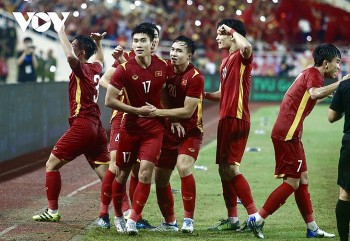 Viet's Home
The Vietnamese football team, both male and female, played their best, devoted themselves, united, and promoted the collective spirit, successfully defending their SEA Games champion title.