10 Luxury Resorts In Vietnam Suggested By Michelin Guide
Experts from Michelin Guide selected 10 outstanding hotels and resorts in Vietnam for their style and uniqueness to introduce to worldwide travelers.
Aside from awarding Michelin stars to restaurants, the Michelin Guide also publishes a list of the top luxury resorts that tourists should stay at when coming to Vietnam.
This list is determined based on the total score from experts and the actual experiences of visitors, evaluated through four important criteria including public space of the resort, quality of accommodation, service, and experience during tourist's stay.
1. Banyan Tree Lang
On the south-central coast of Vietnam, the luxurious Banyan Tree Lang Co is a vast complex of Vietnamese royal architecture. Open courtyards, pottery, and traditional Vietnamese fabrics feature throughout the resort. All the spacious villas come with a private pool and free WiFi.
Surrounded by white sand beaches and magnificent mountains, the air-conditioned villas are decorated with elegant paintings and eco-friendly materials like bamboo. Villas come with a flat-screen TV, mini-bar, and seating area. Private bathrooms have a bathtub.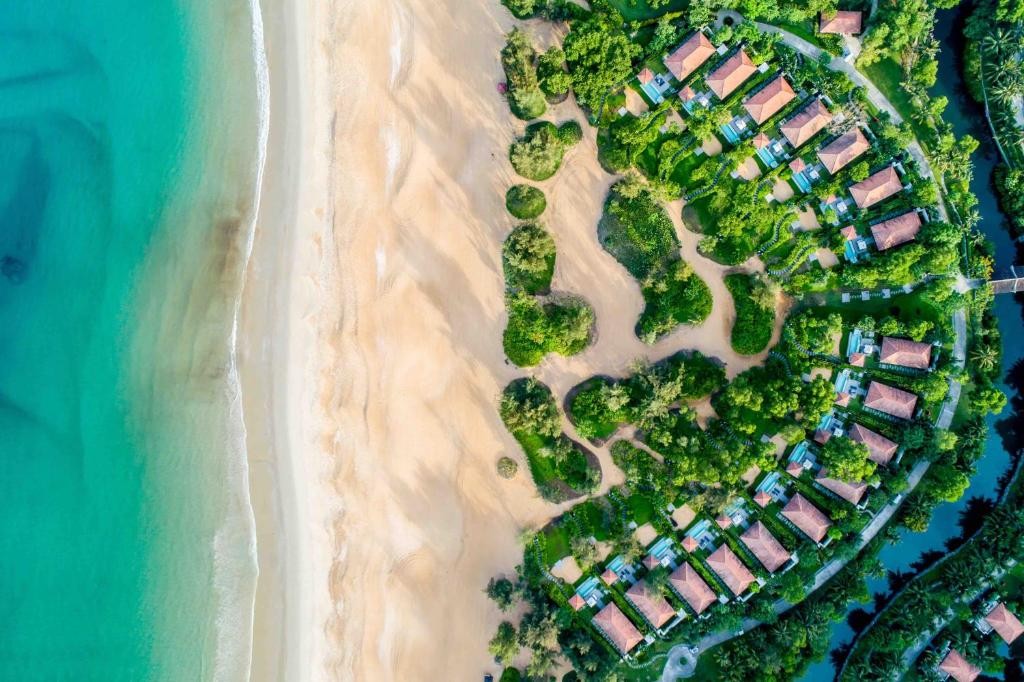 Photo: Booking.com
At the spa, guests can relax with a full-body massage. The resort also has a well-equipped gym, free bicycle rentals, and a business center. Afternoons can also be spent at the golf course, less than 2 mi away. Daily buffet breakfast is served at The Water Court, while Saffron Restaurant specializes in Thai fusion cuisine. Italian and Mediterranean meals and drinks can be enjoyed at the beach-front Azura Restaurant.
2. Mia Resort Nha Trang
Free beach yoga sessions on Sunday and buggy services around the property are provided at the 5-star Mia Resort Nha Trang. An outdoor pool and relaxing massage treatments are also available. Guests can also take part in cooking classes, snorkeling trips, day tours, as well as yoga sessions on the beach from 7:30 to 9:00 every Sunday.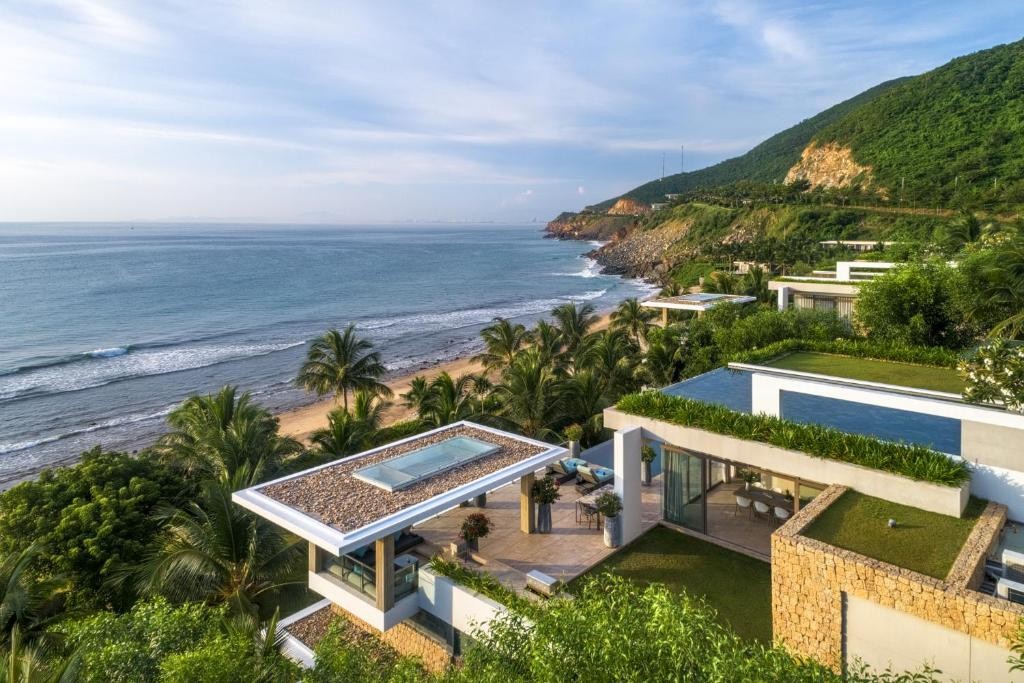 Photo: Booking.com
Spacious and luxurious, all the air-conditioned villas enjoy free WiFi, beautiful ocean views, hammocks, and comfortable lounge areas. Some villas also have a private pool. Indoor and outdoor showers, as well as a bathtub, are included. A short 3-minute walk from Bai Dong Beach, Mia Resort Nha Trang is less than 3.1 mi from the beautiful golf course at Diamond Bay, created by Andy Dye. It is a 25-minute drive from Cam Ranh Airport, Nha Trang Train Station, Long Son Pagoda, and Vinpearl Theme Park.
3. Four Seasons Resort The Nam Hai
Just 15 minutes from the pretty town of Hoi An and fronted by nearly 25 miles of powdery, platinum-white sands sweeping all the way to Danang, the Nai Ham's location is inspiring. Wander along the shore and see local fishermen hauling nets into bamboo boats or head into Hoi An for a cultural hit (the hotel operates a complimentary shuttle five times a day). The nearest international airport, Danang, is a 30-minute drive from the hotel.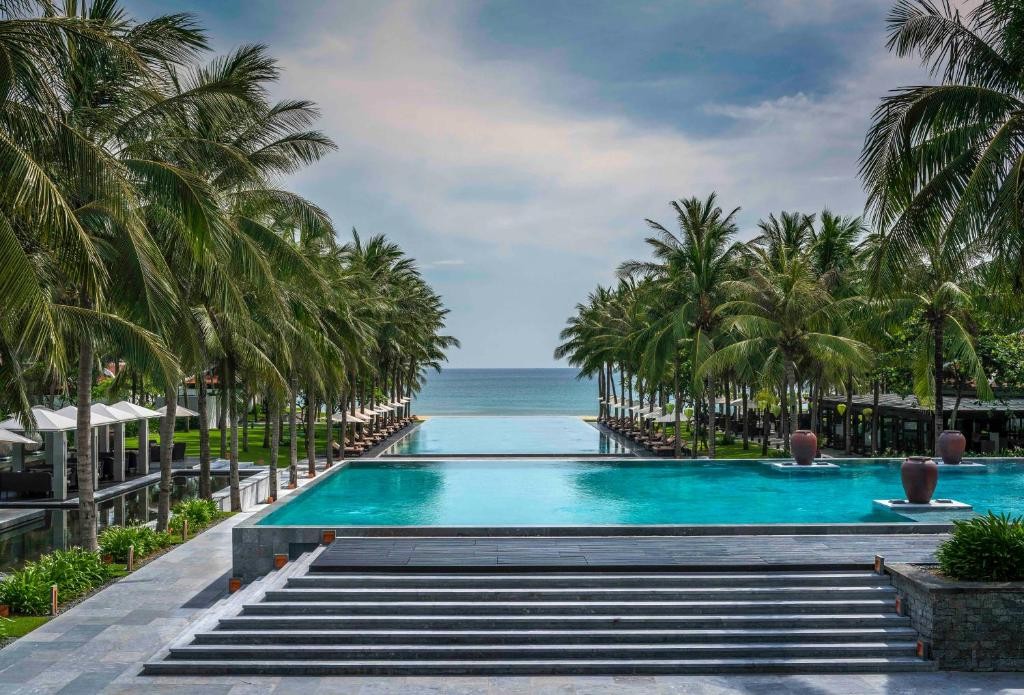 Photo: Booking.com
Aside from the incredible beach, there are no less than three glittering swimming pools to choose from; pick a spot, lie back, and enjoy the sunglass cleaning service, cold towels, and ice cream which are delivered to the lounger periodically.
If tourists prefer to stay active, there are plenty of complimentary activities to choose from, including sunrise power walking, beach tai chi, stability yoga, and rice field cycling, as well as a number of paid explorations of the local area.
4. Six Senses Ninh Van Bay
Six Senses Ninh Van Bay enjoys a spectacular setting in a dramatic bay that gives the feeling of being on an exclusive private island resort in the East Vietnam Sea.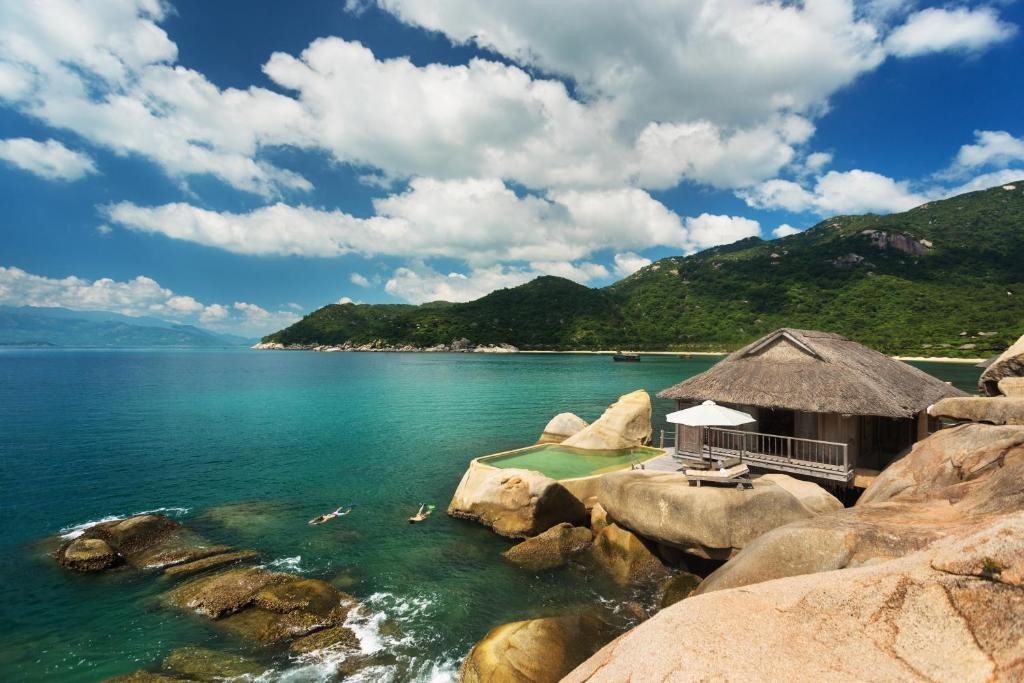 Photo: Booking.com
The spa resort presents the reality of the destination, with an architectural style incorporating the traditions of Vietnam. The 59 superb accommodations – done in Six Senses' signature eco-chic design – are all personal villas with private plunge pools. The restaurants at Six Senses Ninh Van Bay serve international and local favorites plus East meets West specialties complemented by the best local seafood.
5. Park Hyatt Saigon
The hotel is located on a busy square opposite the Saigon Opera House and despite opening in 2005 is built to resemble a classical, colonial property – which is rather unusual for the otherwise modern and minimalistic design ethos of the Park Hyatt brand (Park Hyatt Palacio Duhau in Buenos Aires is also furnished in a similar style but occupies a restored mansion building so this makes some sense), according to The Luxury Traveler.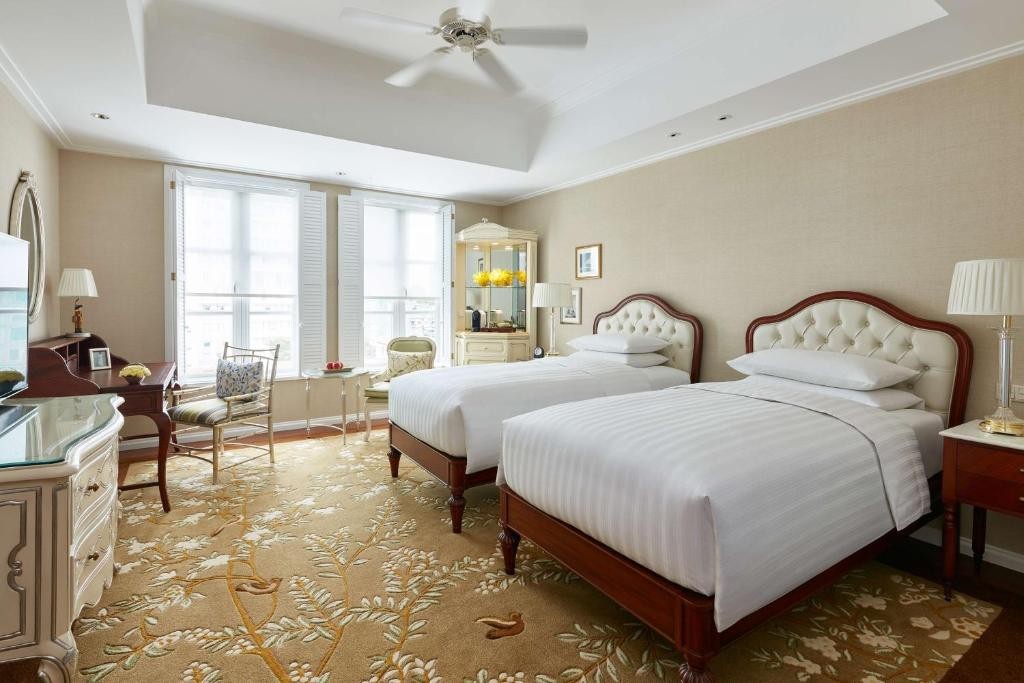 Photo: Booking.com
The Park Hyatt Saigon features a contemporary design, incorporating traditional Vietnamese materials and motifs. The hotel is known for its tranquil atmosphere and sophisticated, elegant style. The lobby features high ceilings, marble floors, and a dramatic chandelier.
6. Sofitel Legend Metropole Hanoi
The luxury Sofitel Legend Metropole Hanoi is located in the popular French Quarter, a four-minute walk from both the Opera House and Hoan Kiem Lake. The 364 guest rooms are beautifully designed with French-inspired accents, minibars, and free Wi-Fi. Suites add a 24-hour butler service.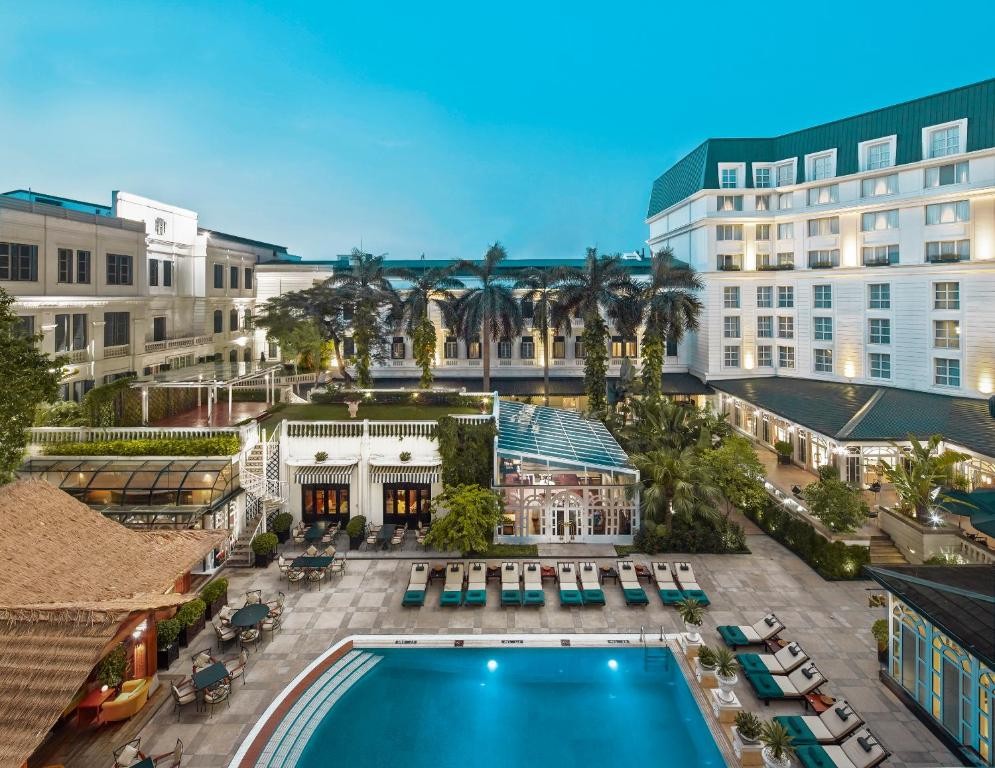 Photo: Booking.com
Three bars and three restaurants, ranging from French, Vietnamese, and Italian cuisine, are available. There's a buffet breakfast each morning, though this is not included in all room rates. Highlights include the outdoor swimming pool and full spa and fitness center.
7. TIA Wellness Resort
Situated on a stunning beachfront and featuring elegant private pool villas, TIA Wellness Resort blends authentic well-being with understated luxury. Offering much more than just a relaxing escape, Wellness and Retreat Inclusive redefines the spa experience by integrating progressive wellness into each stay.
Photo: Booking.com
TIA takes bold steps in helping guests break free from routine to explore their creative potential for a journey of self-discovery. They will learn to upgrade their diets, breathe to regulate their system, and move to better manage stress, returning home refreshed and renewed.
8. An Lam Retreats Ninh Van Bay
Located on an isolated island, just a 15-minute boat ride from Nha Trang, Ninh Van Bay beckons guests from the moment boarding to the tranquil shore with the divine beauty of nature, poetic landscapes, golden sand, and blue sapphire seas.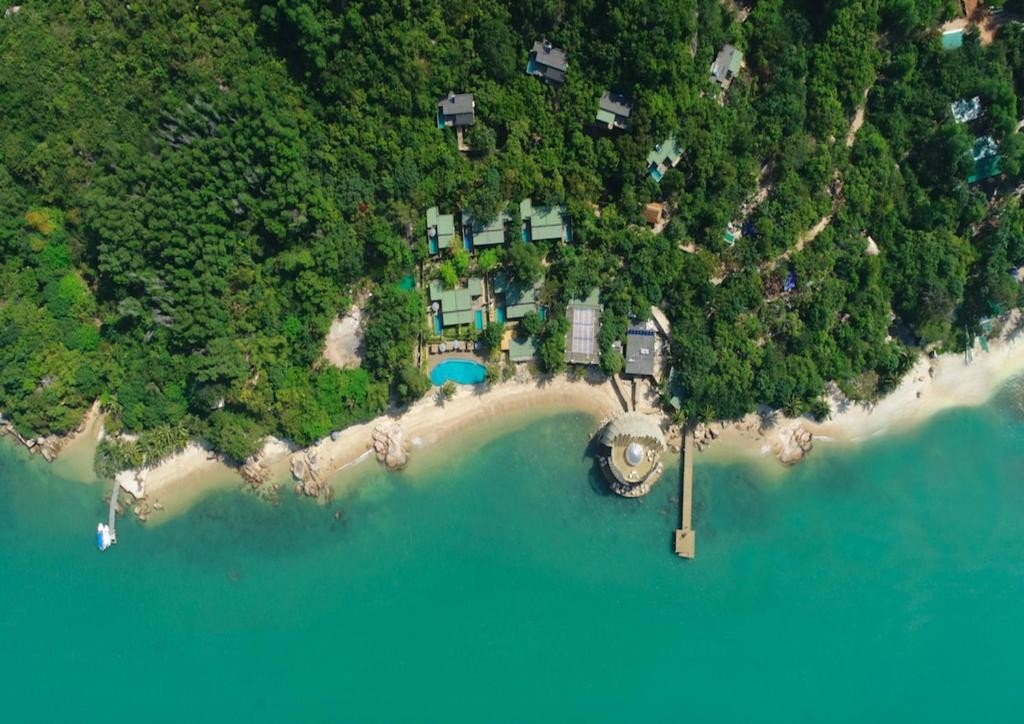 Photo: Booking.com
Set amidst pristine nature, An Lam Retreats Ninh Van Bay is ideal for those who are seeking discretion, complete fulfillment, and a genuine retreat. 37 spacious timber private villas with plunge pools and lush tropical represent a focused commitment to the environment through the use of handcrafted wooden furniture while reflecting the charming essence of the Vietnamese village.
9. InterContinental Hanoi Westlake
Located outside central Hanoi, this sprawling, 318-room luxury hotel benefits from a lakeside setting. Some of its rooms and suites are located in pavilions directly over the lake, offering scenic views from their balconies. The elegant rooms are stylishly decorated in earthy tones, and feature chic Vietnamese accents like bamboo lanterns and wooden window shutters.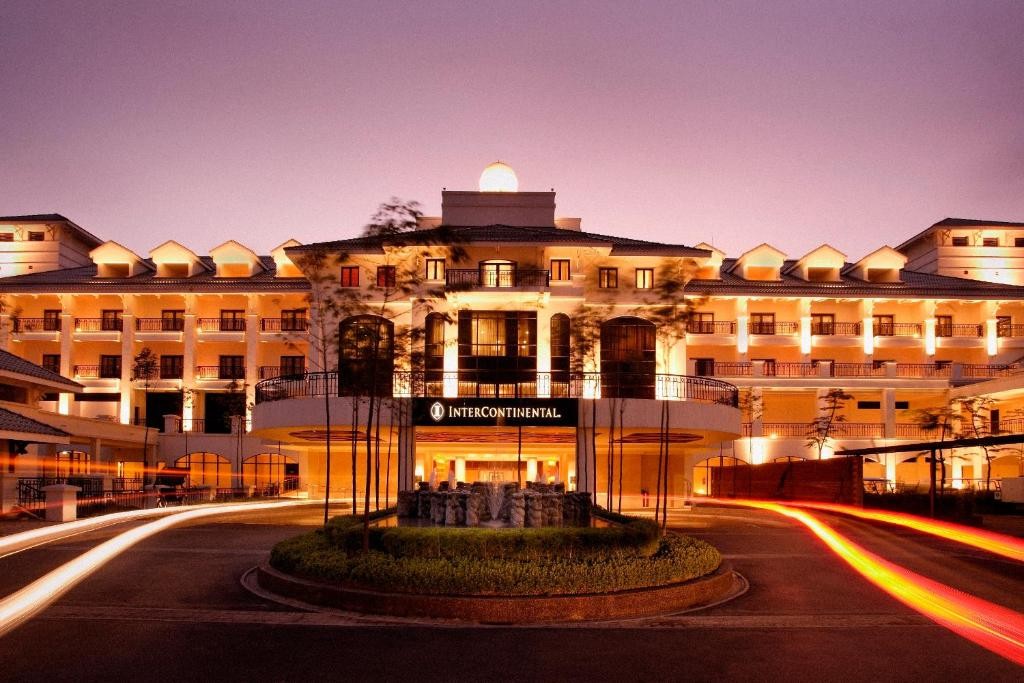 Photo: Booking.com
Amenities include flat-screen TVs, minibars, coffee- and tea-making facilities, and luxurious marble bathrooms with separate rainfall showers and tubs -- but in-room Wi-Fi incurs a fee. The resort-like property has three restaurants as well as a bar and lounge, while wellness facilities include a spa, a bright and airy fitness center, and an outdoor swimming pool. Travelers looking to stay in central Hanoi might prefer the stunning five-pearl Apricot Hotel, which offers similar amenities.
10. Azerai La Residence
Built on the banks of the Perfume River just upstream from Hue's famous citadel, this 122-room hotel takes its identity from the former French colonial governor's mansion at its core. The same nautical moderne architecture that makes the villa so charming is reprised in the two modern wings, which were added during a thorough yet sensitive renovation of the original building so that the place is pure Indochine.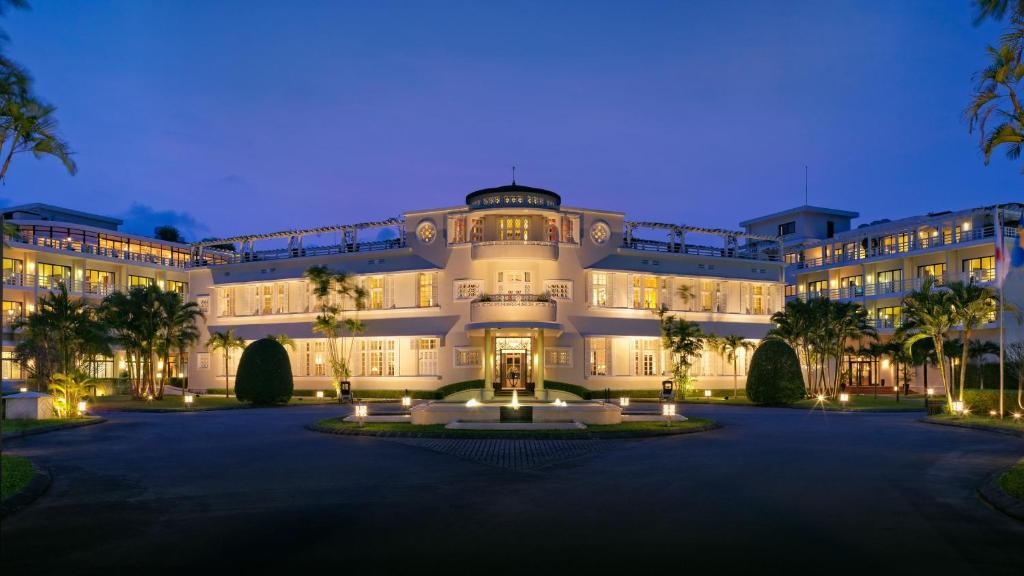 Photo: Booking.com
The original villa includes a reception area decorated with framed photos of Old Hue and an adjacent bar with deep club chairs—and nine dreamy rooms, plus a presidential suite. These have a colonial feel, with ceiling fans, mosquito netting (for the atmosphere more than necessity), and dark-stained wood furnishings. An additional 112 rooms and suites are housed in wings that frame a large pool overlooking the river.