Byakko, a 11,454-ton Japanese cargo ship, collided with the Marshall Island-registered Ulsan Pioneer chemical tanker early Friday. Three people went missing after Byakko sank following the collision.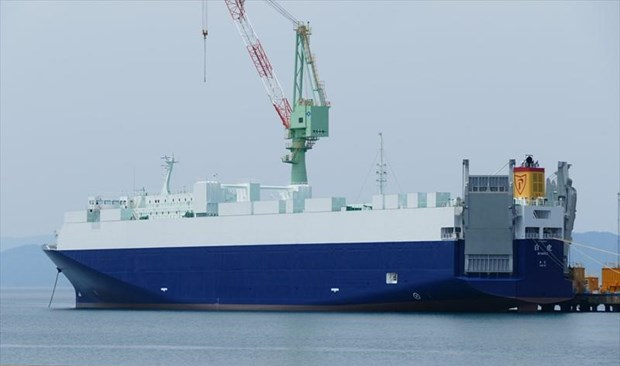 Photo: Byakko cargo ship of Japan / MarineTraffic.com
Around midnight local time, a Japanese cargo ship collided with a foreign ship in the Seto Inland Sea, off the coast of Ehime prefecture, and sank.
Nine out of 12 crew members were rescued. Kyodo News reported that three crew members, Captain Tamotsu Sato, 66, first engineer Yuki Ogawa, 27, and second engineer Takahiro Uehata, 22, went missing.
According to the Imabari Coast Guard Office, the collision occurred at around 23:55 local time on May 27 at the Kurushima Strait, about three kilometers away from the coastal city of Imabari of Ehime prefecture, between the 11,454-ton Japanese cargo ship Byakko and the 2,700-ton Marshall Island-registered chemical tanker Ulsan Pioneer.
Byakko sank afterwards at 2:40 local time on May 28, causing three crew members to go missing. Nine people were rescued and brought to a hospital in Imabari city.
At the time of the collision, Ulsan Pioneer had 13 crew members from Korea and Myanmar, according to the Vietnam News Agency. No injuries were reported amongst its crew members.
Ulsan Pioneer was significantly damaged around its bow, but otherwise stayed afloat, Kyodo News further reported.
Japan's Coastal Guard Office has sent 11 Search and Rescue Boats to the collision spot to speed up the search for missing crew members.
Photo: Ulsan Pioneer chemical tanker, registered in Marshal Islands / MarineTraffic.com
Byakko is operated by Prince Kaiun Co. based in Kobe. Carrying auto parts, the cargo ship is measured at 170 meters in length and 26 meter in width. Byakko left the port of Kobe in western Japan at 4:30 local time. It was expected to reach Kyoda port in Fukuoka Prefecture at 5:30 local time on May 28.
Byakko's last location was recorded around 23:53 local time to the west of the Kurushima Strait. The cargo ship moved at the speed of 16.8 nautical miles/hour, or 31 kilometers / hour.