Suez Canal Crisis: Ever Given Cargo ship reportedly freed
Ever Given - the stranded container ship on Suez Canal has been partially freed by salvage crews, but it's unclear when the vital trade route will be open again.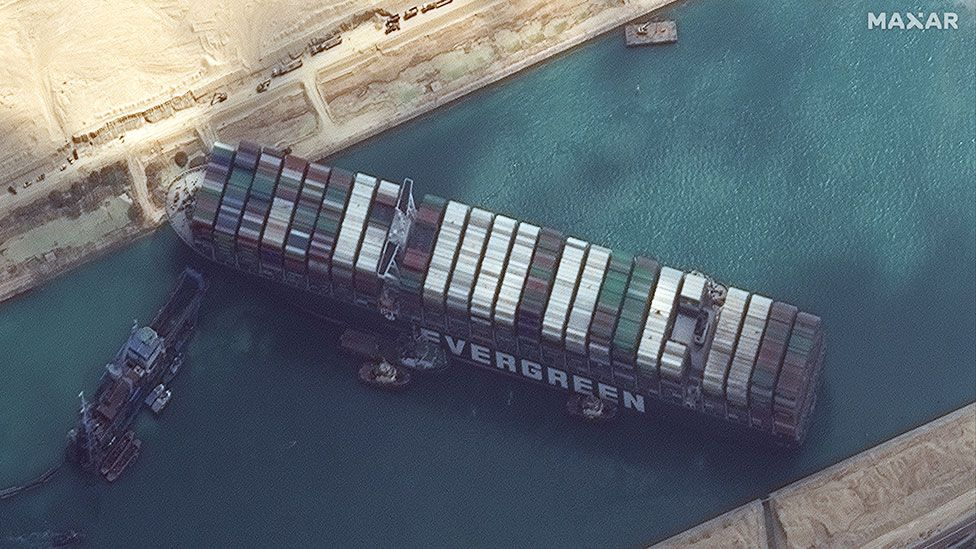 Photo: Maxar Technologies
The 400m-long (1,300ft) Ever Given has been straightened and released from the shoreline, officials said.
Video appeared to show the ship floating, but its owner later told AFP that it had only been "turned".
The Ever Given has been blocking one of the world's busiest trade routes, forcing companies to reroute ships and causing long tailbacks, according to BBC.
The reports that the ship had been freed raised hopes that traffic along the canal could resume within hours, clearing the way for an estimated $9.6bn (£7bn) of goods that is being held up each day.
Maritime services company Inchcape earlier said that the vessel had been freed from the shoreline.
The container ship's course had been corrected by 80%, the Suez Canal Authority went on to explain. It added that efforts to fully refloat it had begun.
Traffic would resume once the ship can be moved to a waiting area, the authority said.
The 200,000-tonne Ever Given ran aground on Tuesday morning amid high winds and a sandstorm that affected visibility. Specialist salvage companies were brought in to help refloat the ship.
On Sunday, canal officials began preparing to remove some of roughly 20,000 containers on board in order to lighten the load.
About 12% of global trade passes through the 193km (120-mile) Suez Canal, which connects the Mediterranean Sea to the Red Sea and provides the shortest link between Asia and Europe.
An alternative route, around the Cape of Good Hope on the southern tip of Africa, can take two weeks longer.
How the blockage affected global trade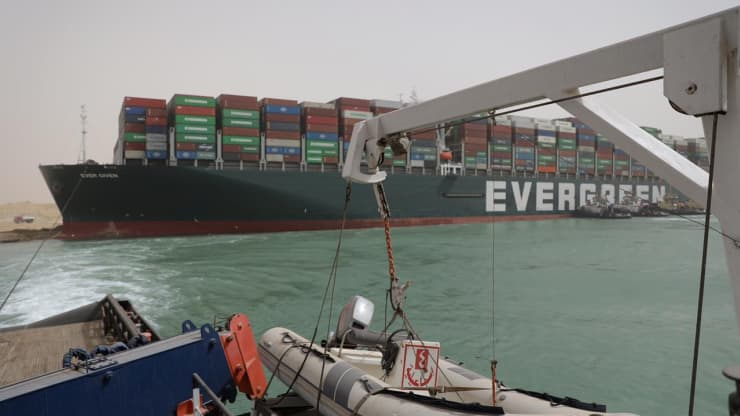 Stranded container ship Ever Given, one of the world's largest container ships, is seen after it ran aground, in Suez Canal, Egypt March 25, 2021. Suez Canal Authority | Reuters
The shipping delays could impact everything from the clothes and shoes you ordered online to gym equipment, electronics, food, and energy supplies — meaning gas prices could get higher, too.
"Suez Canal container blockage to further rattle global supply chains, to drive pricing higher given pent-up demand," analysts at JPMorgan said in a research note Thursday, according to CNBC.
The man-made Suez, at 120 miles long, is a key transit point connecting East to West. And the 20,000 ships that pass through it yearly transport everything from oil and gas to machine parts and consumer goods.
While it's still early to say what the full impact of the tanker crisis will be, the bank expects that in the near term, "the blockage is likely to add to industry supply strains, which are already hampered by ongoing supply chain bottlenecks″ in the form of port congestion and shortages of both vessels and containers due to Covid-19.
Ships are going to have to shift to entirely different routes, "will result in longer voyage times and causing further delays," JPMorgan wrote.
And those delays could be more than 15 days for many ships, whose alternative is sailing around the Cape of Good Hope at the southern tip of Africa, which analysts say would increase shipping times by up to 30%.
"The immediate impact of delays in the canal will centre on European – Asian trade, adding delays to already disrupted supply chains affecting oil and refined products' supplies," ING senior economist Joanna Konings wrote in a client note Wednesday.
Impact on crude prices
The Ever Given's misfortune has already impacted oil prices.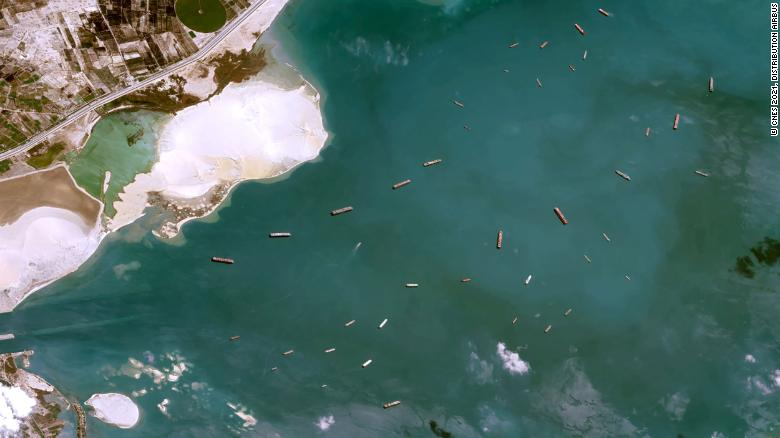 Ships blocked from getting through the Suez Canal wait in Great Bitter Lake on Thursday. (Photo: CNN)
News of the Suez blockage drew in buyers, and along with other economic data contributed to international benchmark Brent crude's one-month futures contract gaining "its biggest one-day gain in nearly a year to close at $64.41" on Wednesday, according to Arctic Securities, though it lost some of those gains by Thursday.
In the meantime, between 5% and 10% of all seaborne oil is transported through the Suez, meaning that for each day that the ship remains stuck, it delays the shipment of another 3 million to 5 million barrels of oil per day. Several tankers carrying jet fuel and gasoil are also held up on the Persian Gulf-Europe route, as well as empty tankers crossing to pick up North Sea oil, S&P Platts reported Thursday.
The canal is also a transit point for around 8% of global liquefied natural gas (LNG), and a prolonged disruption could impact flows to primarily the European market.
Any price effect will likely be brief, however, says Peter Sutherland, president of Houston-based energy investment firm Henrietta Resources.
"It won't have a lasting impact on prices, but it will help lend support in the run-up to the OPEC+ meeting," Sutherland told CNBC.
"The risk premium in oil markets will likely be short-lived, but the canal back-up still managed to shift the market narrative."
Why the Suez Canal is so important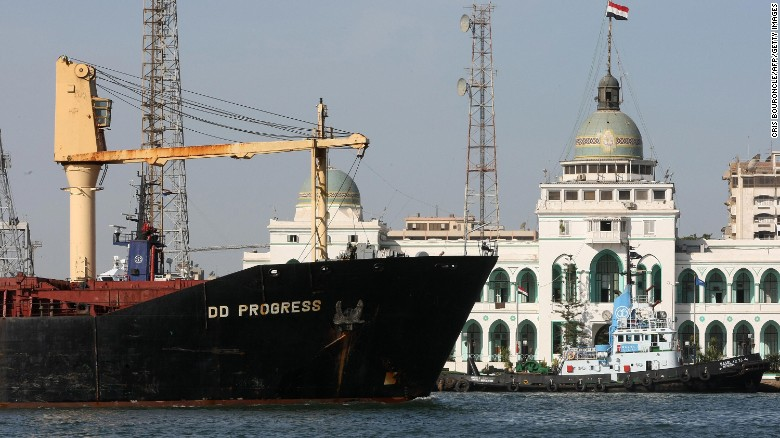 A cargo ship navigates in the Suez Canal, past the port authority building of Port Said, in 2008. The passageway hosts nearly 19,000 vessels each year. (Photo: CNN)
Since it was completed in 1869, the Suez Canal has been one of the world's most important bodies of water; a portal between East and West that has been controlled by multiple countries, threatened to ignite war, and become a bedrock of the global economy.
But the mammoth container ship that has lodged itself across the waterway poses a very modern problem: About a tenth of global trade passes through the Suez Canal, and it could be facing a weeks-long blockage, according to BBC.
Workers are continuing to clear sand and mud away from the Ever Given, a 224,000-ton vessel that ran aground after 40-knot winds and a sandstorm caused low visibility and poor navigation.
The speed with which they can shift the ship, which is as about long as the Empire State Building is tall, carries significance around the world -- and is a unique challenge even in the eventful history of the Suez.
The importance of the canal stems first and foremost from its location; it is the only place that directly connects the waters of Europe with the Arabian Sea, the Indian Ocean and the countries of the Asia-Pacific.
Without the Suez, shipments traveling between those parts of the world would have to traverse the entire continent of Africa, adding hefty costs and substantially extending their journey times.
A solution to that problem appeared elusive for centuries, until the precious 120-mile waterway was constructed to slither down Egypt and into the Red Sea. It was built over the course of a decade in the mid-19th century -- a feat only possible because the Mediterranean and Red Seas were found to be roughly level in altitude.
The time saved by the passage is almost invaluable. Today, a ship traveling from a port in Italy to India, for instance, would cover around 4,400 nautical miles if it passed through the Suez Canal -- a journey that, at a speed of 20 knots, would take about nine days.
But the second-quickest way to complete that same journey would be via the Cape of Good Hope and around Africa. At the same speed, it would take three weeks to traverse the route, which is 10,500 nautical miles long.
Adding to its importance is that there are no alternatives to the Suez; were it not for the Red Sea stretching up above the Horn of Africa and along Sudan and Egypt, no land masses would be narrow enough to support an artificial waterway that links Europe with the Asia-Pacific.
The canal's strategically important position now means it hosts nearly 19,000 vessels each year, according to Lloyd's List, a shipping industry journal.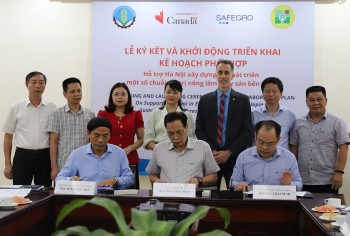 Make in Vietnam
As Vietnam furthers its international intergration, building agro-forestry-fishery high value chains is crucial for the sustainable development of the agriculture sector.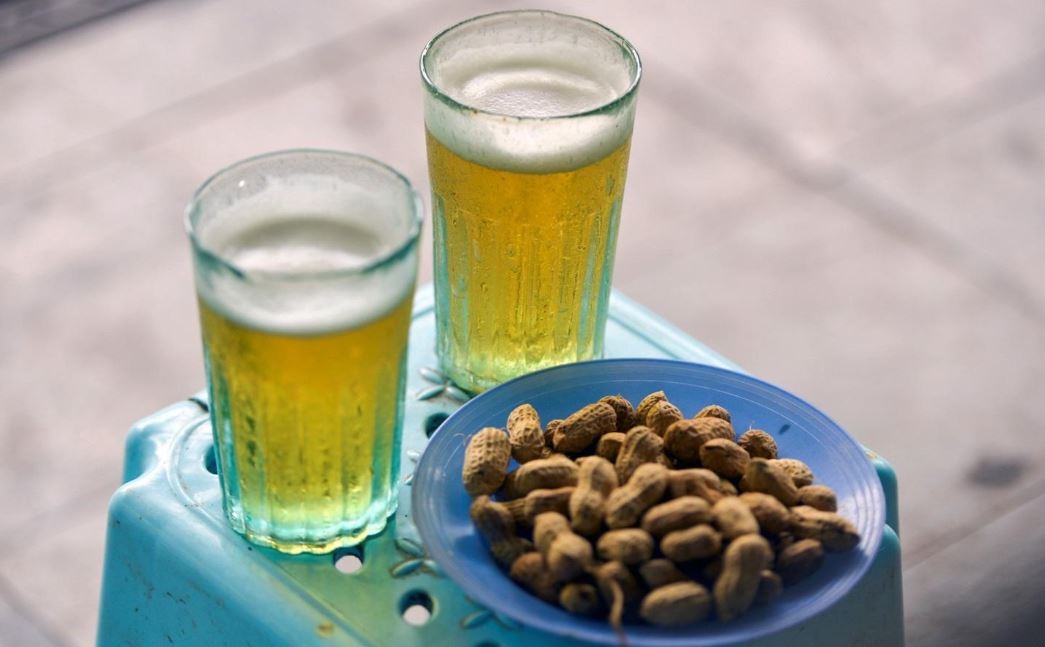 World
Among Vietnamese best beer destinations voted by foreign travelers, Hanoi is followed by Ho Chi Minh City, Hoi An, Nha Trang, and Da Nang.
August 06, 2022 | 14:54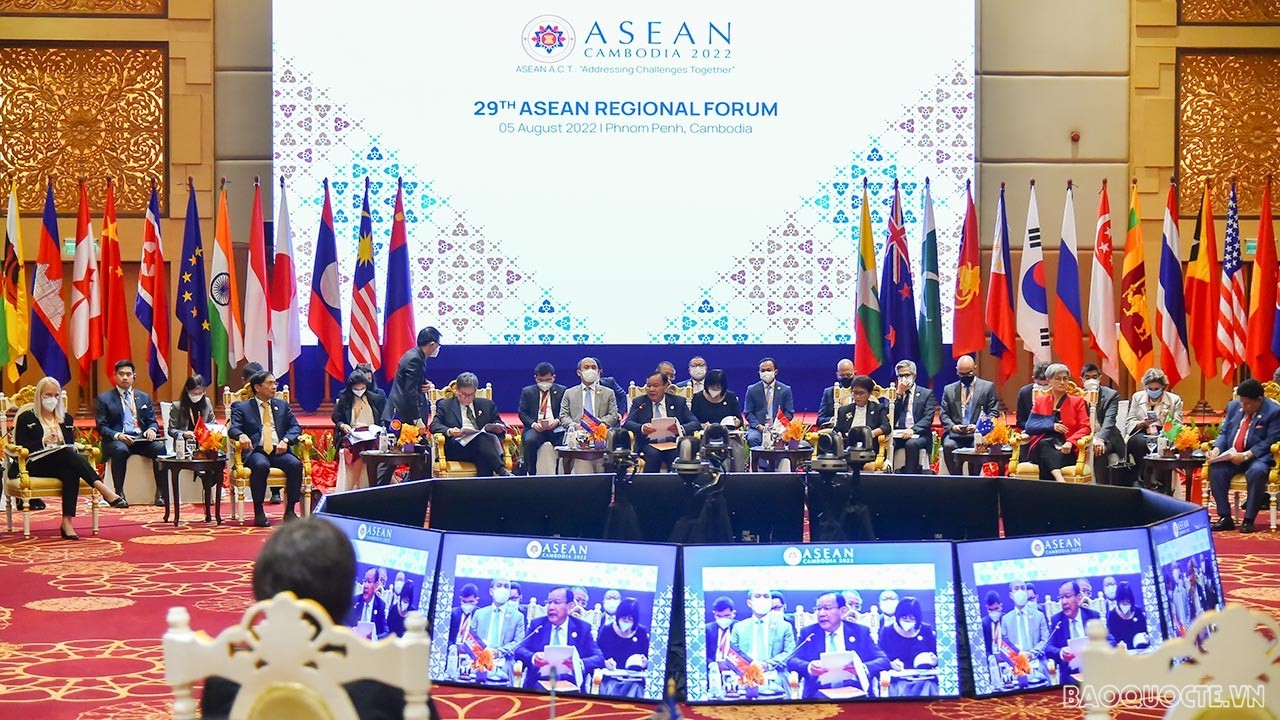 World
Foreign Minister Bui Thanh Son attended the 29th ASEAN Regional Forum (ARF) that took place in Phnom Penh, Cambodia on August 5 within the framework of the 55th ASEAN Foreign Ministers' Meeting (AMM-55), and held several bilateral meetings on the sidelines of the event.
August 06, 2022 | 09:12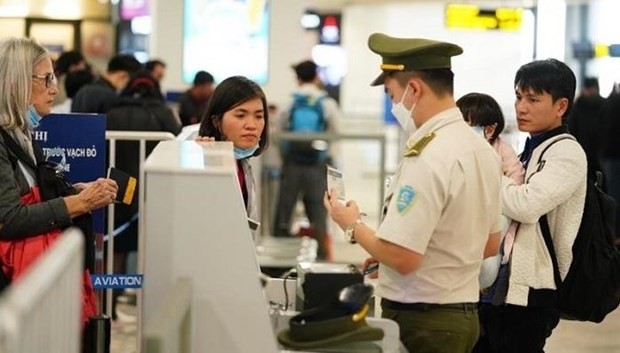 World
The Ministry of Health has asked localities nationwide to monitor foreign arrivals from countries with monkeypox as an early response after infections were spotted in the region.
August 05, 2022 | 16:11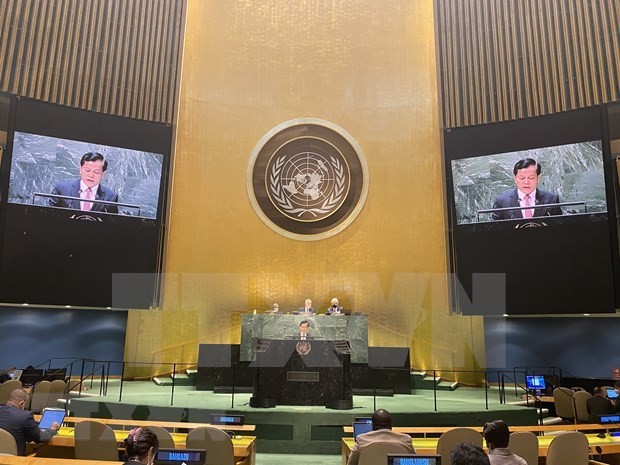 World
Deputy Foreign Minister Ha Kim Ngoc had a meeting on August 3 with United Nations (UN) Secretary-General Antonio Guterres who highly valued Vietnam's active and responsible contributions to the common work of the organisation, especially the country's strong commitments in the fight against climate change, and promised to continue supporting Vietnam in this work.
August 04, 2022 | 16:57