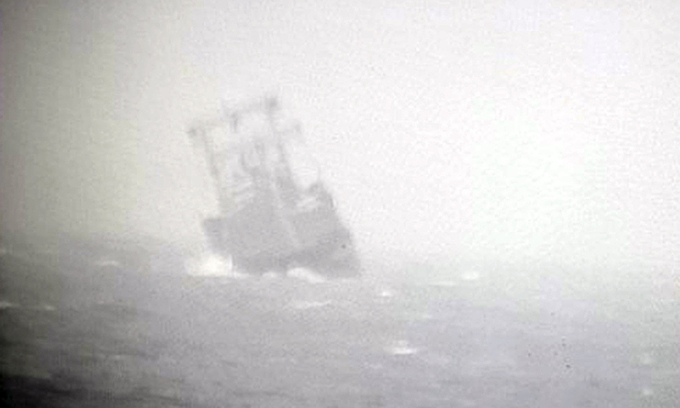 A Panamanian vessel before sinking off Vietnam's south central coast. Photo by Phu Quy Island border guards.
Fifteen crew members were missing after a Panama-flagged cargo ship sank off central Binh Thuan province on December 17, and rescue efforts are ongoing.
The ship, carrying clay from Malaysia to Hong Kong, was in the Binh Thuan sea area at 4:30 p.m. when its captain contacted border guard forces of Phu Quy Island to inform them that the vessel was tilting due to the clay leaning on one side of the ship, according to the Binh Thuan border guard force.
Fifteen crew members – 11 Chinese and four Vietnamese – were on board, VnExpress reported.
The ship's captain requested that it docks at the Phu Quy Island to resolve the problem and was given permission to do so. But while it was about 1.5 nautical miles away from the Phu Quy Port, the ship tilted hard and sank. Emergency signals for rescue were continually broadcast from that point.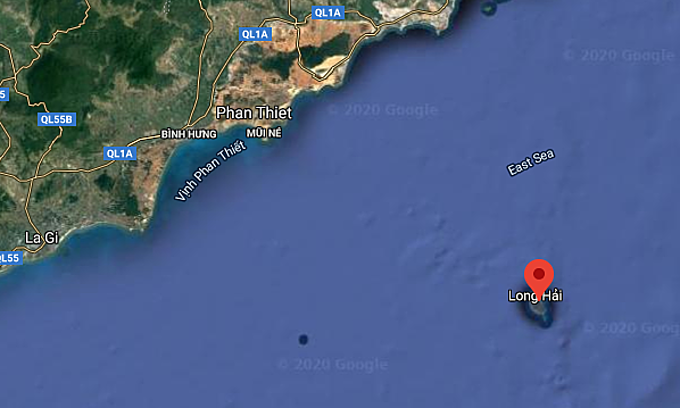 Google Maps image of Phu Quy Island (red marker), about 56 nautical miles from Phan Thiet Town of Binh Thuan Province. Photo: VnExpress
The Binh Thuan border defense force and the Phu Quy search and rescue station dispatched ships to the scene to rescue the crew members. But no one was found as of 6:30 p.m.
Nhan dan (People) newspaper also reported that the rescue team had found an inflatable life raft near the sinking ship with no one inside.
Despite rough seas and strong winds near the island, the search is ongoing. The search radius has been expanded to three to five nautical miles from the scene of the accident, and additional ships have been deployed./.
Rosy Huong