13 French Films Screening Free Throughout Tet holiday
This event will let you host an online movie night with your loved ones.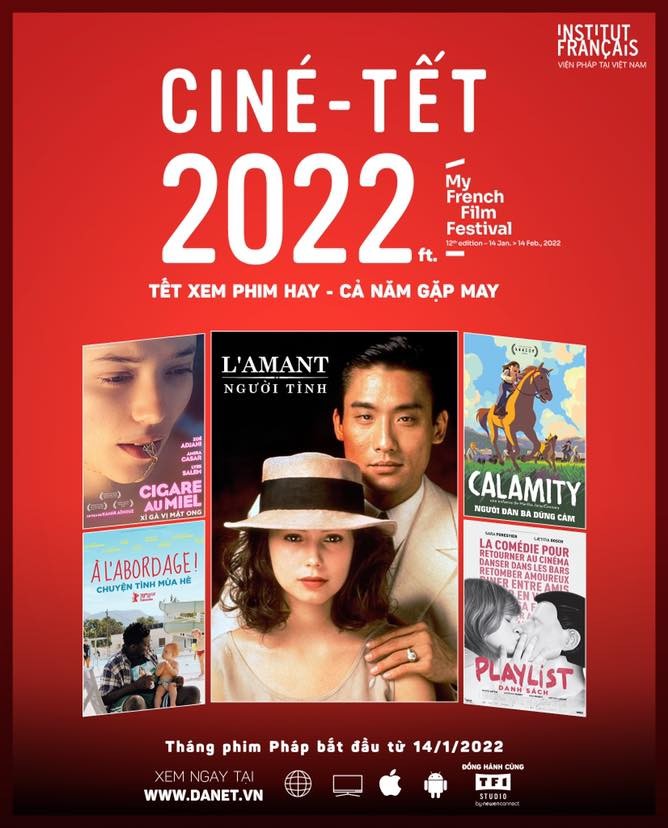 French films to be screened online free during Tet holiday,
13 French films are being screened free via DANET, an online movie platform, during an event called "CINE-TET 2022 avec MyFFF!" from Jan. 14 to Feb.14.
The French film month will be held by the French Institute in Vietnam (L'Espace) in coordination with BHD Company.
This is the third consecutive year the event of this kind has been organized to introduce French movies to Vietnamese audiences. The two first events attracted over 1 million views.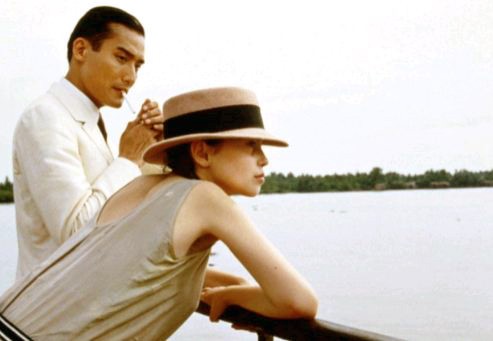 Powerful memories of innocent and pure emotions resound in the classic Marguerite Duras love story L'Amant (The Lover), later made into an evocative film.
The movies on offer include L'amant (Lover), Lucky Luke, Tous Les Soleils, Ex De Ma Vie (L'), Gaston Lagaffe, and Cigare Au Miel. These movies are selected from MyFFF (My French Film Festival) - an annual film festival in France.
L'Amant is based on a true love story that took place in Cochinchina, or southern Vietnam in the 1920s.
Directed by Jean-Jacques Annaud and produced by Claude Berri, L'Amant is a 1992 drama film set in part of Indochina that is now Vietnam, during the 1920s.
The movie is adapted from the semi-autobiographical 1984 novel by Marguerite Duras, which was awarded the Prix Goncourt – a prestigious prize in French literature.
The movie tells the secret love affair between The Young Girl, a sharp, self-loathing French teenager living in Saigon, and the timid Chinaman, an heir of an ultra-rich Chinese-Vietnamese family from the Mekong area. The two are never named by name in the Duras novel or movie, but instead by these two terms.
Lucky Luke is a 2009 French-Argentine Western adventure film directed by James Huth and starring Jean Dujardin, who also co-wrote the screenplay. It is based on the comic series of the same name by Morris.
Fearless gunslinger Lucky Luke can shoot faster than his shadow, but he doesn't aim to kill. His reputation for jailing outlaws makes him the man the president turns to for a mission to bring peace to Daisy Town, the place in which Lucky Luke grew up.
During his mission, he will encounter Billy the Kid, Calamity Jane, Pat Poker, Jesse James, and the sexy Belle. Based on the popular Belgian comic.
What "Tous les soleils" is about is no less than... life and death, the end of life, widower-hood, serious illness, father-teenage relationship, family, love, ...
Alessandro teaches musicology at the university of Strasbourg. He is also a volunteer reader in hospitals. He shares his apartment with his daughter, 15-year-old Irina, and his anarchist brother Luigi.
Life is not always rosy at Alessandro's for three main reasons: he is a widower and has never really recovered from the death of his young wife ; his brother is some kind of parasite who refuses to sell his paintings to capitalist speculators and so to contribute to the cost of the household ; Irina, whom he has raised alone since she was five months old and always felt close to, is rapidly changing from little girl to teenager and wishes to be treated as such.
One day, Florence, a beautiful young woman, gets into Alessandro's life. Will he eventually take his chances with her? And will he manage to stop stifling Irina? And will he finally get on with Luigi?
L'ex de ma vie (2014) tells a story about a French violinist wants to marry her constructorbut she's still married to her husband, an Italian guy. He agrees to get divorced on the condition that they go on their cancelled honeymoon to Paris.
Gaston Lagaffe (2018) is a film based on a comic strip created in 1957 by Belgian cartoonist André Franquin which first appeared in the Franco-Belgian comics magazine "Spirou".
Gaston gets hired as an intern. With its wacky inventions he puts the daily life of his colleague's on stilts. Our brilliant hobbyist experience crazy adventures with a cat, a gull, a cow and the Flat Vid Phone.
Franco-Algerian director Kamir Ainouz' debut feature, 'Cigare au miel (Honey Cigar),' is a female coming-of-age tale set in the 1990s.
Selma, a 17-year-old French-Algerian girl of a secular family, lives in a posh Parisian neighborhood. When she falls for her classmate, Julien, while her parents are devising matchmaking plans, it dawns on her for the first time that patriarchy is far from absent in her life. A tale of sexual awakening, pulsating with teenage angst, that draws parallels between a young woman's struggle for emancipation and the dismal political scenery in the early 90s Algeria.
Other movies copyrighted by DANET, including Thérèse Desqueyroux, À l'abordage, L'autre Dumas, Ma reum, Playlist, Calamity, and Crime d'amour will also be introduced to the audiences from Jan. 22.
Thérèse Desqueyroux is a 2012 French drama film directed by Claude Miller, based on the 1927 novel of the same name by François Mauriac.
In "Thérèse", Claude Miller's final film and his first collaboration with actress Audrey Tautou, an intelligent heiress allows herself to be smothered by her boorish husband and domineering in-laws.
She rebels modestly, chain-smoking, and selectively refusing to appear happy for the sake of appeasing her husband Bernard (Gilles Lelouche), a man that she only married for convenience's sake.
À l'abordage or All Hands on Deck (2020) tells a story of an unlikely oddball trio bond during an impromptu trip to the French countryside on a foolhardy romantic mission.
The lively student Félix meets Alma, who is the same age as him, at a party. There is an immediate spark between the two and they end up spending the night together.
Their apparent bliss of love ends abruptly the very next morning when Alma goes off on vacation to the south of France with her family. Together with his best friend Chérif, Félix spontaneously decides to pay her a surprise visit.
Without money, the two of them take up the offer of a ride, thus including the clumsy driver Edouard in their adventure. Of course, nothing goes to plan.
À L'ABORDAGE is a light-footedly told story of one summer. The comedy shows great sensitivity towards its characters, who have to redefine their understanding of friendship and love.
L'Autre Dumas is a 2010 French film directed by Safy Nebbou about 19th-century French author Alexandre Dumas.
When Alexandre Dumas and Auguste Maquet, his ghostwriter, are at the summit of their collaboration, Auguste decides to pass himself off as Alexandre in order to seduce Charlotte, a fervent admirer of the great man.
"Ma Reum" — comedy movie released in 2018 about a mother takes revenge on her son's three bullies.
Imagine Dangerous Liaisons crossed with Working Girl and you are well on your way to the core of Crime d'amour.
Ruthless executive Christine brings on young Isabelle as her assistant taking delight in toying with her innocence. But when Christine starts passing on her protege's ideas as her own, things take a dark turn.
In Playlist (2021) by Nine Antico, Sophie is 28 years old. She would like to be a designer, but it would be so much easier if she had gone to art school. She would also like to find love, but it would be so much easier if it jumped out at you. She dabbles, a lot, in love and work.
Absorbing a ton of blows, landing a few: that's what learning is all about. In her head, Daniel Johnston is playing over and over again, singing that true love will eventually fall into your lap.
Calamity, a Childhood of Martha Jane Cannary (French: Calamity, une enfance de Martha Jane Cannary) is a 2020 French-Danish animated family feature film directed by Rémi Chayé. The film is loosely based on the life of the American frontierswoman Calamity Jane.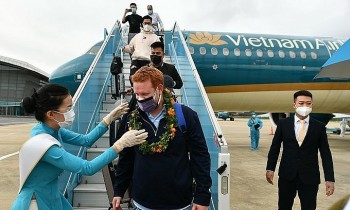 National
Vietnam News Today (Jan. 29): Vietnam records 14,892 new local Covid-19 cases; PM orders prioritizing pandemic control for safe and warm Tet; Vietnam scraps rapid Covid test requirements for int'l passengers; Vietnam-Australia trade hits all time high in 2021.