The Tra Leng landslide had buried 53 residents, of whom six are confirmed dead. Photo: VNA
At least 19 people have died and dozens are missing after three landslides, triggered by torrential rains from Typhoon Molave, hit the central province of Quang Nam on October 28.
The two landslides, one in Tra Leng commune and the other in Tra Van commune, both in the central province's Nam Tra My district, have killed at least 14 people, authorities said.
The Tra Leng landslide had buried 53 residents, of whom six are confirmed dead. Thirty-four have survived, leaving 13 still missing. The Tra Van landslide had buried 20, killing eight and injuring 12.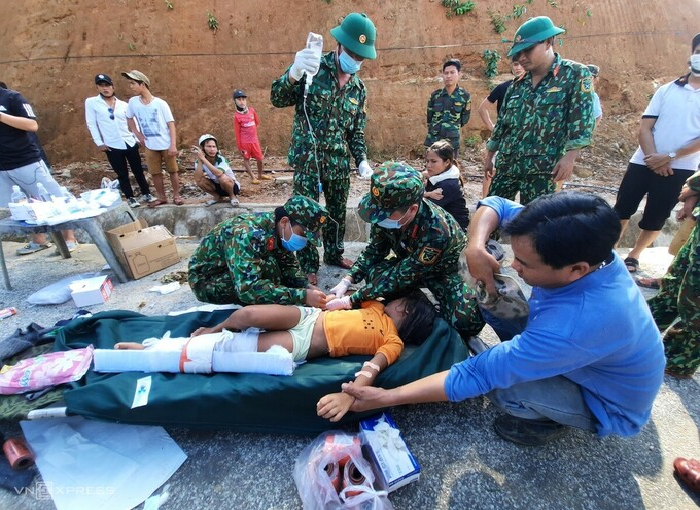 A landslide survivor receives medical care at the site. Photo: VnExpress
Rescue efforts in Tra Leng are ongoing despite difficulties to access the site because of local topography and other landslides in the area. Hundreds of soldiers and police officers have been dispatched for the search and rescue operation, VnExpress reported.
Meanwhile, another landslide hit Quang Nam's Phuoc Son district the same day, about 200 km from Nam Tra My. At least five people are dead and six others are missing, local authorities said.
All 11 victims are believed to belong to the same family, said Nguyen Quang, Deputy Chairman of the People's Committee of Phuoc Son district. Search and rescue operations are ongoing.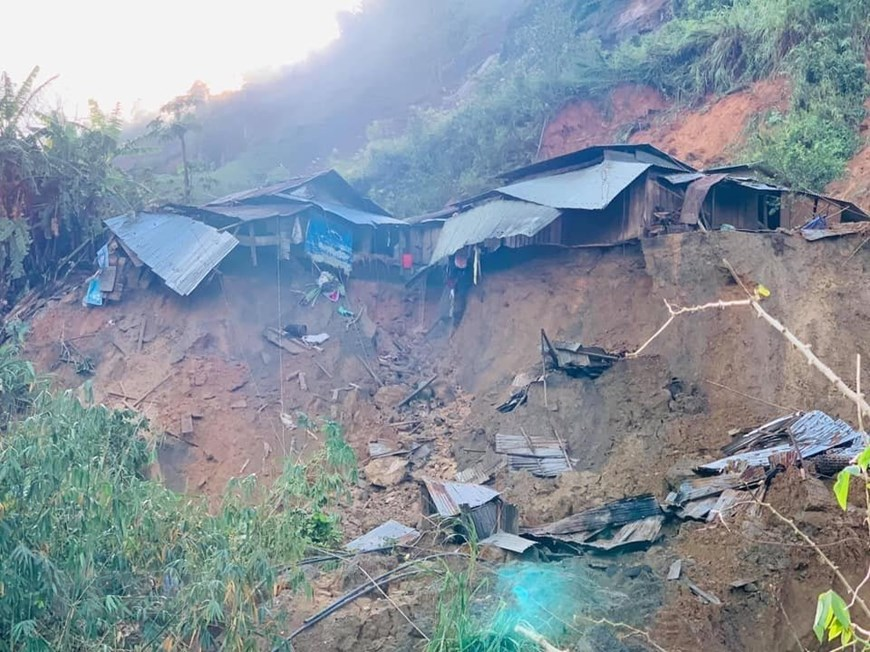 At least five people are dead and six others are missing in the landslide in Phuoc Son district, Quang Nam province. Photo: VNA
Storm Molave, which made landfall in the morning of October 28 and weakened into a tropical depression by 4 p.m., uprooted many trees and damaged hundreds of buildings. Nearly 230 houses collapsed and some 88,600 others had their roofs blown away.
Deputy Prime Minister Trinh Dinh Dung on October 29 traveled to the site of one landslide where soldiers were working to clear debris with bulldozers and he ordered competent forces to race against time and mobilise vehicles to clear out National Highway 40 so as to access the sites of the landslides.
Armed forces of Military Zone 5 and the Military High Command of Quang Nam province are playing the core role in the special efforts.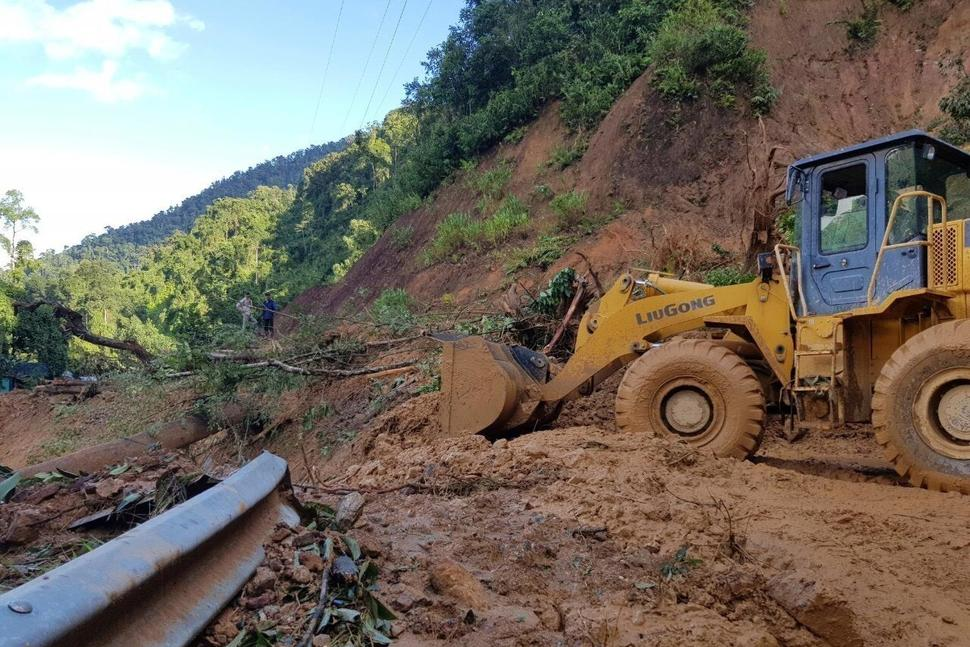 A bulldozer clears out the road damaged by landslide to access a village swamped by another landslide in Quang Nam province, Vietnam on Thursday, Oct. 29, 2020. Photo: VNA via AP
The Deputy PM also suggested accessing the sites via waterways and air routes, according to the Vietnam News Agency.
Lt. Gen. Nguyen Long Cang, Commander of Military Zone 5, said more than 200 officers and soldiers headed to the sites for search and rescue operations on October 28 night.
On late October 28, Prime Minister Nguyen Xuan Phuc issued a dispatch urging the disaster response committee, military forces and local authorities to coordinate and use any measure necessary to promptly rescue the victims./.
Rosy Huong