ASEAN Foreign Ministers issue statement on floods, landslides in Southeast Asia
ASEAN Foreign Ministers on Tuesday issued a Statement on floods and landslides in Southeast Asian countries.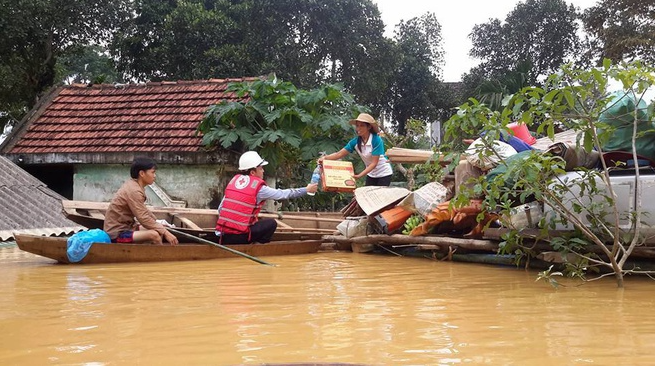 ASEAN Foreign Ministers on Tuesday issued a Statement on floods and landslides in Southeast Asian countries. (Photo: Zing News)
ASEAN Foreign Ministers on October 27 issued a statement on recent floods and landslides that caused huge losses of life and property in Southeast Asian Nations, said Vietnam Plus.
ASEAN Member States are deeply saddened by the loss of lives, injuries, impact on livelihoods, and extensive damage to properties in Cambodia, Lao PDR, the Philippines, Thailand, and Viet Nam caused by heavy floods and landslides from the storms that hit the Southeast Asian region, the statement reads.
As cited by VGP, ASEAN expresses its deepest sympathies and condolences to the Governments and people in the region, especially the families affected by this natural disaster.
ASEAN reaffirms its solidarity with the Governments and people of the affected Member States and stands ready to extend its cooperation and support in this difficult time.
Vietnam prepares to face storm Molave. (Photo: VN Express)
The statement came as ASEAN nations have been facing destruction from different storms recently, and are preparing to cope with storm Molave these days. Storm Molave, which entered the South China Sea in Monday morning, is expected to make landfall in localities between Da Nang and Phu Yen within the next 24 hours, according to the National Center for Hydro-Meteorological Forecasting. Before entering the South China Sea, it had wrecked havoc in the Philippines, leaving at least three dead and 12 missings, and forcing around 9,000 to be evacuated, Reuters reported.
Molave will be the fourth storm to hit Vietnam this month, and the strongest storm since the beginning of this year, according to VN Express. At least 130 have lost their lives to floods and landslides in the central region due to stormy weather the past three weeks. According to Vietnam's Central Steering Committee for Natural Disaster Prevention and Control, Molave is one of the two most dangerous storms in the last 20 years. Molave is reported to reach its full strength on the night of Oct. 27.