2020 university or college's entrance fresh to both national and international students
Colleges and universities will be allowed to enrol students using their own criteria instead of solely relying on the high school graduation examination's results as before for this year's entrance exams. Therefore, this year's candidates, both national and international, will have more choices.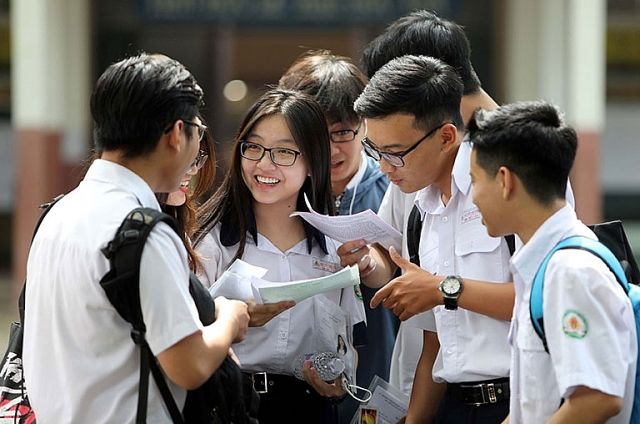 Schools can choose the method of enrollment.
Vietnam Ministry of Education and Training (MOET) has recently issued the Regulation on enrollment of universities and colleges in 2020 stipulated in the Circular 09/2020 / TT-BGDĐT.
Accordingly, the MOET decided to keep the admission mode of universities and colleges stay the same as in 2019, and clearly defined their own determination of admission methods.
Specifically, the preschool education can self-determine and announce minimum scores for entrance (except for groups of teacher training and health care industry with practicing certificates). Training institutions include universities and colleges are give their own right to choose and decide methods of enrollment such as entrance examination, admission, or a combination of examination and admission.
The Regulation also stipulates that training institutions can use the results of student's high school graduation exams for preselected admission or for university or college admissions.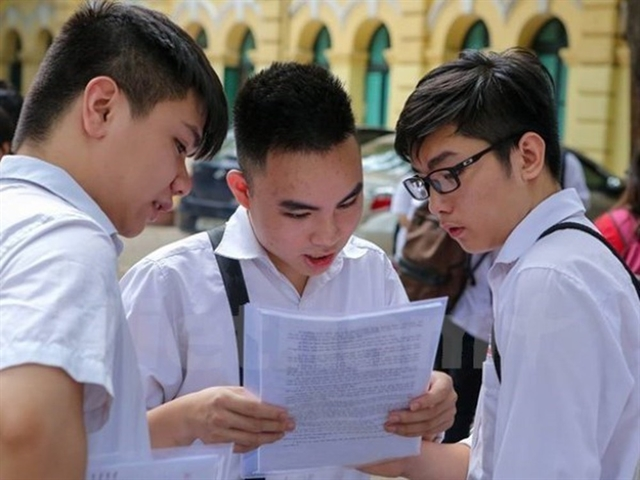 Twelfth-grade students in Hanoi discussed the exams' results.
Under these new rules, schools can choose their own admission methods, organize their own entrance exams, including cultural exams or competency assessments or other forms or other form combination.
The Hanoi National Economics University spends most of its enrollment quotas based on student's tertiary education graduation results for the entrance admission. According to Assoc.Prof. Pham Hong Chuong, the rector of the school, the high school graduation results can be assuredly used for enrollment by universities and colleges, the Hanoimoi said.
Meanwhile, according to Assoc.Prof.Dr. Hoang Minh Son, Rector of Hanoi University of Science and Technology, his school also added more entrance exams to engineering departments' enrollment beside their tertiary education result's admission this year.
PhD. Nguyen Thanh Chuong, deputy principal of Hanoi University of Transport, said that this year the school added a method of high school report consideration. Most admission targets are based on high school graduation exam results. Candidates can also register for admission in the online form.
According to the Vice Minister of Education and Training Nguyen Van Phuc, the new enrollment regulations enable schools to determine their own admission, but with high accountability and require strict implementation the enrollment plans announced publicly by them. The MOET will strictly implement the post-inspection to ensure the rights of candidates.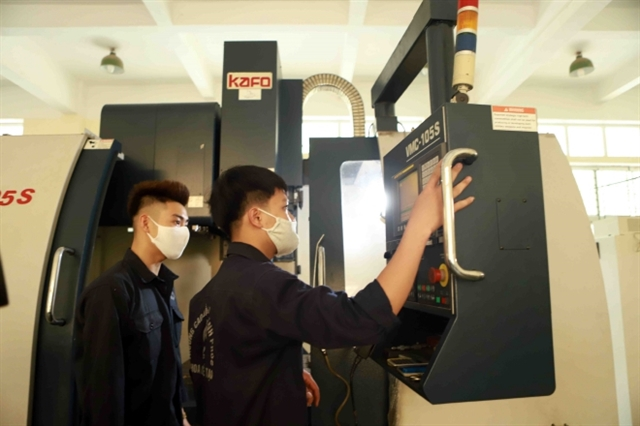 Students in a practice period at Vĩnh Phúc Vocational College.
Also under the new regulations, if universities want a specific exam, they need a specific task force for the exam. The task force, including people making exam questions, marking exam papers and technicians, must have good qualifications and management ability.
As usual, the MoET will set the threshold to ensure quality of candidates using their high school graduation exam scores to join the university enrolment for the education and health care sector.
If candidates register for education, medicine, traditional medicine and pharmacy, their school report marks must be at least 8.0. If they register for nursing, preventive medicine, midwifery, or technicians, their school report marks must be at least 6.5.
Other majors will regulate their threshold and are responsible for reporting the threshold to management offices and candidates
The regulations this year also added that students studying a foreign curriculum at high schools in Vietnam will be allowed to take the university and college entrance exam if the curriculum is recognised by their local country and at the same level as the curriculum in Vietnam, informed the VNA.
Foreign candidates who wish to study in Vietnamese universities and colleges can apply and school principals will consider their high school and Vietnamese language studying results.
All schools must publicise their plans for enrollment on their website 15 days before students start to register.