2021 Vietnam - Cambodia defense cooperation plan signed
Vietnam and Cambodia have agreed to intensify defence cooperation in 2021, with the focus on stepping up border checks and patrols to prevent illegal entry and exit.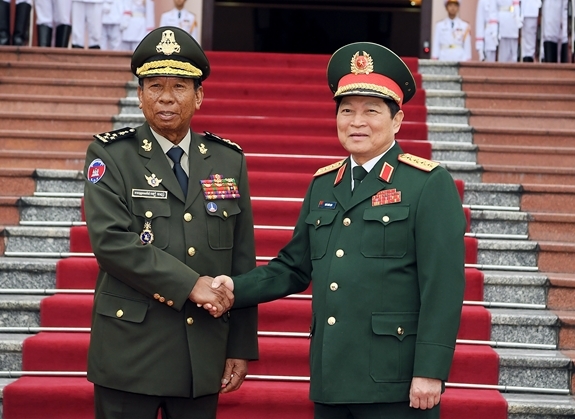 Minister of National Defense Ngo Xuan Lich hosts welcome ceremony for Cambodian Deputy Prime Minister and Minister of National Defense Samdech Picheysena Tea Banh at the Headquarters of the Ministry of National Defense in Ha Noi on December 20, 2019. Photo: VGP
Vietnamese Minister of National Defense Ngo Xuan Lich and Cambodian Deputy Prime Minister and Minister of National Defense Samdech Picheysena Tea Banh have signed a defense cooperation plan for 2021.
According to VNA, rhe signing ceremony was held digitally as part of the pair's virtual talks on January 8.
At the talks, both sides spoke highly of defence cooperation results in 2020. Despite impacts of the pandemic, almost all contents in the 2020 Cooperation Plan were implemented effectively, particularly cooperation in training, the COVID-19 combat, borderline protection, and the search and repatriation of remains of voluntary Vietnamese soldiers who died while doing duty in Cambodia during wartime.
Gen. Lich appreciated Cambodia's support for activities chaired by the Vietnamese Defence Ministry during Vietnam's ASEAN Chairmanship Year 2020, especially the ASEAN Defence Ministers' Meeting (ADMM) and ADMM Plus and related meetings.
He congratulated the Government of Cambodia on effective management of the pandemic.
Gen. Tea Banh took the occasion to congratulate Vietnam on successfully assuming the role as the ASEAN Chair in 2020.
They agreed to continue carrying out contents of the Protocol for 2020-2024 period and the 2021 Cooperation Plan, with the priority given to stepping up disseminations on the bilateral traditional friendship, solidary and comprehensive cooperation; improving the efficiency of collaboration mechanisms, particularly the Defence Policy Dialogue.
The two countries will also speed up all-level delegation exchanges, intensify cooperation in personnel training and cooperation and coordination in preventing cross-border crimes and drug smuggling.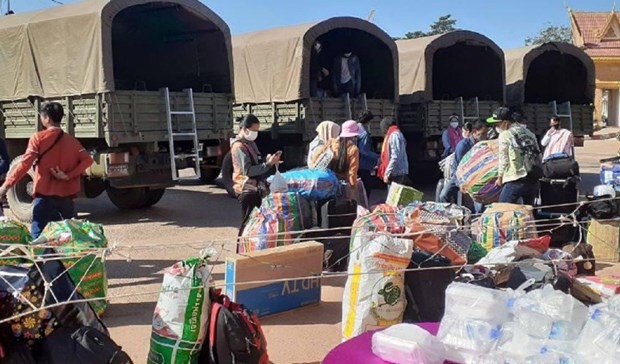 Migrant workers return to Cambodia through O'smach International Border Checkpoint in Oddar Meanchey province. Photo: Khmertimeskh.com
Cambodia and Vietnam share a border of 1,270 kilometers. The two countries' land border runs between ten Vietnamese provinces (Kon Tum, Gia Lai, Dak Lak, Dak Nong, Binh Phuoc, Tay Ninh, Long An, Dong Thap, An Giang, and Kien Giang) and nine Cambodian provinces (Ratanakiri, Mondulkiri, Kratié, Tboung Khmum, Svay Rieng, Prey Veng, Kandal, Takeo, and Kampot).
Vietnam and Cambodia on December 22, 2020 exchanged the documents ratifying the "Supplementary Treaty to the 1985 Treaty on the Delimitation of National Boundaries and the 2005 Supplementary Treaty", also known as the 2019 Supplementary Treaty, and the protocol on land border demarcation and marker planting.
With the exchange of the ratification documents, the 2019 Supplementary Treaty and the protocol on land border demarcation and marker planting, which were signed on October 5 last year and recognized the result of the Vietnam-Cambodia land border demarcation and marker planting, about 84 percent of the total workload, officially took effect from December 22, 2020.
The 2019 Supplementary Treaty and the protocol's entry into force is considered a big success for both countries as they hold great significance during more than 36 years of handling land border-related issues between the two countries, helping to lift bilateral relations to a new height and reflecting the motto of "good neighborliness, traditional friendship, comprehensive cooperation, and long-term sustainability" as agreed on by their senior leaders./.