Australian Ambassador to Vietnam
2023 Opens Bright Future for People-to-people Exchange of Vietnam and Australia
Ambassador of Australia to Vietnam Andrew Goledzinowski is happy to celebrate 50 years of cooperation between Vietnam and Australia.
In recent interview with local new agencies on the occasion marking the 50th anniversary of bilateral relation establishment between Vietnam and Australia, Ambassador Andrew Goledzinowski emphasized that the two countries have had many outstanding accomplishments in multifaced cooperation, thanks to the firm foundation of mutual trust.
Ambassador of Australia to Vietnam Andrew Goledzinowski
"[The bilateral relation] is built on a strong feeling of mutual trust and practical cooperation on so many fields and so many years. I thank my Australian predecessors, Vietnamese ambassadors and leaders in enabling the strong areas of cooperation to develop, such as: defense cooperation, education, trade and the important people-to-people relations," said Goledzinowski.
In regards to milestones in the bilateral relations, Ambassador Goledzinowski said that Australia was one of the pioneers in investing in Vietnam right after the Southeast Asian nation opened its economy in the 1980s.
In 2009, the two countries elevated the relationship to a comprehensive partnership, and issued a joint statement on the establishment of a strategic partnership in 2018. Vietnam - Australia are also among the top 10 trading partners of each other, with two-way trade hitting US $ 15.7 billion in 2022, doubling the figure recorded before 2018.
Also, Australia's official development assistance (ODA) has significantly contributed to Vietnam's socio-economic development, worth approximately US $2 billion.
Since 1974 Australia has funded more than 7,000 Australia Award Scholarships, supporting Vietnamese leaders and emerging leaders to undertake study, research and professional development in Australia. More than 80,000 Vietnamese people are part of Australia's global alumni network, receiving continuous support from Australia for personal and professional development to enhance their contribution to the development of Vietnam.
Ambassador of Australia to Vietnam Andrew Goledzinowski (left) and Vietnamese Minister of Foreign Affairs Bui Thanh Son (right) at the Gala Night elebrating 50 years of diplomatic relations between the two countries (Photo: Australia's Embassy to Vietnam).
The Australian Ambassador also said that, in Melbourne city, Vietnamese is the second language after English. This shows the effectiveness of people-to-people diplomacy in enhancing the good relations of the two countries over the years. The number of Vietnamese students studying in Australia, up to September 2022, is about 20,000, while the number of alumnis is about 80,000, cited from the Australian Government Trade and Investment.
Tourism recovery also opens a bright future for many people-to-people exchange opportunities. Cultural and art exchange cooperation potential also stems accordingly.
"Australia we are proud that we have the oldest culture in the world. That we can share with Vietnam.... Looking forward to what we can achieve in the future, there is a lot of important activities, high level visits and people-to-people exchange," said the Australian Ambassador.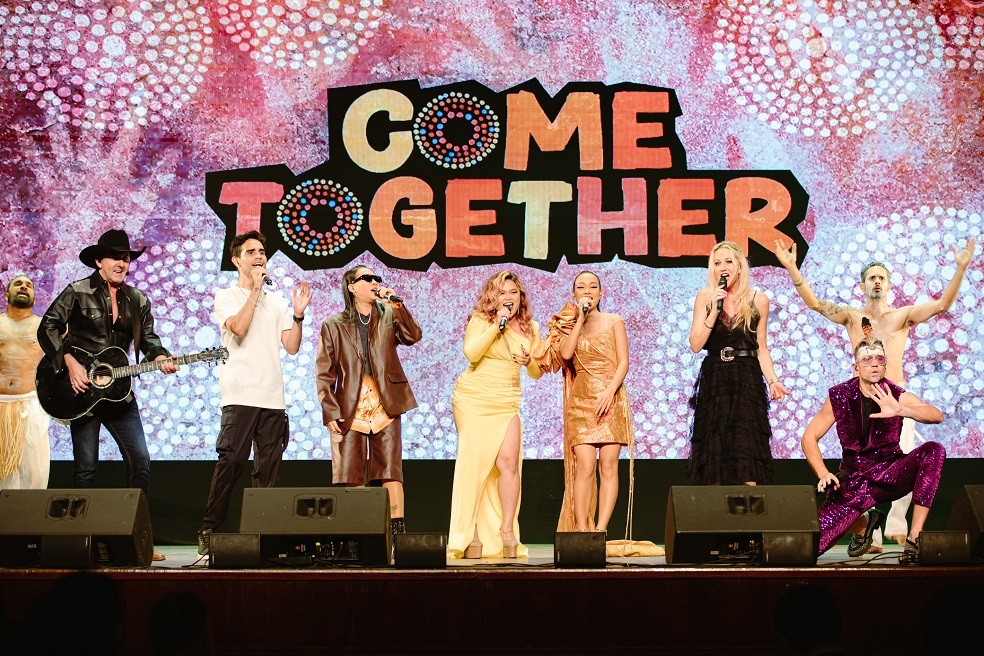 The Ho Chi Minh People's committee held a concert to establish the 50 years of bilateral relations on Feb 23 with famous Australian indigenous artists and Vietnamese artists shared the stage to give special multicultural performances (Photo: Australia's Embassy to Vietnam).
In late 2022, the Ho Chi Minh National Academy of Politics (HCMA) and the Australian Department of Foreign Affairs and Trade (DFAT) signed a Cooperation Agreement at the HCMA to implement the Project: "Establishment and Capacity Building for the Vietnam – Australia Centre." This past January, the Vietnam – Australia Centre (VAC) was officially established, under an agreement between the Prime Minister of Vietnam and the Prime Minister of Australia in August 2019.
The VAC contributes to capacity building for Vietnamese leaders and managers to meet the country's integration and development demands, as well as promoting a close, positive, and enduring cooperation relationship between Vietnam and Australia in a new context.