4 ships sank, 13 people died and missing due to floods in Central Vietnam
The Steering Committee for Disaster Prevention of the Central and Central Highlands has just released a quick report on the evacuation and flood damage as of this evening on October 9.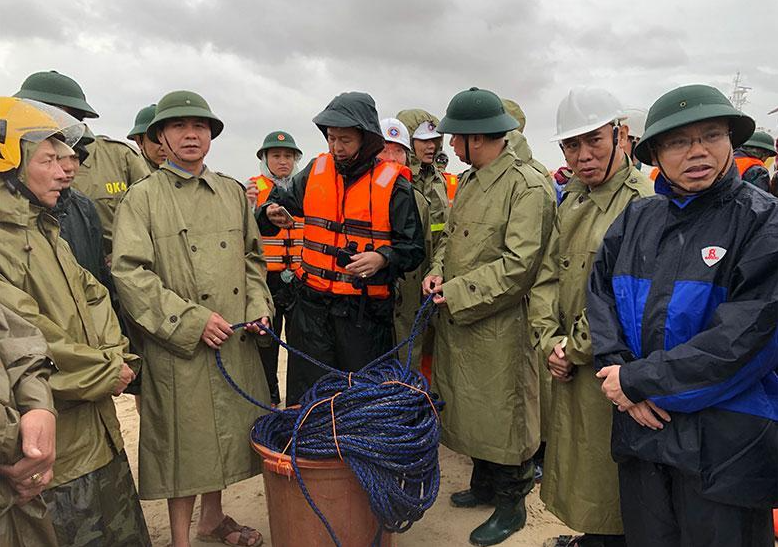 The leaders of Quang Tri province directẽ the rescue near the location where Thanh Thanh 68 ship was sunk. (Photo: Vietnamnet)
Food situation updates
Quang Binh, Quang Tri, Thua Thien Hue, Da Nang, Quang Nam organized the relocation and evacuation mainly in the form of about 5,782 households/ 19,749 people in seriously flooded areas, with a high risk of occurrence.
In Quang Binh province, 12,964 houses were flooded. Several areas are isolated, including Minh Hoa district (16 villages/ 3 communes), Tuyen Hoa district (3 villages, hamlet/ 1 commune), Bo Trach district (6 villages/ 1 commune), Quang Ninh district (5 communes), Le Thuy district (7 villages/ 2 communes, Quang Trach district (2 villages/ 3 communes).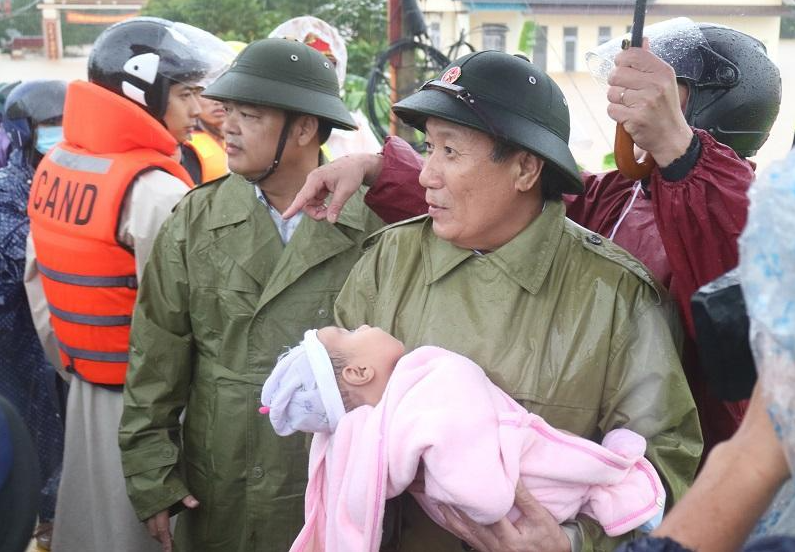 Standing Vice Chairman of Quang Tri People's Committee Ha Sy Dong inspected the rescue work in Trieu Phong, Hai Lang and Cam Lo districts. (Photo: Vietnamnet)
In Quang Tri province, 17,801 houses were flooded. Large-scale inundation happened in all districts, towns, and cities (except Con Co island district). Thua Thien Hue has 2,000 houses flooded from 0.3m - 1.8m. In Da Nang, Hoa Vang district basically only got flooded in Hoa Tien commune, other communes only got flooded in paddy fields and some low areas. Hai Chau, Ngu Hanh Son, Lien Chieu, Cam Le districts were partially flooded.
In terms of traffic, many national highways, inter-provincial, and inter-communal roads are divided because of deep flooding and landslides.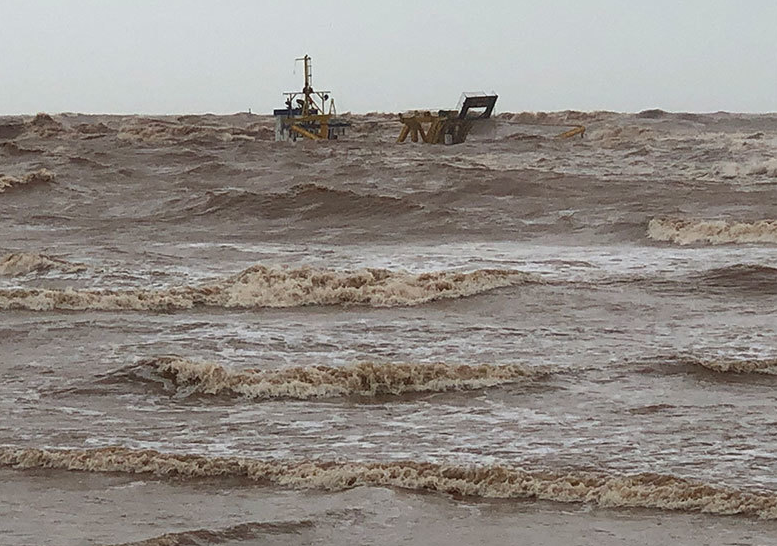 The location where Thanh Thanh Dat ship sunk. (Photo: Vietnamnet)
Four ships sunk
Rain and flood in the central region have killed 5 people. Especially, in Quang Tri, 2 people were reported dead, including Le Thi M.H (born in 2017 in Cau Ha village, Hai Phong commune, Hai Lang district), who was swept away by water. The other fatal case is Le H.A (61 years old, Van Hoa village, Trieu Hoa commune, Trieu Phong district), who slipped and was swept away by water. Both bodies have been found.
In Quang Ngai died, Mr. Pham V.N (born in 1954, in Nuoc Lay village, Ba Ngac commune, Ba To district), was swept away by the water when passing through a stream and found dead. In Gia Lai, Nguyen V.T (born in 1983) was swept away when picking up his son from school at 6 pm on October 6 through the overflow of La Púch stream. His body was found on Oct. 8. Pham T.L (born in 1993) died while driving through the overflow in Ia Tire commune, Ea Sup district, Dak Lak.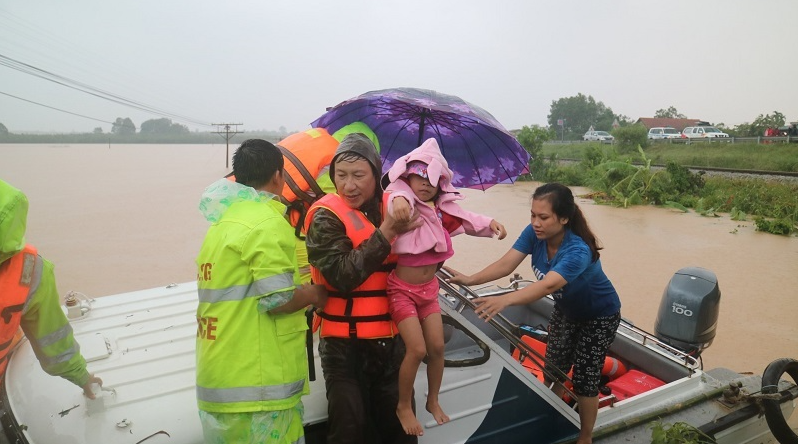 Cam Lo police supported residents in the flood. (Photo: Vietnamnet)
There are still 8 people missing (Quang Tri 6, Thua Thien Hue 1, Gia Lai 1); while 5 others were injured.
In addition, the flood also caused a lot of damage to agricultural production, civil works, roads, dikes. In Quang Binh, the fishing vessel controlling QB-98427-TS was sunk, the damage is estimated to cost 500 million VND.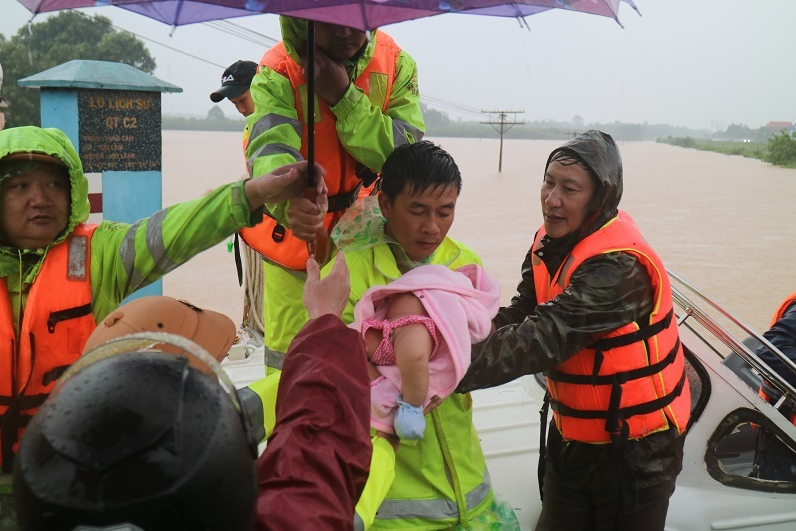 The rescue work in Cam Lo. (Photo: Vietnamnet)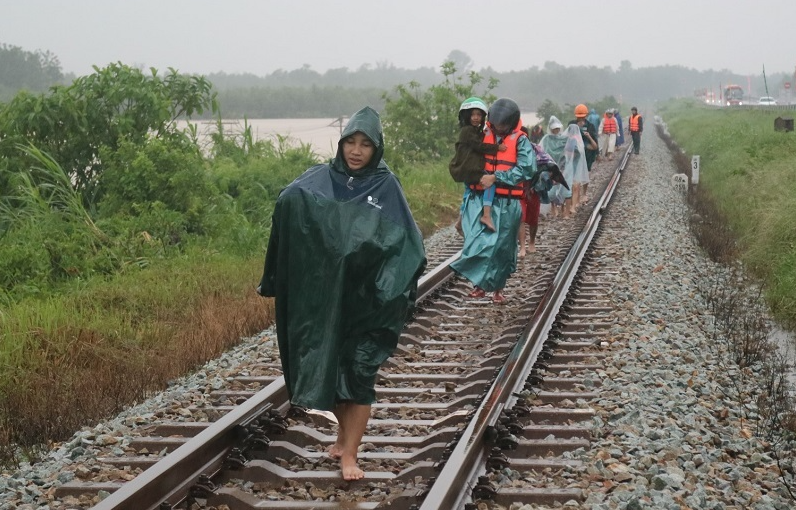 In Quang Tri, 3 ships were sunk. (Photo: Vietnamnet)
In Quang Tri, 3 ships were sunk, including:
- The Vietship 12, which sank near the buoy area 0 of Cua Viet navigation channel. There were 5 people on board, 3 were rescued by Vietship 1, while 2 others (Truong Cong Hau and Le Quoc Cuong) were missing.
- Thanh Thanh Dat 55, which was carrying 7 crew members. The missing Mr. Truong Dinh Toan was rescued by Border Guard Trieu Van when he drifted into the beach of village 8, Trieu Van commune.
- Vietship 9, whose 4 people on board safely swam ashore.
In Thua Thien Hue, the Cong Thanh 27/11 Labor ship was overflowed by large waves on October 7 in the coastal area of Vinh Hien commune, Phu Loc (3 nautical miles from Tu Hien estuary). At 17:20 on October 7, 11 crew members were saved.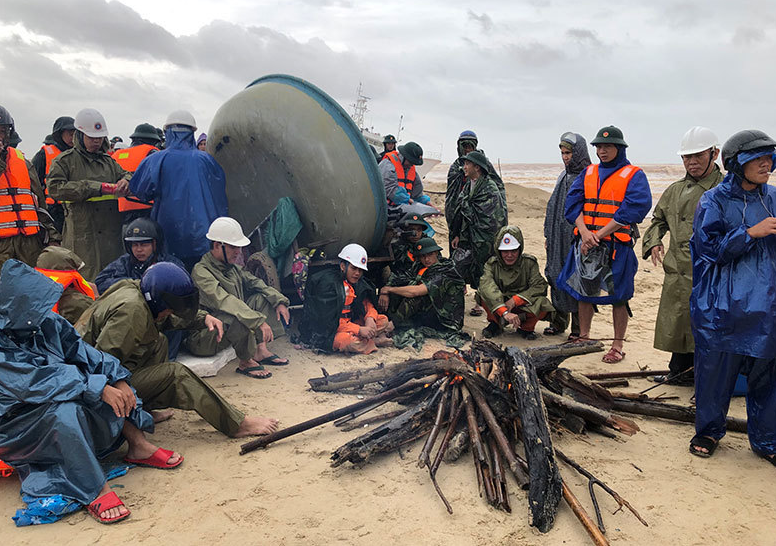 The ship rescue team. (Photo: Vietnamnet)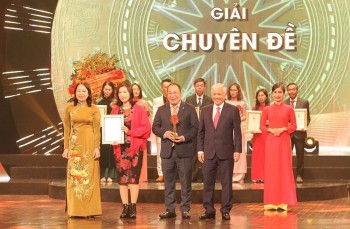 Overseas Vietnamese
VietnamTimes (Viet Nam Union of Friendship Organizations) is a reliable address for overseas Vietnamese to quickly and objectively update political, economic, cultural, and social news. The agency has created a helpful forum and connection between expatriates and the motherland.