UK and Europe weather forecast latest, October 2: Storm Alex brings severe flood in the UK
Storm Alex is forecasted to cause severe flood in the UK and bring heavy rain as well as gales to ravage across Europe.
UK's weather forecast
BBC Weather meteorolgist Carol Kirkwood said the UK will remain mostly dry before Storm Alex moves into the country from France. The Met Office issued a weather warning set to remain in place through Friday because of the strength of the winds forecast to hit. But despite temperatures set to drop later on Thursday, conditions are expected to remain mostly settled in the run up to the storm's arrival.
Ms Kirkwood said: "This morning we still have a bit of rain around but for most of us today it's going to be a drier day with lighter winds. It will still feel cool, mind you."
"What's happening is that the weather fronts that produced all the rain yesterday are now moving in the direction of the North Sea, just about to clear Kent and East Anglia but the weather front will be draped across Shetland for most of the day so you're going to have a wet day and also a windy one."
"But we also have a ridge of high pressure cross us, so that's settling things down for the bulk of the UK, with a fair bit of sunshine around."
BBC Weather: Storm Alex will slowly move into the UK from France (Image: BBC WEATHER)
"There will be some showers though, particularly across Northern Ireland, Wales into the southwest to the Midlands later on. And they'll be slow moving, some of those could be heavy, potentially with some thunder and hail as the rain pushes right back up, turning lighter in the northwest of Scotland."
"Temperatures 10C to 15C so it'll be cooler than yesterday."
The BBC Weather forecaster said rain will persist through the evening and overnight, with temperatures expected to drop to below 0C in some areas.
The deep area of low pressure will also slowly move into the UK, bringing heavy rain and strong winds with the potential of causing major disruption.
Ms Kirkwood said: "This evening and overnight we hang on to those showers across southern and western areas. Some clear skies though and that means temperatures are going to drop."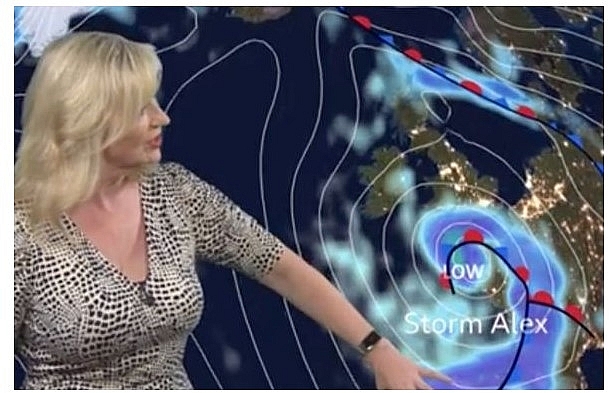 BBC Weather: Storm Alex is expected to cause major disruption because of strong winds (Image: BBC WEATHER)
"In fact, they could be below freezing around the borders in across northern England. At the same time, we've got a deep area of low pressure moving in from France."
"Now, the French Met Service have actually named this Storm Alex and it's going to bring some heavy rain and some gusty winds with it as it move northwards. So there's a weather warning out for this at the moment."
"Gusts of wind inland from 3 o'clock tomorrow morning until 8 o'clock tomorrow evening. Could be as much as 40-50 mph but around the south coast we may be looking at gusts as much as 60-65mph."
She added: "It's going to be moving northwards during the course of Friday, taking its rain and gusty winds with it in doing so."
As we push further north, for northern England, Scotland and Northern Ireland, a much quieter day for you with some sunshine.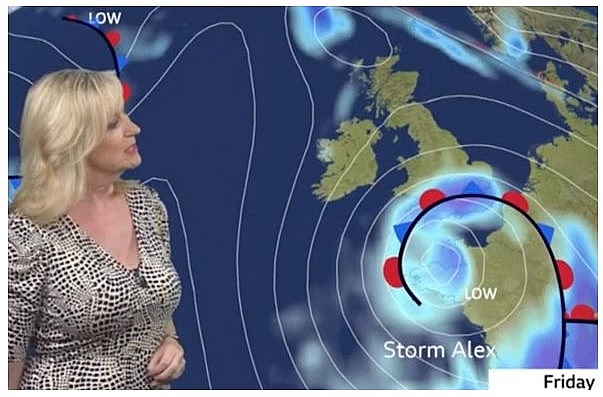 BBC Weather: Storm Alex prompted the Met Office to issue a yellow weather warning (Image: BBC WEATHER)
"In about 12 to 18 hours we could have 14-15 mm of rain, that's up to two inches, that could lead to some disruption, some flooding, coupled with the wind. And during the day it will slowly move away from the south."
The Met Office's yellow weather warning will cover the whole of Cornwall as well as most of the southern coast of England.
On October 2
A wet morning on Friday in southern England as a front edges slowly northwards, Weather Online reported.
Rain could be heavy. Across the rest of England and Wales it will be breezy. Outbreaks of rain spreading through East Anglia and central England as well as eastern Wales. Drier for northern England in the morning.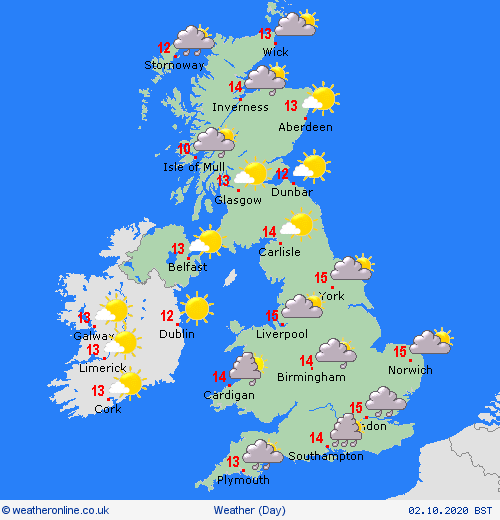 Photo: Weather Online
Sunny and dry in Scotland and much of Ireland. This afternoon remains breezy with more rain in central and southern England and eastern Wales. Patchy rain in northeast England, drier in the northwest. Sunny and dry in Scotland and most of Ireland, although some showers in western Ireland. Highs at 12 to 15C.
Europe's weather forecast
According to BBC Weather, Storm Alex set to strike on Friday and bring heavy rain and powerful gales to Europe.
BBC Weather forecaster Susan Powell noted the weather front in the Atlantic will develop into a storm by the weekend. She said Storm Alex will bring with it relentless rainfall and strong winds throughout the weekend. Flood warnings have been predicted for parts of France as they are expected to see some of the worst weather from the storm.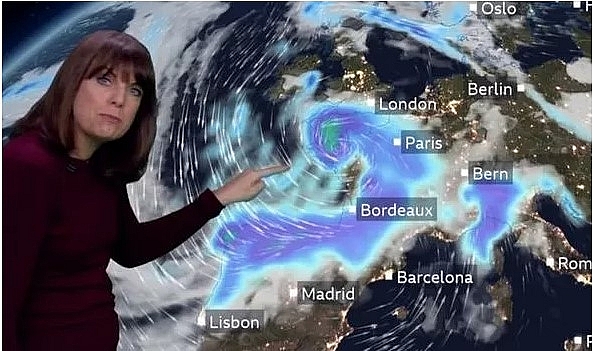 BBC Weather: Storm Alex prompted the Met Office to issue a yellow weather warning (Image: BBC WEATHER)
Ms Powell said: "Autumn is now fully underway across Europe. There is still plenty of sunshine around the Mediterranean but it is a good deal more unsettled in the north. It looks like on Friday we will have our first named storm of the season."
The BBC Weather forecaster commented on the strength of Storm Alex.
She said: "We have a big area of low pressure dominating towards the northwest. This will be causing some headaches in terms of a detailed forecast but there is a lot of wet and windy weather to come across northwest Europe."
"Things to the east will gradually clear somewhat for the latter part of the week as some of the rain will be pulling away."
On Friday, the UK, Spain, France and parts of northern Italy are forecast to be struck by the storm. Ms Powell added: "This system looks like it will centre up around Brittany in France."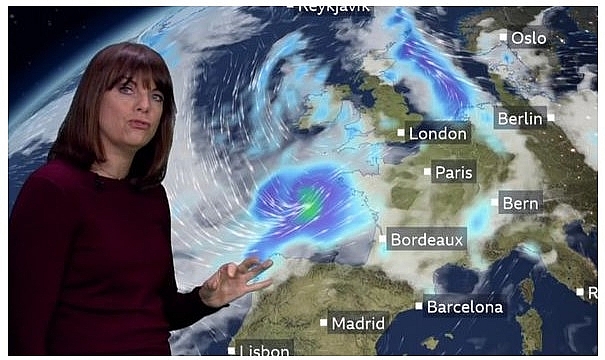 BBC Weather: The BBC Weather forecaster highlighted how impactful Storm Alex is expected to be at this stage. (Image: BBC)
"It will bring strong winds to the south of the UK and the north of France. In contrast on the other side of Europe it is a quiet day for Turkey and much of Greece."
"There will be sunshine for southern Italy but towards the northwest, there will be heavy and relentless rain. Warnings have been issued for the potential of flooding here also."
"Rain swings through but the strong winds are the greatest of concern, particularly across the northwest of France."
Temperatures for west Europe will remain largely in the mid-teens for many cities. Throughout the stormy weather, temperatures in Paris and London will struggle. Barcelona will be one of the few areas in the west of Europe that will see temperatures exceed 20C.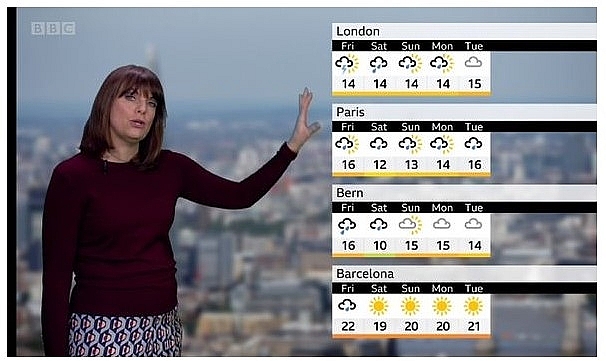 BBC Weather: Temperatures for west Europe will remain largely in the mid-teens for many cities. (Image: Europe)
On October 2
According to Weather Online, an unsettled day over Spain and Portugal with heavy bands of rain passing south and east through the day, thundery rain in northern areas of Spain. Italy will be fair overall but some rain in the far north. Greece will be dry with sunny spells. Staying fair in Turkey, more sunshine to come here.
More rain affecting France, this is going to be heavy and thundery at times. Further rain in the Low Countries. Germany will be breezy and bright overall. More bright weather to come in Poland and well as Hungary. Austria and Switzerland will have rain, this heavy.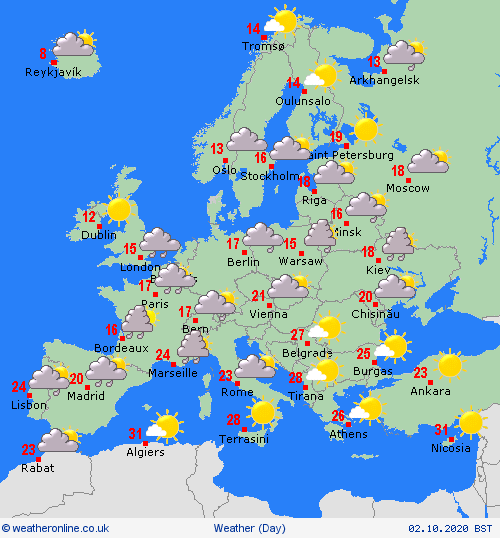 Photo: Weather Online
Breezy in Denmark with cloud and a few showers. Breezy again in the Baltic States and Finland will also be breezy and there will be good spells of sunshine here. More breezy and sunny spells in Sweden as well as much of Norway. Rain in the far south.