400 Vietnamese, Chinese Youth Exchange Music in Hanoi
The China-ASEAN Youth Film and Music Festival has played a positive role in promoting cultural and artistic exchanges and cooperation between the two sides,
As many as 400 Vietnamese and Chinese youth participated in the China-ASEAN Youth Film and Music Festival with the theme "Share a Song" taking place on November 1 at Hanoi University.
Speaking at the festival, Dr. Nguyen Tien Dung, Vice President of Hanoi University, said that Vietnam and China are two countries with many similarities in culture and friendship. The warm bond of "being both comrades and brothers" is becoming increasingly stronger. The year 2023 is the 15th anniversary of Vietnam - China establishing a comprehensive strategic cooperative partnership, Vietnam - China relations maintain a strong development trend.
"The festival is an opportunity for Vietnamese and Chinese youth to explore and learn the unique culture and arts of their countries through the exchange of film songs and soundtracks from the two countries. At the same time, it enhances knowledge and understanding between people. people of the two countries, promoting the relationship between the two countries to develop in depth. Through this, it also contributes to promoting multilateral cooperation in the region, helping Vietnam and China join hands to move forward towards a bright and better future," Dr. Nguyen Tien Dung shared.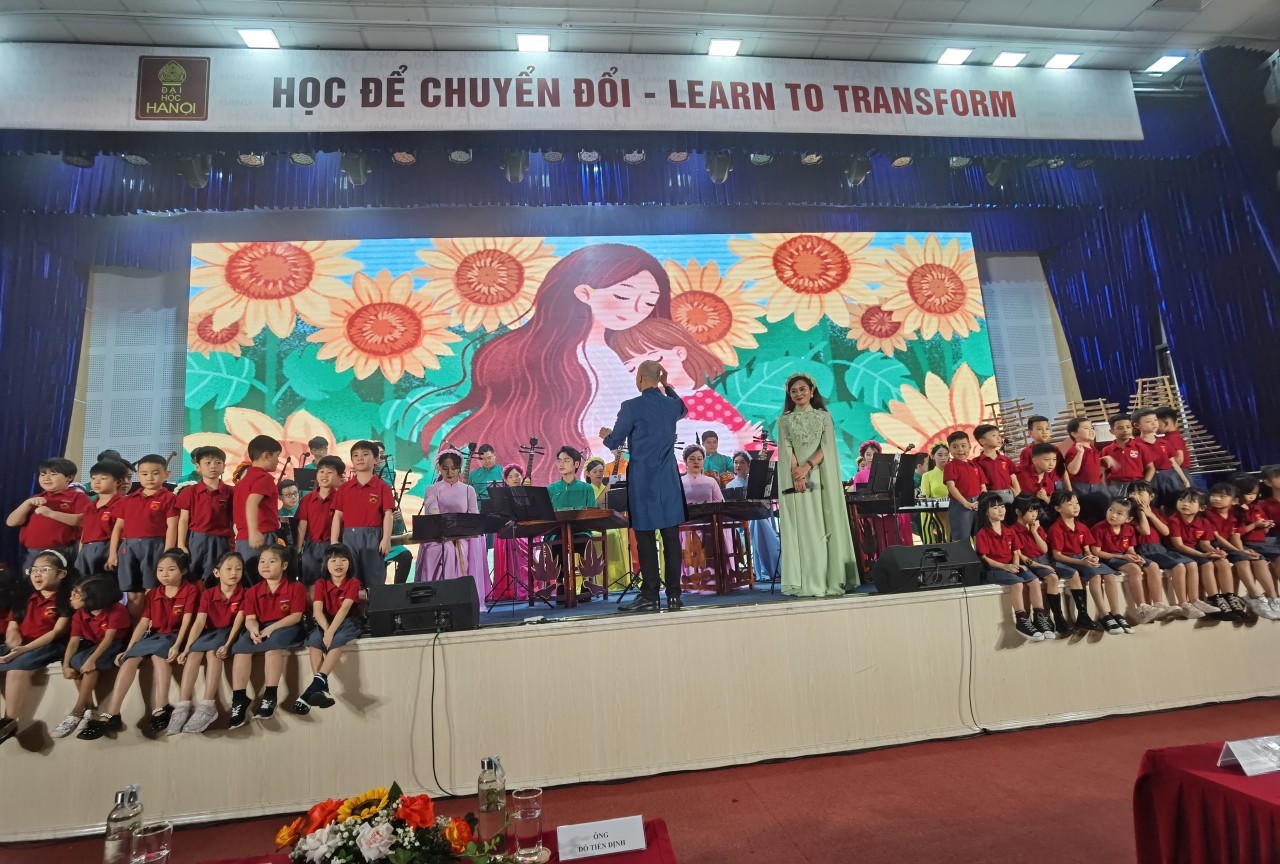 New Vitality Ethnic Orchestra brings a performance of Vietnamese and Chinese traditional musical instruments. Photo: Pham Ly
Peng Shituan, Cultural Counselor of the Chinese Embassy in Vietnam, expressed that as a form of language, music can overcome ethnic and national barriers. The people of China and Vietnam have many similar ideas and humanistic values, both place music in a very high position in life, and musical ceremonies are considered a national norm.
"We are here to sing the same song, through the language of music to connect heart to heart, to have understanding between heart and heart," Peng shared
At the festival, Vietnamese and Chinese teachers and students along with artists and actors presented songs from the soundtrack of famous Chinese movies and unique Vietnamese folk songs, bringing an extremely bustling atmosphere to the hall.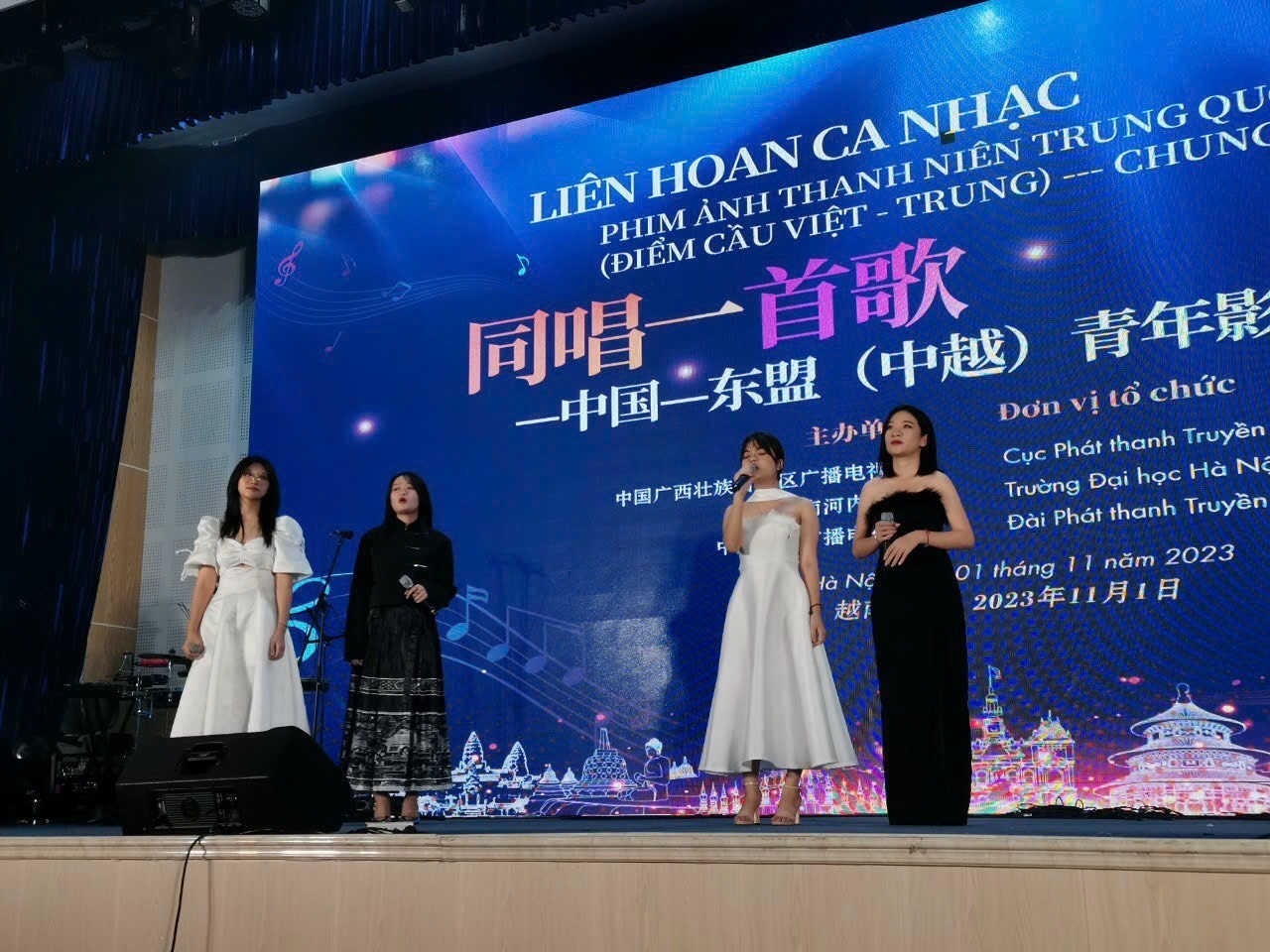 Vietnamese and Chinese young people sang together movie songs, performed traditional Chinese dance performances, and played musical instruments of the two countries. Photo: Pham Ly
The dance team of the Vietnam Music and Dance Theater performed a traditional dance performance on the soundtrack of a Chinese swordplay film Princess Agents, which has received the love of many Vietnamese audiences.
The orchestra "Suc song moi" (New Vitality), also presented a concert performance of Vietnamese and Chinese traditional musical instruments, recreating melodies from Chinese movies.
Singers from China and Southeast Asian countries, along with the audience, were present at the hall to sing together the song Beyond.
Before the music festival took place, about 800 Vietnamese students, Chinese international students, international students from Southeast Asian countries, and many teachers from universities in Hanoi came and participated in Chinese cultural experience activities such as Chinese painting, Hanfu try-on, paper cutting, mask painting, Chinese calligraphy, and enjoy traditional Chinese food.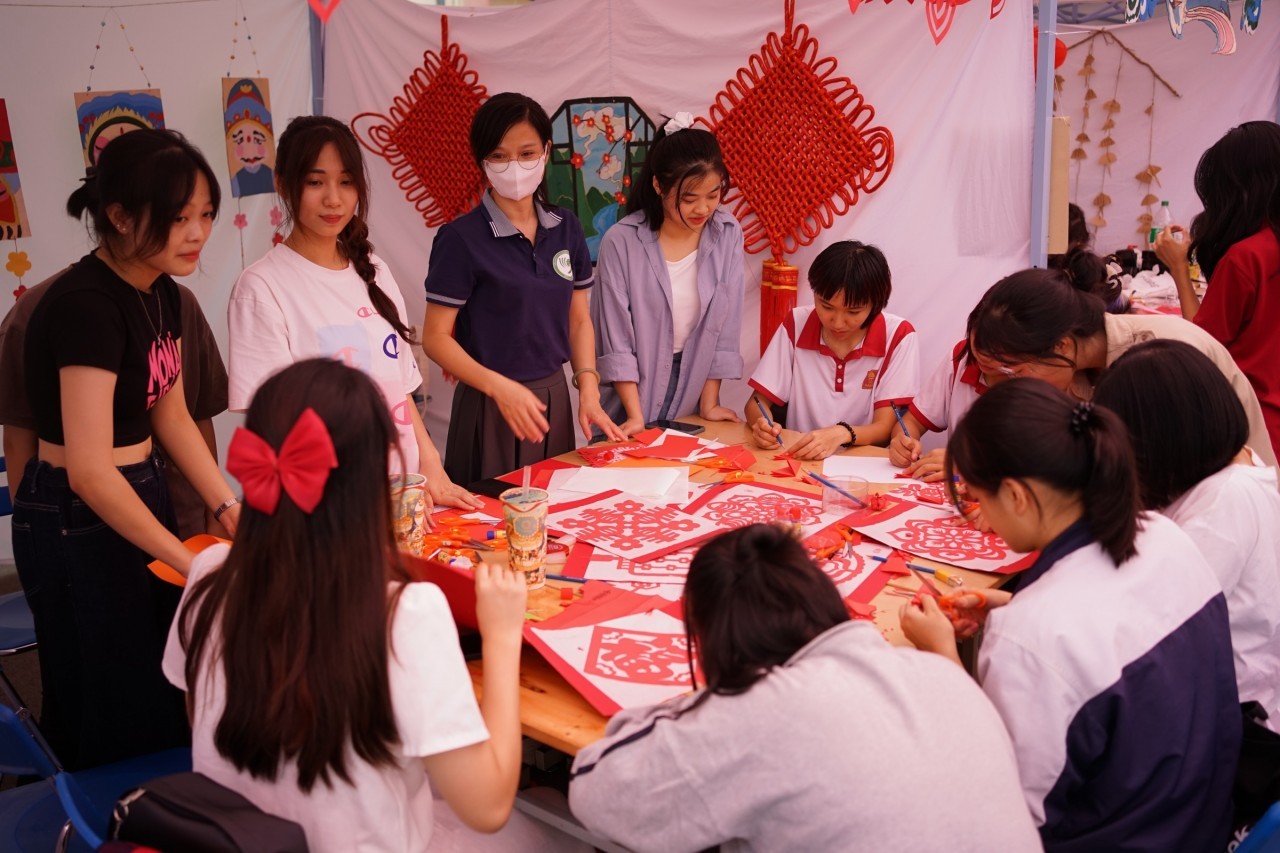 Students participate in activities to experience Chinese culture. Photo: Pham Ly
This is one of the activities of the 5th China-ASEAN Audio-Visual Week, and is also part of the series of the Lancang-Mekong youth cultural exchange event, "A Tale of Two Cities". Series of events will continue to reach countries through unique cultural exchange activities, promoting friendly exchanges and mutual understanding between the countries' youth.