300 Self-driving Chinese Tourist Cars Enter Ha Long Every Month
Maximum of 300 self-driving Chinese tourist cars will be allowed to enter Vietnam through Mong Cai border gate every month.
According to the pilot management plan announced by the People's Committee of Quang Ninh province today, self-driving tourist cars from China will be operated within Mong Cai City, National Highway 18A, Ha Long - Mong Cai Expressway, and Ha Long City.
Allowed self-driving cars are less than 9 seats, inspected and granted a transport license by the authorities of both sides. Vehicles are labeled with the organizer's logo for easy identification. They must travel in groups, led by Vietnamese cars, and operated according to a predetermined route.
Drivers must meet the requirements for license, passport, visa, and comply with local traffic regulations. They must bring all vehicle documents such as safety inspection and insurance.
In the opposite direction, self-driving Vietnamese tourist cars to China also need to travel in groups, led by a car from the Chinese organization and carry out the procedures and documents prescribed by the Chinese side.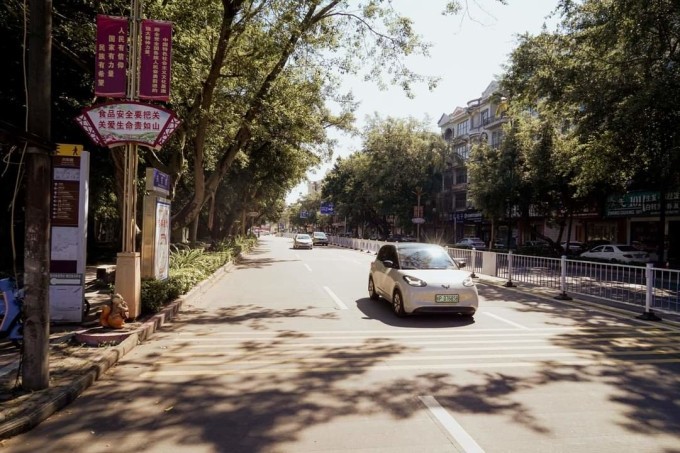 Dong Hung (Dongxing) street, Guangxi, China, in September.
The operation of self-driving tourism through the Mong Cai border gate into Ha Long city, Quang Ninh province and vice versa has been piloted since September 2016. From September 2016 to the end of 2019, 35 cars and 108 tourists from Vietnam exited to travel to China; 424 vehicles and 1,443 tourists from China entered Vietnam, traveling to Ha Long and Quang Ninh. Then, the program was stopped due to the impact of the Covid-19 pandemic.
Self-driving tourism service received positive feedback and was evaluated as having the potential, to attract tourists to Ha Long to use high-class services, which differs from the Chinese tourist market in traditional highway roads. This is a good tourism product, creating revenue for businesses, and contributing to increasing revenue for the local budget. The pilot management of self-driving tourist vehicles will be carried out until September 30, 2026.
Preparations to deploy self-driving tourism services between Mong Cai City and Dong Hung City (China) through Mong Cai International Border Gate have been completed. The Management Board of Mong Cai International Border Gate arranged a service area and a system of 300 benches to serve the needs of tourists while waiting for entry procedures. They also repainted traffic warning lines at entry and exit vehicle control lanes. They installed air conditioning systems for working booths on both sides of the control flow for immigration vehicles and imported goods.
Mong Cai City has synchronous facilities and transportation infrastructure conditions, especially the newly launched Van Don - Mong Cai Expressway, meeting the required criteria and standards for prompt and convenient travel for tourists.
In the first 9 months of 2023, Mong Cai City will welcome nearly 2 million visitors, an increase of 1.2 times over the same period last year. Total revenue from the tourism service industry is estimated at VND 80 billion, an increase of 1.3 times over the same period in 2022.