NGO, Vietnam's Ministry Work Together to Promote Mental Healthcare for Students
Good Neighbors International (GNI) and the Ministry of Education and Training joined forces to launch a project designed to raise awareness of the symptoms of mental health conditions, encourage children and adolescents to seek help when they need it, and help eradicate any associated stigmas.
Good Neighbors International (GNI) in collaboration with the Ministry of Education and Training recently held the announcement ceremony of a cooperation project "Developing Social Work and Psychological Counseling in Schools in the period of 2022 -2024".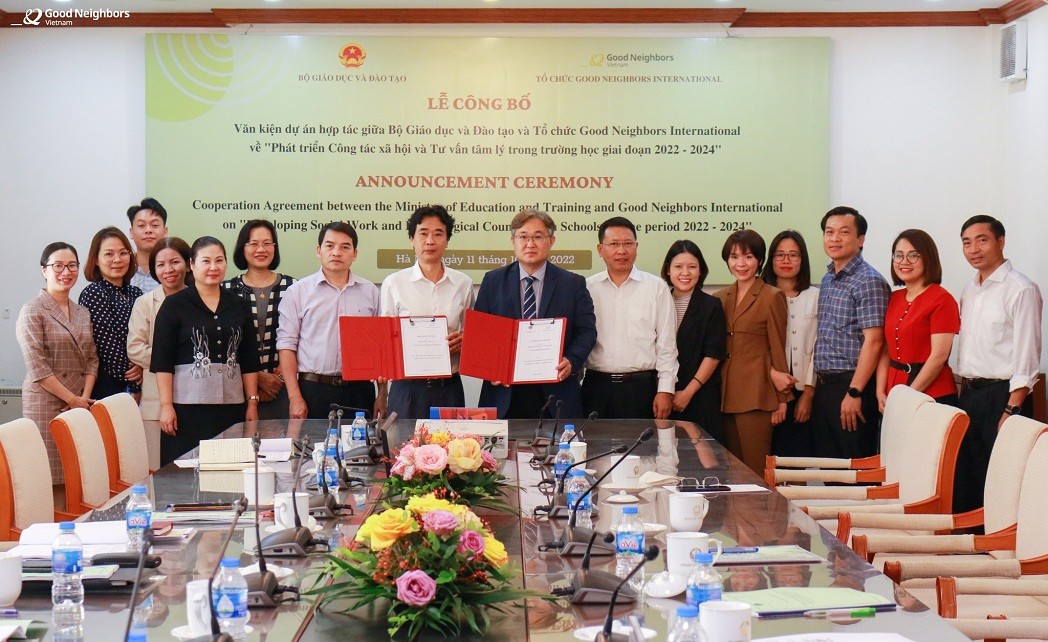 At the signing ceremony of the cooperation agreement. Source: GNI Vietnam
According to the agreement, the project "Developing Social Work and Psychological Counseling in Schools for the period 2022-2024" will be implemented in six provinces and cities: Hanoi, Ha Giang, Tuyen Quang, Hoa Binh and Thanh Hoa and Ho Chi Minh City.
The project aims to improve the effectiveness of social work and school psychology counseling in helping and protecting students at school.
Within the framework of the project, GNI and the ministry will conduct surveys, evaluate, and organize seminars to review relevant documents on social work and psychological counseling in schools. In particular, the study clearly stipulates the roles, tasks and implementation process of officials, teachers, staff implementing social work and psychological assistance in educational institutions.
Research policies will be conducted to encourage socialization, attract businesses, organizations and individuals to invest in developing establishments providing social work services, psychological consultations and support in education facilities. Along with that, strengthening coordination with ministries, agencies and related units and organizations to develop social work and mental health care in schools.
The project also will build and develop a network of institutions providing social work and psychological counseling services in schools; building counseling rooms, diversifying forms and improving the quality of providing social work and psychosocial support services in schools, in accordance with social needs and contexts.
Through the project, cadres, officials, employees and collaborators implementing psychological counseling work in schools have the opportunity to be trained and re-trained, to improve their professional qualifications. At the same time, raising awareness about mental health problems and pressure along with social work and school psychology counseling.
With this project, GNI and the Ministry of Education and Training are expected the project will benefit about 2,017 preschool institutions, 27,800 groups of children, kindergarten ages; 3,704 schools at the high school level.
GNI hopes that this project will contribute to improving the effectiveness of policy implementation and providing better quality social work and mental health services to students.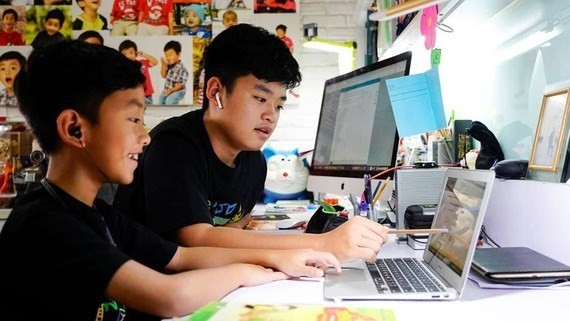 Illustrative image. Source: tuyengiao.vn
More than 3 million children have mental health problems
Speaking at a meeting in Hanoi to celebrate World Mental Health Day on October 10, Deputy Minister of Health Tran Van Thuan highlighted the importance of strengthening community awareness of mental health and improving mental health and early detection of mental disorders.
VNA quoted the report from the health ministry showing that 14.9% of Vietnamese suffers from one of the 10 common mental disorders, which is about 15 million people. However, most people associate mental disorders with schizophrenia.
The actual rate of schizophrenia is 0.47% of the population while depression and anxiety rates account for up to 5-6% of the population. The rest are other disorders such as bipolar affective disorder, and psychosis related to alcohol and drug use.
In children, mental health problems are seen in about 12% or more than 3 million children. Anyone can have a mental disorder at some point in their life.
Among non-communicable diseases, mental disorders are very common, are on the rise and are the cause of many other health problems. In 2019, WHO estimated that one in eight people were living with a mental disorder, the most common being anxiety disorders and depression.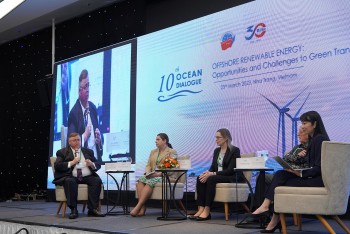 Seas and islands
Vietnam and other coastal countries in the region have both opportunities and challenges in developing offshore renewable energy, according to the 10th Ocean Dialogue held in Khanh Hoa province on Thursday.