800 Vietnamese Youths Respond to Global Climate Crisis
Up to 800 initiatives on environmental protection have been submitted by Vietnamese youth to the British Council after only two months of launching.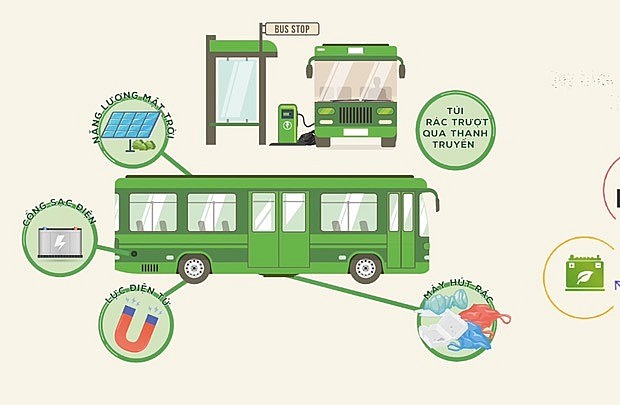 Green bus model to protect the environment of students at Nguyen Du High School, Thanh Oai, Hanoi. Photo: VNP
In just over 20 days of launching, the British Council's global research campaign in Vietnam has received nearly 800 initiatives on environmental protection and climate action from many young people attending high school and university, even teenagers.
"This is a very encouraging sign and it is a recognition of the enthusiasm of young people to call for action, as well as conditions for young people to contribute directly to climate action," Donna McGowan, country director of British Council in Vietnam assessed the positivity of Vietnamese youth in responding to climate change during the sharing session on initiatives and good practices of Vietnamese youth in environmental protection and climate action.
The forum was held online on the evening of September 23 to create opportunities for sharing and dialogue among the Vietnamese youth community about lessons learned, difficulties and challenges. The forum is also a place to share the skills needed in the journey to create environmental and climate innovation and share how to make a lasting impact through initiatives.
During the dialogue, many scholars, experts and young people shared multi-sectoral climate action initiatives related to environmental protection and climate change.
In the discussion session themed "Creative Ideas," a number of innovative ideas and practices of Vietnamese youth to join hands to protect the environment were shared by the representatives of the groups.
Typically, the NOTT-202 group including Nguyen Minh Dung, Tang Thi Anh Linh, and Tran Duc Dinh from Hai Ba Trung High School (Thach That, Hanoi) has the initiative "NOTT-202 tubes". This is an initiative to use a material capable of capturing CO2 from vehicles and converting it into Hydrogen, thereby reducing smog pollution.
The "Green Bus" initiative of the WORRI0RS group - Nguyen Du High School, Thanh Oai (Hanoi) with the message "for a clean world, use green buses." It is a bold and creative idea with the dream of building a green bus system powered by various alternative energy sources such as solar energy from the rooftop panels of electric vehicles.
Besides, there is also the idea of Ecofactor - an application to monitor the consciousness of environmental protection of Trung Hieu, a student of Tran Nhan Tong High School (Hanoi); Environmental protection exercise application of Gia Bao, a student of Lien Ha High School (Hanoi). The applications have attracted the interest of many people.
Vietnamese youth with many initiatives to respond to climate change. Video: VNP
The British Council's global research campaign aims to engage young people globally to express their aspirations for a green planet's future. The content of the initiatives is divided into three main categories: creative, practical and pervasive.
According to Donna McGowan, it can be said that young people are very eager to have their voices heard because today, the government and international organizations have created many conditions for young people to participate in policy making and put climate action initiatives into practice. In Vietnam, not only contributing a large number of ideas, the number of people signing the Joint Declaration of youth action for climate in Vietnam has reached more than 4,000 people. This has shown the great interest of young Vietnamese in environmental and climate protection.
Forum "Online dialogue to share initiatives and good practices of Vietnamese youth in environmental protection and climate action" as well as "Global Youth Joint Statement on Climate Action" " are events in a series of activities organized by the British Council to call for action for the climate of young people around the globe and directly send the voices of young people to the leaders attending COP26 - United Nations Climate Change Conference. The COP26 will officially take place in Glasgow, UK.