A Delicacy of Hanoi: Nem Phung (Fermented Pork) With Cluster Fig Leaves
Nem Phung is a specialty of Phung Commune in Dan Phuong, a suburban district of Hanoi. This tasty dish is beloved by Vietnamese and expats alike.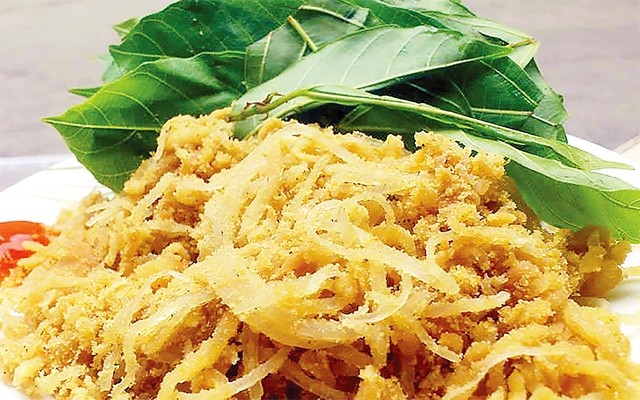 The thin layers of lean pork meat, lard and skin mixes with some salt, seasonings and thính, the golden roast rice grounded into a brownish powder. Source: NDO
A beautiful Vietnamese folk song says:
"Nem Phùng ăn với lá sung
Để người tứ xứ nhớ nhung suốt đời"
("Phung fermented pork with cluster fig leaves
Make people in other regions remember forever")
If you visit the ancient citadel of Son Tay which is about 40 km north-west of the center of Hanoi, do not miss buying and tasting the delicious Phung fermented pork – a specialty food of in Dan Phuong District of Hanoi.
Not sold as popularly as other specialty spring rolls, the rustic spring rolls are still crept in the lives of the people of Hanoi, on the trays and drinking tables… The reason why the dish is called Nem Phung is due to its origin from Phung town, now in Dan Phuong.
Served as a snack, not as a staple food to be consumed with rice, nem Phung are often made into small golf ball-sized rounds and sold for mostly men to take with rice liquor. It's a delicacy for a taste or a snack, not a meal to fill up on.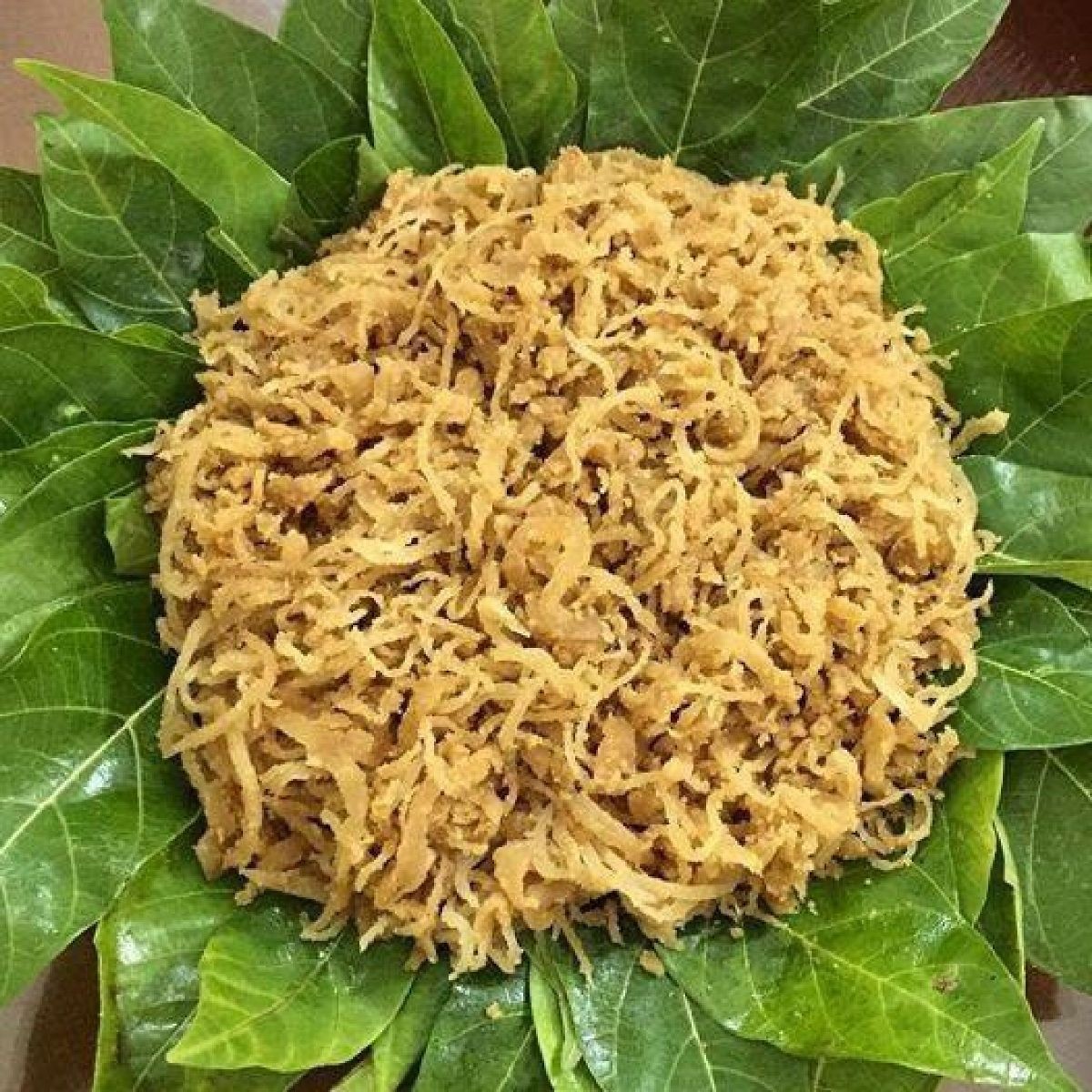 Nem Phung is likened to a blossoming flower because when peeled, the banana leaf will slowly open and then next are the cluster fig leaves. The pistil is the yellowish thinh mixed new phung that are tightly braided together.
Its main ingredients is fresh pork (including lean pork, fat and skin), rice, sticky rice, cluster fig leaf. Steam the pork until well-done, then separate lean pork, fat, and skin, cut the lean pork and pork skin into juliennes. Then mix them with spices and "thính" which is made by toasting rice and golden-flower sticky rice, then grind them until all the rice has been finely ground.
Making "thính" is also very important in the process of making fermented pork. Thinh is made from ordinary rice, glutinous rice and soy beans with proportion of 7:2:1. Rice and soybean are carefully rinsed, soaked in warm water then thoroughly roasted. The cook should stir the rice continuously so that the rice are not burnt and are fragrant and in brown-yellow color.
Then they wrap the mixture in cluster fig leaves, guava leaves, and banana leaves into a square shape. The food will be ready in one day. The sweet-tasty lean pork, crunchy pork skin covered with the smelling "thính", the sour taste have won the hearts of most people.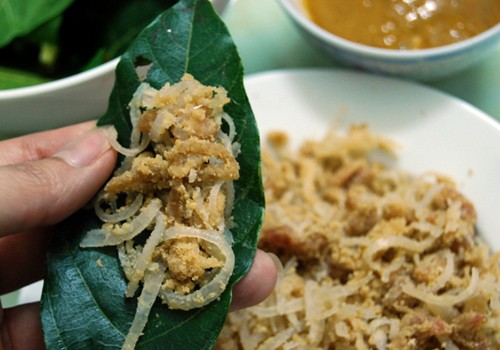 The best leaves are hand-sized leaves, still young and having rough spots.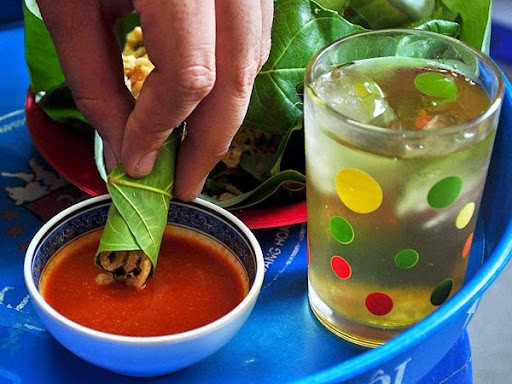 When eating, Phung fermented pork is usually wrapped in young cluster fig leaves and dipped in spicy sweet and sour dipping fish sauce or chili sauce.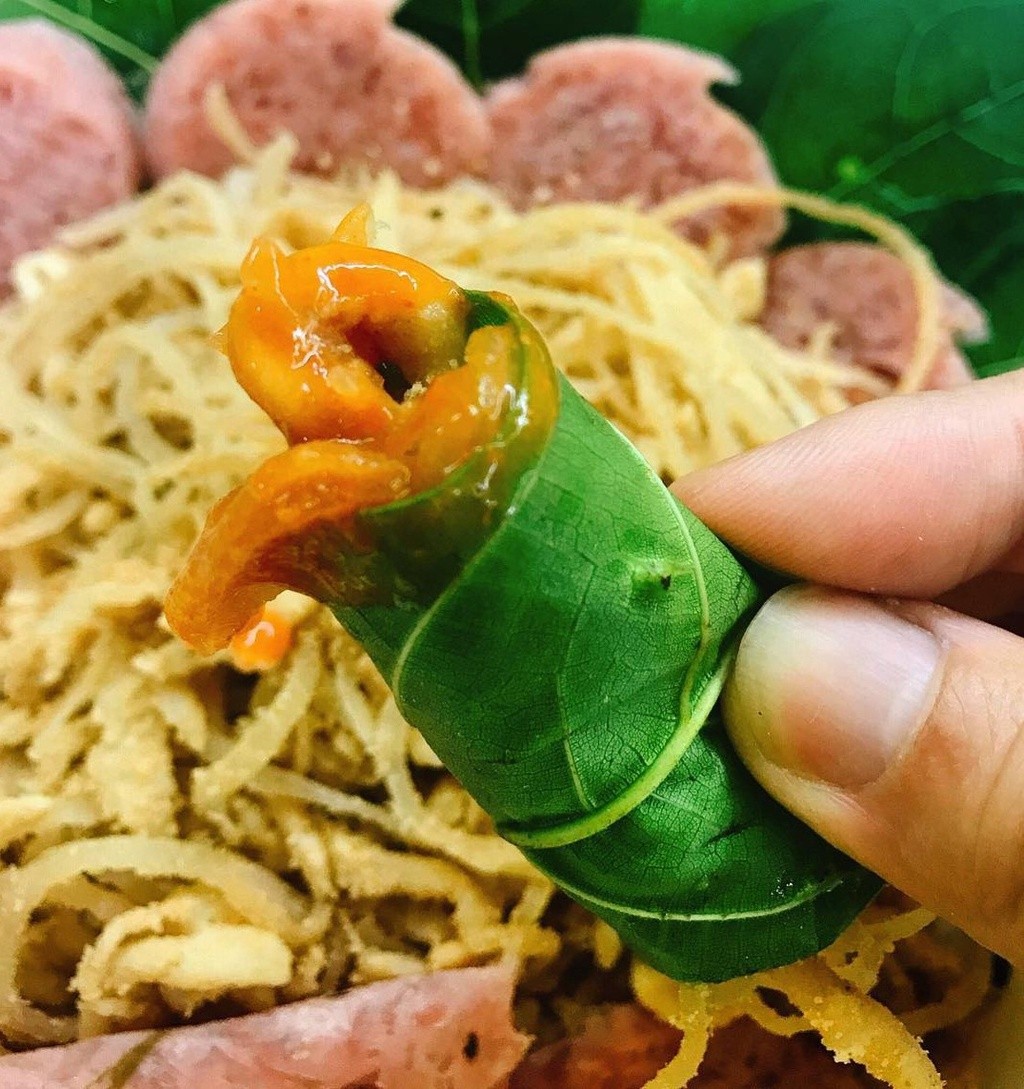 The sapid taste of meat, buttery taste of cluster fig leaves, aroma of Thinh, all blend together in Nem Phung and make it an unforgettable dish.
What makes the name of Phung fermented pork is the combination with cluster fig leaves. The flavor of spring rolls becomes more complete if rolled with this type of leaf, fragrant, acrid and crispy.
The leaves are also carefully selected. Leaves too small will not be enough to wrap spring rolls, while old ones are tough and acrid. The best ones are hand-sized leaves, still young and having rough spots. If there are more spots, the more fleshy they will eat.
Wire strips are split from Giang tree (one of bamboo species). It looks very dazzling and eye-catching in green leaves. Qua Nem is strung into five or ten-pack bunches and look very delicious.