A good working place for people with disabilities
Providing jobs to people with disabilities is not only doing charitable work, but it also enables them to  eligibly work by themselves declared in the UN's Convention on the Rights of People with Disabilities and many legislations introduced by the Vietnamese Government.  
Currently, there are 10 people with disabilities are working in the long-term contracts at Seshin Vietnam Co., Ltd (Thuy Van Industrial Zone, Viet Tri City, Phu Tho Province). They enjoy an open and inclusive working environment there and feel themselves as equal as every worker in the whole company.
A turning point for a changing life
Mr. Hoang Duc Chung (born in 1980) and his wife are together working at the company. Both of them are persons with disabilities. For Mr. Chung, his withered legs did not grow normally when he was young due to Poliomyelitis, which made him difficult to move around without using a pair of crutches. After completing a course of tailoring, he stayed at home and worked as a tailor in a small village in a rural area with a very low income. One day, he heard the recruitment information from Seshin company and decided to apply for a job there. Mr. Chung has been working for this company for 13 years.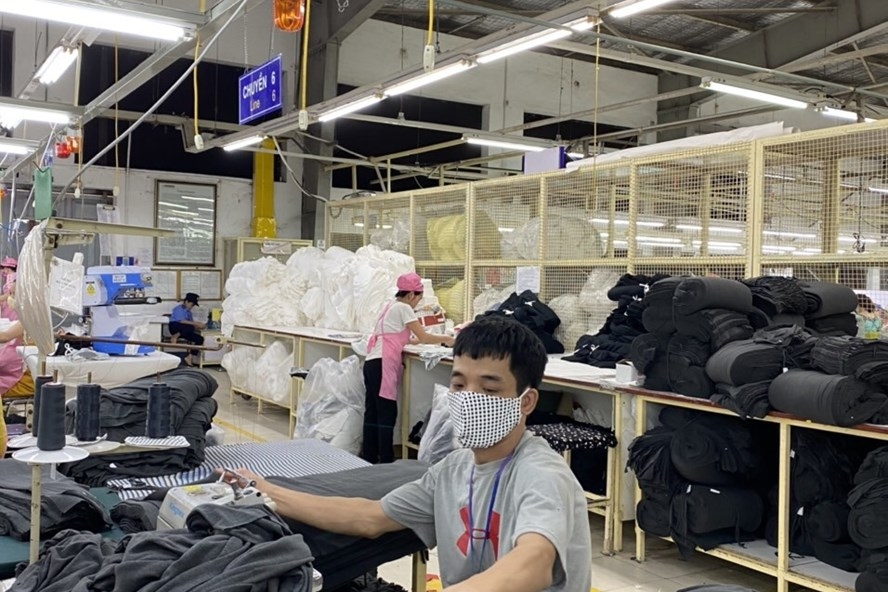 Mr. Hoang Duc Chung is working at the company. Photo: laodong
Mrs. Ha Thi Loan (born in 1986) has a similar situation like Mr. Chung. She is also a person with a disability due to an accident while working as unskilled labor. "She joined the company after me a few months. We decided to get married in 2019 when both of us had a stable income thanks to our hard work and good working conditions like social insurance and health care benefit provided to workers by the company", shared Mr. Hoang Duc Chung. He also confessed that his life would be in uncertainty unless a turning point happened in 2007 when he was offered a job in Seshin company. "I even did not dare to think about getting married since I had to face too many difficulties at that period of time", Chung said. They are now enjoying a happy life with two children and a better future ahead.
Ms. Chu Thi Lan Huong (born in 1987) is another person with a disability. After spending a long time doing various odd jobs with low income, she applied for a job in Seshin company in the position of product quality control. This post is very suitable for her health condition. "I have received a lot of support in work from the managers in the company. For instance, while other workers need to stand during the shift work, I am provided with a chair to sit due to my health condition. In addition, the workers with disabilities like me can go home 01 hour earlier in comparison with other workers, which is so helpful for me to have more time with my children and family", shared Ms. Huong. She is also happy with the current work-life balance.
Trade Union plays a crucial role in caring for the workers
Seshin Vietnam Co., Ltd is a 100% Korean investment company starting its business in Vietnam since 2005, specializing in producing export garments. Currently, there are 10 people with disabilities who are working for the company.
"No discrimination against people with disabilities in my company. We truly sympathize with the difficulties they have to face in life, and we understand that, they can complete their jobs with good working performance if they are assigned with suitable tasks", shared Ms. Do Thi Thu Huong, Chair of Board of Trade Union of Seshin Vietnam.
Not only providing a good working environment for workers with disabilities, but the company also pays attention to the spiritual life for this group of disadvantaged people with relevant policies and social benefits. "People with disabilities are always in the top priority of the company. We are trying our best to help them overcome challenges so as to have a stable life", Ms. Huong said.
"Supporting people with disabilities means to ensure no one left behind during the process of the development of economics and the labor market. This is not only to fulfill the equal rights for this disadvantaged group but also reflect the success of enterprises. By promoting the rights to work for people with disabilities, the business sector, individuals, and the whole society will be benefited from that", spoke Dr. Chang Hee Lee - ILO Viet Nam Director.
https://laodong.vn/xa-hoi/mai-nha-chung-cua-nguoi-khuyet-tat-801976.ldo