A Japanese Doctor's Mission to Save Vietnamese Vision
For the past 20 years, Dr. Hattori Tadashi has used his knowledge to help thousands of visually impaired Vietnamese.
Since 2002, beside making constant trips to remote rural areas across Vietnam to give free eye surgeries, the 58-year-old Japanese ophthalmologist Hattori Tadashi has made it his mission to train as many local doctors as possible. His teaching principles are simple: "Think of the patients."
Perhaps, the good doctor's greatest legacy is his dedicated students. Thanks to their success, many rural citizens have improved and retained their vision.
The doctors of Hue Eye Hospital followed Mr. Hattori (wearing glasses) to guide him on how to examine patients, photo taken in 2017 (Photo courtesy of Phan Thi Thanh Thanh)
Serious eye diseases can result in loss of sight and affect many people with other underlying health issues, such as diabetes. Prof. Dr. Hattori Tadashi (born in Osaka, graduated from Kyoto Prefectural University of Medicine) is a specialist in cataract operations and vitrectomies has top-level arm in the world. He is advisory doctor at the Vietnam National Ophthalmologist Hospital and mentors some of the top eye doctors across Vietnam.
The priceless value of mentoring
When he first mentor Vietnamese doctors, Dr. Hattori is already one of the leading ophthalmologists worldwide. In his field, there were not many who focus on cataract operations and vitrectomies. In Vietnam there were none.
By mentoring the young doctors in Vietnam through voluntary eye surgeries, Dr. Hattori gave precious lessons that went beyond the textbook. He stressed that his doctors should always be absolutely empathetic.
Dr. Hoang Van Chinh (Quang Ninh) was a recent student of Dr. Hattori, working under him in 2017. Each year, he volunteered several times to join Dr. Hattori in free eye surgeries operation across Vietnam, in Binh Phuoc, Bac Kan and even at the border area. Under the instruction of the Japanese mentor, Dr. Chinh believed that he did not only improve skills and techniques, succeed in thousands cataract operations and vitrectomies over the past 5 years. The most important value Dr. Hattori imparted on his students was to treat every patient like a family member.
"There is one thing he always ask students to remember: Doctors must treat patients as parents and relatives," said Dr. Chinh. "I learned a lot from the humble and kind-hearted teacher, he taught me that even though he is a honorable professor and doctor, it is doesn't affect how he treat others. Dr. Hattori even picks up the trash after the operation is over!".
His students are surprised to see the foreign doctor spend his own money to help patients pay hospital fees. He is not above lifting a patient himself and gently placing them on the operating table. They see the selfless acts of Dr. Hattori everytime he is in Vietnam and identify him as an inspiration.
Dr. Phan Thi Thanh Thanh (right) and Dr. Hattori (Photo courtesy of Phan Thi Thanh Thanh).
Dr. Phan Thi Thanh Thanh (Hue city) of Hue Ophthalmologist Hospital said everything she knows about cataract operations and vitrectomies, she learned from Dr. Hattori. Since 2013, when she first started working with the Japanese doctor, she watched him operate and study his techniques. Now that she has improved, he become the one who observed and instructed her when she operate.
Dr. Thanh massively credits Dr. Hattori for his work in Hue.
"If it has not been for Dr. Hattori, there would be no Hue Hospital's Ophthalmology Department." She did not only learn how to operate from him but also how to communicate with patients, how to use modern equipment for medical examination and treatment.
The teacher's big dream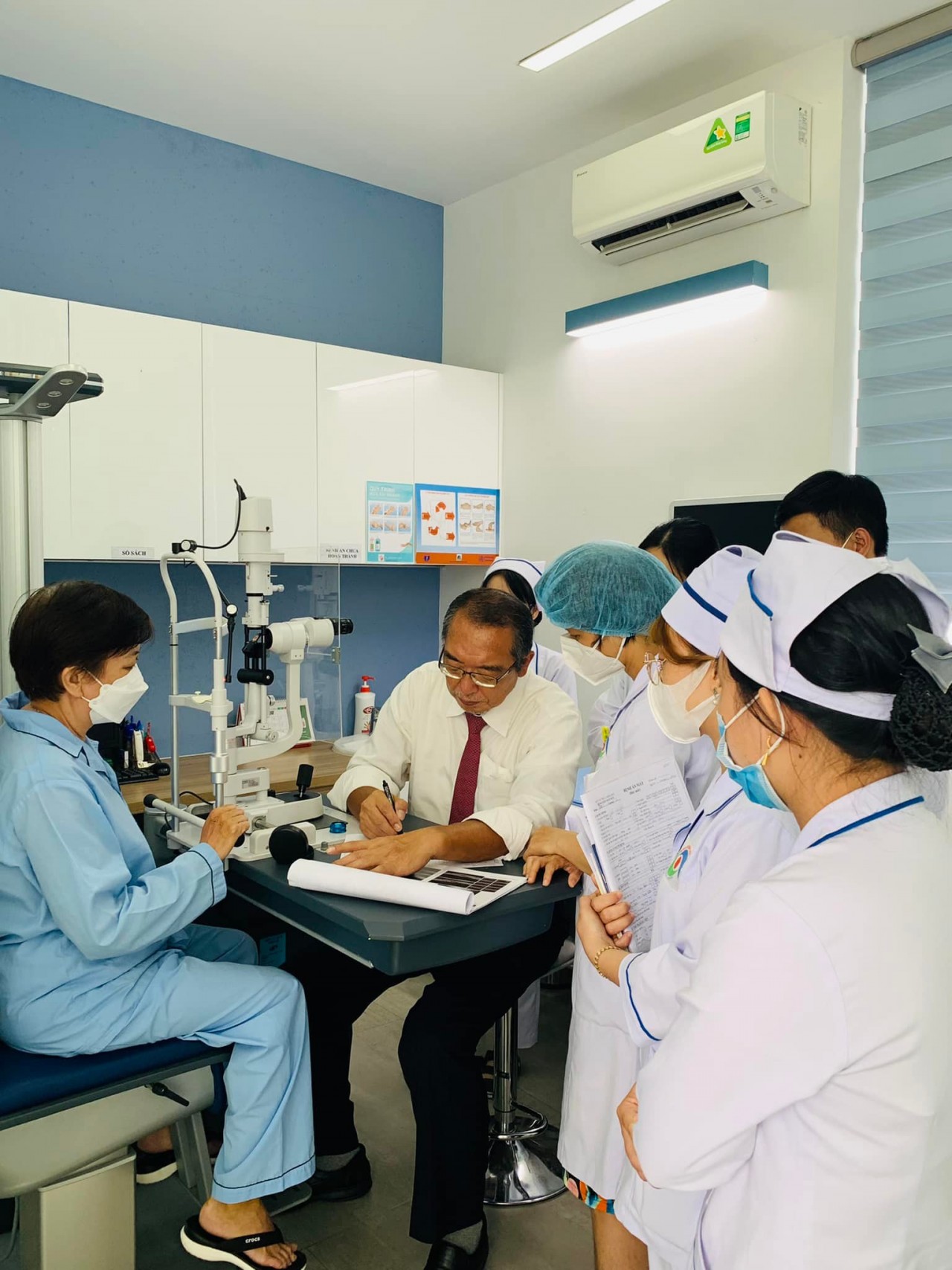 Vietnamese doctors are taught from the smallest things such as how to reach patients for eye contact to difficult procedures, how to handle severe cases or how to use advanced machines for surgeries (Photo: Hoai Sakura).
Dr. Hattori has a dream of teaching many young doctors so they can become the next generation who provide charity work for those in need.
"I want to train more doctors so there is not only 1 Hattori, but 2, 4 and many more Hattoris in the future to treat patients," he said.
Once he sees that his students can operate at his level, he continues to support them. Dr. Hattori helps them find funding from the Japanese government which allows them to bring modern equipment and machines. This support ensures that patients can be treated with the best conditions possible.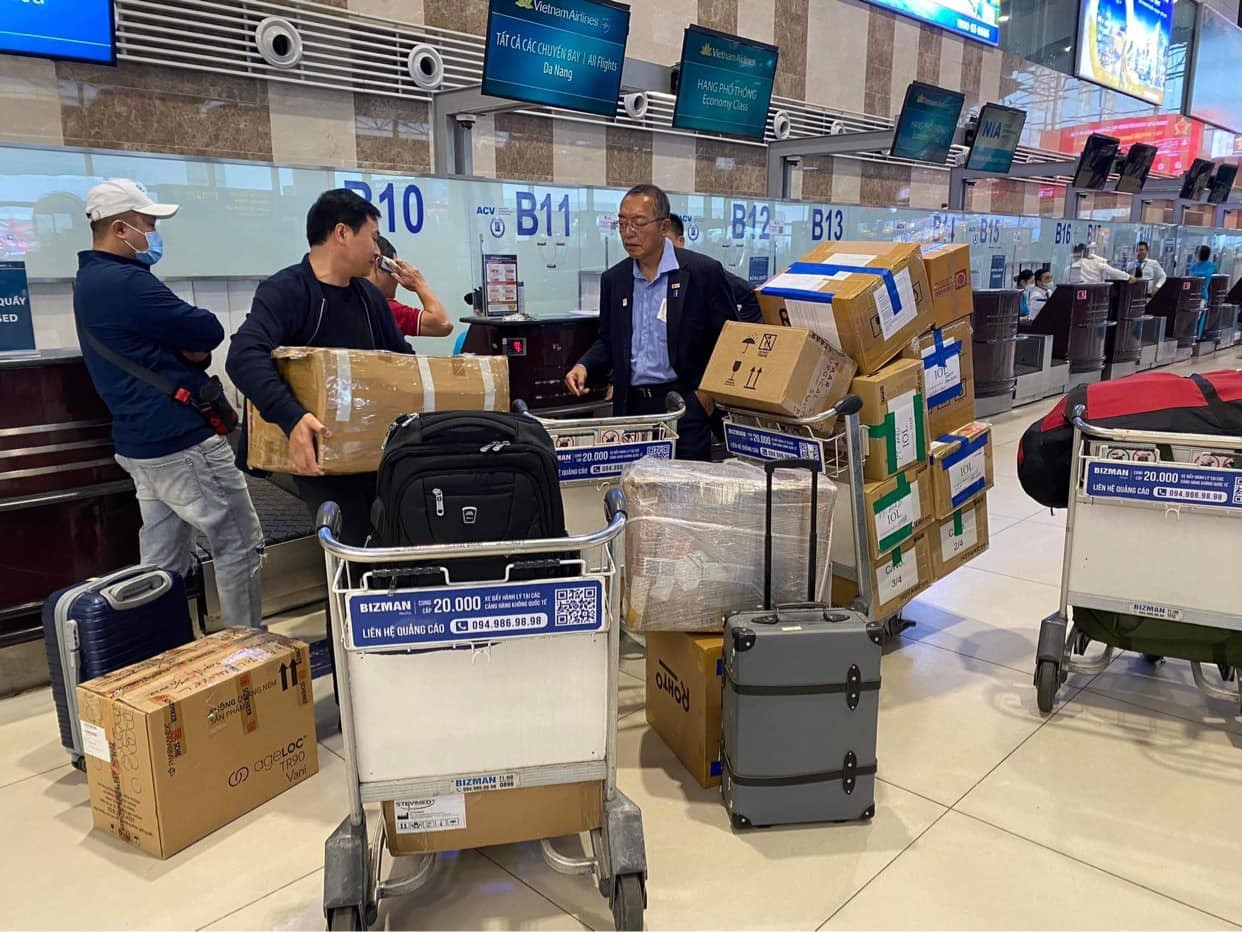 As the executive director for the Asia - Pacific Prevention of Blindness Association (APBA) that he established in 2005 to support cataract patients, Dr. Hattori and volunteer doctors are planning to continue the selfless mission. APBA's goals are to give free surgeries to more patients in Vietnam, to train more doctors (Photo: Hoai Sakura).
The Japanese doctor believes APBA activities can also help underprivileged Vietnamese patients to take better care of their eyes, because as he says: "Having healthy eyes, life is better."
At the age of 60, the doctor with the heart of gold continue to go back and forth between Vietnam and Japan, with luggage always overweighed with machines and equipments to bring to Vietnamese patients on remote, poor areas. Helping him are volunteer doctors, social workers or ordinary people with the same vision: Better eyes and better life for those in need.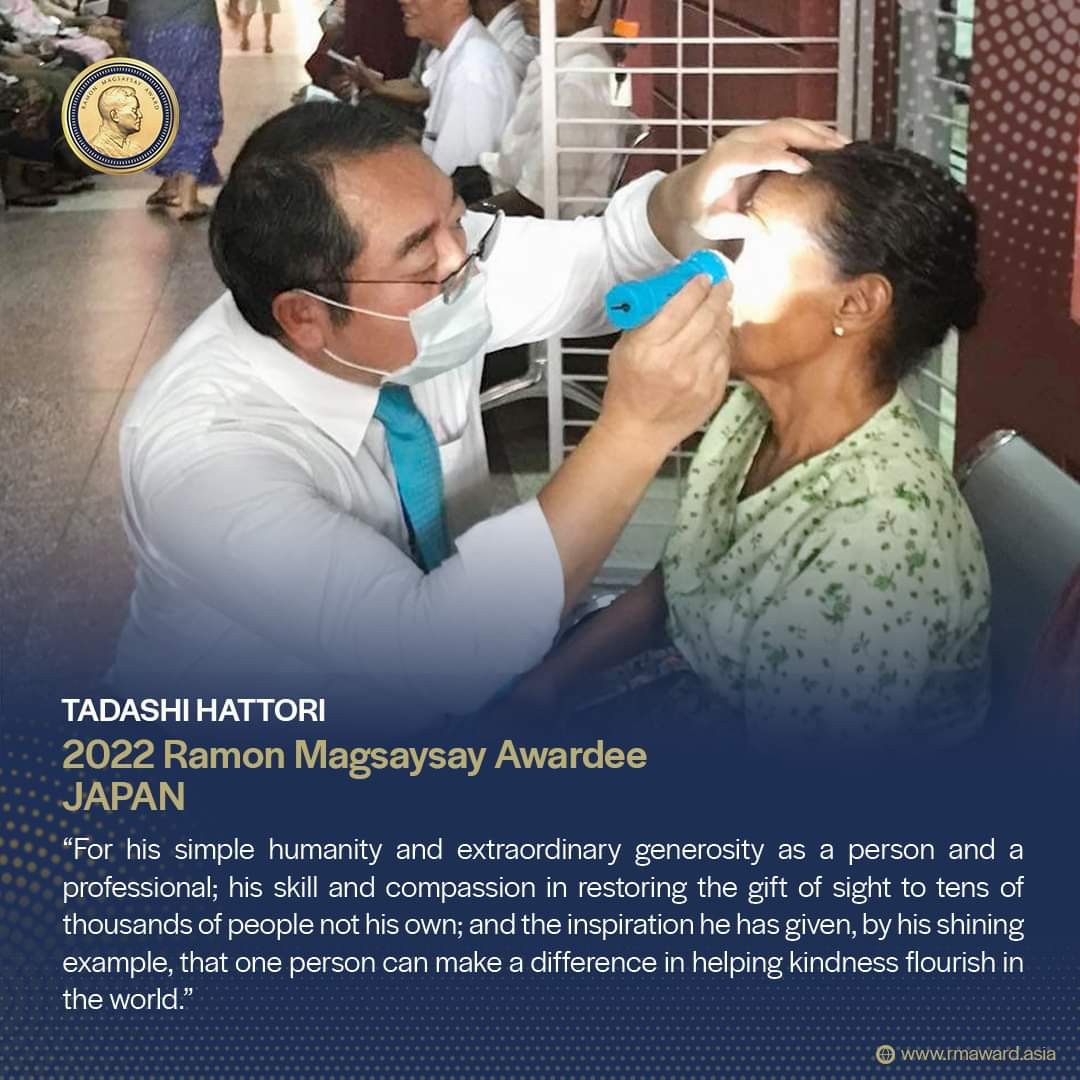 RMA Award
Recently, Professor Hattori Tadashi became one of four people who have just received the 2022 Ramon Magsaysay Prize, known as "Nobel Prize of Asia".
Prof. Dr. Hattori was honored for his contributions in the surgery operation and treatment of approximately 20,000 patients at risk of blindness in Vietnam since 2002, in the support for Vietnamese hospitals with ophthalmic medical equipment, and humanitarian services for poor patients in Vietnam.
Also, for his extraordinary generosity as a person and a professional, Dr. Hattori was awarded with the Medal "For the People's Health" awarded by the Ministry of Health in 2007, the Certificate of Merit by the Japanese Foreign Minister in 2013 and the State Friendship Medal awarded by the Government of Vietnam in 2014.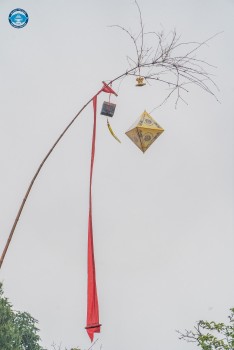 Viet's Home
In the past, the Neu pole (a tall bamboo pole with red garment strips used to ward off evil spirits during the lunar New Year) lowering ceremony at the royal palace of the Nguyen Dynasty was performed to mark the end of the New Year holiday and prepare to enter a new working year.