A Look at Hanoi's "Korea Town"
My Dinh-Song Da Area earned its unofficial title as the "Korean Town" of Hanoi as it is home to some tens of thousands people from the land of Kim Chi.
There are about 150,000 Korean people living and working in Vietnam, reported by the Ministry of Foreign Affairs and Trade of Korea. Many of them, up to tens of thousands, are resised at My Dinh-Song Da Area (Nam Tu Liem, Hanoi), also known as the "Korea Town" of Hanoi.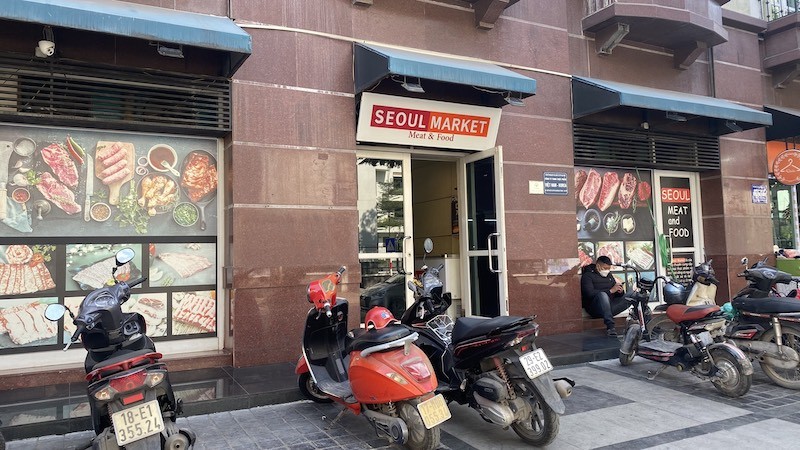 According to the locals, Seoul Market is one of the oldest stores in the My Dinh-Song Da area (Photo: VNT).
Located at the intersection between Tran Van Lai street and Hoang Trong Mau street, Seoul Market meat and food store is at the heart of the Korea Town. As soon as you enter the Seoul Market, you can hear the front desk staff greeting "Welcome" in Korean everytime a customer come to the door. At a corner, there is another staff responding to messages from customers via KakaoTalk (KakaoTalk is a social network application commonly used in Korea).
Ordering goods via instant messages thrive in Korea and the same cases apply for the Korean community in Hanoi.
On KakaoTalk, businesses communicate to customers about anything like consulting, reservations and even payments.
To tackle this behavior habits of Korean customers, businesses in My Dinh-Song Da must have staff who know how to communicate in Korean.
They can be Korean-native, commonly in manager position, together with Korean-speaking Vietnamese staff.
Tham (20 years old, Vietnamese), Seoul Market's front desk staff, has been working here for 6 years.
"Because the shop owner is Korean and so are 70-80% of our customers, I learn Korean on the job," said Tham. She never took any classes but can communicate well in Korean. Tham and her Vietnamese colleagues all know basic Korean communication skills thanks to working with Korean customers everyday.
At the moment, Seoul Market is at peak season because of the high demand for the year-end holiday.
The store is open every day from 8:30 to 19:30. Most of Seoul Market's customers are regular or customers who order through Kakaotalk.
There are not many walk-ins, even on weekends. Most of the customers just come here to make payment, pick up the goods and leave after 10-15 minutes.
"Korean customers usually shop around 10-12 o'clock and 15-15 o'clock every day. They usually come directly to the store to buy, or order via Kakaotalk message and then come to the store to pick up their orders."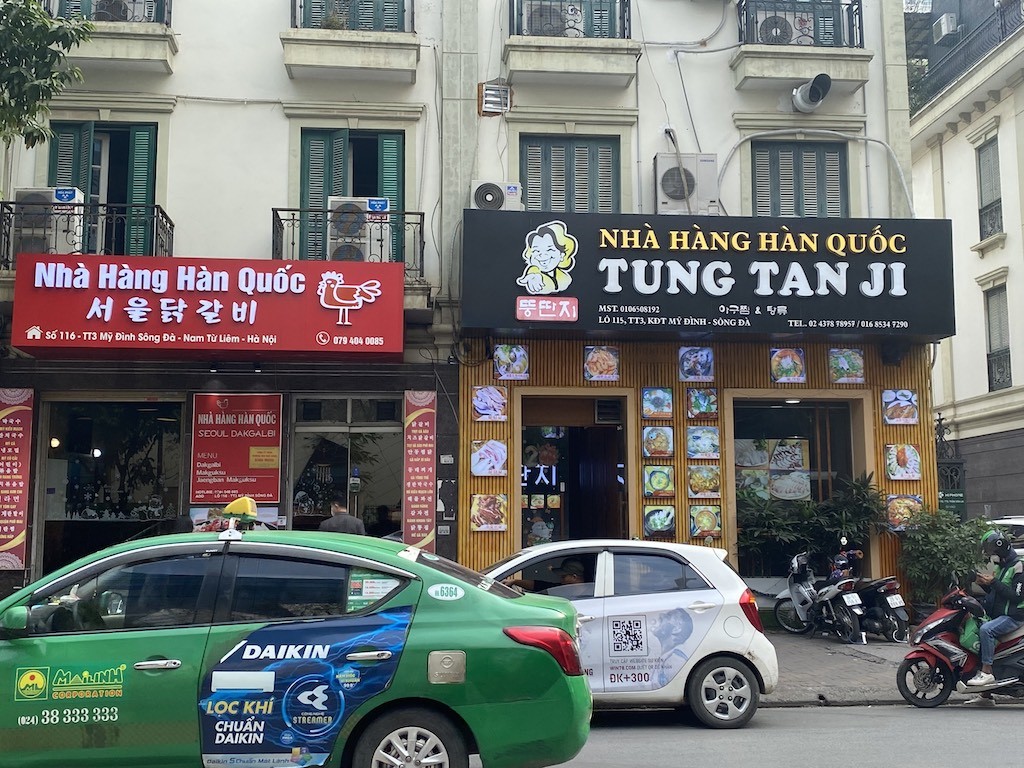 In the Hanoi's "Korea Town", shop signs are full of Korean characters.(Photo: VNT).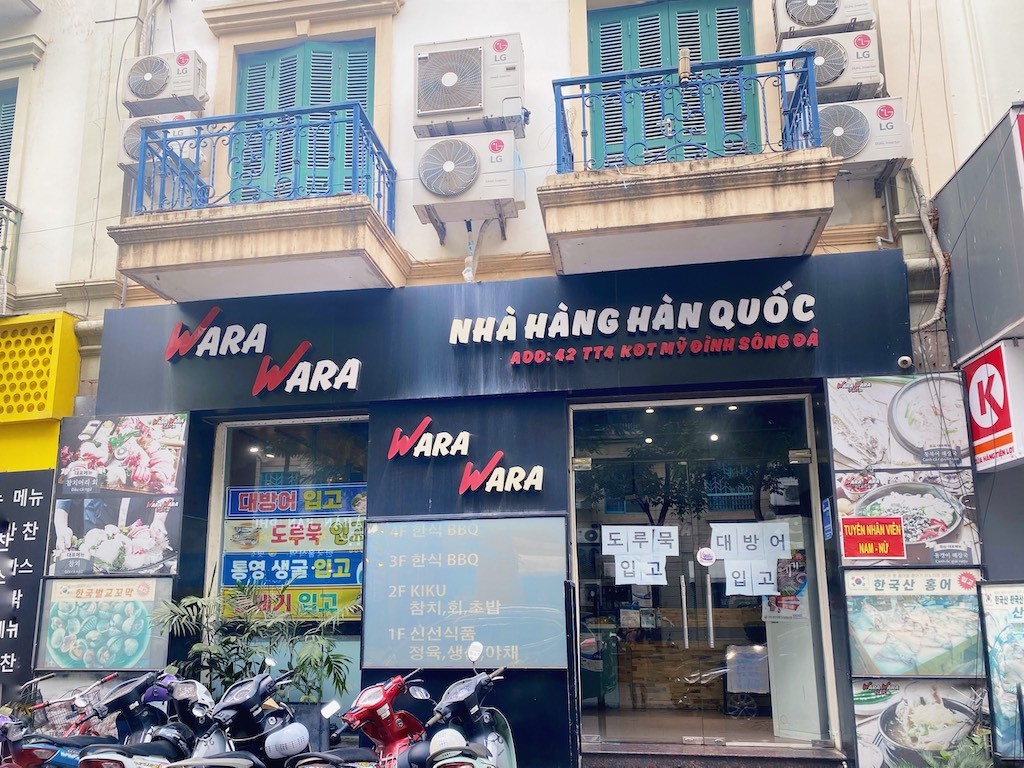 Korean cuisine restaurants in My Dinh-Song Da area (Photo: VNT).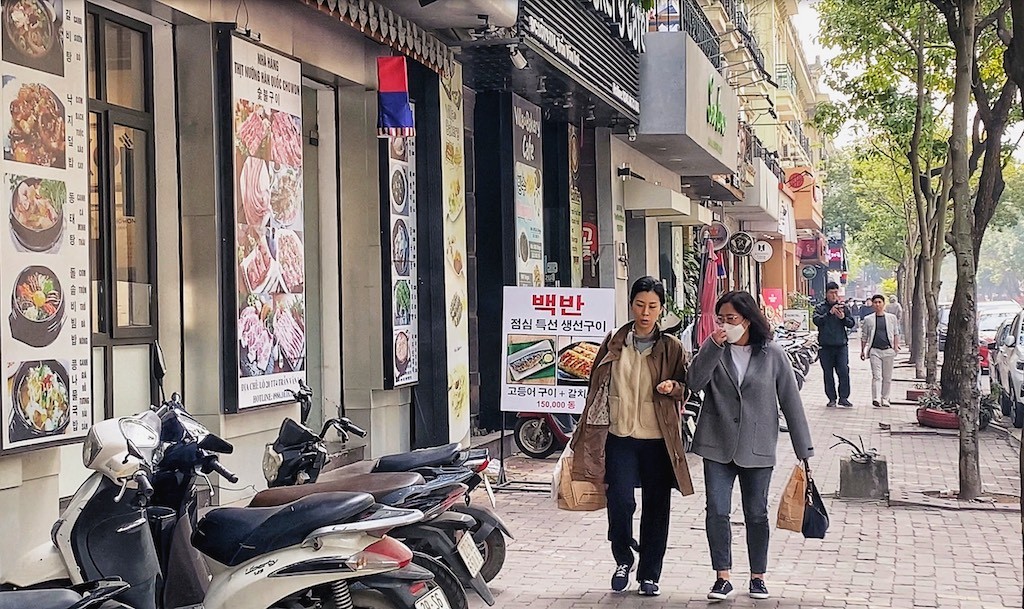 Korean citizens spotted walking on Tran Van Lai Street (Photo: VNT).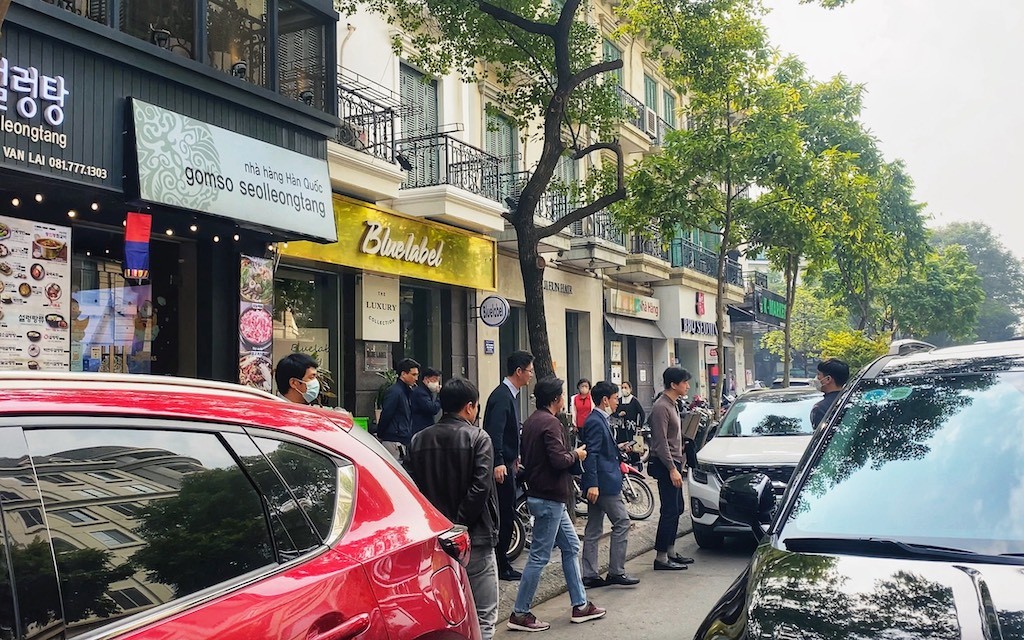 Korean citizens spotted walking on Tran Van Lai Street (Photo: VNT).
In recent years, many businesses like Seoul Market sprung up in this area, selling goods and services for the Korean community. Some of the most popular businesses are restaurants, groceries stores, cafés.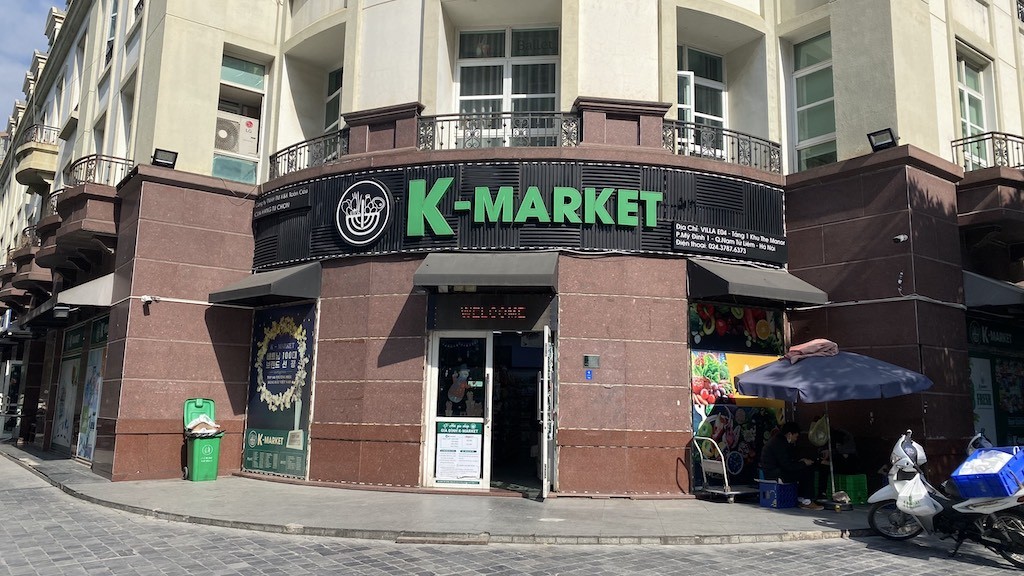 A popular groceries chain among Korean community in Hanoi is K-Market (Photo: VNT).
There are many clothes stores, clinics, pet stores and beauty salons, among other goods and services. Their signature traits are korean-character signs, banners, menus with bright and cartoonish advertisement style.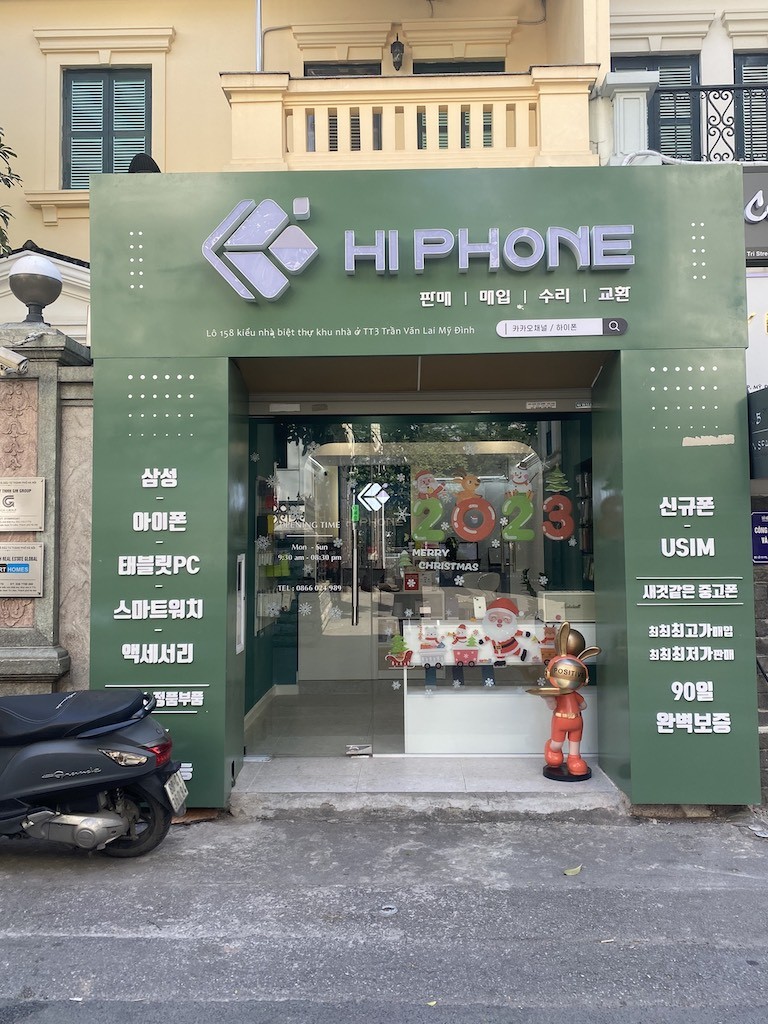 Smart phone store Hi Phone (My Dinh-Song Da, Nam Tu Liem) with Korean-character sign (Photo: VNT).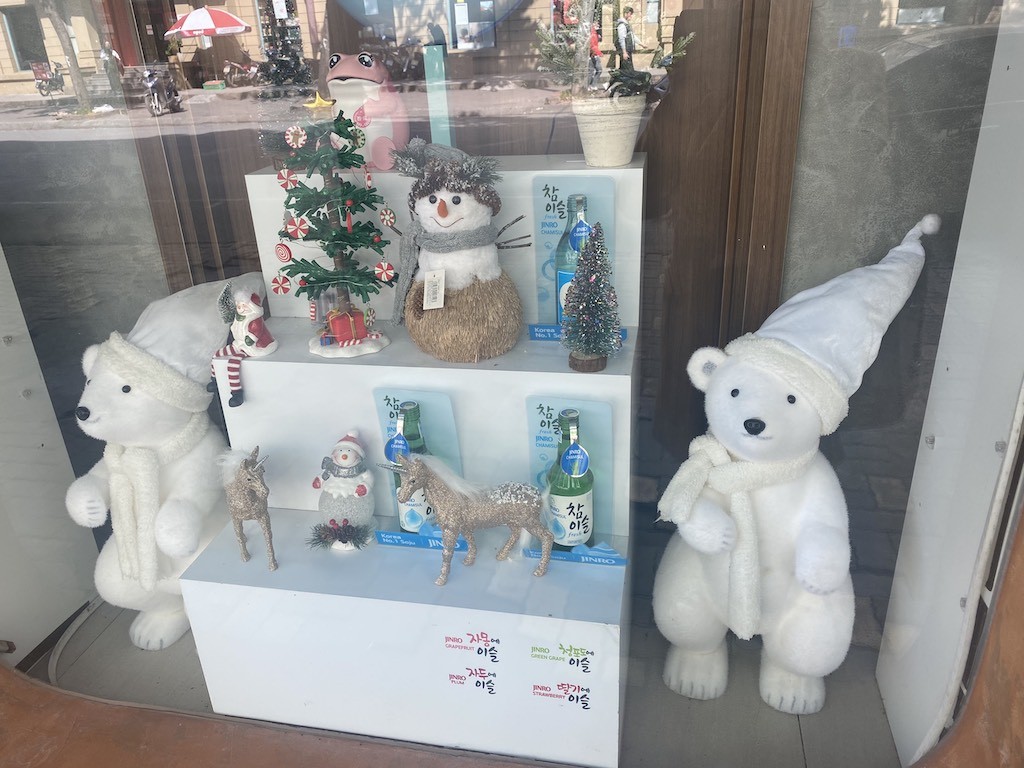 A window display of alcohol beverage products with Christmas decoration in Tran Van Lai street (Photo: VNT).
Black boards with Korean menu written in bright colors in front of the stores (Photo: VNT).
Bright and eye-catching colors of the stores' signs, from street food stall to butcher shop. (Photo: VNT).
Ji Hwan (22 years old, Korean) is currently working as a store manager of Hi Phone - a distributor of smartphones. Hi Phone has an agent in Nguyen Trai and now Ji Hwan's store has only been in operation for 2 months.
This shop is not located on the street but in the alley, surrounded by houses, but still stands out with eye-catching colors and a signboard that is 100% Korean.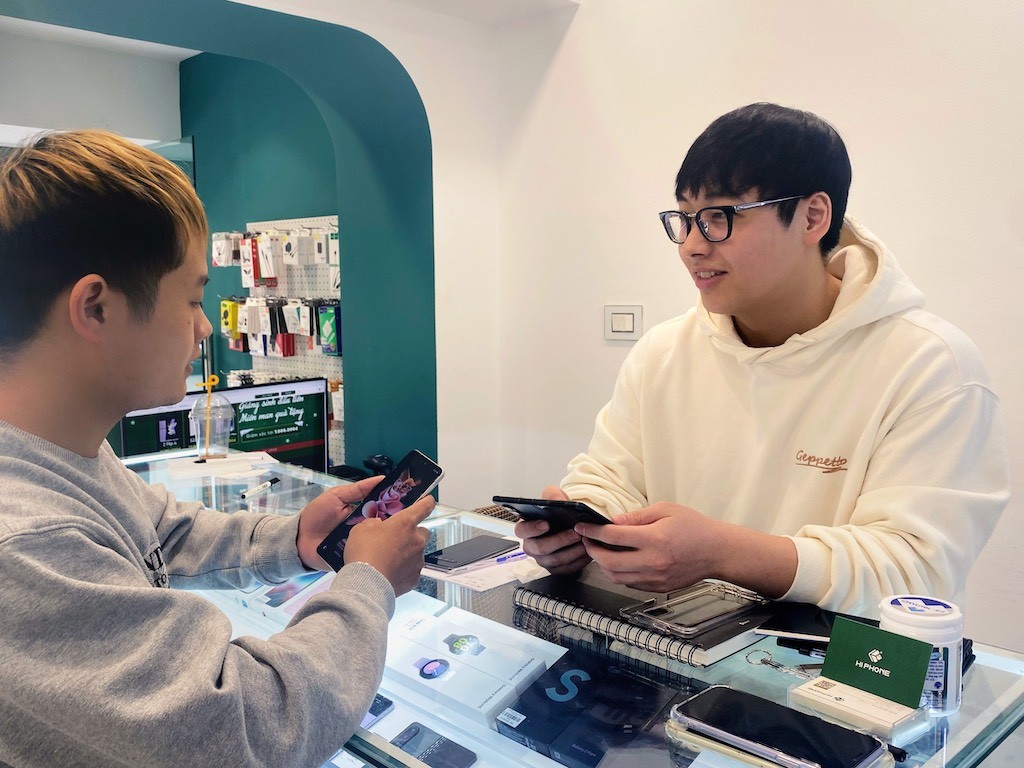 Ji Hwan (right) - store manager of Hi Phone - a distributor of smartphones (Photo: VNT).
According to the Korean-speaking employees in Hanoi's "Korea's Town", the perks of having Korean-speaking staff is that besides buying goods, customers can also engage in friendly conversations with the staff.
" I have been in Vietnam for 4 years and my boss, who is also Korean, has been (in Vietnam) for 5 years. At the store, there is a staff named Diep, one of the two Vietnamese employees, we all communicate in Korean, sometimes speak Vietnamese," said the Korean shop manager.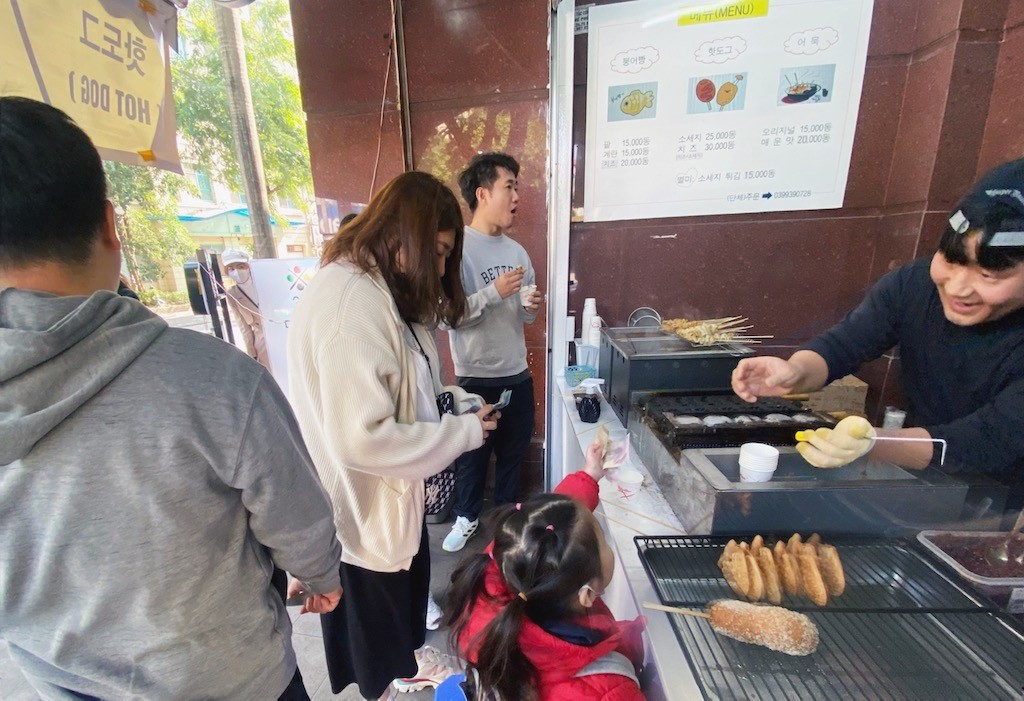 Korean business owners and customers engage in friendly conversations (Photo: VNT).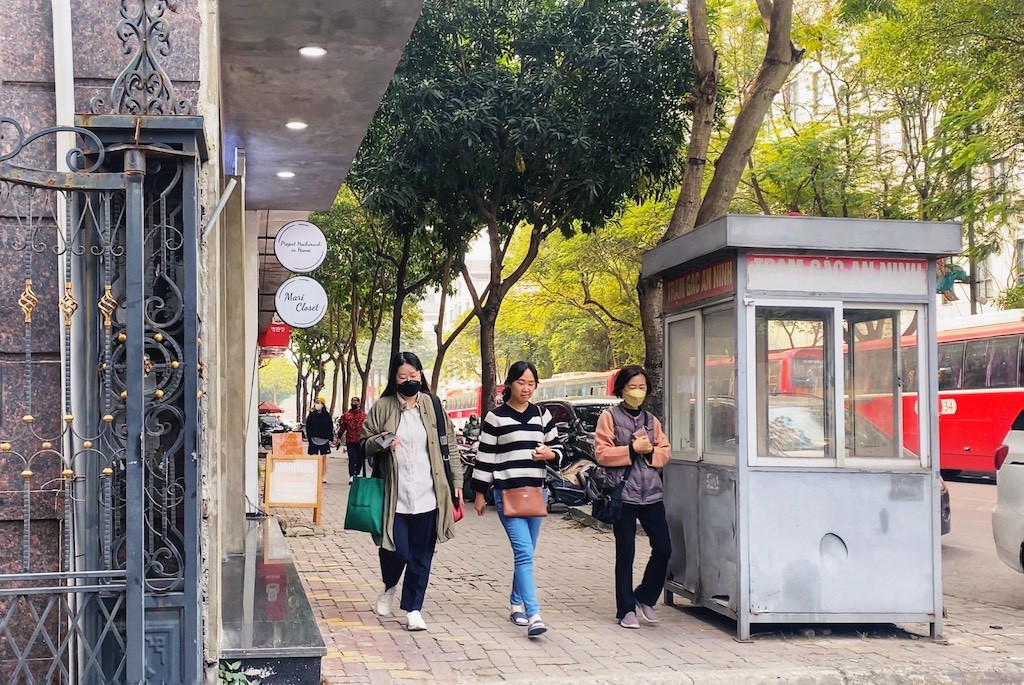 Korean citizens spotted walking on Tran Van Lai Street (Photo: VNT).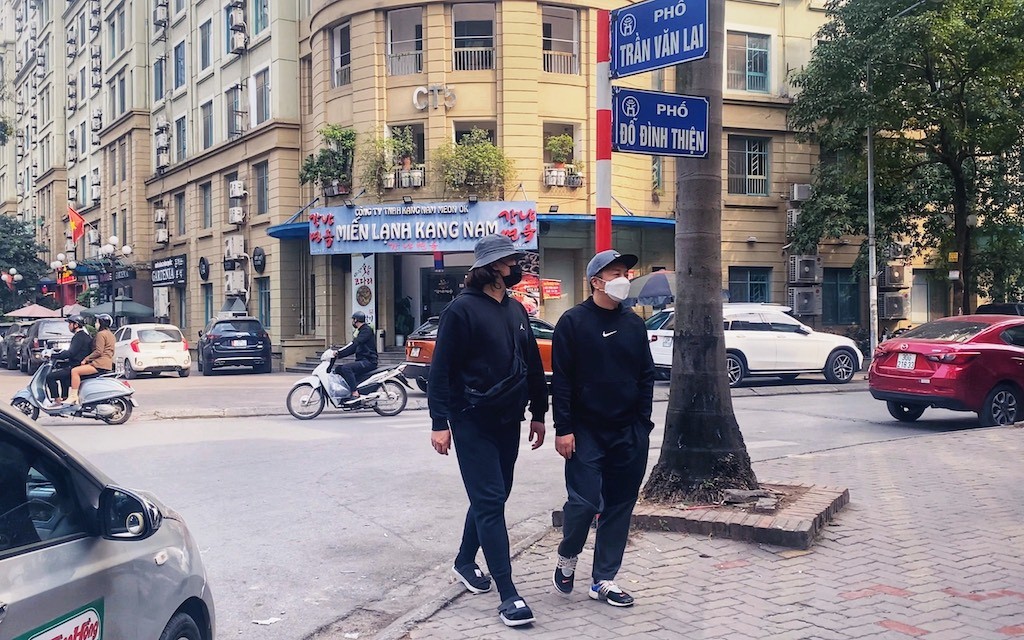 Korean citizens spotted walking on Tran Van Lai Street (Photo: VNT).
When Vietnam's Ao Dai Meets Thai Silk

Ao dai (traditional long dress) is expected to be not only an iconic cultural value of Vietnam but also a Vietnamese tourism ambassador to Thai ...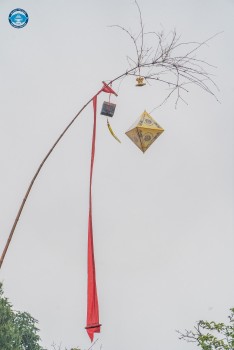 Viet's Home
In the past, the Neu pole (a tall bamboo pole with red garment strips used to ward off evil spirits during the lunar New Year) lowering ceremony at the royal palace of the Nguyen Dynasty was performed to mark the end of the New Year holiday and prepare to enter a new working year.