Zalo's New Tool Boosts Mutual Aid During Vietnam's Worst Covid Outbreak
A new feature on the Zalo application allows people to connect with those in need of necessities and medical support.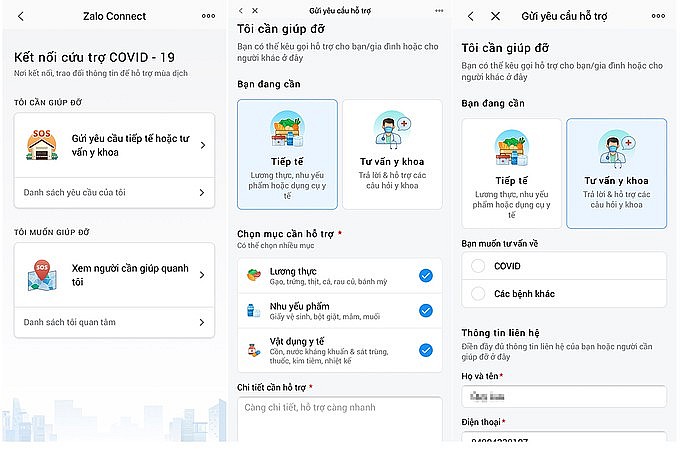 Zalo Connect's interface for users who need support for necessities, medical advice. Photo: VnExpress
"I'm a student stuck in Hanoi, my parents in the countryside have difficulties and can't send food to me. Hope everyone can support me", Pham Dien sent request to the Zalo application on August 13. A few hours later, someone texted Dien to ask about the situation, and at the same time transferred him VND 300,000 (US$13) to buy food.
Like Dien, Do Quang, the "big brother" in a group of 10 construction workers in Nam Tu Liem (Hanoi), has no income because of the pandemic. Seeing the notification on the application about the new feature, he tried to submit his request, stating the situation and requesting necessities. After a day, he gets help from two strangers. "They did not meet in person, but sent us rice, noodles, cooking oil, fish sauce at a location close to our home for us to pick up. Without this support, the next few days will surely be very difficult," said Quang.
Quang and Dien are two of those who have found support thanks to the Zalo Connect feature, which has been deployed on Zalo since early August in 20 provinces and cities, focusing on areas where social distancing is occurring. Users through this platform can support each other with food, necessities, medical equipment or medical advice.
To use, users access the Zalo application, type "Zalo Connect" in the search bar. In addition, when opening the app, the banner of this feature is displayed large at the top of the message board. If you need assistance, go to "I need help", then select Supply or Medical Advice and write down what you need. Next, you need to fill in contact information such as full name, phone number and address, or let the application automatically fill in based on account information and location data.
If you want to help others, the "I want to help" section also shows the location of people in need of assistance near the user's location. Unsupported people are shown in orange, people who have been supported are shown in blue, with number of assists. Users can click on these dots to see the details of the recipient's needs.
The interface of the application when the user wants to support others. Blue dots represent people who have been helped. Photo: VnExpress
"This feature is quite convenient because I can know people in need of help around me and can provide support without moving much, and at the same time avoid the fact that some people receive a lot while some don't," Luu Hang (Nam Tu Liem, Hanoi) said. She evaluates the convenience of this solution that after seeing the information, she can always message through the application to ask about the situation and find the most suitable way to help.
However, during the support process, Hang also met a person who used multiple accounts to create different support requests, which took longer for her to verify.
Zalo representative said that the team is focusing on developing this feature, so it has not been able to share much related information. According to statistics, about 93% of people's requests for support recently are related to food, 24% of necessities, 8% need medicine, medical supplies, and 7% need health consultant.
Recently, many technology solutions connecting donors and people in need of support have also been deployed across the country. Since mid-July, the SOSMap solution to help essential donors and recipients find each other has been deployed in Ho Chi Minh City. Recently, the National Center for Technology to prevent Covid-19 also sponsored two solutions including Help me! - connect patients with consulting doctors and Zalo Connect - connect people who need help with necessities and medical advice.