A Northern Delicacy Easily Mistaken as A Drink
Che lam can be mistaken for a sweet soup served with ice or a drink from green tea (che). It is in fact a traditional delicacy of northern Vietnam, created with utmost care and respect and imbued with culture and history.
When he first visited Hanoi in December 2019, 25-year-old Chi Minh, from Ho Chi Minh City, was given a piece of che lam. As he had never tried this traditional sweet before, Minh thought it was a drink made from green tea, because people in northern Vietnam often called tea as "che." "I was so surprised to learn that it is a chewy, nutty and gingery dessert, not a drink," Minh said.
Thanh Chu, a young 24-year-old Vietnamese from Dong Nai province, thought che lam was the name of a sweet soup served with ice. Chu knew he was completely mistaken when he visited his friends in Thanh Hoa province during the Tet holiday and was offered che lam.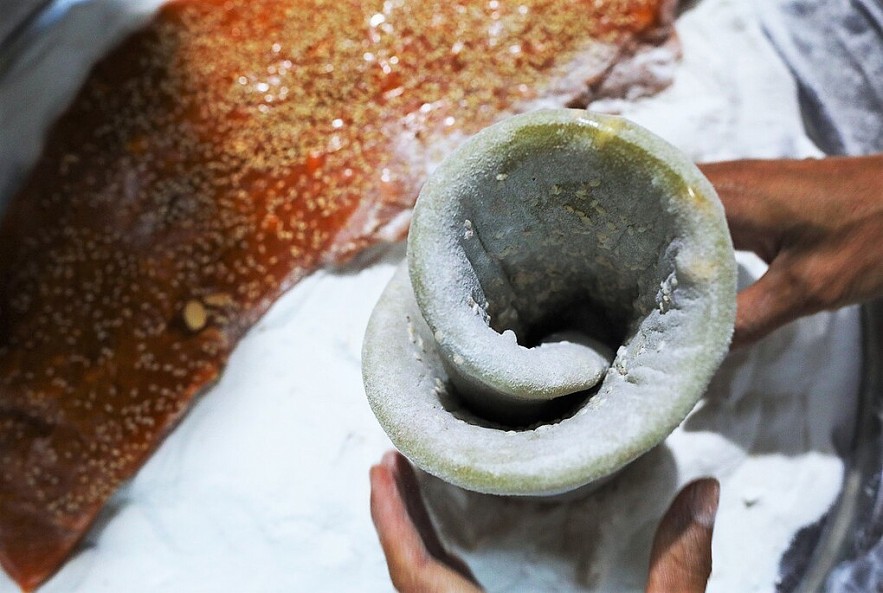 Che lam is made by hand, often with pandan leaves or gac fruit to enhance its flavors and colors. Photo:

VnExpress
In fact, che lam is a dessert made from sticky rice powder, brown sugar, malt, ginger and roasted peanut. In northern Vietnam, che lam used to be served during Tet holiday or other special occasions. Today, the delicacy has become increasingly popular and can be found at any time. When served, che lam is cut into bit-sized pieces.
Although che lam is available in many provinces, it has become a trademark of Thach Xa commune in Thach That district of Hanoi, Duong Lam ancient village in Son Tay town of Hanoi or Phu Quang commune of Vinh Loc district in Thanh Hoa province.
According to the elderly in Thach Xa, che lam was created as locals wanted to offer a local specialty to the Shakyamuni on special occasions such as Tet holiday. In the 15th century, Thach Xa people gave che lam to the Lam Son nationalist rebellion soldiers as extra nourishment sources on their long journey. The delicacy created centuries ago has thus became a specialty of northern villages.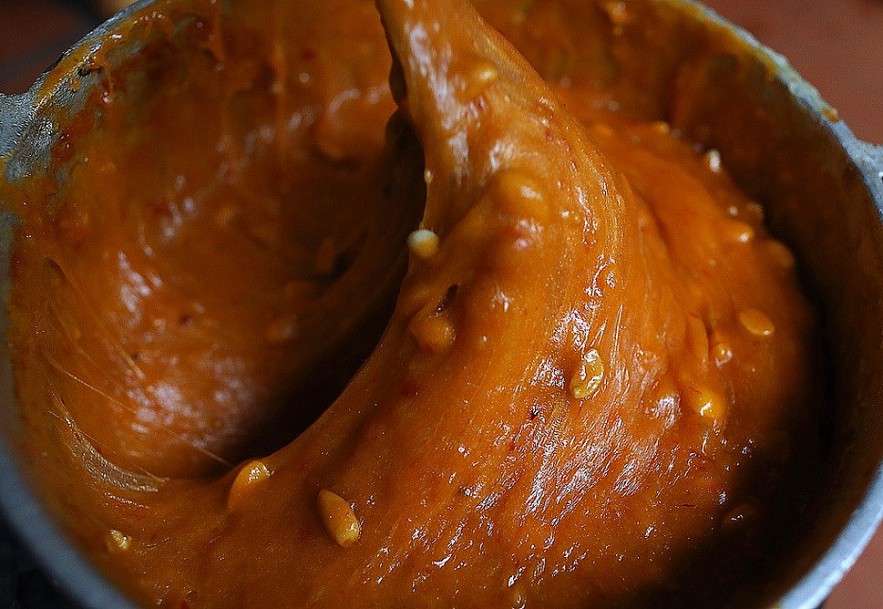 The quality of the stirring process decides the softness and chewiness of the final product. Photo: VnExpress
Traditional che lam is simple in the making but difficult to choose the right ingredients. Sticky rice used to make che lam must be the traditional Nep cai hoa vang glutinous rice with white, soft and supple grains, roasted until oozing out mesmerizing aromas and ground finely. The finer the rice powder, the more delicious is che lam. Peanuts must also be roasted and halved. For ginger, locals select old but not young ginger, scrapping off the skin, then boiling it thoroughly and slicing it into small pieces or grinding it. Brown sugar brings a refreshing and yet flavorful taste to the dish.
To make che lam, locals first boil malt, brown sugar, ginger and water, then add sticky rice and roasted peanut. While cooking, they must constantly stir the ingredients, so the mixture does not stick to the bottom of the pot or is burnt. Too little of the mixture and the final product will be sticky. Too much, it will harden fast. It is tricky but extremely important to add the right amount of ingredients and watch the pot closely to create the right texture for the dish.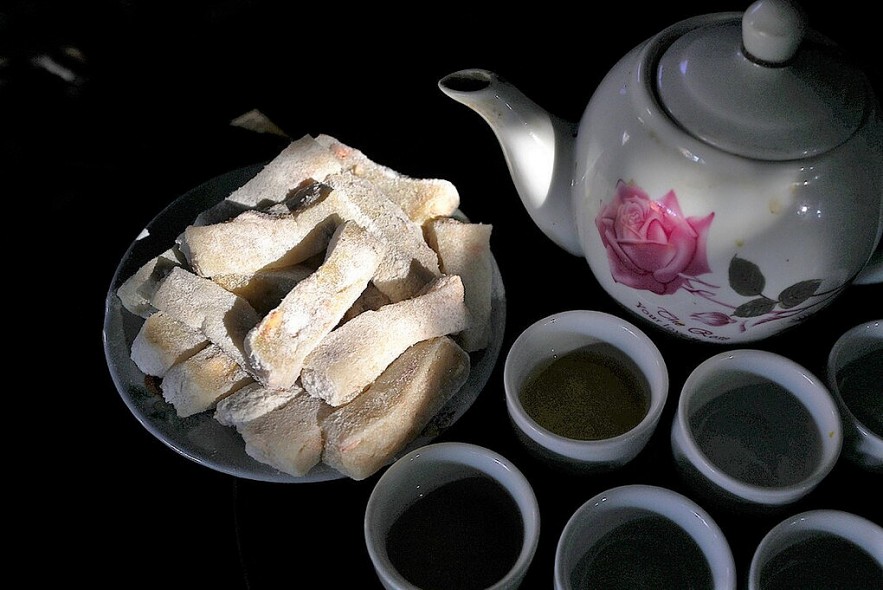 Che lam is cut into smaller bars, covered in white roasted sticky rice powder. Photo:

VnExpress
The remaining roasted sticky rice powder is sprinkled to create a thick layer on a tray. When che lam is completed, locals will pour the newly made mixture into the tray so it can cool down, then use a sharp pair of scissors to cut it into smaller bars. To make sure that bars of che lam do not stick together, locals sprinkle white rice powder onto the bars while cutting.
Nowadays, it is no longer necessary to wait until Tet holiday to enjoy che lam. As autumn comes and the sun becomes less blazing, people start to enjoy the rustic delicacy adored by the soft, chewy texture from sticky rice, slight spiciness of ginger, nuttiness of roasted peanut and refreshing, pleasant sweetness of malt. The flavor of che lam is brought out even more when the dish is served with a cup of hot tea.
Friendship
Vietnamese leaders of the Party, State, and National Assembly exchanged congratulatory messages with Chinese counterparts on the 72nd anniversary of diplomatic relations between the two countries