Famous Crispy Pork Roasted on Carrying Poles in Duong Lam Ancient Village
Duong Lam village is a well-known destination close to Hanoi. Not only imbued with a rich history, the ancient village is also famous for its crispy pork roasted on carrying poles.
Carrying poles, or don ganh, have been an irreplaceable part of Vietnamese culture for generations. Street vendors often use carrying poles with high flexibility to reduce the load they must carry and, thus, lessening shoulder pain. If you come to Duong Lam, you will get the chance to enjoy pork roasted on a carrying pole, a specialty of this enchanting village imbued with historical and cultural values.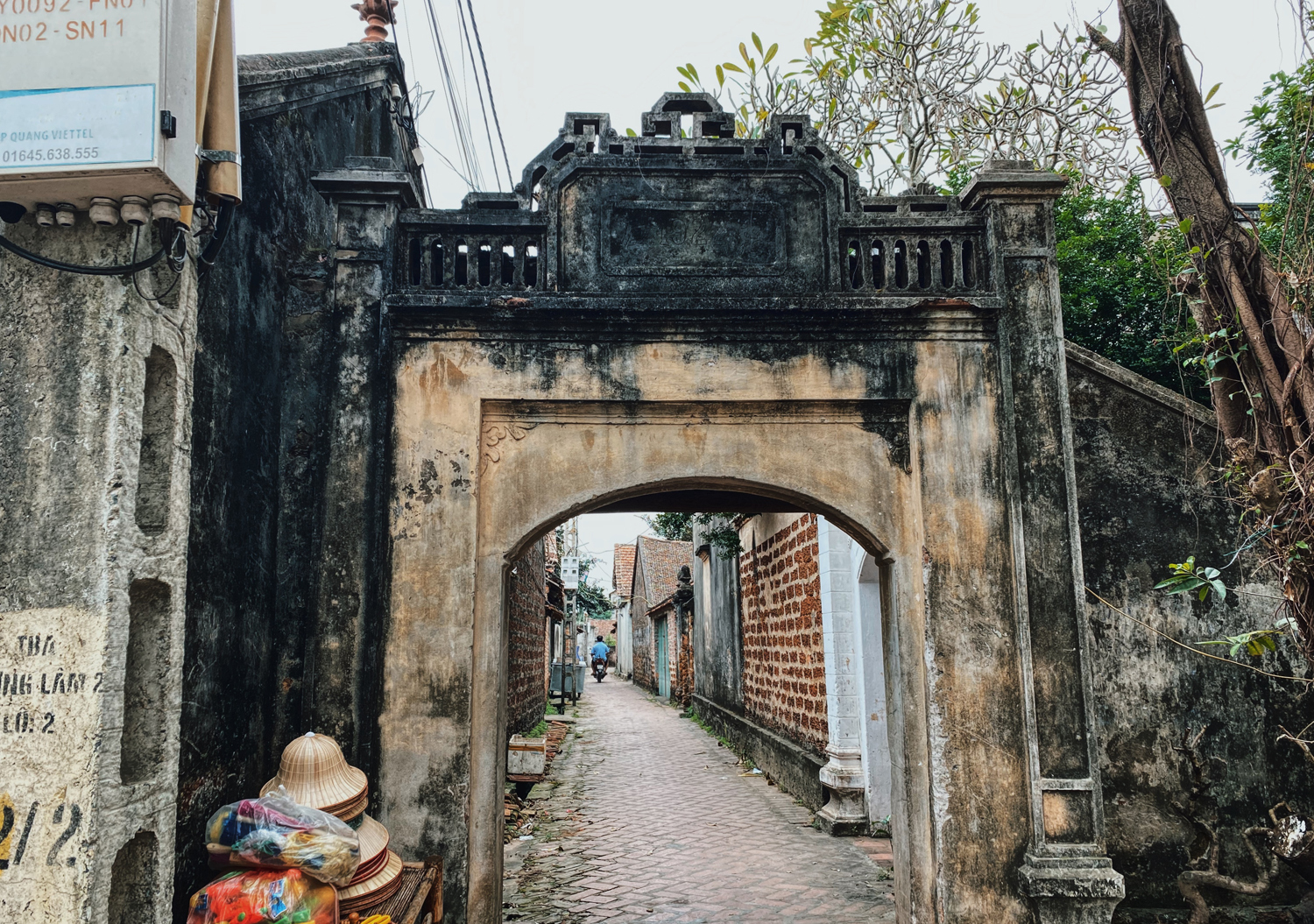 A corner of Duong Lam ancient village, locating about 50 km to the west of downtown Hanoi. Photo: VnExpress
Some 50 km to the west of Hanoi, Duong Lam is an ancient village located in Son Tay Town. The village boasts 956 houses dating back over 400 years. Duong Lam is the first amongst thousands of villages across Vietnam to be recognized as a national-level artistic site of architecture.
It was the hometown of Phung Hung, a notable military leader who mounted a rebellion against the Chinese Tang Dynasty during the 8th century, and Ngo Quyen, the first ruler of the Vietnamese Ngo dynasty, who defeated the Southern Han kingdom at the Battle of Bach Dang River in the 10th century and consolidated the Vietnamese independence. Phung Hung and Ngo Quyen's mausoleums are still located in Duong Lam.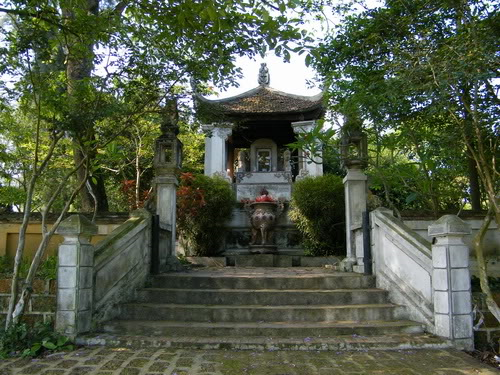 Ngo Quyen Mausoleum in Duong Lam. Photo: sontay.hanoi.gov.vn
Legend has it that when Ngo Quyen won the decisive Battle of Bach Dang River, he treated his soldiers to a feast that featured roasted pork on a carrying pole. Proud of this piece of history, locals in Duong Lam have maintained the original recipe created during the Ngo Dynasty. Pork roasted on a carrying pole is also a specialty that villagers offer to visitors from afar.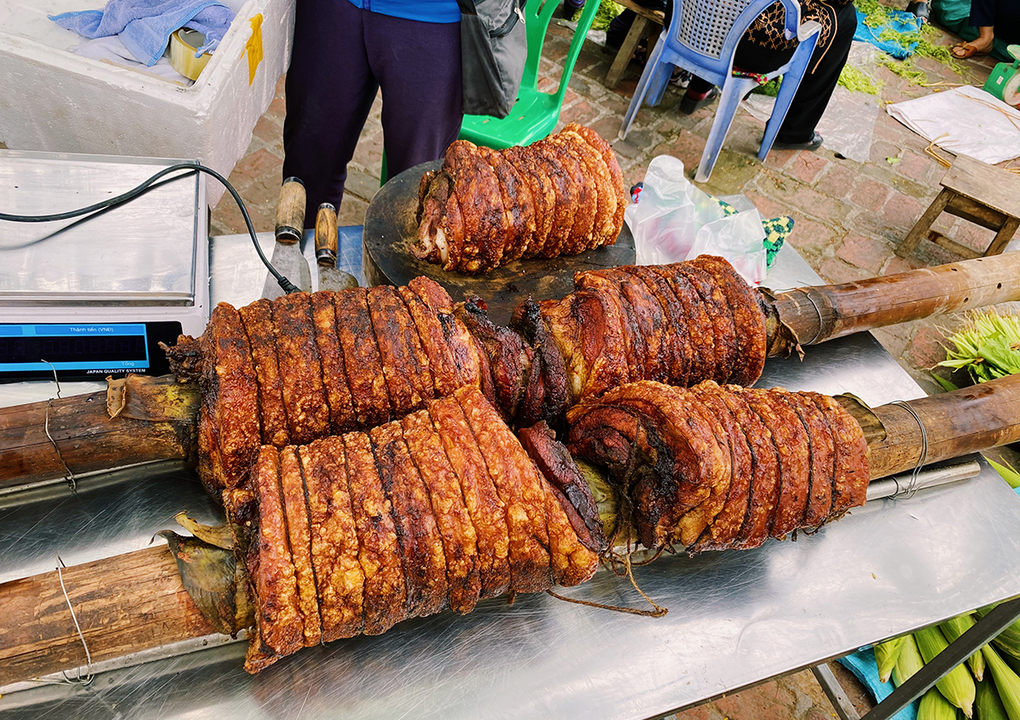 Pork roasted on a carrying pole with a golden brown, crispy skin attracts food lovers coming to the morning market in Duong Lam. Photo: Trung Nghia
The pork to make Duong Lam's famous dish must be half lean, half fat with thick but not too fatty skin. The pork is marinated with seasonings such as fresh shallots, salt and hung liu, a Vietnamese flavoring consisting of five ingredients. Guava leaves are one of the key ingredients that create the unique flavor of Duong Lam roasted pork. Young guava leaves are minced finely and mixed with pork for about 1 hour before the pork is tied on a carrying pole covered with banana leaves.
Roasting the pork is an art unto itself. First, locals must make sure the pork is positioned about 50cm higher than the fire. When the pork turns rare, they lower it to about 30cm from the fire. Locals must always keep an eye on the pork to ensure there is consistently a proper distance between the pork and the fire.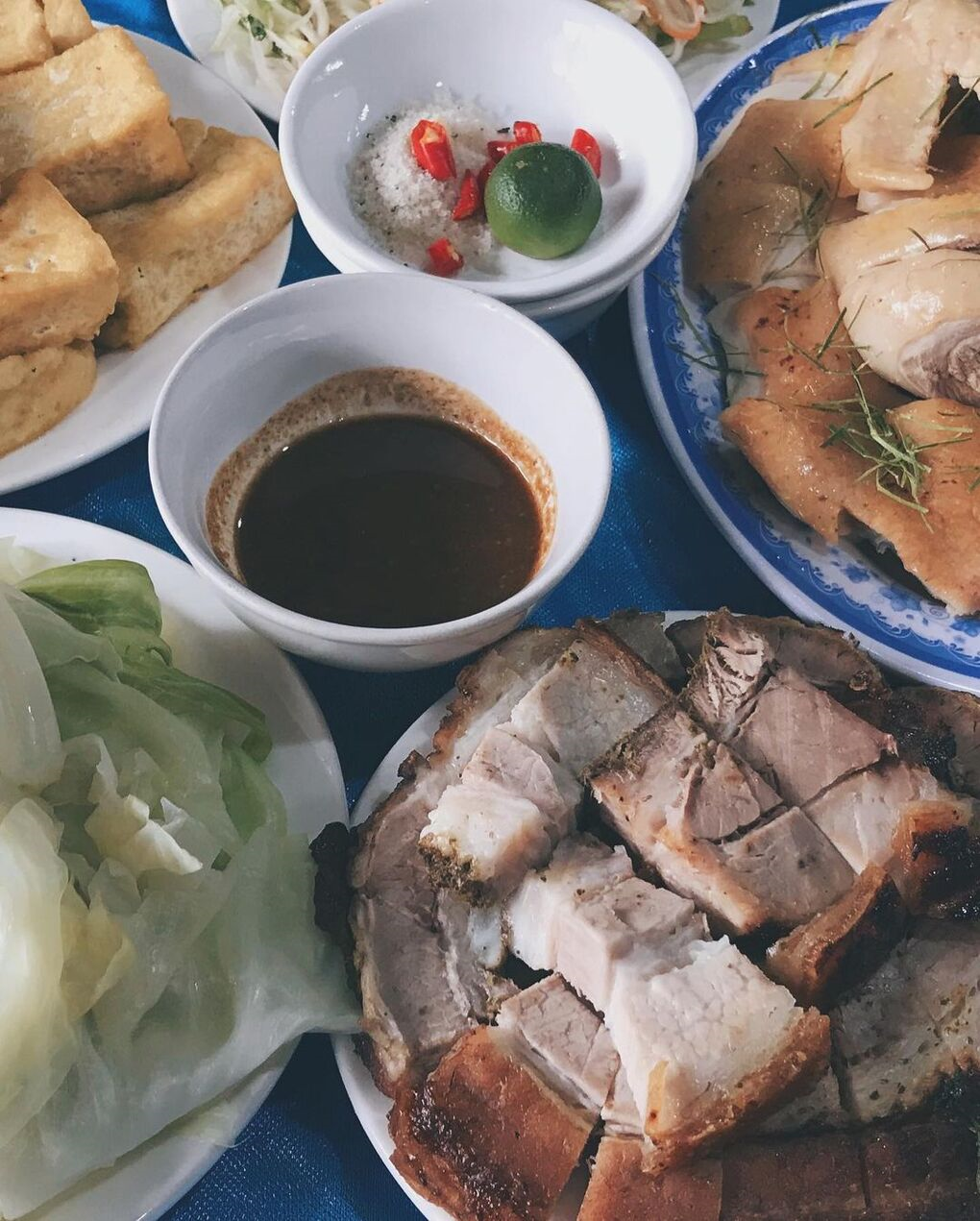 Pork roasted on a carrying pole is a regular dish in the meals of locals in Duong Lam and Son Tay. It is served with a locally made soy sauce. Photo: @mamiimam.t/Instagram
As the meat gets drier and fat drips out, locals continue to lower the pole, so the pork gets even closer to the fire and gains an attractive yellow color. The skin must be crispy and puffed up. The dish is ready when cracking sounds are created as the chef pokes bamboo sticks into the skin. To enhance the appearance and flavor of the dish, locals also spread a thin layer of honey on the pork. The roasting process may take up to 6 hours.
The attractive fragrance from the pork roasted on a carrying pole covers the streets in Duong Lam every morning market makes it hard to turn away. When eating, the skin is crispy, perfectly golden brown and uniquely flavorful with the use of guava leaves. The pork itself is full of umami flavor and has a mesmerizing smell from the combination of honey and hung liu. When dipping in Duong Lam's special soy sauce, the flavor of the dish is enhanced even more.
In addition to pork roasted on a carrying pole, come to Duong Lam so you can also try other tasty dishes such as banh te (a type of rice cake), che lam (a traditional cake made from sticky rice powder, brown sugar, peanuts and ginger) and a type of locally raised chicken called ga mia.