Tré – A Unique Dish in Central Vietnam that Mesmerizes Food Lovers
While still using familiar ingredients in Vietnamese cuisine, tré – a specialty in central Vietnam – has its own unique flavor that can leave a lasting impression on food fanatics.
Central Vietnam attracts tourists not only with majestic landscapes but also with diverse, rich cuisine. One of these fine foods is tré, a specialty most famous in Binh Dinh province.
While tré is a traditional dish across central Vietnam, the most delectable and famous version is created in Binh Dinh province. Photo: @trangnguyenarrt
While it is unclear who gave the dish its distinctive name, the art of making tré first appeared in the early 19th century. Before long, tré became a traditional dish that appears on the meals of locals during the Tet holiday.
The way of preparing tré changes depending on the local taste, customs and habits. In Binh Dinh, tré is made from the meat of the pig's head that is boiled and chopped finely, fried half-lean, half-fat pork and a mixture of seasonings such as pepper, galangal, sesame, salt, powdered grilled rice and garlic. Meanwhile, Hue locals often add tré beef cooked in fish sauce, sugar and ginger to enhance the flavor of the dish.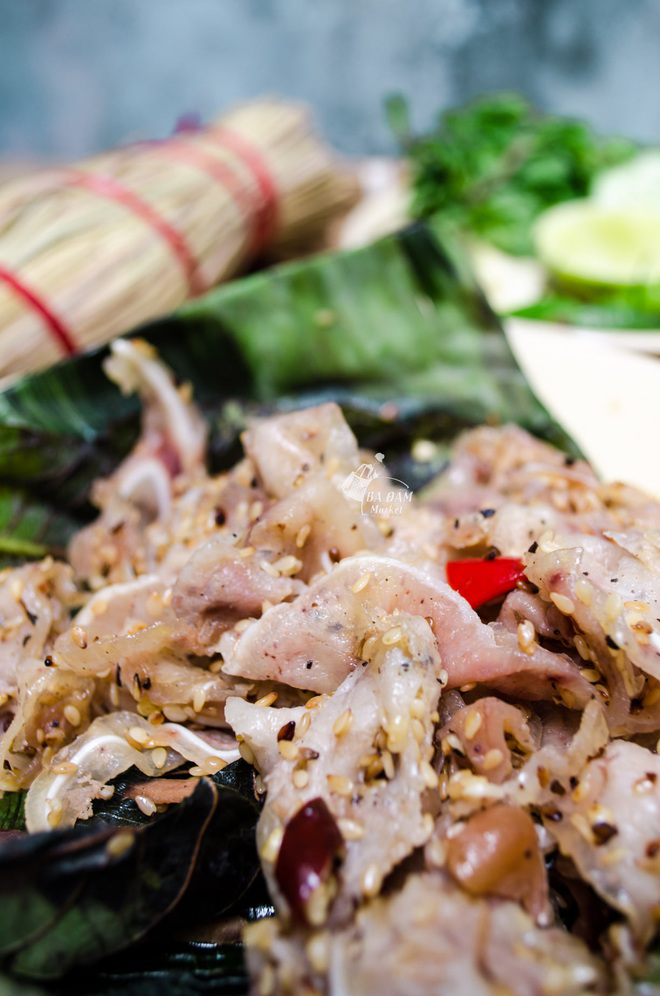 Tré has become increasingly popular across Binh Dinh and other provinces in central Vietnam. Photo: Ba Dam Market.
Although the recipes vary from province to province, the main ingredients for tré are meat from different parts of a pig, ears and pig's skin and seasonings such as galangal and roasted sesame.
To make tré, locals must use fresh and clean pork. After removing the hair off the skin, the cooks carefully clean the meat and skin and steam them in about one hour. The lean meat is fried until golden brown. The pig's ears, half lean-half fat meat and ham are then chopped finely while the lean meat and skin are sliced thinly.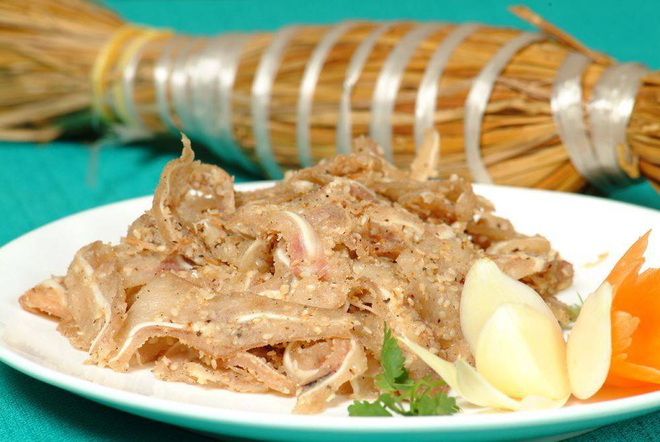 Tré is made from the freshest ingredients and wrapped inside guava leaves and straws. Photo: Nhu Nga
After preparing the meat and skin, locals mix them well with seasonings according to a certain ratio. Adding galangal is a must, for it gives tré the distinctive flavor. Galangal for making tré must not be too old or young. The skin must be removed and the inner part cleaned and julienned.
When the meat mixture has absorbed the seasonings, locals start to wrap tré in banana leaves or old guava leaves to bring the dish its unique flavors and aromas and make the pork more digestible.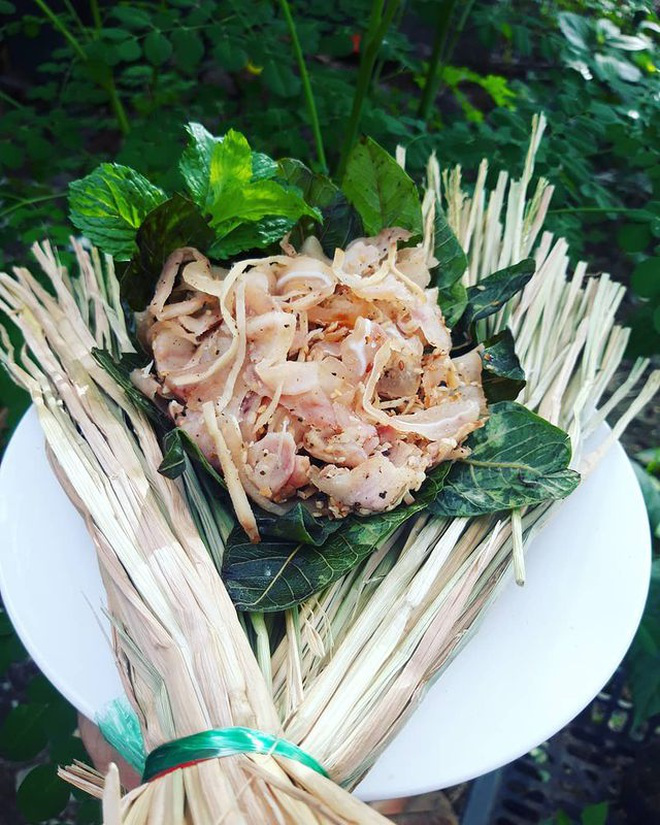 Wrapping tré is much harder than it looks. Photo: @trangnguyenart
Wrapping tré properly is extremely important. What sets tré apart is the outermost wrapper made from dried straws. In Binh Dinh, tré is wrapped inside guava leaves then a layer of plastics outside. Locals take a bunch of dried straws, tie on one end and let the other end spread evenly, then place tré in the middle so that the pack of tré is covered completely. Afterward, they roll and tie the straws tightly and cut off extra straws so both ends are even in size.
Locals often tie numerous packs of tré together in a bunch and hang them at a kitchen corner. Tré is fermented naturally and ready to serve after 2 – 3 days. The properly cured tré is slightly sour and attractive with the aroma of galangal and garlic.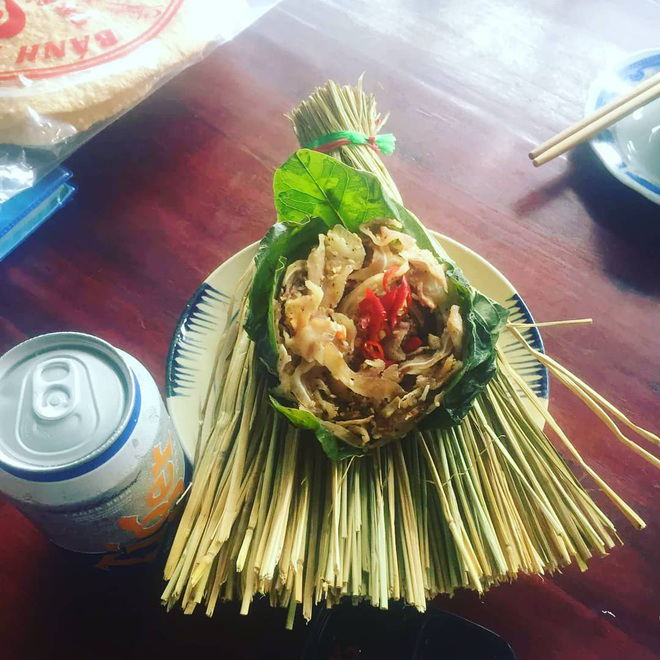 Tré is a rustic dish from the appearance to the ingredients. Photo: @svylee
To eat tré, locals remove the straws and plastic wraps and use chopsticks to break tré into smaller pieces, then place them on a dish. Tré is often served with crispy rice papers, fresh herbs, cucumbers, shredded papaya and green banana and dipped in a tangy and sweet sauce or chilly sauce.
Starting as a rustic, traditional dish, tré is becoming increasingly popular and a favorite of many food lovers. Tré often appears in the meals of people from central Vietnam, particularly during parties or special occasions like the Tet holiday, to treat visitors.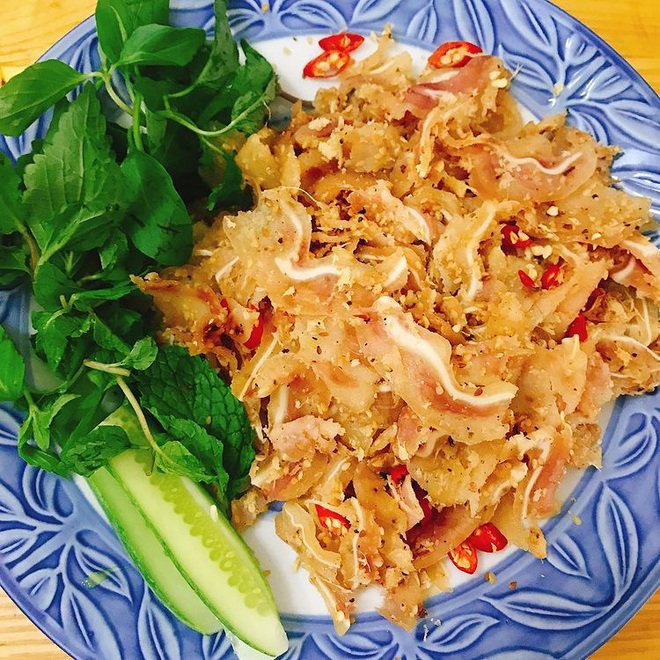 Tré is often eaten with fresh herbs and dipped in a tangy and sweet sauce or chili sauce. Photo: @nguyenthulam2804
To people in Binh Dinh, tré is considered a dish that represents local cuisine because the ingredients are something locals are all familiar with. Tré is not in any way inferior to fancy food or other famous central region's specialties such as Hue beef noodles or Quang noodles. Its unique flavors attract people no matter the region, adding to the charm of central Vietnam.
Banh beo – one name, many forms

In Vietnamese cuisine, there is hardly something like Banh beo. From the appearance to the methods of preparation and taste, there are no versions of ...