Being an already photo lover and travel enthusiast, Hans spent most of his holidays discovering different corners of the world, including three trips to Vietnam in the 1990s. The German photographer had taken thousands of pictures that captured the various Vietnamese landscapes, daily life, and the local people throughout his trips in the country.
The mesmerizing beauty of Ha Long Bay has long been recognized worldwide. A magnificent natural landscape sophisticatedly created and endowed by Mother Nature is what people often think of Ha Long Bay. With the development of tourism in recent years, the UNESCO heritage is growing more and more stunning and impressive.
Nestle by the world-renowned Bay is Bai Chay beach, a favorite summer destination in northern Vietnam of many beach bums. The photos below were taken by Hans between 1991-1993.
Hans visited Quang Ninh in summer 1991. At that time, Ha Long city was yet to be established, therefore, the province's center was Hong Gai commune. (Photo courtesy of Hans-Peter Grumpe)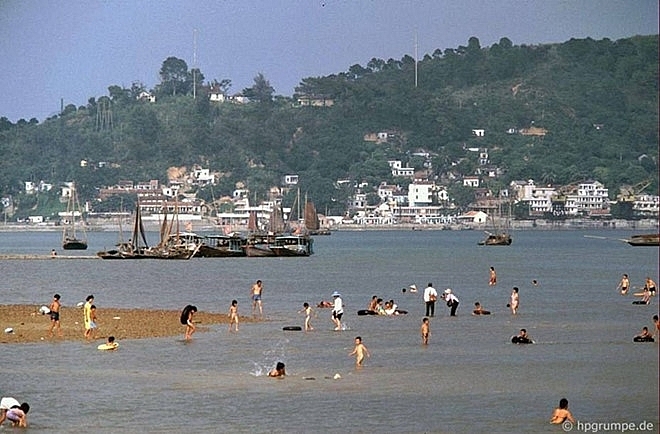 Bai Chay was the second most famous beach in the north at the time, thanks to its n the North at the time, due to the beautiful natural terrain and crystal-clear water, calm sea. In the 90s, it took around 30 mins to go from Bai Chay to Hon Gai by ferry. (Photo courtesy of Hans-Peter Grumpe)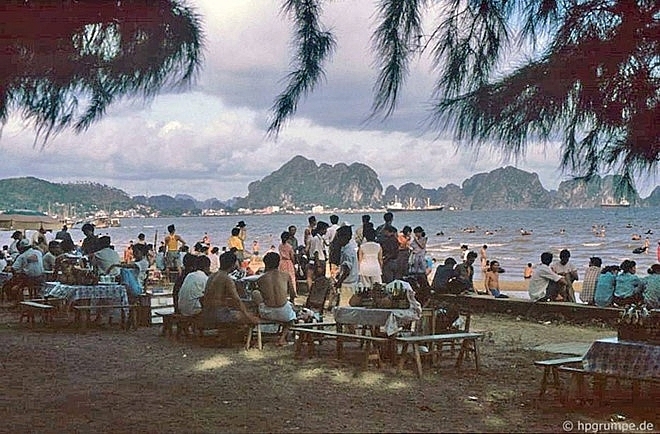 Tourism services at that time were very simple. Many agencies sent their officials, employees to Bai Chay beach on vacation trip. (Photo courtesy of Hans-Peter Grumpe)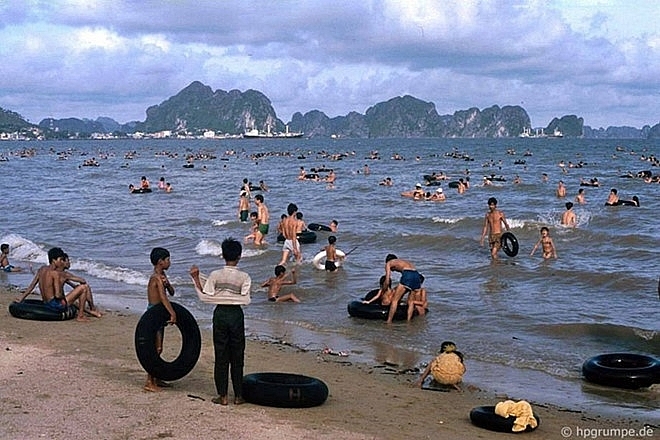 Services on the beach included renting swimming-belts, bathing suits, photography and fresh water showering before and after swimming (Photo courtesy of Hans-Peter Grumpe)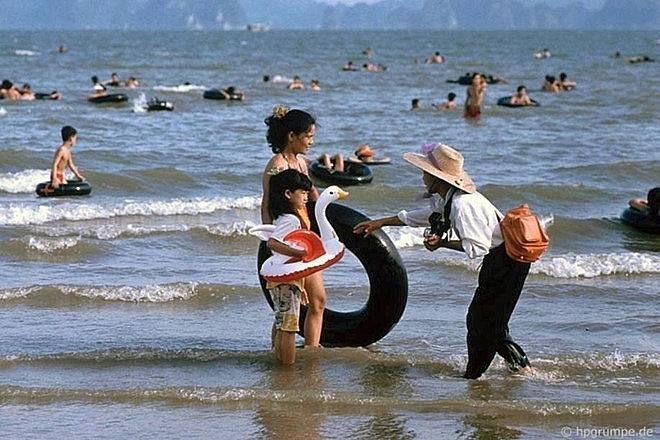 Standing with the swimming belts beside was a trendy pose at that time. Since camera and cellphone was rare, visitors often hired a professional photographer to take memorial shots and got the photos a few hours later (Photo courtesy of Hans-Peter Grumpe)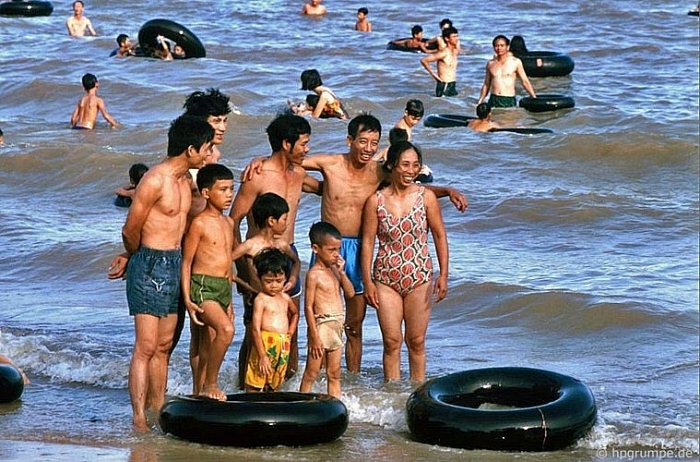 One family taking photos on the sea (Photo courtesy of Hans-Peter Grumpe)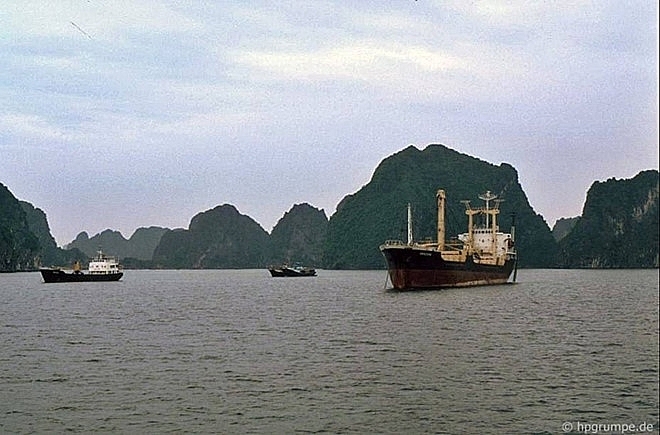 In 1991, the Bai Chay area was also a B12 petroleum port, with many large ships anchoring right on the bay. (Photo courtesy of Hans-Peter Grumpe)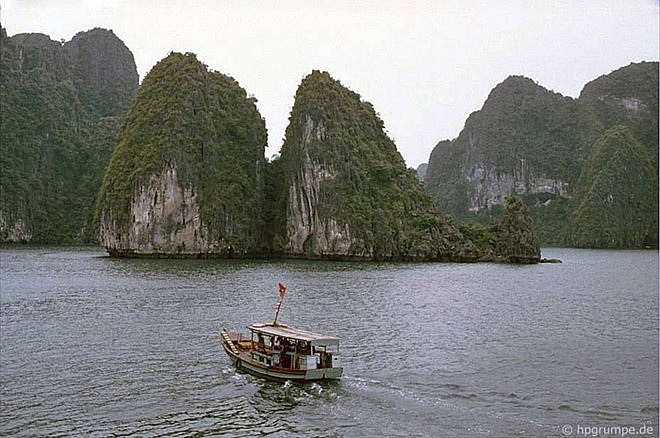 Cruise ship on Ha Long Bay in the 1990s did not include meals on board and overnight stay like today (Photo courtesy of Hans-Peter Grumpe)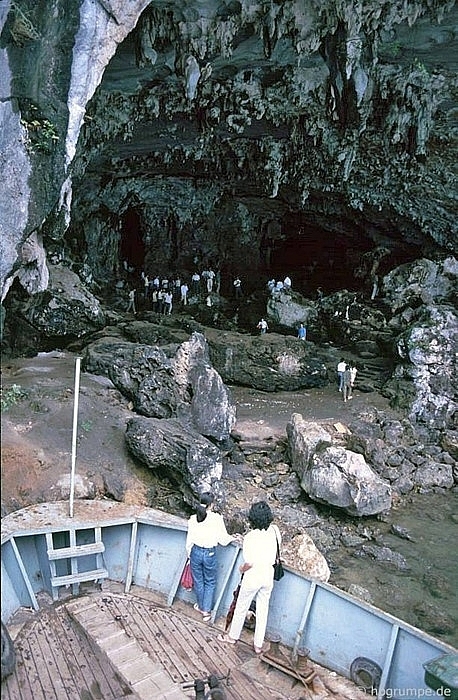 Two visitors visiting Dau Go Cave, Sung Sot Cave. (Photo courtesy of Hans-Peter Grumpe)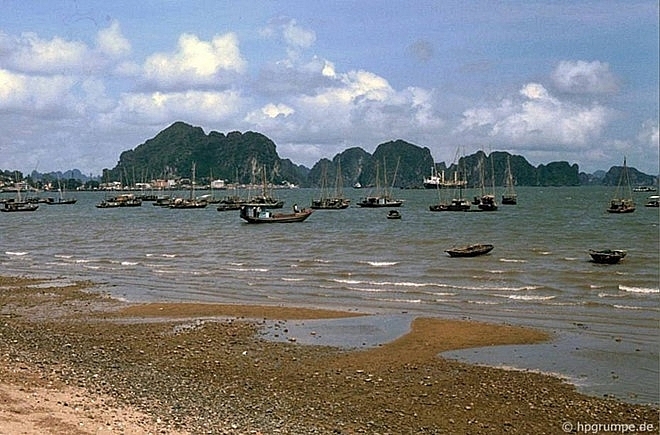 Ha Long Bay has 1969 large and small islands, of which about 40 are inhabited.(Photo courtesy of Hans-Peter Grumpe)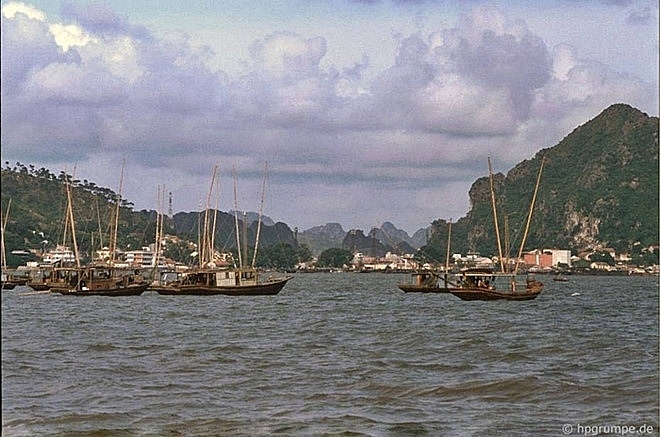 The area where fishermen anchor their fishing boats (Photo courtesy of Hans-Peter Grumpe)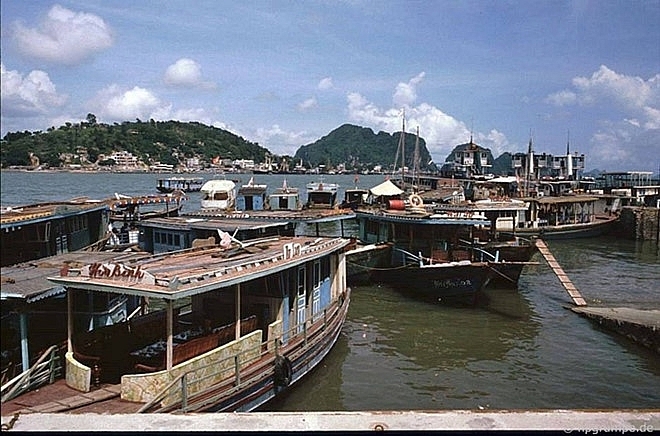 Cruise ships and fishing boats were berthed at the same place (Photo courtesy of Hans-Peter Grumpe)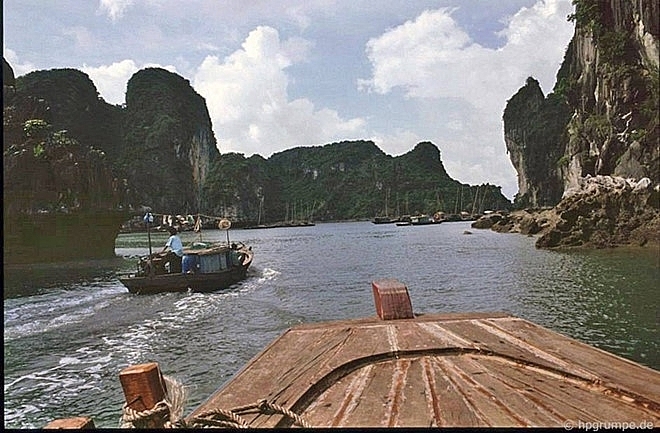 Cruise ships would take visitors around the bay in around 2-3 horus (Photo courtesy of Hans-Peter Grumpe)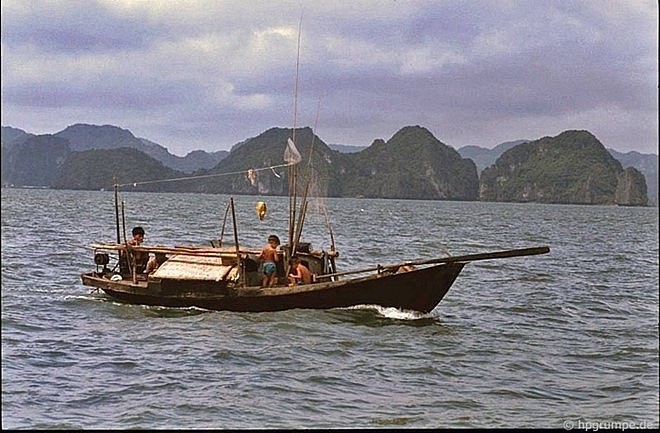 Each boat was the house of one nuclear family, on which the all family members spent their entire life on(Photo courtesy of Hans-Peter Grumpe)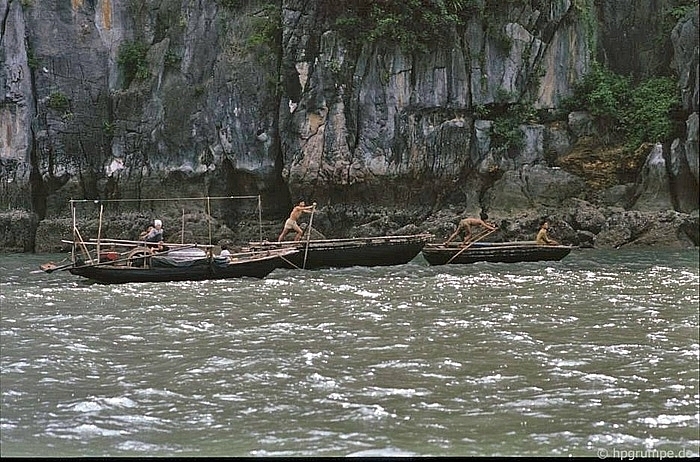 Local people earned a livelihood by catching seafood and exploiting coral to selling to visitors. (Photo courtesy of Hans-Peter Grumpe)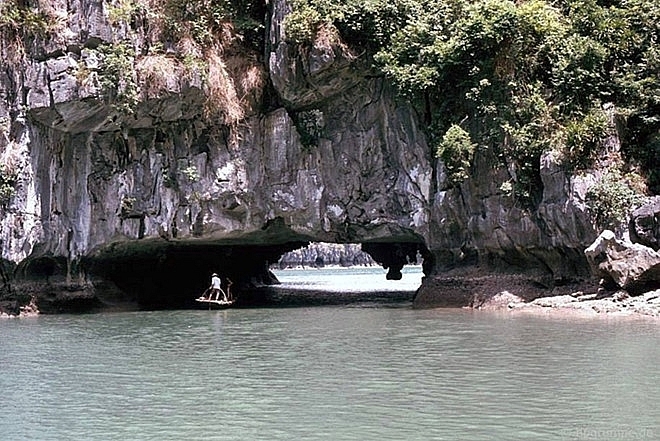 Money earned from seafood and coral catching were the main income of many households (Photo courtesy of Hans-Peter Grumpe)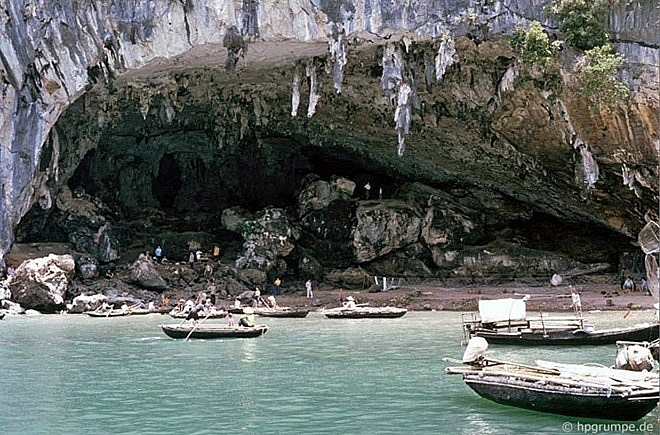 In 1994, Ha Long Bay was recognized by UNESCO as a World Natural Heritage Site, with strict constraints on nature, environment and landscape conservation. (Photo courtesy of Hans-Peter Grumpe)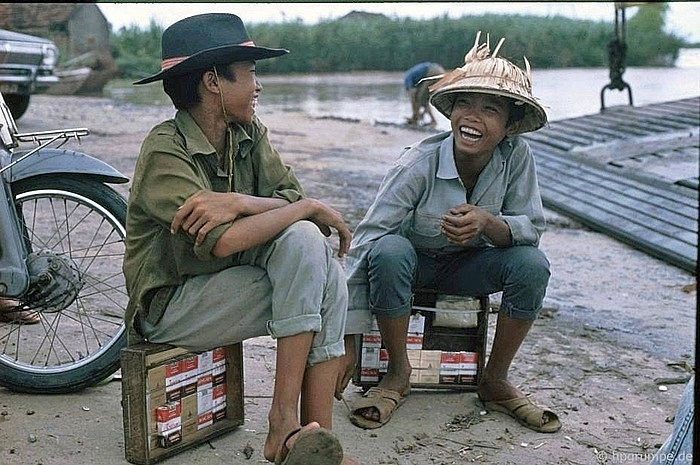 Two boys selling cigarettes (Photo courtesy of Hans-Peter Grumpe)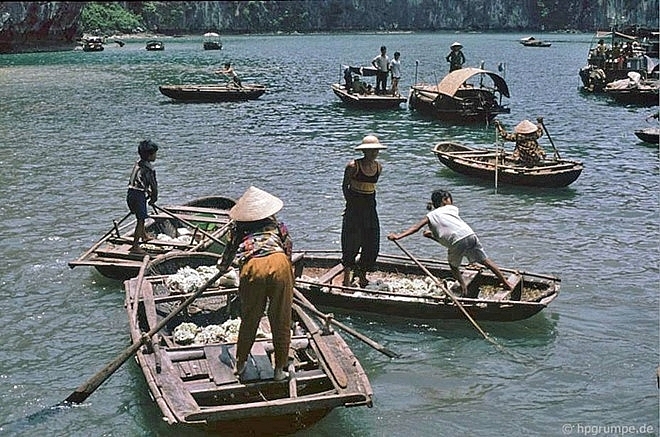 Children lived on the water since they were small, thus, they were familiar with the water, could boat well and help their parents sell coral and seafood to tourists on floating market (Photo courtesy of Hans-Peter Grumpe)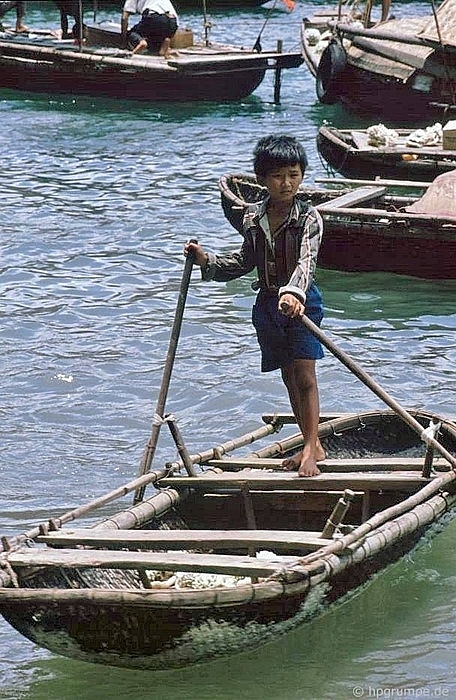 (Photo courtesy of Hans-Peter Grumpe)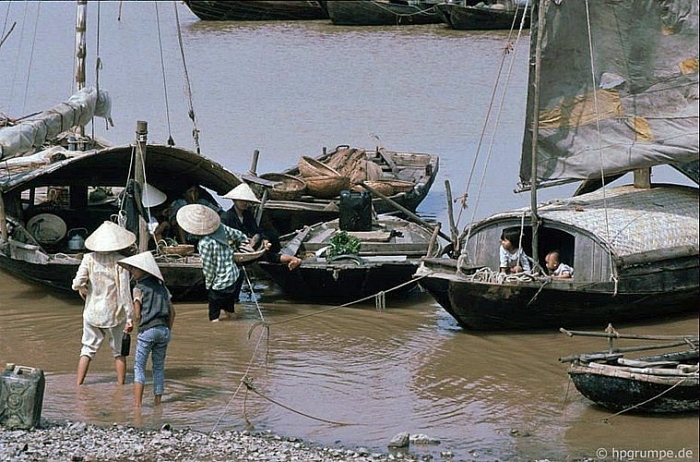 Fishermen in Bai Chay (Photo courtesy of Hans-Peter Grumpe)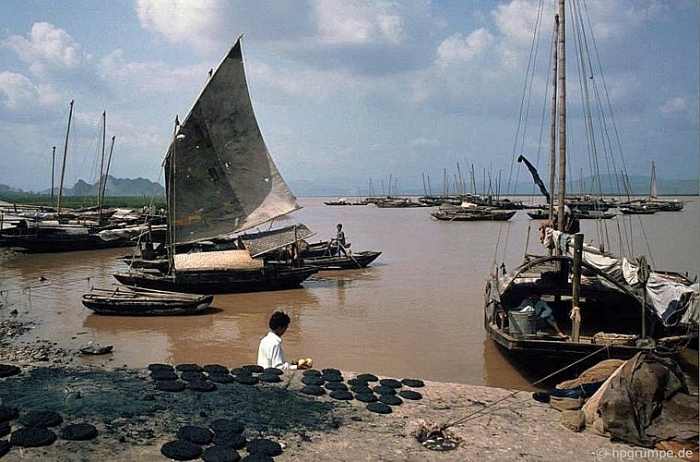 The traditional coal craft of Quang Ninh province (Photo courtesy of Hans-Peter Grumpe)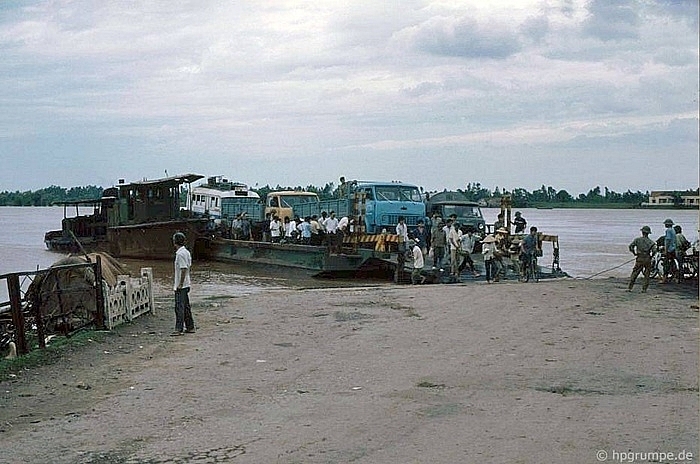 (Photo courtesy of Hans-Peter Grumpe)
Jasmine Le