Rare photos of My Tho in the 1960s under US veteran's lens
These photos of My Tho city's outskirts taken by US veteran  Lance V. Nix below are first officially published. The series was captured between 1968-1969, depicting the countryside fairs and simple daily life of local people. 
According to Thoi Dai, Mr. Lance V. Nix was only 24 years old when he held the camera on his hands and took those photos. He is now a 75-year-old man who lives in Port Orford city, Oregon state, the US, and still conserve the authenticity of the emotion for photography by taking photos and collaborating with the local news outlet named Port Orford News.
With series of retentive memories about Vietnam, the US veteran uses photography to record the lives of the indigenous people in My Tho, where his barracks and his soldiers used to be there.
Having a particular interest in the local street market of My Tho, the 24-year-old man spent time recording the daily lives of people in there. (Photo courtesy of Lance V. Nix/ via Thoi Dai)
A make-shift store selling plastic sandals at the market. The lady and the children all looked at the camera and smiled. (Photo courtesy of Lance V. Nix/ via Thoi Dai)
A food vendor selling Vietnamese pancake (bánh xèo in Vietnamese) in the market. (Photo courtesy of Lance V. Nix/ via Thoi Dai)
The plain rice flan (bánh đúc in Vietnamese) was a favorite street food of Vietnamese children in the 1960s.
Sharing with Thoi Dai, Lance said "I'd always tried to mingle with local people in order to make those photos as closer to life as possible". (Photo courtesy of Lance V. Nix/ via Thoi Dai)
A man riding on a bread cart was also in Lance's camera. (Photo courtesy of Lance V. Nix/ via Thoi Dai)
Two young ladies wearing Ao Dai and in a so-called "trendy style" at that time walking on the street. (Photo courtesy of Lance V. Nix/ via Thoi Dai)
A boy carrying passengers on the boat. The picture was taken at dawn, when the sun had just risen and it's still foggy. (Photo courtesy of Lance V. Nix/ via Thoi Dai)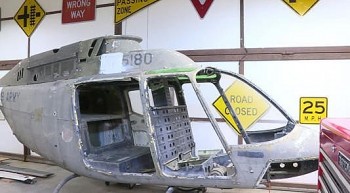 World
A piece of military history related to Vietnam is coming to life with a special project in a small Barton County townm in the US