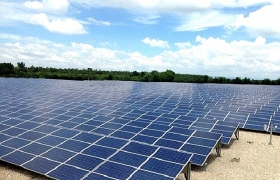 Photo: SEC web
Super Energy Corporation Public Company Limited (SUPER) is a Thailand-based company. The Company operates through its subsidiaries in two principal businesses, which are production and distribution of electricity from alternative energy, and information technology (IT). The Company and its subsidiaries invest in various renewable energy sources, including solar energy, wind energy and waste-to-energy technologies.
(SUPER), used to be called Superblock, had invested in Vietnam 2 wind-energy projects in Phu Yen and Gia Lai with the amount of $ 17,5 million in 2019. This time in 2020, when coronavirus disease is affecting almost countries in the world and causing economies plummeted, SUPER determined to assign $457m for Vietnam deals. Chairman and acting managing director Jormsup Lochaya said the company decided to take over four solar farm projects in Vietnam at a combined capacity of 750 megawatts after its board approved the move Wednesday through its wholly owned Super Solar Thailand Co.
The four projects are located in Binh Phoc province in the southeast near Ho Chi Minh City. The feed-in tariff or special bonus tariff is $7.09 per kilowatt-hour over 20 years through a deal with state-run power utility Electricity of Vietnam (EVN).
All four projects are under construction and expected to begin operations in December with an internal rate of return estimated at 15-17%.
"The assets we acquired are one of the biggest steps in our business expansion plan, improving our financial performance in the long term," Mr Jormsup said. "I believe the slowdown of the economy will stop and we will one day resume high growth and demand for electricity. Renewable energy is part of a global trend for clean energy, so we to decided to go with this business for our expansion."
He said now is a good time to raise funds and expand as interest rates are low. Last month, Super reported to the SET that it would issue debentures worth 7.5 billion baht for liquidity of business and debt payment.
The takeover deals are part of a four-year capital expenditure of roughly 40 billion baht for new investments and asset acquisitions.
Super's estimated revenue from the four projects is a combined 2.16 billion baht annually, beginning next year. The company is looking for other renewable energy projects in Asia, from Indonesia to Japan.
The company recently reported to shareholders via a live broadcast from the SET that it would have 125 ongoing solar projects, mainly in Thailand and Vietnam, and a waste-to-energy project in Thailand by the end of the year, totaling 754MW in capacity.
Over the last two years, Super has diversified into wind farms, waste-to-energy and industrial water services, expecting to see returns from a full year of operations in 2021.
The company estimates revenue growth this year at 8% to 6.86 billion baht. Next year's revenue is forecast to exceed 10 billion baht upon the completion of various renewable energy projects.
Tarah Nguyen