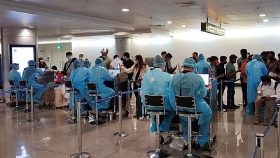 Passengers fill out health declaration forms at Tân Sơn Nhất International Airport in HCM City on Monday. — VNA/VNS Photo.
Vietnamese Ministry of Foreign Affairs instructed its representative units in Thailand and Singapore to urgently contact with the stranded as soon as it got the information of the situation on March 24. The Vietnam sides also asked home countries' agencies and foreign air carriers for help to return the group home.
Those stranded finally arrived home within the day on flights provided by Singapore Airlines and Thai Airways.
As the situation of Covid-19 becomes more complicated worldwide, many countries and territories have decided to restrain or deny entry for international and transit flights, some foreign air carriers defer and cancel inbound flights as well as vary the regulation on air transportation of goods.
Prime Minister Nguyen Xuan Phuc last Wednesday had ordered the suspension of all international flights to Vietnam as part of stringent entry restrictions, by air, road and sea.
Vietnam had suspended entry for all foreign nationals, including those of Vietnamese origin and family members with visa waivers as of last weekend.
Vietnam has also begun to quarantine for two weeks all people entering the nation from abroad.
Vietnam Airlines has announced that it will suspend all of its international flights from Vietnam starting Wednesday. VietJet Air has made a similar move while Bamboo Airways had stopped flying to South Korea.
Earlier, Vietnam Ministry of Transport directed the Civil Aviation Administration of Vietnam (CAAV) to inform all airlines that they must seek permission from Vietnamese diplomatic agencies abroad regarding the transportation of Vietnamese citizens to the homeland, starting from 0.00 am on March 23.
Vietnamese citizens are recommended to avoid travel between countries or returning to Vietnam as more and more countries are shutting their borders and restricting international flights, which could easily result in being stranded.
Lyan Vu