A Vietnam's Dish Mentioned in UK's Platinum Jubilee Cookbook
Bun cha (Vietnamese grilled pork with rice vermicelli noodles) is featured in the Platinum Jubilee Cookbook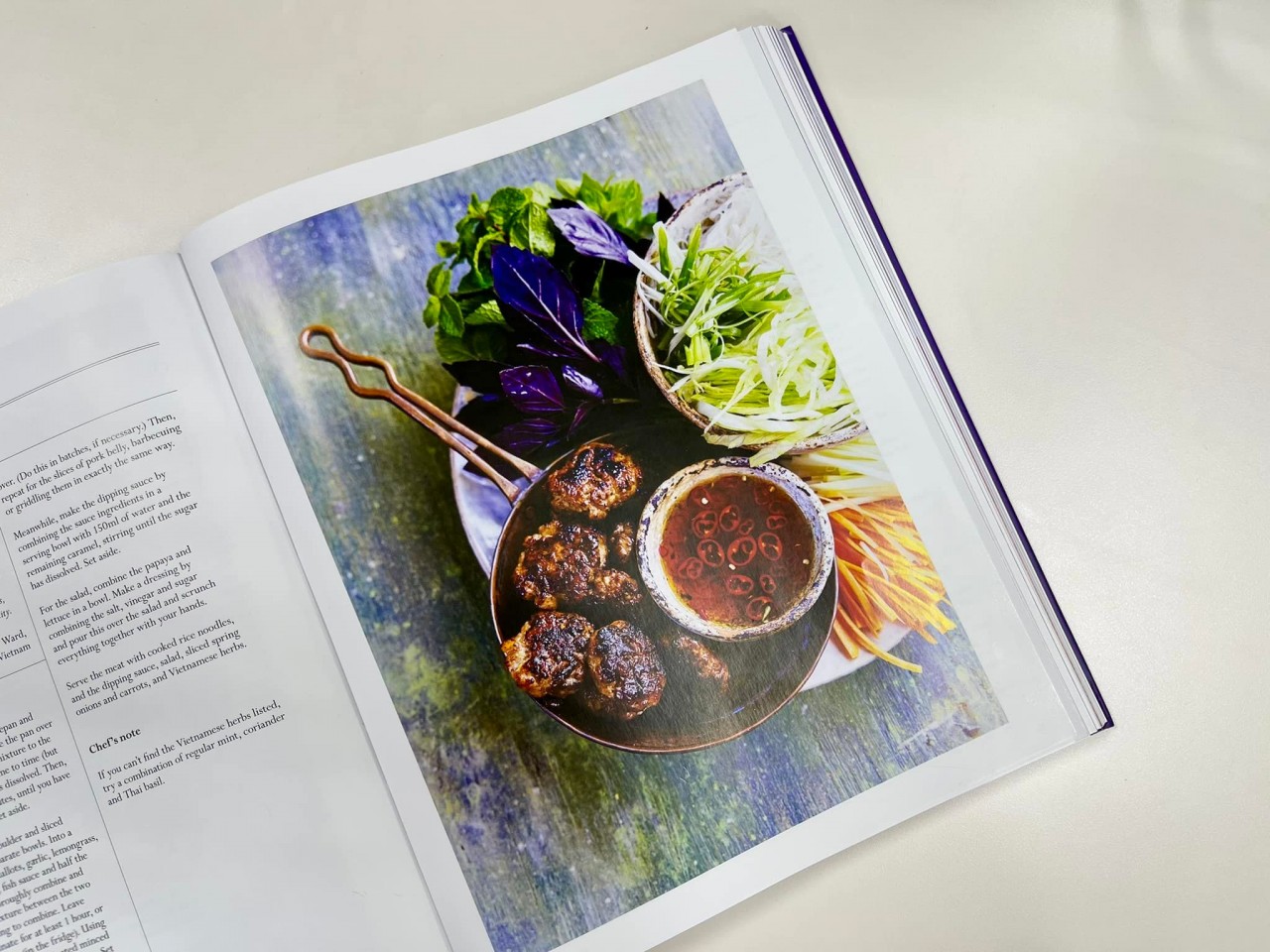 Bun cha is featured in the Platinum Jubilee Cookbook.
According to the British Embassy's share on its official Facebook page on June 15, on the occasion of the 70th anniversary of Queen Elizabeth II's reign, 70 British embassies around the world have gathered together recipes that have been created by Queen Elizabeth II. served on visits by the British Royal Family. Bun cha recipe by Chef Do Thi Hai Ly, British Embassy Hanoi is featured in this book to celebrate Queen Elizabeth II's 70 years on throne.
Bun Cha (Vietnamese grilled pork with rice vermicelli noodles) is a very common dish that is thought to be originated from Hanoi.
British Ambassador to Vietnam, Gareth Ward shared in the book, "Bún chả is the pride of Hanoian cuisine. Neither locals nor visitors can resist the smell of the grill as they walk past the street food stalls. While it tastes best sitting on a low stool on the pavement, this dish is also a regular at the Residence in Hanoi, to set an informal atmostphere for guests, or to give visitors an authentic flavour of the city."
According to Ambassador Ward, dish Bun Cha is best enjoyed on the sidewalk. However, perhaps because he liked the taste of this dish too much, the British ambassador also invited the chef to make bun cha in Hanoi every time there was an event.
He shared that the serving of bun cha on the above occasions is to "bring a comfortable atmosphere as well as the typical culinary flavor of Hanoi".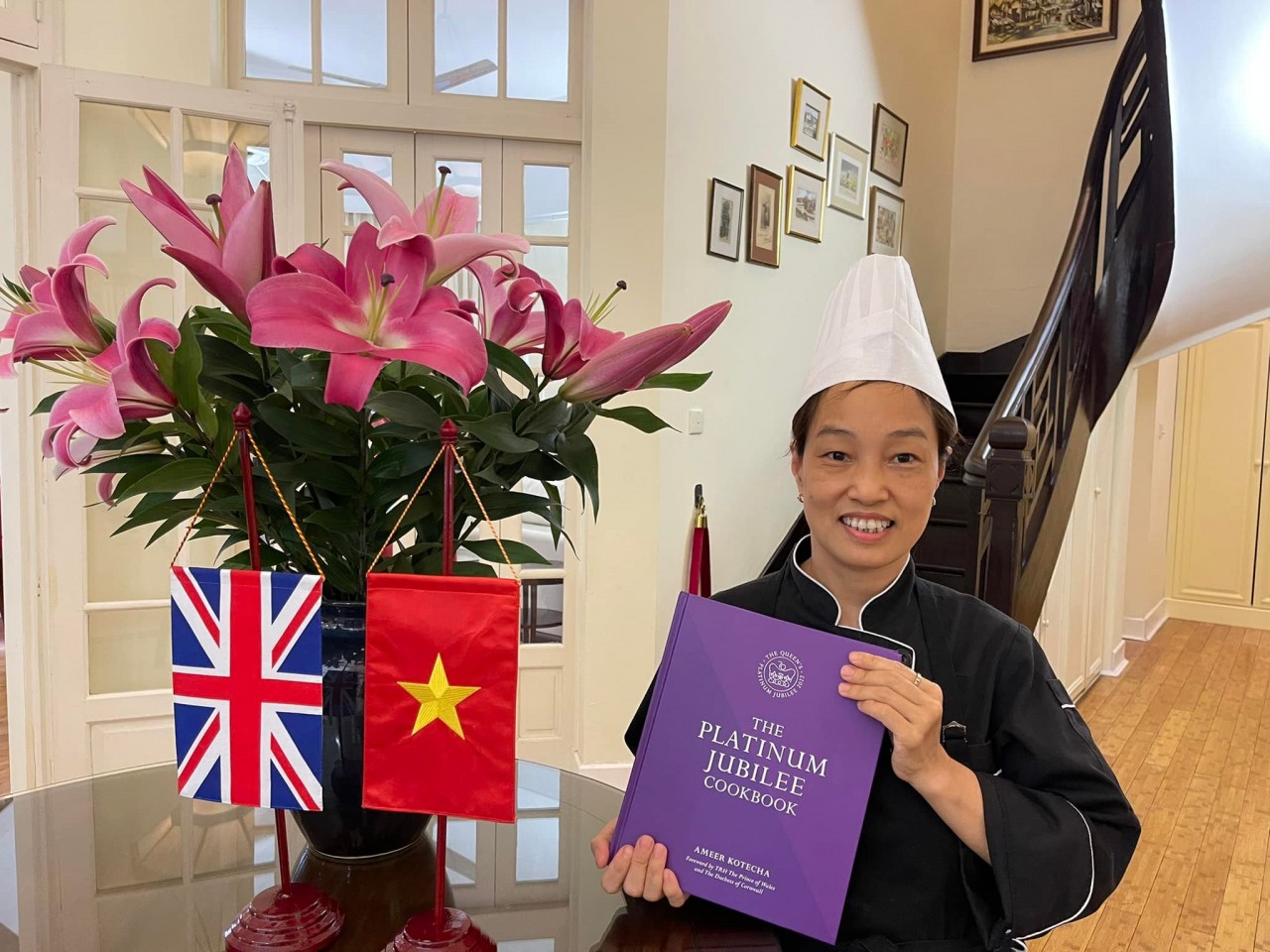 Bun cha recipe by Chef Do Thi Hai Ly, British Embassy Hanoi is featured in this book to celebrate Queen Elizabeth II's 70 years on throne.
The official Platinum Jubilee cookbook presents 70 recipes from British embassies and high commissions from across the world.
In the foreword, the Prince of Wales and the Duchess of Cornwall write that 70 years ago – when the Queen first became monarch – the UK's culinary outlook was "bleak."
"Seventy years ago, when The Queen came to the Throne, the culinary outlook in the United Kingdom was bleak: several foods were still rationed and the meagre choice of ingredients on offer posed a challenge to even the most creative cook," they write.
"Meals from other parts of the world were almost unheard of. The only option for a takeaway was the ever-faithful fish and chips; and olive oil was sold in small bottles by chemists, for medical rather than culinary use."
However, they go on to say in the foreword that the nation's tastes have today been "transformed" by the arrival of other nations' cuisines into British homes.
"More than ever before we welcome one another's culinary heritage into our homes - and, for this, we are deeply grateful."
While the variety of food has changed, Charles and Camilla say that one thing has remained constant - the "profound, almost spiritual, significance of breaking bread with others."
"On all Royal Visits, food plays an important part, presenting opportunities to enjoy a taste of the host nation's culinary heritage, while also offering a chance to share the best of British cuisine," they write.
According to the British Embassy, ​​Queen Elizabeth II's Platinum Celebration cookbook will be available for sale to all who are interested. The non-promotional price on the Amazon platform is £30.
100% of royalties from sales of this book will be donated to two charities: The Queen's Commonwealth Trust (QCT) and The Prince of Wales's Charitable Fund (PWCF).
Bun cha is typically a mix of flavourful barbecued pork, fresh noodles and fish sauce, as well as handfuls of sliced papaya, carrot and herbs. Customers often partially cook the food themselves by dipping fresh noodles into a bowl of steaming broth.
Bun cha in Hanoi. Photo: vietnam.travel
Bun Cha can be easily found in Vietnam's busy capital city from elegant restaurants to simple street vendors in narrow streets. Along with Pho, Bun Cha also stands for Hanoi's stunning cuisine culture which is the perfect combination of rice products, meat, veggie, spices, and local special dipping sauce.
It is available for all main meals in a day, from hurry breakfast to complete lunch then hearty dinner. However, bun cha is the top choice when it comes to lunchtime in the capital. It becomes more irresistible when the incredibly aromatic smell of grilled pork pervades streets, which tempts any hungry stomach after busy half a day.
On his arrival in Vietnam in 2016, President Obama and chef Anthony Bourdain dined at a local Bun Cha restaurant in Hanoi and gave the dish rave review.