About 3 to 10% of recovered patients in Wuhan tested positive later in a study
About 3 to 10 per cent of patients who recovered from COVID-19 tested positive again after being discharged from hospital, South China Morning Post reported, citing doctors in Wuhan.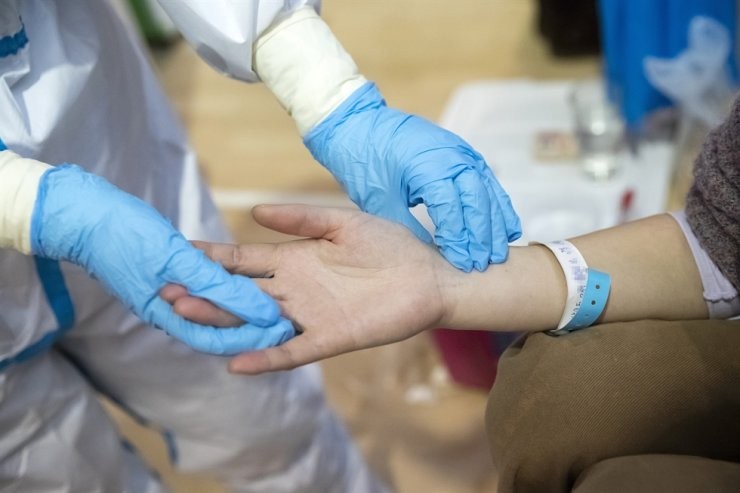 A medical worker examines a patient with traditional Chinese medicine (TCM) therapies at a temporary hospital in Jiangxia District in Wuhan, central China's Hubei Province, Feb. 25, 2020. (Xinhua/Shen Bohan)
Doctors from Tongji hospital in the city, where the disease was first identified, told state broadcaster CCTV that they have found no evidence that the recovered patients became infectious after recovery, based on close observations of their family members and laboratory tests.
In spite of its relatively small sample size, the Tongji hospital research is especially relevant as China now has far more recovered patients than new confirmed cases.
The Chinese mainland, where the disease first emerged last December, has discharged over 90 per cent of its infected patients and around 4,300 confirmed patients are still receiving treatment in hospitals.
The country has reported at least 81,000 cases and more than 3,200 deaths, but most of the new cases have been imported.
Wang Wei, president of Tongji hospital told CCTV that of the 147 recovered patients they studied, only five ― or just over 3 per cent ― have tested positive in nucleic acid tests again after recovery.
Meanwhile, Life Times, a health news outlet affiliated with People's Daily, reported this week that quarantine facilities in Wuhan have reported that about 5 to 10 per cent of their recovered patients tested positive again.
Previous reports have also highlighted cases where patients tested positive after recovery, including one on Sunday (Mar 20) from Life Times about a family of three in Wuhan, who all tested positive again.
These incidents have raised questions about whether nucleic acid tests might not be reliable in detecting traces of the virus in some of the recovered patients.
Some experts have also expressed concerns about the sensitivity and stability of the test kits, and the collection and handling of patients' samples.
Wang told CCTV that the five patients from his hospital who tested positive again did not have any symptoms, and none of their family members or people in close contact with them has been infected.
He said there was no conclusive evidence to prove that the recovered patients who tested positive again would be infectious to others.
"So far there is no evidence to suggest that they are infectious," Wang said, adding that surveillance of similar patients showed about 80 to 90 per cent of them had no trace of the coronavirus in their blood one month after being discharged from hospitals.
Another sample group of 15 patients from the hospital also confirmed a similar trend, with none infecting their family members.
"These are just small samples and not enough to assure us of the validity of our initial findings," Wang said. "We need a large-scale epidemiological study to guide our disease surveillance and prevention works."
However, he said it was imperative for recovered patients to stay in isolation for two weeks after discharge so they could be tested again for confirmation.
In a separate interview with CCTV also broadcast on Tuesday (Mar 24), Tong Chaohui, a respiratory disease expert from a central government task force in Hubei province, agreed that continued monitoring of the recovered patients was important.
"So far, none of the close family members of these recovered patients have been tested positive and we could not find the coronavirus in the laboratory cultured samples [from these patients]," Tong said.
"Although the nucleic acid tests were positive, random checking suggested that the patients have developed antibodies that were effective in protecting them from the nucleic acid of the virus," he added.
Speaking to official newspaper Hubei Daily early this week, Tu Yuanchao, deputy director of Hubei health commission, said discharged patients who tested positive again and have shown symptoms would be re-hospitalised. Those who do not have symptoms would be sent to quarantine facilities for observation for two weeks.
Hubei province, home to some 60 million people, reported no new cases on Wednesday and opened its borders. Public transport restarted and residents in the city of Xianning strolled the streets wearing masks.
The lockdown of Hubei's capital Wuhan, will be lifted on Apr 8, a milestone in China's war against the epidemic as Beijing shifts its focus towards stemming imported cases and rebooting the economy.
Fearing a new wave of infections from imported cases, authorities have ramped up quarantine and screening measures in other major cities including Beijing, where any travellers arriving from overseas must submit to centralised quarantine./.