Covid-19 in India and the world latest news: India reports the highest daily Covid deaths
On Thursday, India's daily death toll from Covid-19 pandemic reached a record high, with more than 6,000 deaths. The Biden administration plans to donate 500 million Pfizer (PFE.N) coronavirus vaccine doses to nearly 100 countries over the next two years.
India reports more than 6,000 daily Covid deaths — highest ever in the world
India's daily reported death toll from the coronavirus crisis reached a record high on Thursday, with more than 6,000 people succumbing to the disease.
That surpassed a record number of daily fatalities reported by the United States this year, according to CNBC.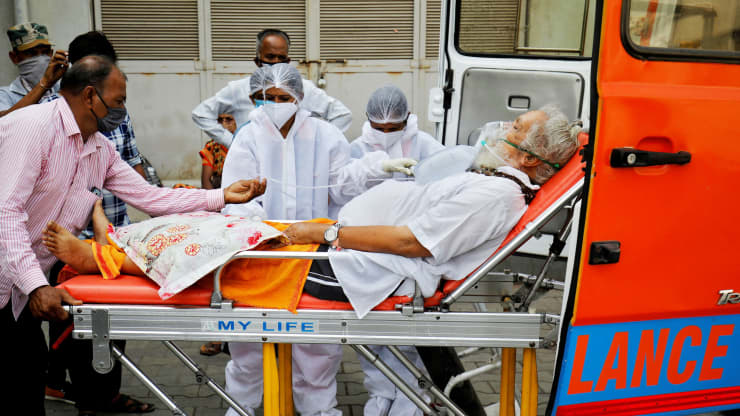 A patient wearing an oxygen mask is wheeled inside a COVID-19 hospital for treatment, amidst the spread of the coronavirus disease (COVID-19) in Ahmedabad, India, April 26, 2021. Photo: Reuters
India's health ministry data showed 6,148 Covid-related deaths were recorded over a 24-hour period, as daily reported cases remained below 100,000 for the third consecutive day.
The fatalities rose after one of India's poorest states, Bihar, revised its total Covid-19 related death toll on Wednesday from about 5,400 to more than 9,400, accounting for people who died at home or in private hospitals, Reuters reported.
India is fighting a devastating second wave of outbreak that started in February and accelerated in April and early May, which overwhelmed the country's health-care infrastructure. The sector struggled with shortages of beds, oxygen and medication while many doctors and other health-care workers succumbed to the disease.
While cases peaked in early May, government officials have sounded the alarm over a potential third wave that could hit the country later this year.
CDC plans "emergency meeting" on rare heart inflammation following COVID-19 vaccines
The Centers for Disease Control and Prevention announced Thursday that it will convene an "emergency meeting" of its advisers on June 18th to discuss rare but higher-than-expected reports of heart inflammation following doses of the mRNA-based Pfizer and Moderna COVID-19 vaccines.
So far, the CDC has identified 226 reports that might meet the agency's "working case definition" of myocarditis and pericarditis following the shots, the agency disclosed Thursday. The vast majority have recovered, but 41 had ongoing symptoms, 15 are still hospitalized, and 3 are in the intensive care unit, CBS reported.
The reports represent just a tiny fraction of the nearly 130 million Americans who have been fully vaccinated with either Pfizer or Moderna's doses.
"It's a bit of an apples-to-oranges comparison because, again, these are preliminary reports. Not all these will turn out to be true myocarditis or pericarditis reports," cautioned Dr. Tom Shimabukuro, a CDC vaccine safety official.
Shimabukuro said their findings were mostly "consistent" with reports of rare cases of heart inflammation that had been studied in Israel and reported from the U.S. Department of Defense earlier this year.
The CDC is working on more data and analysis on the reports ahead of the emergency meeting of its own advisers next week, he said, and also planned to analyze the risk of heart inflammation posed by catching COVID-19.
U.S. to donate 500 million Pfizer vaccine doses to the world
The Biden administration plans to donate 500 million Pfizer (PFE.N) coronavirus vaccine doses to nearly 100 countries over the next two years, three sources familiar with the matter told Reuters on Wednesday.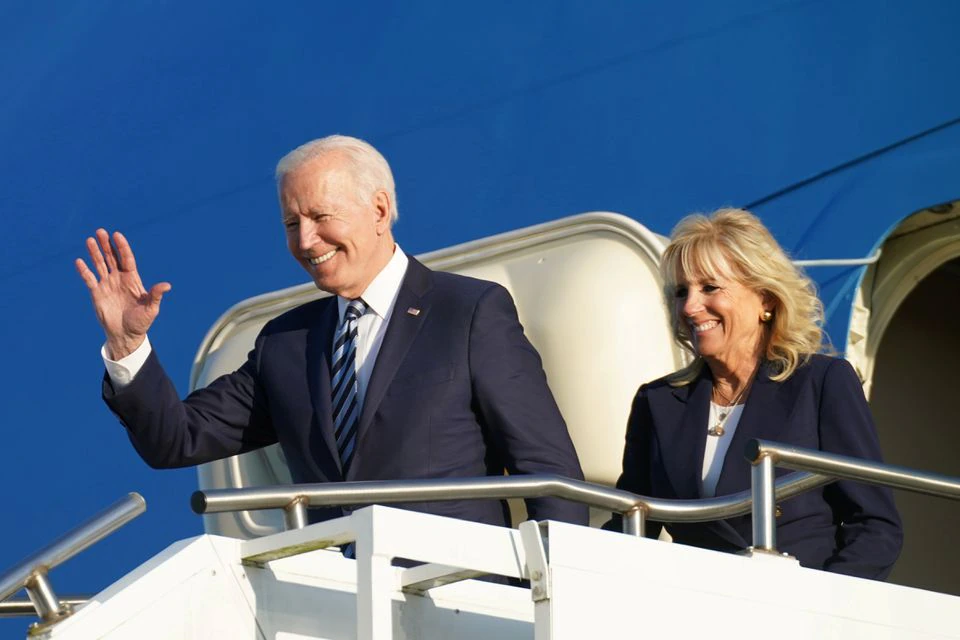 U.S. President Joe Biden and first lady Jill Biden disembark from Air Force One as they arrive at RAF Mildenhall ahead of the G7 Summit, near Mildenhall, Britain June 9, 2021. REUTERS/Kevin Lamarque
The United States is likely to distribute 200 million shots this year and another 300 million in the first half of next year to 92 lower-income countries and the African Union, they said.
The donations will go through the COVAX vaccine program that distributes COVID-19 shots to low- and middle-income countries. The program is led by the World Health Organization and the Global Alliance for Vaccines and Immunization (GAVI).
GAVI did not respond to a request for comment.
U.S. President Joe Biden will announce the deal on Thursday at the Group of Seven meeting of the world's wealthiest countries in Britain, one of the people said.
The deal was negotiated over the past four weeks by White House COVID-19 response coordinator Jeff Zients and the coronavirus task force team, one of the sources said.
CNBC reported on Wednesday that the United States is also talking with Moderna Inc about buying some of its shots to donate to other countries.
G-7 nations expected to pledge 1B vaccine doses for world
The Group of Seven nations are set to commit to sharing at least 1 billion coronavirus shots with the world, British Prime Minister Boris Johnson announced Thursday, with half coming from the U.S. and 100 million from the U.K. as President Joe Biden urged allies to join in speeding the pandemic's end and bolstering the strategic position of the world's wealthiest democracies.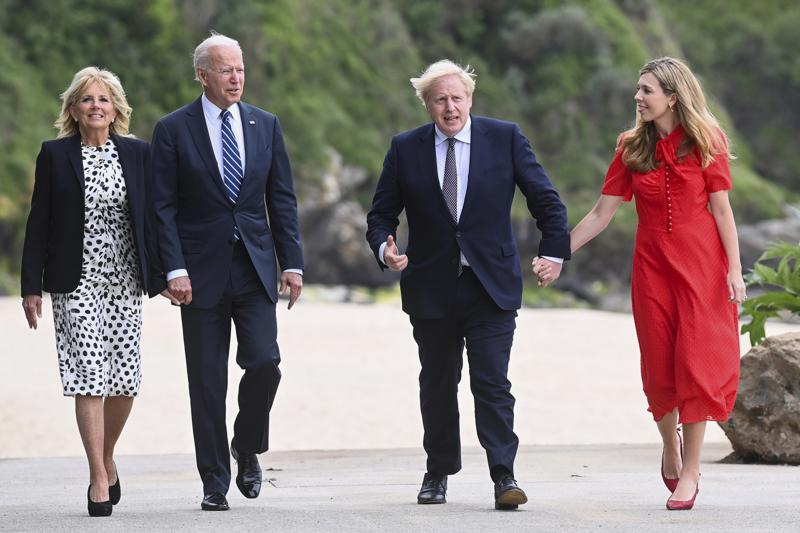 Britain's Prime Minister Boris Johnson, his wife Carrie Johnson and U.S. President Joe Biden with first lady Jill Biden walk outside Carbis Bay Hotel, Carbis Bay, Cornwall, Britain, ahead of the G7 summit, Thursday June 10, 2021. (Toby Melville/Pool Photo via AP)
Johnson's announcement on the eve of the G-7 leaders' summit in England came hours after Biden committed to donating 500 million COVID-19 vaccine doses and previewed a coordinated effort by the advanced economies to make vaccination widely and speedily available everywhere, according to Associated Press.
"We're going to help lead the world out of this pandemic working alongside our global partners," Biden said, adding that on Friday the G-7 nations would join the U.S. in outlining their vaccine donation commitments. The G-7 also includes Canada, France, Germany, Italy and Japan.
The prime minister's office said the first 5 million U.K. doses would be shared in the coming weeks, with the remainder coming over the next year. Biden's own commitment was on top of the 80 million doses he has already pledged to donate by the end of June.