Taiwanese start panic-buying as Covid cases increase
Items such as instant noodles or toilet papers are being bought in bulk after the government imposed new lockdown restrictions, triggering panic buying.
Taiwan's Central Epidemic Command Center (CECC) on Sunday (May 16) reported 206 local COVID-19 infections and one imported, setting yet another single-day record since the start of the pandemic. The new cases reported Sunday brought the total number of COVID-19 infections in Taiwan to 1,682, of which 550 have been confirmed as domestic.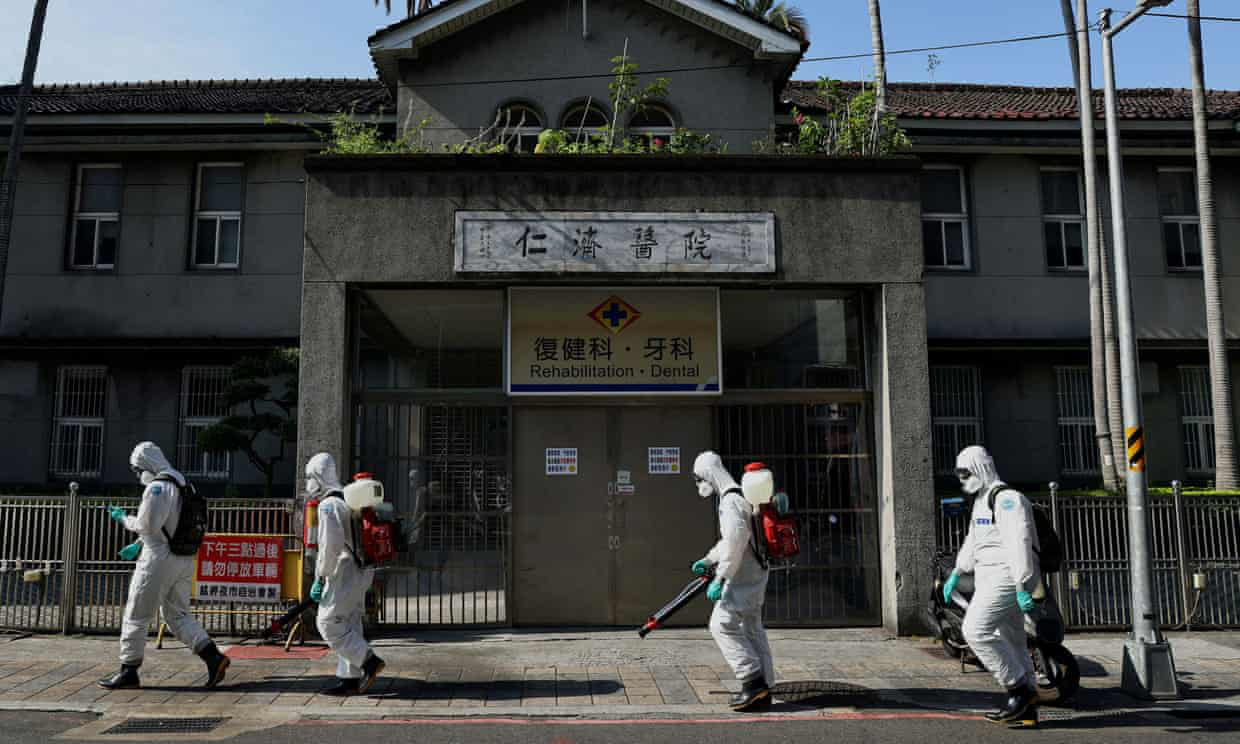 Disinfectant being sprayed in Wanhua district, Taipei. Photograph: Ann Wan/ Reuters
CECC head Chen Shih-chung said the 206 new local infections were comprised of 90 males and 116 females between the ages of four and 80. He said the new cases were scattered across eight cities and counties, with Taipei and New Taipei remaining hot spots for the disease and each recording 97 and 89 cases, respectively. Meanwhile, Changhua County registered nine, Yilan and Hsinchu Counties registered three each, Keelung and Taoyuan Cities recorded two each, and Taichung City recorded one.
In addition to the alarming number of additional domestic cases, Taiwan also reported one imported case from India. The case is an Indian woman in her 20s who arrived in Taiwan on May 8 and tested positive for COVID-19 on May 15, reported Taiwan News.
The authorities are now shutting down cinemas and entertainment venues until 28 May, while limiting gatherings to five indoors and 10 outdoors. The leaders said masks must be now worn outdoors, urging people to work and study from home. In addition, shoppers across the island are being restricted to buying just two items of some goods after supermarket shelves were emptied in recent days. This would be Taiwan's toughest restrictions so far, as the island tries to battle a spike in Covid-19 cases, cited BBC.
In messages late on Saturday, the leader and heads of premier and economy departments took to Facebook to say there was no need to hoard or rush to the shops after people scrambled to stock up on basic goods, mainly instant noodles and toilet paper.
"After more than a year of preparation, the country's anti-pandemic materials, civilian goods, and raw materials are sufficient, and the stores are also operating as usual to replenish goods," leader Tsai Ing-wen said.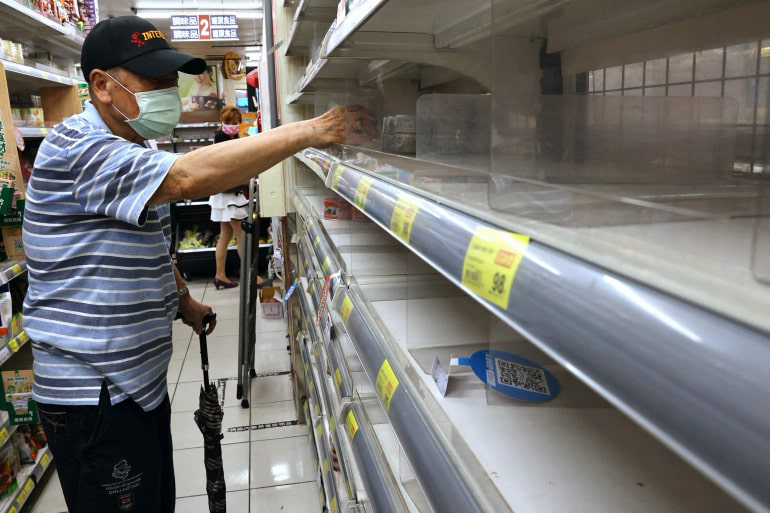 A man standing in front of almost empty shelves in a Taiwanese supermarket after people panic-buys groceries when Taiwan's government impose new Covid restrictions. Photograph: Ann Wan/ Reuters
French supermarket chain Carrefour said it was limiting purchases of items such as masks and instant noodles in its Taiwan stores, asking people to buy only what they need the economy ministry showed pictures of warehouses piled to the ceiling with boxes of instant noodles, saying supplies were "like a mountain" with plenty of toilet paper and canned food to go round as well.
Leader Su Tseng-chang made a similar appeal on his Facebook page. He triggered amusement early last year, during a previous rush for toilet paper, by saying people "only have one b*tthole" and should calm down.
While not ordering a total lockdown, the government is urging people to stay at home as much as possible.
The Health Department brought out its dog mascot, a shiba inu called Zongchai, to reinforce the message on social media. "Study Zongchai and stay at home," it said, showing pictures of the canine lying on the floor resting, said Reuters.
The social-distancing curbs could help curb the outbreak, much as fast action after its first case in January this year helped Taiwan quickly end a cluster infection related to a hospital within just four weeks.
But restrictions may hurt retail spending and potentially the broader economy. Because Taiwan remained open, and is the main source for in-demand high-performance semiconductors, exports have been surging. Shipments rose 38.7% in April from a year earlier, the second-highest total following a record in March, according to Bloomberg.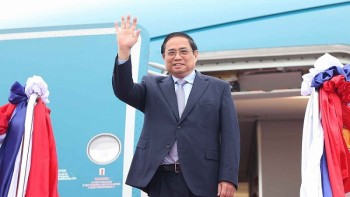 National
Vietnam News Today (Feb. 6): PM Chinh to pay official visits to Singapore, Brunei; Vietnam attends ASEAN+3 Tourism Ministers Meeting; Exports in 2023 and high demands from new generation FTAs; Digital technology to spearhead Vietnam's drive for Industry 4.0.