AFP: Mu Cang Chai's Spectacular Terrace Ricefields In Vietnam Amaze Tourists
AFP news agency has just introduced to the world the sparkling images of Mu Cang Chai terraced fields, Yen Bai, which has been one of Vietnam's beautiful natural staples.
The spectacular terraces of Mu Cang Chai in northern Vietnam lie up to 1,000 metres above sea level Nhac NGUYEN AFP
As the morning sun finds its way through the mist over Vietnam's terraced rice fields, local farmers lead buffalo into the paddies and pass another day without tourists in their hilly homeland. Located 300 km (around 190 miles) northwest of Hanoi, Mu Cang Chai district in northern Yen Bai province had become a hit with foreign and local tourists alike before the coronavirus pandemic, according to AFP.
The spectacular terraces -- which lie up to 1,000 metres above sea level -- mostly belong to the Hmong, a minority group who make up most of the area's population.
The Hmong women once rented their colorful traditional costumes to visitors, while men earned up to $30 a day driving them up tiny muddy paths through the hills.
The paddy fields are particularly beautiful in September and October when the crops turn a shiny yellow.
"We used to get huge numbers of tourists," farmer Lo Thi Loan told AFP.
"But this year all the rice fields are empty... due to virus movement restrictions."
Vietnam has recently started to open its doors to the outside world, and some international visitors arrived earlier this month on the island resort of Phu Quoc and in other tourist areas further south.
Mu Cang Chai, the land of the most beautiful rice terraces in Vietnam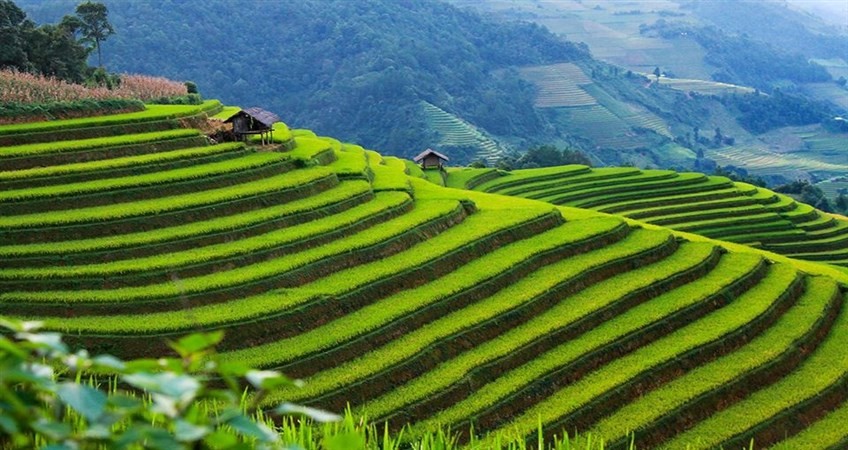 Photo: Vivutravel
Mu Cang Chai is a district in Yen Bai province, located in the west, about 300km from Hanoi. The district is located beneath the famous Hoang Lien Son range, with the most famous beauty scene; making the brand of this place is the terraced fields of gold; spreading the smell of the copper wind, radiating out all over the sky.
Mountainous district located in Yen Bai province, at the foot of the Hoang Lien Son mountain range, more than 300 km north of Hanoi, the Vietnamese capital, Mu Cang Chai is one of the most spectacular destinations in Vietnam. This destination is renowned among travelers for its fantastic rice terraces, some of the most beautiful in the country, and for its ethnic minority villages that populate this dazzling region of beauty. It's an unforgettable trip to the heart of a region prized for nature lovers and captivating encounters.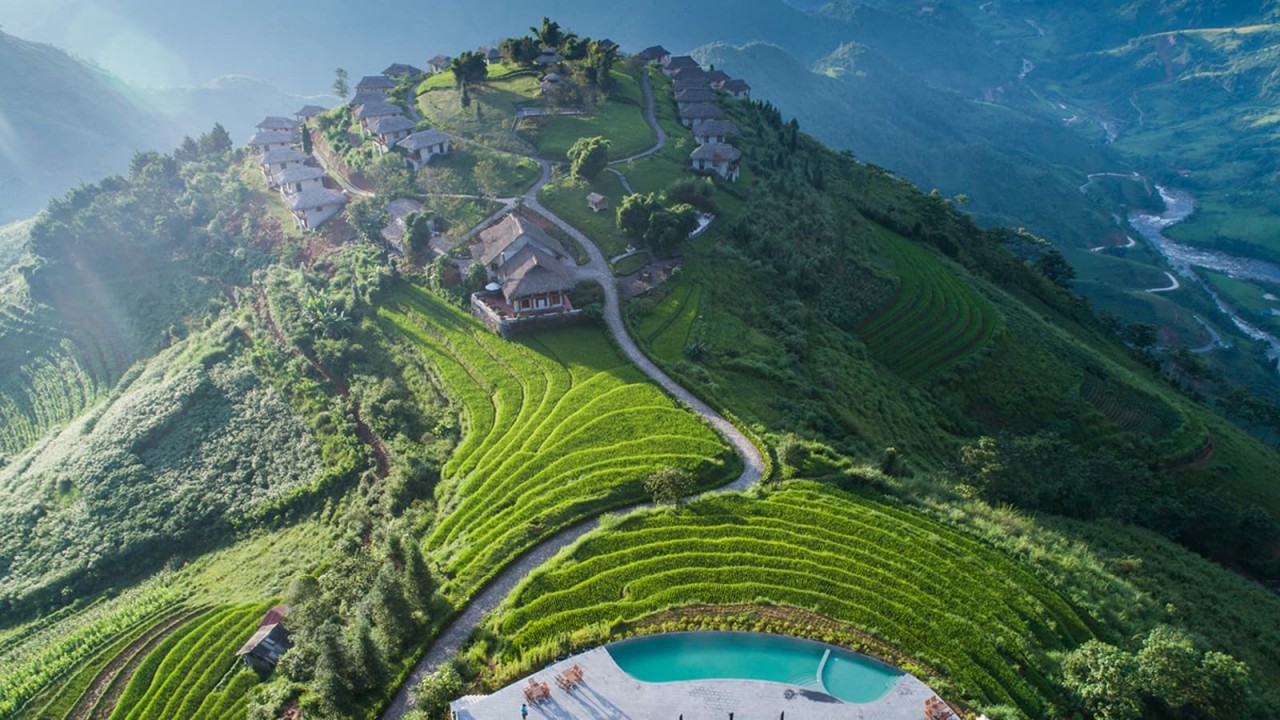 Photo: CNBC
At the high location of Hoang Lien Mountain, Mu Cang Chai district has its two main seasons: the dry & rainy ones with cool summer & cold winter. There isn't any river running through the district and its main water source is coming from numerous streams originated from Hoang Lien mountain range. With its 6 cold winter months (November to April), the region is so dry to plant the rice, that is why there is one crop of rice in Mu Cang Chai in the summer season (May to October) when the rice terraces are watered by summer rains.
Thanks to its pleasant climate, it is fine to visit Mu Cang Chai at any time of the year. However, the photographers who love having wonderful photographs of Mu Cang Cang rice terraces say that there are two best periods that people should visit Mu Cang Chai: between May and July when the locals water the fields to plant a new rice crop; and between mid-September and mid-October when the stepped fields change from green color to yellow one - the right moment for the best photos of rice terraces in Mu Cang Chai.
Rice terraces of Mu Cang Chai, national natural heritage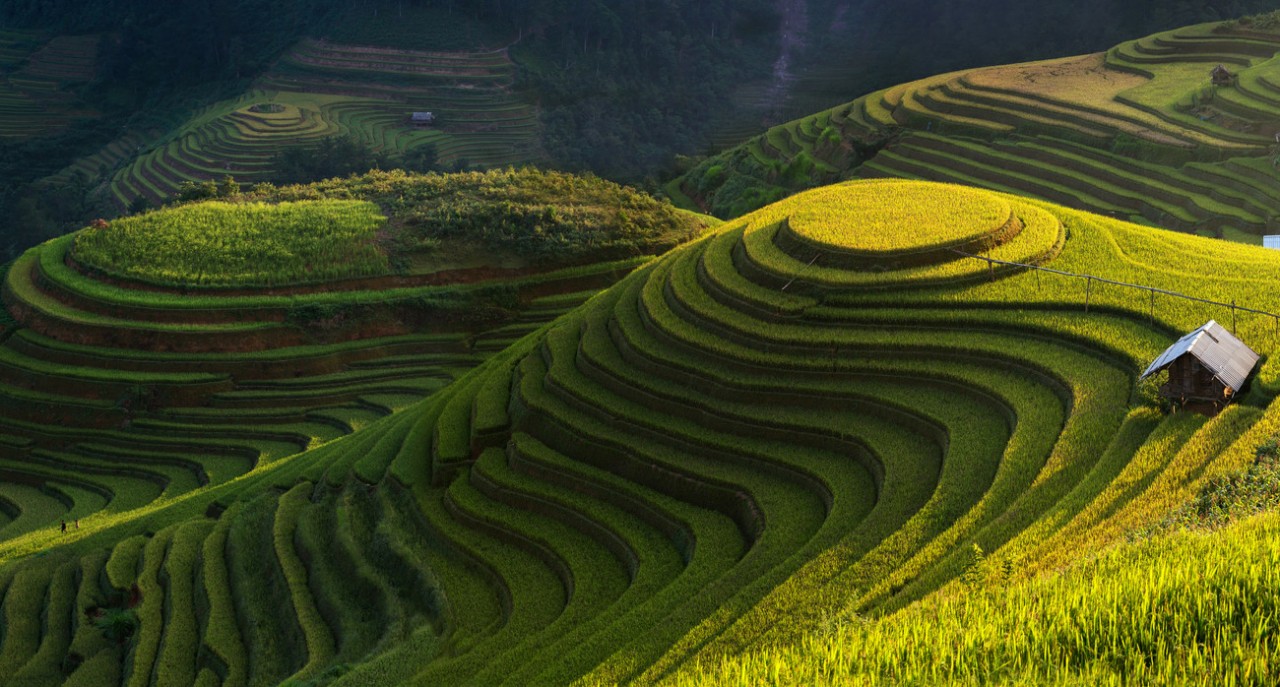 Photo: Europosters.eu
Mu Cang Chai's terraced rice fields tumbling down into mountain waterfalls are a masterpiece shaped by the hand of man, a titanic work that fascinates travelers. Mu Cang Chai's rice terraces are an integral part of local culture, especially that of the majority Hmong ethnic group in this remote region. The rice terraces of Mu Cang Chai are recognized as the national natural heritage and each year the rice fields festival is held during which several cultural activities are held around rice and local customs: dances, songs, and traditional music, goat fights, ethnic markets, etc, according to Authentik Vietnam Travel.
Mu Cang Chai's fabulous rice terraces are one of the most extraordinary landscaped sites in Southeast Asia. They are visible from the road, rightly called "the photographers' road", the famous national road 32 which connects the Tu Le village and Mu Cang Chai via the Khau Pha pass, one of the four largest Vietnam passes. The ascent of the pass from Tu Le offers breath-taking panoramas over large expanses of rice terraces. From this pass, paragliders soar to admire this unique spectacle.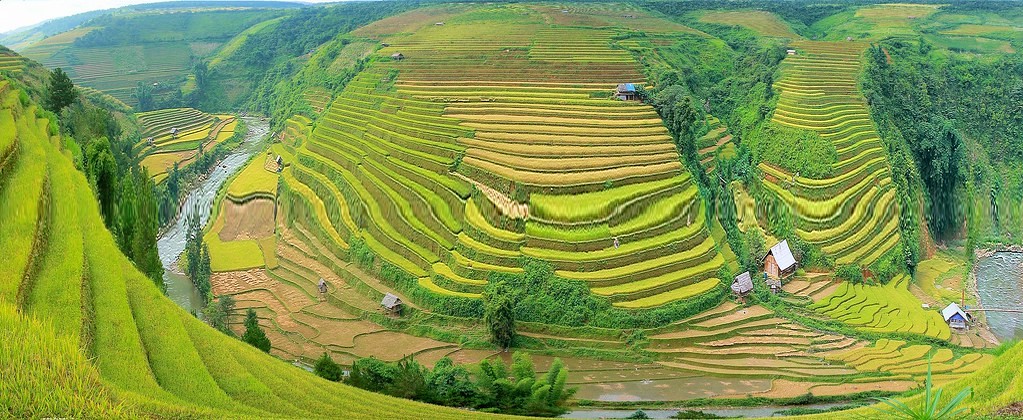 Photo: Flickr
In Mu Cang Chai district, you can leave the main road to go to La Pan Tan, Che Cu Nha, and Ze Xu Phinh communities which are home to more than 500 hectares of rice terraces that compete in beauty. Hiking is a great option to discover its incredible mountains carved from terraced rice fields.
The population of Mu Cang Chai district is mainly Hmong, almost 90%, and some Thai and Vietnamese. The Hmong live in wooden houses on the mountainside, on which they ingeniously practice flooded rice cultivation. You will recognize Hmong women by their traditional costume which they wear with pride every day. Hmong women love to wear large silver earrings, necklaces, and bracelets.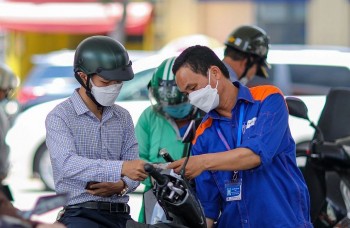 Economy
Vietnam Business & Weather Briefing (Oct 2): Binh Duong lures foreign investors with special care, the North and Central regions continue to have heavy rains, leading to the risk of flooding, flash floods, and landslides.