Photo: 60-year-old Green Bamboo Forest in Mu Cang Chai
Pung Luong bamboo forest with hundreds of thousands of bamboo trees is reminiscent of Chinese sword-fighting movies.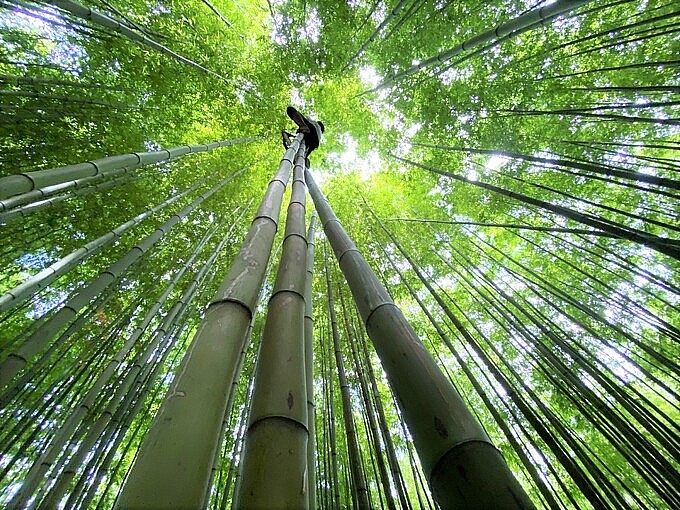 Hundreds of thousands of bamboo trees standing straight. (Photo: VN Express)
Mu Cang Chai in Yen Bai province has long been known as the paradise of terraced fields, a destination that tourists flock to in the harvesting season. But Mu Cang Chai has more than just terraced fields. About 20 km from the town, tourists will find a bamboo forest with hundreds of thousands of trees standing straight like a real-life swordplay movie scene.
The bamboo forest located in Na Hang Tua Chu village, Pung Luong commune has existed for more than 60 years, covering an area of more than one hectare. The forest was used to grow bamboo shoots, a village's specialty. From July 2020, intending to introduce local beauty to visitors and create more jobs for the local people, the authority decided to change the forest into a tourism destination. Possessing a pristine and peaceful vibe, the forest quickly becomes a famous check-in site for young people when coming to Mu Cang Chai.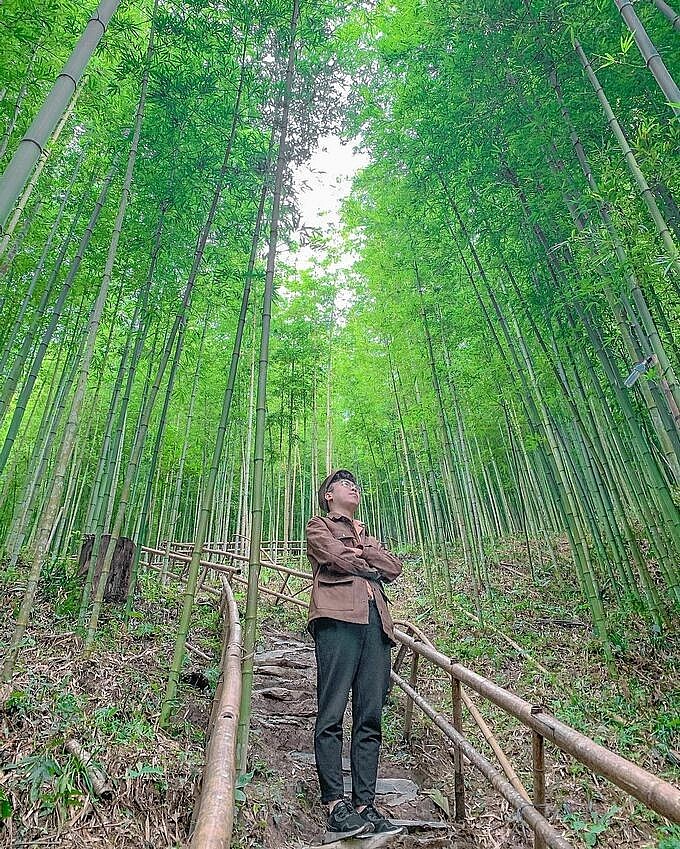 A tourist wanders in the forest. (Photo: VN Express)
To reach Pu Luong bamboo forest, visitors should hire a local tour guide in the town of Mu Cang Chai. Tourists may have to pay for motorbike taxis, or 'xe om' in Vietnamese, to reach the destination. Otherwise, adventurous travelers can ride a motorbike to conquer the bumpy roads to the forest. Due to the mountainous terrain, the road to the forest is narrow, bumpy, and rough. Each ticket costs VND 20,000 (US$ 0,8).
The forest scene is still unspoiled, therefore, visitors should have a sense of preservation. The garden owner has built miniatures with bamboo and leaves for guests to take pictures. The deeper you go into the forest, the more you feel the freshness and coolness of nature. However, you should avoid visiting the forest during rainy days because the road can be muddy and difficult to travel. Locals suggest bringing anti-bugs sprays, food, and water if you want to spend some hours camping in the forest.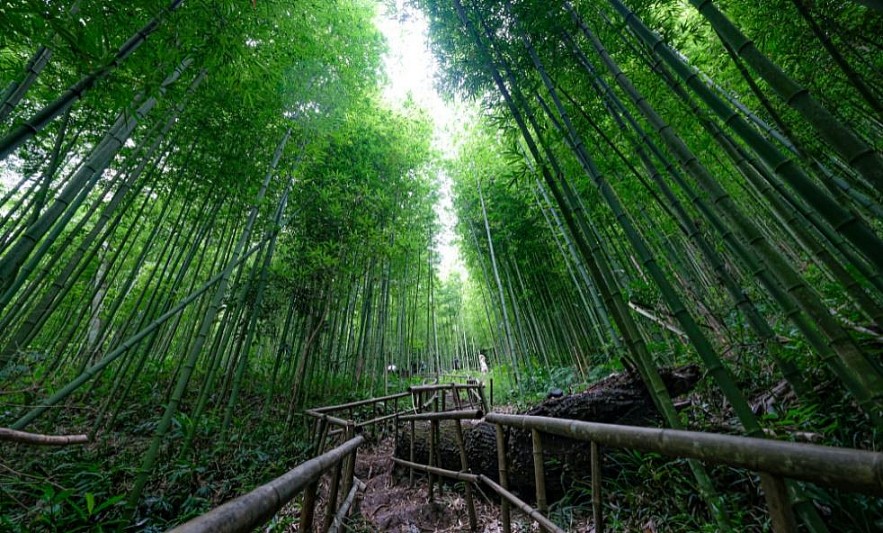 The breathtaking bamboo forest, called 'Na Hang Tua Chu,' is located around 20 kilometers from the mountainous township of Mu Cang Chai in Yen Bai Province. (Photo: Tuoi Tre)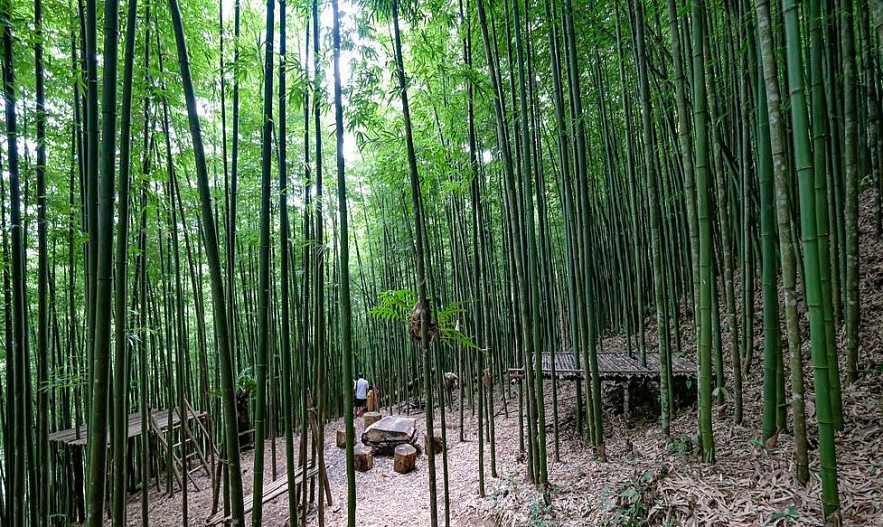 Tourists can bring fast food and snacks there to build a campsite. They are required to clean up garbage before leaving. (Photo: Tuoi Tre)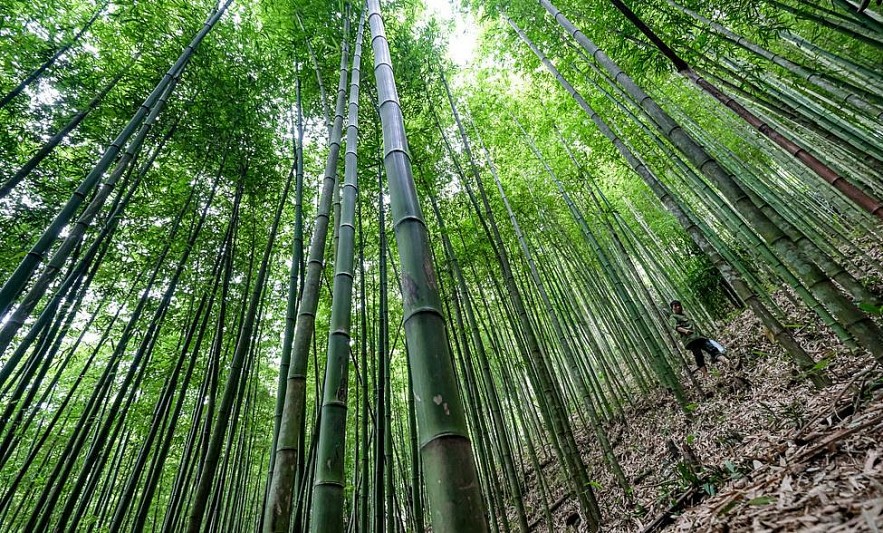 A man is pictured searching for bamboo shoots, a popular specialty that can be harvested in the forest. (Photo: Tuoi Tre)
A big trunk in the bamboo forest. (Photo: Tuoi Tre)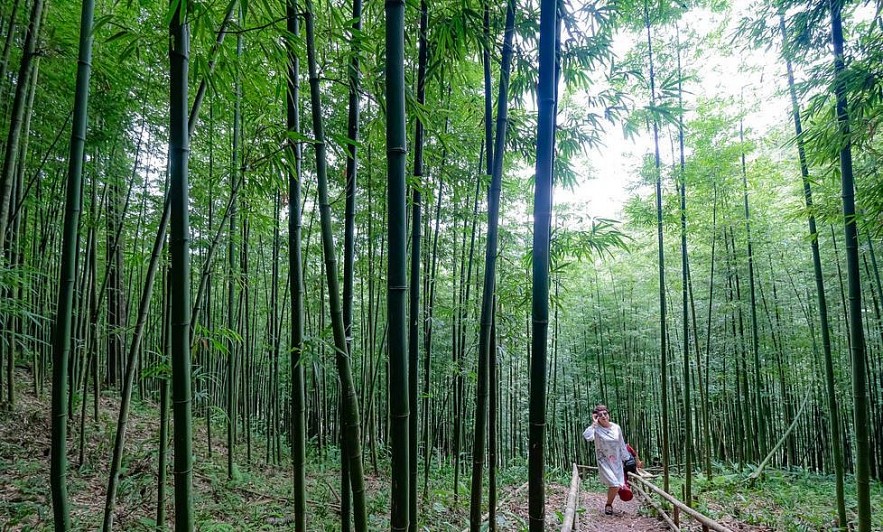 A woman walks on a narrow path lined with bamboo trees. (Photo: Tuoi Tre)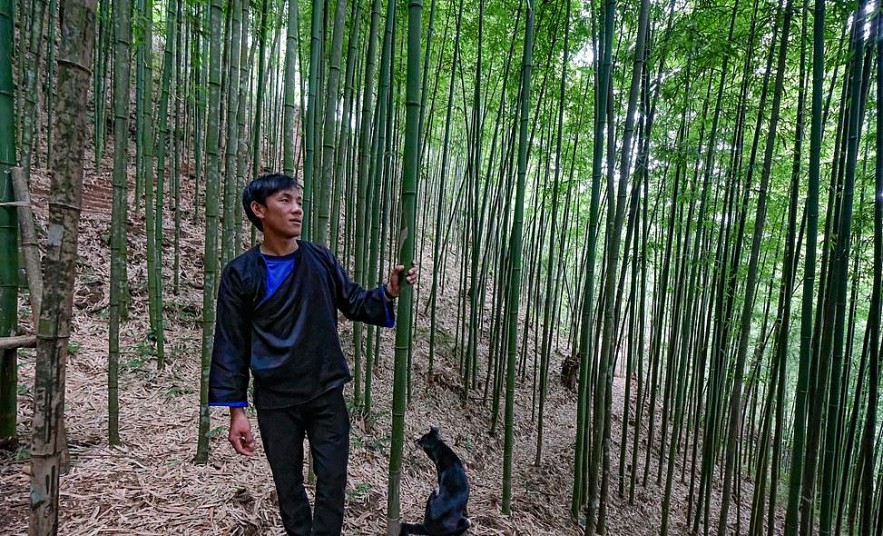 Lu A Tru, 27, owner of the bamboo forest in Na Hang Tua Chu Commune, holds a bamboo tree. He inherited the forest from his grandfather. (Photo: Tuoi Tre)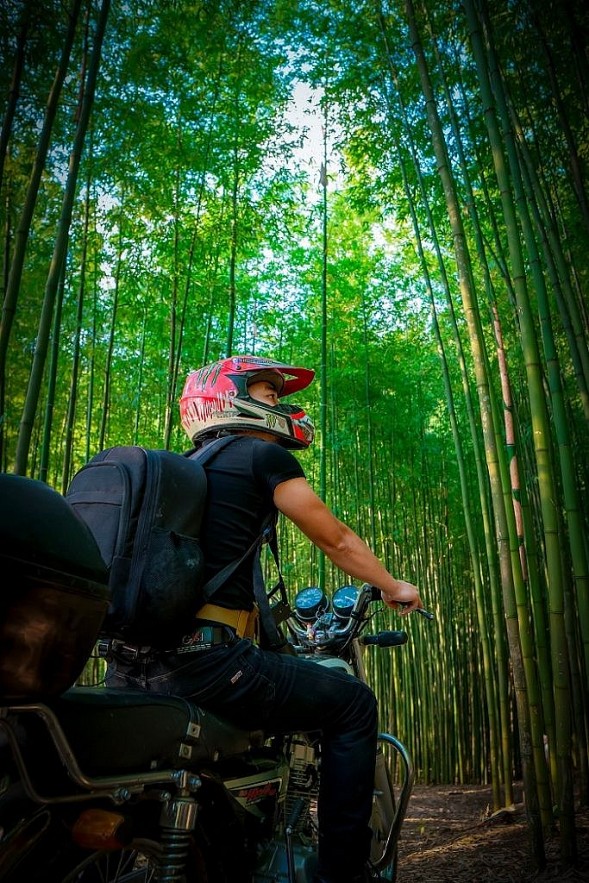 Leaving the noise of the big city behind, tourists come to the forest to enjoy the peaceful atmosphere. (Photo: WeCheckin)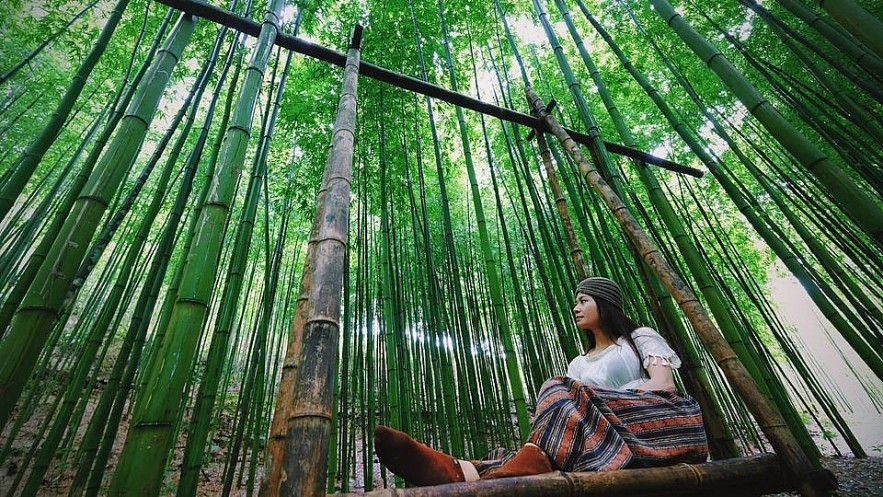 Since the bamboo forest was opened to tourists in July, it has quickly become a new check-in spot for youngsters from around Vietnam. (Photo: WeCheckin)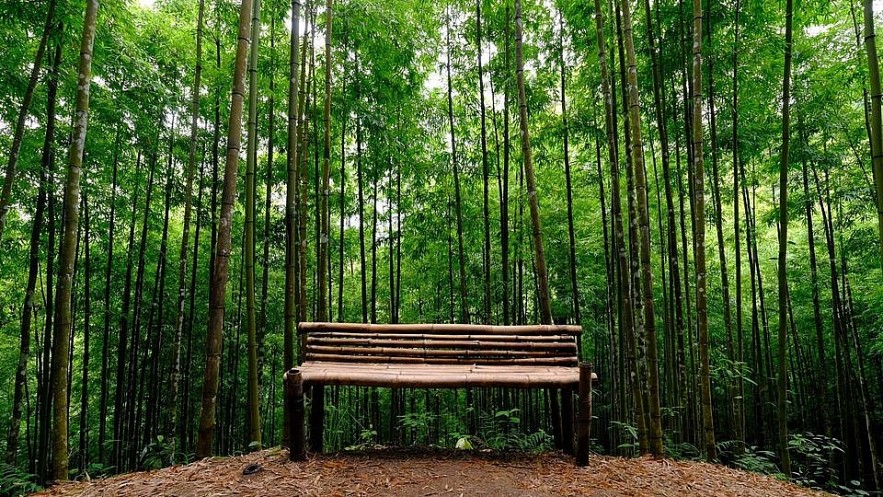 Along with the bamboo forest in Pung Luong, visitors can also explore and admire another bamboo forest that is older than that of the bamboo forest in Hang Sung village, Mo De commune. (Photo: WeCheckin)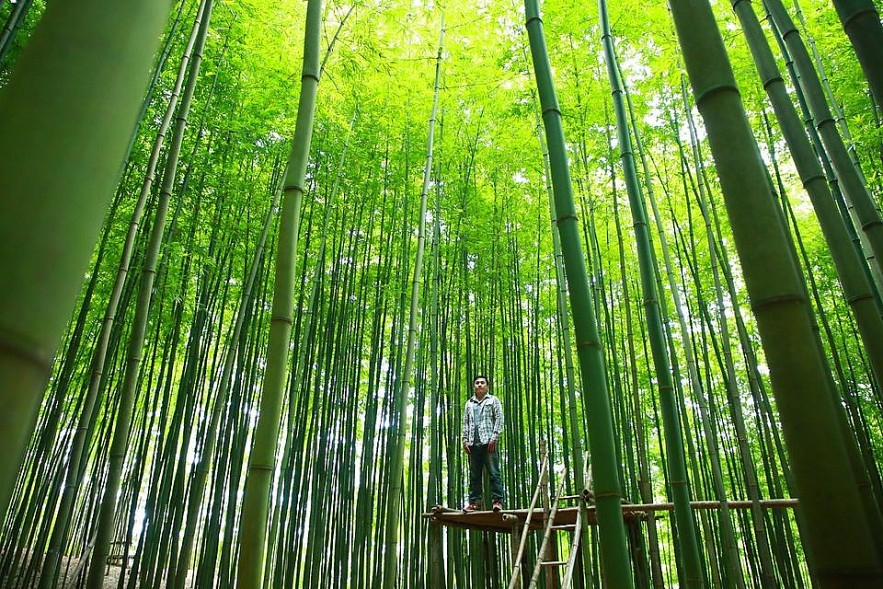 Hundreds of thousands of straight bamboo trees spread over an area of about one hectare, creating a wonderful space for resting, taking stunning photos, and breathing fresh air. (Photo: WeCheckin)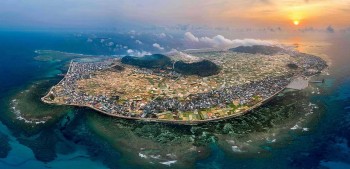 Viet's Home
Dozen of beautiful photos from the "Homeland View from the Sea" national photo contest will be featured in a 2022 calendar.