All Measures on Table to Amplify Vietnam-UK Trade
Vietnam - UK bilateral trade enjoys continuous growth.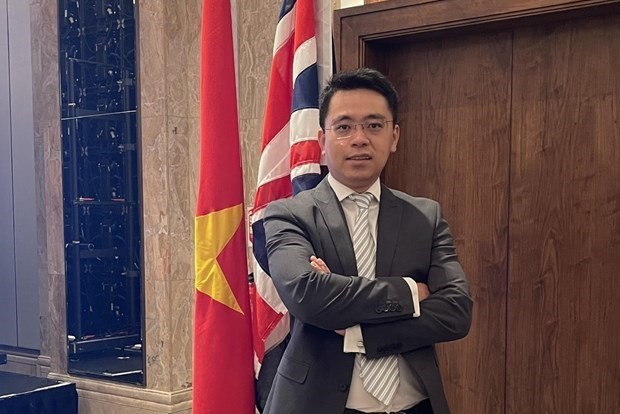 Thai Tran, Managing Director of TT Meridian. Photo courtesy of Thai Tran
There is plenty of room available for Vietnamese goods to enter the UK market, said Thai Tran, managing director of TT Meridian, an international logistics and trading company specialising in the UK and Vietnam markets and the first Vietnamese business in the UK to open an all-cargo air route between the nations via Turkmenistan, VNA reported
According to the business leader, despite the Covid-19 pandemic and the global recession, trade exchange between countries has grown rapidly in recent times.
Data from the UK Department for Business and Trade showed that Vietnam's export turnover of goods and services to the UK reached EUR 5.9 billion (USD 6.33 billion) in 2022, an annual increase of 30.3 %.
Vietnam is currently the UK's second-largest trading partner in Southeast Asia and the 40th largest in the world, accounting for 0.4% of the UK's total trade value.
Thai Tran said these encouraging figures have yet to reflect the sides' true potential, meaning that Vietnam needs to capitalise on market opportunities available in the UK and the current period of the nations' fruitful relationship.
He made a number of recommendations for Vietnamese firms to boost their exports to the UK market, and suggested they offer more competitive prices, obtain environmental, social, and governance (ESG)-related certificates, and apply technologies for improved information transparency, document standardisation, and cost reduction.
Moreover, TT Meridian has become the first Vietnamese business in the UK to open an all cargo air route between Vietnam and the UK via Turkmenistan.
The new route, announced by the company on May 19, is operated by Turkmenistan Airlines, the flag carrier of Turkmenistan.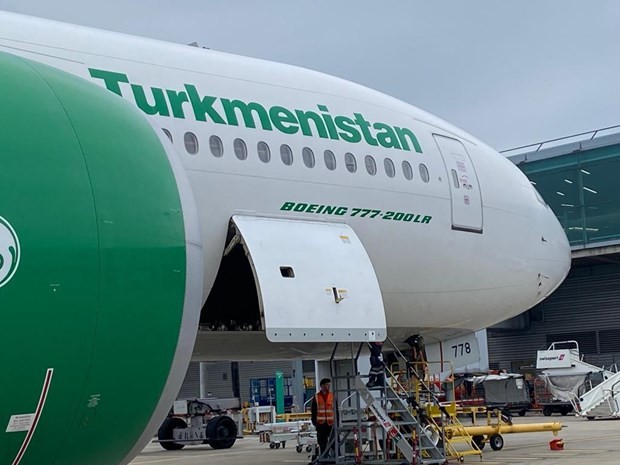 A Turkmenistan Airlines cargo plane at London Stansted Airport is about to fly back to Vietnam, transiting Turkmenistan. Photo: VNA
The first all cargo air route between Vietnam and the UK is expected to boost bilateral trade activities as the UK-Vietnam free trade agreement (UKVFTA) came into effect in May 2021.
Under UKVFTA, both governments have committed to promoting trade and economic cooperation by reducing or eliminating import tariffs on a wide range of products, removing trade barriers, and creating a more favourable business environment.
Thai Tran said, "TT Meridian as the cargo sales agent handling the UK to Vietnam leg is delighted to announce this new flight route. We believe it will provide exporters, importers and forwarding agents with more choices in addition to the existing direct and indirect services available in the market."
Thai expected the new UK-Vietnam all cargo flight will pave the way for more goods to be air transported between the two countries as well as for higher frequency of two-way all cargo flights.
Thai pointed out that new all cargo service using A330 aircraft that can carry 30 tonnes will also enable shippers to send large shipments that cannot be served by passenger flights.
From May, the flight departs from London Stansted Airport to Turkmenistan's Ashgabat International Airport on Wednesday evening, local time. Transit time is approximately four hours. It then departs from Ashgabat International Airport on Thursday morning and arrives at Noi Bai International Airport in Hanoi on Thursday afternoon local time.
The return flight departs from Hanoi on Thursday evening and arrives at London Stansted Airport on Wednesday morning the following week. Transit time is 5-6 days.
Together with Turkmenistan Airlines, Swissport and ACSV (the ground handling agents in London and Hanoi respectively) and other partners, TT Meridian operated a few trial flights in the past few weeks, Thai said, adding he believes the quick connection time in Turkmenistan, the transit point between the UK and Vietnam, and the competitive air freight will be supportive for forwarding agents, shippers and consignees during this challenging economic time.