All things about AirPods Max, the Apple's stylish new headphones with stunning over-ear design
Having been unveiled with a premium price of $549, the Apple AirPods Max is the highest-end model in the popular AirPods line. Here's everything we know so far.
The look - a major design departure from Apple's earbud-style wireless AirPods
As for the design, here's what Apple says: "The breathable knit mesh canopy, spanning the headband, is made to distribute weight and reduce on-head pressure. The stainless steel headband frame provides strength, flexibility, and comfort for a wide variety of head shapes and sizes. Telescoping headband arms smoothly extend and stay in place to maintain the desired fit."
"Each ear cup attaches to the headband through a revolutionary mechanism that balances and distributes ear cup pressure, and allows it to independently pivot and rotate to fit the unique contours of a user's head."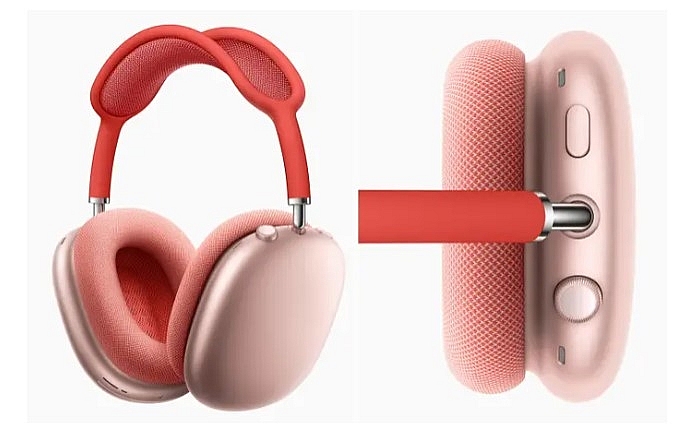 A look from the side, left, and from above, right. Photo: Apple
According to The Verge, none of that sounds particularly "revolutionary" when stacked up next to other high-end noise-canceling headphones, but the memory foam ear cushions should make for good comfort. They're also removable and attach via magnets, so hopefully replacing them won't be too much trouble.
There's also a "smart case" for the AirPods Max (below) that automatically puts them into a low-power state. When you put your headphones in the case, the device enters an ultra-low power state — but that's about it. Apple promises 20 hours of battery life. Unfortunately, it doesn't seem that Apple is selling a more protective hardshell case at this time.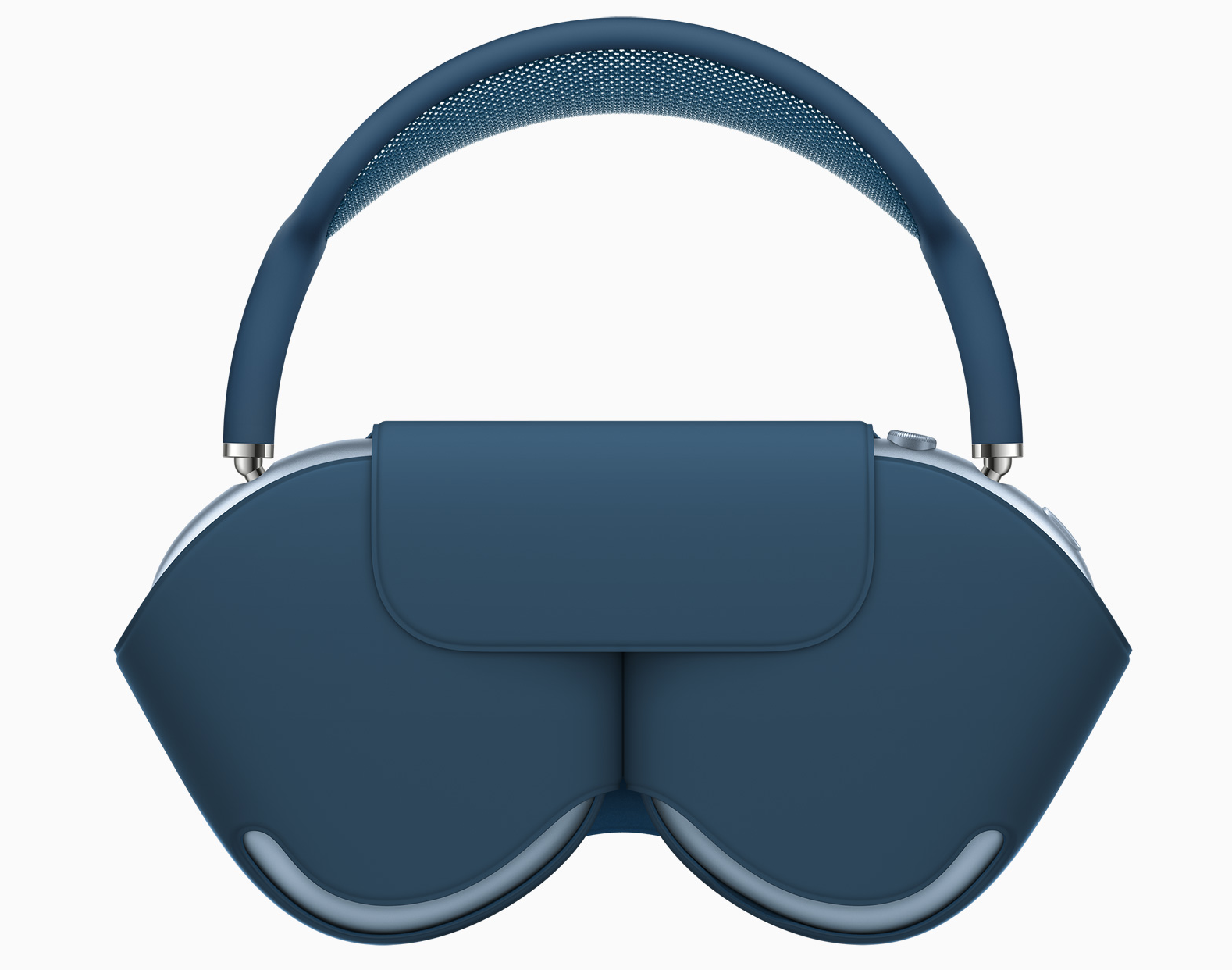 The introduced "smart case". Photo: Apple
The features offer much of functionality in a larger, better sounding package
Apple Senior VP of Worldwide Marketing Greg Joswiak said the intention with the new AirPods Max is to evoke "that magical AirPods experience" in an over-the-ear headset.
They feature a lot of the same functionality that AirPods users already enjoy. Apple detailed as much in the announcement on Tuesday morning:
+ AirPods Max pair most easily with Apple devices, which automatically recognize their presence when logged in through iCloud. This includes "iPhone, iPad, iPod touch, Mac, Apple Watch, and Apple TV," Apple said.
+ Like how AirPods know they're in your ear, AirPods Max "automatically detect when they are on a user's head." You can set them to automatically pause if you remove the headphones, or even "when the user simply lifts one ear cup."
+ Beyond using the headphones for listening to audio, they can also be used with Siri and as a means of making/receiving phone calls (when paired with compatible Apple devices).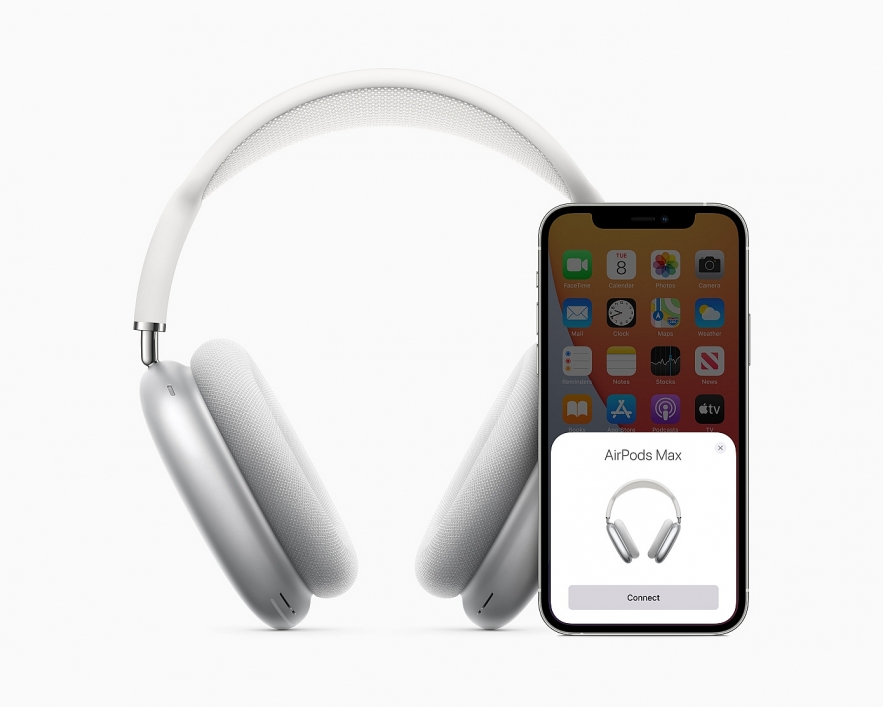 Image credit: Apple
Beyond those features, Apple says that its new headphones are "the highest quality listening experience possible" in an Apple product.
The AirPods Max last for up to 20 hours of "high-fidelity audio, talk time, or movie playback," the company said. That battery time includes the use of two key features: Active Noise Cancellation and spatial audio.
When it comes to active noise cancellation, the AirPods Max use three outward-facing microphones on each ear cup. When you pair the AirPods Max with an iPhone or iPad, Apple uses the gyroscope and accelerometer in both devices to compare motion data and deliver sound in 5.1, 7.1 and Dolby Atmos. Music also automatically stops when you remove the AirPods Max, Tech Crunch reported.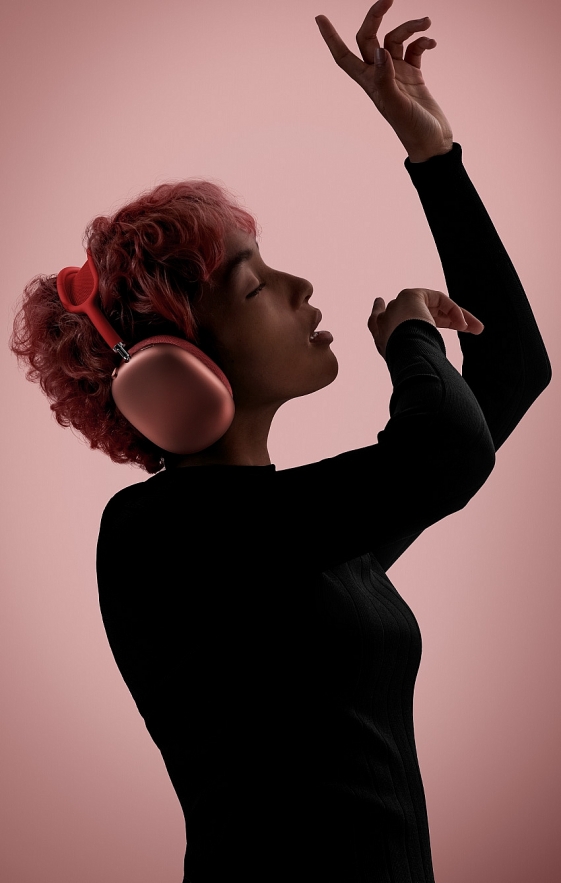 Photo: Apple
Cost a whopping $549
Apple said the noise-canceling AirPods Max will have up to 20 hours of battery life and "deliver the ultimate personal listening experience.", according to Yahoo.
But by retailing for $549, CNN noted the AirPods Max will actually end up being more expensive than the iPhone SE, which starts at $399. Beyond other Apple products, PCMag pointed out the $549 price tag is more than that of the PlayStation 5, as the more expensive version of that console is $499. The headphones are also pricier than the new Xbox Series X console, which is $499.
Apple already sells the AirPods, which start at $159, and the AirPods Pro, which cost $249. But the AirPods Max are Apple's first over-ear headphones, TechRadar notes. Apple in the last fiscal year "generated $31 billion sales from accessories" like the Airpods, Bloomberg reports.
The new AirPods Max will be start shipping on Dec. 15, at which point perhaps consumers will actually be able to easily get them, very much unlike the PlayStation 5.
The specs inside of the AirPods Max
According to Business Insider, the AirPods Max have nine microphones, the vast majority of which are dedicated to noise cancellation. It's got a gaggle of motion sensors, so it knows to pause when you lift an ear cup (among other things), and two physical inputs: a "crown," which operates similarly to the crown on the Apple Watch, and a rounded rectangular button. The button has one function: turning noise cancellation on and off.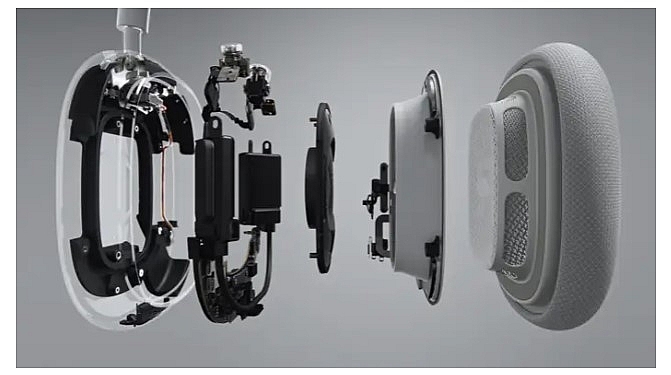 The inside of the AirPods Max, exploded. Photo: Apple
The crown serves several purposes, according to Apple: It can be turned to control volume, pushed in to pause/play or answer the phone, double tapped to skip forward, triple tapped to skip back, and pushed and held for Siri.
At the heart of the headphones is Apple's H1 chip, which the AirPod Max has embedded in each ear cup (one per ear).

The initial debut of the AirPods Max is a five-color run: space gray, sky blue, green, pink, and silver. Photo: Apple
How to get Apple AirPods Max
Currently, you can only pre-order AirPods Max directly from Apple. Unlike previous AirPods models, you can opt to get the Max in five color options: space gray, silver, green, sky blue, and pink. The new headphones will officially launch on Tuesday, December 15, and won't ship until then.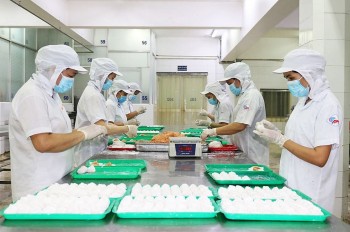 Focus
The fourth wave to hit Vietnam in late April has until now seen over 2 million Covid-19 cases recorded, whilst more than 1.72 million have since recovered from the virus.