"Ambassador Daniel Kritenbrink is People's Ambassador"
The Vietnam Union of Friendship Organizations (VUFO) on April 9 held a ceremony to present the medal "For peace and friendship among nations" to outgoing US Ambassador to Vietnam Daniel Kritenbrink.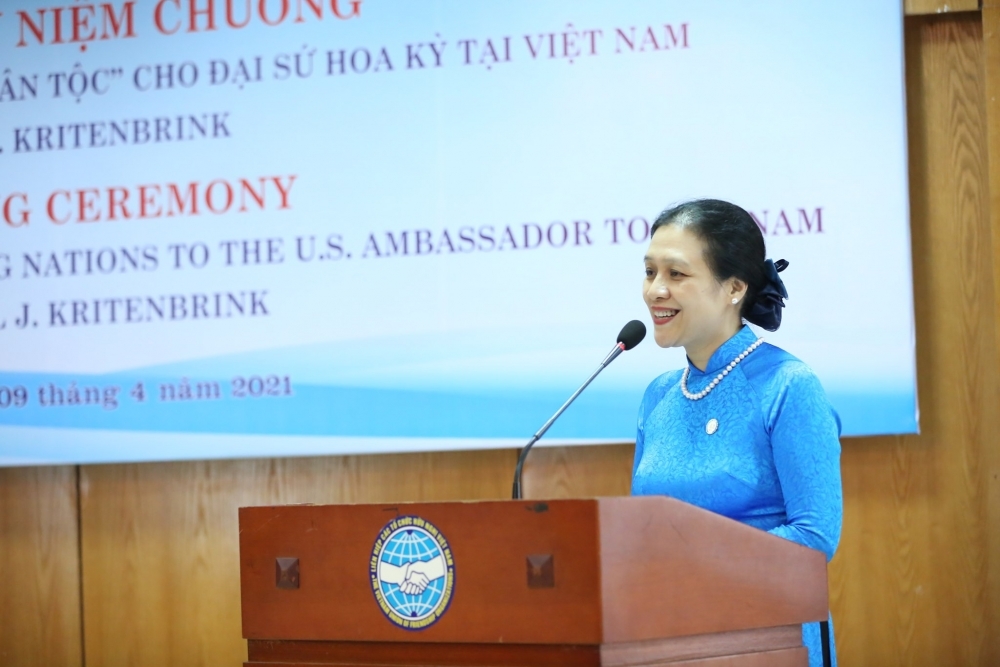 VUFO President Ambassador Nguyen Phuong Nga speaks at the ceremony. Photo: Tuan Viet/VUFO
On behalf of VUFO, President Nguyen Phuong Nga expressed her sincere and deepest thanks to Ambassador Daniel Kritenbrink for his invaluable contributions to promoting mutual understanding, friendship and efficiency of cooperation between the people and two countries.
The ceremony was attended by US Ambassador to Vietnam Daniel J. Kritenbrink; President of the Vietnam Union of Friendship Organizations Nguyen Phuong Nga; Vice President cum General Secretary of Vietnam Union of Friendship Organizations Phan Anh Son; Palm Devolder, Public Affairs Advisor, US Embassy in Vietnam, along with VUFO members and US Embassy in Vietnam.
Addressing the ceremony, VUFO President Ambassador Nguyen Phuong Nga highlighted the US ambassador's role and important contributions to promoting cooperative ties between the two countries.
"Ambassador Daniel Kritenbrink is the true Ambassador of the people. He left an unforgettable impression on the Vietnamese people with the image of an Ambassador learning to harvest rice with the Tay ethnic people, making moon cakes, participating in lion dance with children, singing Vietnamese folk songs, or making a rap video that is already very famous all over the world, wishing Vietnamese people a happy Tet (Lunar New Year), etc. We will always remember Ambassador Kritenbrink as a close friend who especially loves and respects the traditional cultural values of Vietnam", emphasized Nga.
Since he took office in 2018, many high-level visits have been made by Vietnamese and US leaders to each other's country, speeding up the signing of many agreements and the implementation of large joint projects worth billions of US dollars, she noted.
Nga said that the US is currently the largest export market and the 11th biggest foreign investor of Vietnam. Investment activities of big groups such as Coca-Cola, Microsoft, Nike, AES, and Intel have strengthened Vietnam's foothold in global supply chains, she noted.
Meanwhile, more than 30,000 Vietnamese students are studying in the US, she said, adding that the two countries organized various activities to mark 25 years since the normalization of bilateral relations.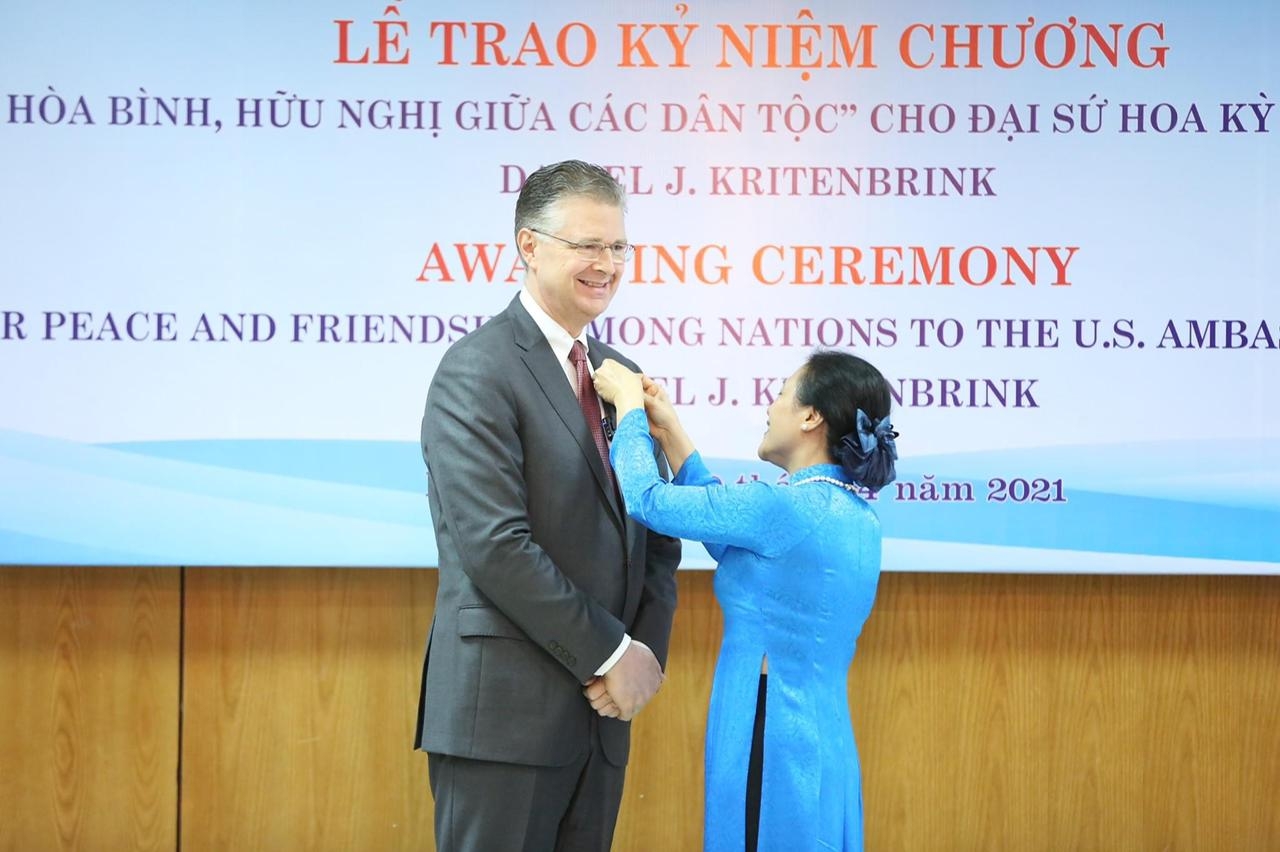 VUFO President Ambassador Nguyen Phuong Nga presents the medal "For peace and friendship among nations" to outgoing US Ambassador to Vietnam Daniel Kritenbrink. Photo: Tuan Viet/VUFO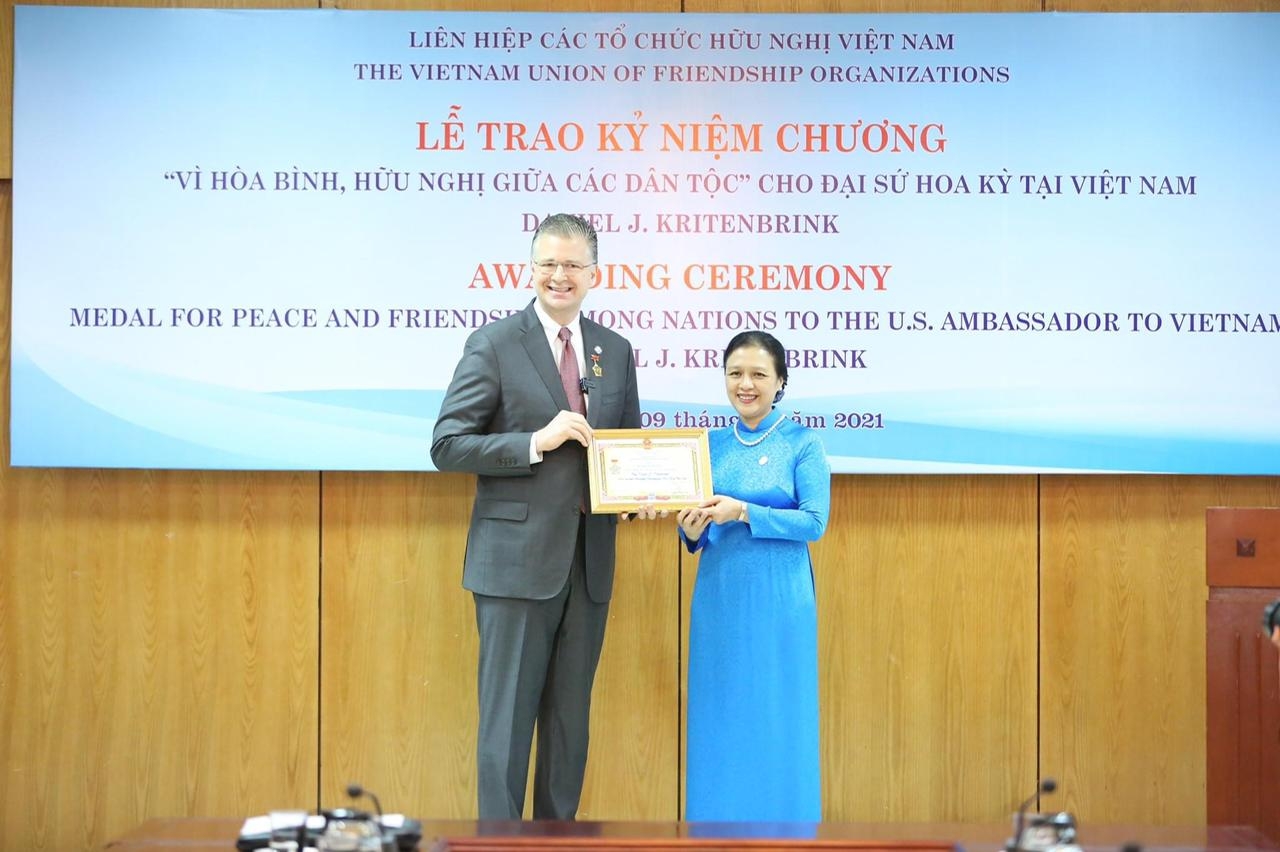 Photo: Tuan Viet/VUFO
VUFO President Nguyen Phuong Nga also expressed her appreciation to Ambassador Kritenbrink's support for projects overcoming the consequences of Agent Orange, clearing unexploded ordnance and mines and supporting people with disabilities in Vietnam.
President Nguyen Phuong Nga emphasized, "The US Ambassador is particularly interested in resolving war consequences and healing war's wounds in Vietnam. Ambassador Kritenbrink is the first US Ambassador to visit Truong Son martyrs cemetery, Hien Luong Bridge, Ben Hai Song (Quang Tri), Ham Rong Bridge (Thanh Hoa). This action has fostered mutual trust and brought our two peoples closer together."
For his part, Kritenbrink said it was an honour to receive the noble award from the VUFO.
The US Ambassador expressed his attachment to the beautiful country of Vietnam, his love for Vietnamese culture and cuisine. Ambassador Kritenbrink also shared unforgettable memories during his tenure. He had the opportunity to participate in many cultural activities such as planting trees, wrapping 'banh chung' on the traditional New Year, and releasing goldfish on December 23. In particular, the Ambassador also sent greetings to Vietnamese on the occasion of the traditional Lunar New Year in the form of a rap video, in the collaboration with coach of the famous competition seeking talented rappers Rap Viet - Wowy.
The Ambassador also shared his memories of visiting universities and meeting Vietnamese students and young people.
The diplomat said he is proud to represent the US administration and people in Vietnam, directly contributing to and witnessing the strong growth of the Vietnam-US relationship.
"It was a tremendous honor to receive the Medal of Peace and Friendship Among Nations Award from the VUFO. Our friendship forms the bedrock of our thriving relationship, and the United States and Vietnam are truly trusted partners prospering together. As my tenure as US Ambassador to Vietnam comes to a close, I am overwhelmed by a sense of pride and optimism of what we've been able to achieve together and for what the future has in store for the US-Vietnam relationship," he said.
Kritenbrink affirmed that in any position, he will continue to make more contributions to the development of the Vietnam-US ties./.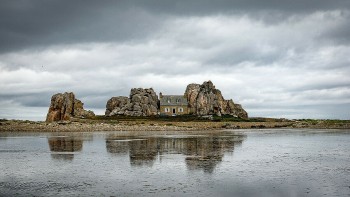 Travel
In a quiet little village of Plougrescant, France, tourists can visit this quirky and extraodrinary Castel Meur, also known as "The House Between The Rocks", which has become an attraction for many years.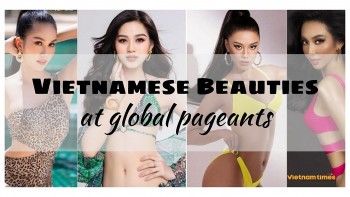 Handbook
Do Thi Ha, Pham Ngoc Phuong Anh, Nguyen Thuc Thuy Tien and Nguyen Huynh Kim Duyen set to vie for global beauty pageants.
World
In the outskirt of Poland, there is a pretty rural village that is called "The painted village" for its amazing and unique tradition of painting their homes inside and out with colorful floral patterns, making this place the most photogenic spot.