Lieut. Gen. Nguyen Chi Vinh and US Ambassador to Vietnam Daniel J. Kritenbrink held a meeting on April 8, during which they discussed plans to .overcome war consequences. (Photo: VNA)
On April 8 morning, Lieut. Gen. Nguyen Chi Vinh, Deputy Minister of National Defense, head of the standing office of the National Steering Committee on the Settlement of Post-war Unexploded Ordnance and Toxic Chemical Consequences (Steering Committee 701) received Mr. Daniel J. Kritenbrink, US Ambassador to Vietnam.
Vinh congratulated the Ambassador on successfully completing duties assigned by the US Government. He spoke highly of the Ambassador's contribution, interest, and support toward mutual cooperation in general and cooperation on settling afterwar pains in particular.
Vietnam's Deputy Minister also sent congratulation to Mr. Daniel J. Kritenbrink for being appointed as Assistant Secretary of State for East Asian and Pacific Affairs, suggesting that in his new position, Kritenbrink would continue to support and promote the US Congress and Government to enhance support toward Vietnam. Vietnamese Party, Government, and the Ministry of National Defense always consider cooperation in overcoming war consequences as a priority in relations with the US in the coming times.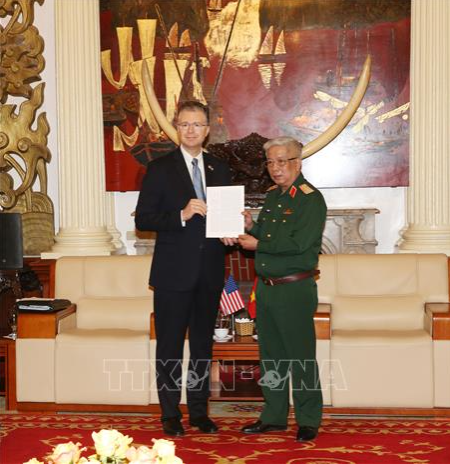 Mr. Daniel J. Kritenbrink expressed his satisfaction with the results that the two sides had gained in the fields. (Photo: VNA)
Lieut. Gen. Nguyen Chi Minh expressed his hope that US authorities continue to closely coordinate with Steering Committee 701 to effective and timely deploy ongoing projects, focusing on promoting communication to the people in the two countries and worldwide about the efforts and achievements that Vietnam and the US have gained over the past times. Thereby, the humanitarian meanings of the cooperation will be stressed.
Mr. Daniel J. Kritenbrink expressed his satisfaction with the results that the two sides had gained in the fields, which was in line with the commitments of the two countries' high-level leaders, contributing to enhancing political trust. He acknowledged Vietnam's opinions, saying that those would be included in his report to the US Congress. The Ambassador committed to continuing to support Vietnam in the future.
The two sides highly appreciated the recent cooperation results in overcoming war consequences, including searching for missing soldiers, removing bombs and mines, and cooperating in detoxifying dioxin detoxification. On this occasion, the US Ambassador respectfully presented Vietnam with documents from the US Congress acknowledging and positively assessing the two countries' cooperation in the field.
Valerie Mai