Outgoing US ambassador optimistic of stronger Vietnam-US ties
Outgoing US Ambassador to Vietnam Daniel Kritenbrink expressed his optimism about the promising future of the US-Vietnam relations during a press briefing in Hanoi on April 7, reviewing his working term in Vietnam.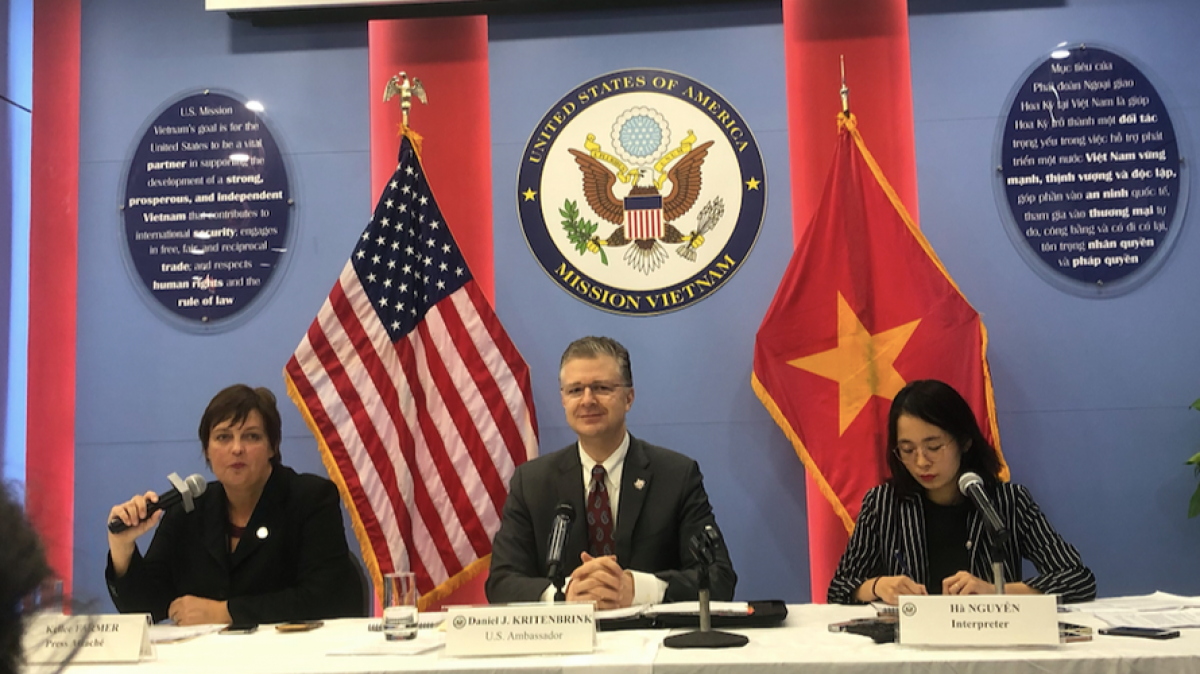 Ambassador Daniel Kritenbrink says he is optimistic about the promising future of the US-Vietnam comprehensive partnership. (Photo: TPO)
Both countries share the common strategic vision of regional and global landscape, and address differences in a responsible manner, he told media workers.
Both countries have maintained high-level contacts under the Biden administration. President Joe Biden sent a letter to top Vietnamese leaders, while Secretary Antony Blinken and the President's Special Envoy for Climate John Kerry had telephone talks with Deputy Prime Minister and Foreign Minister Pham Binh Minh, VOV reported.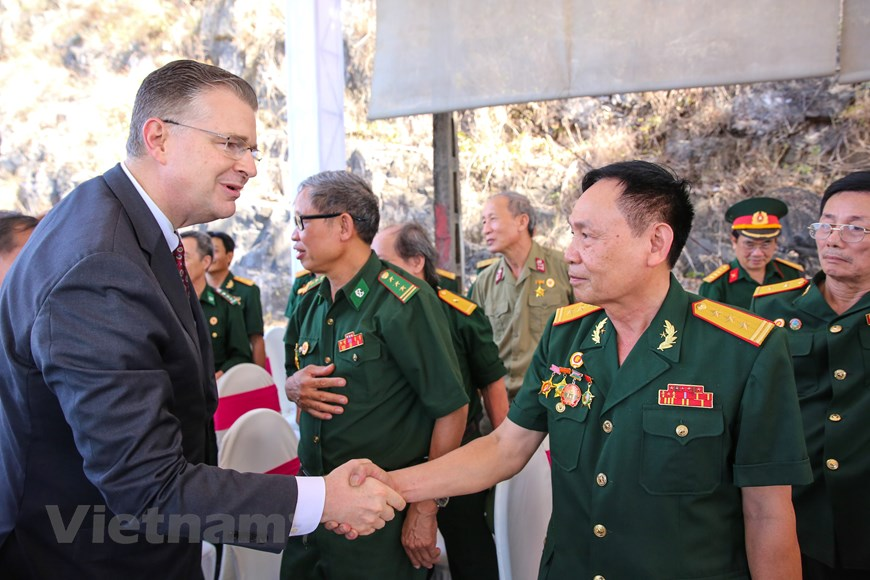 Ambassador Daniel Kritenbrink, together with Vietnamese and American war veterans visit the Ham Rong Bridge, June 2020. Photo: VNA
The two countries have also worked closely with each other when Vietnam assumed its roles as the Presidency of ASEAN in 2020 and a non-permanent member of the UN Security Council for 2020-2021.
Kritenbrink anticipated the coming years will see the US-Vietnam partnership develop vigorously, especially after President Biden stressed the need to further develop relations with its allies and partners.
"I am very optimistic about the future of the two countries' relations," said the diplomat.
Kritenbrink said the comprehensive partnership between the two countries has developed well in recent times, citing the fact that bilateral trade has grown exponentially, reaching $46.5 billion last year.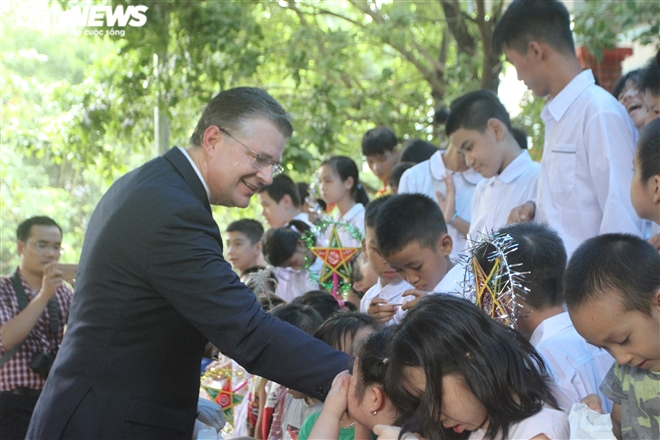 Ambassador Daniel Kritenbrink visited Vietnamese children on the occasion of the Mid-Autumn festival 2018. Photo: VTC News
Vietnam was the fastest-growing export market for the United States before the COVID-19 pandemic struck, noted the US diplomat.
He also reviewed US-Vietnam cooperation in education, health care and security, saying an American aircraft carrier had docked in Vietnam during his tenure and this was the first time such a US navy ship had visited the Southeast Asian nation since the Vietnam War.
With regard to post-war humanitarian and reconciliation efforts, Ambassador Kritenbrink said that the US has committed to dealing with war aftermath responsibly. It has completed dioxin detoxification at Da Nang airport, while a similar project is underway at Bien Hoa airport. It is also carrying out a project to deal with unexploded ordnance in central Vietnam.
In addition, the two sides have collaborated closely in the search for the remains of soldiers missing in action during the past war.
Ambassador Kritenbrink thanked the government and people of Vietnam for their support during his working term and wished Vietnam greater achievements in national development.
Vietnam central to US Indo-Pacific strategy
Outgoing U.S. Ambassador Daniel Kritenbrink said Vietnam and its natural leadership role in ASEAN was central to his country's Indo-Pacific strategy.
He said the U.S. believes that strengthening relationships with partners, friends and allies in the Indo-Pacific region is absolutely vital. Washington wants to work with like-minded partners and friends like Vietnam to promote not just an abstract vision, but really concrete policies that help all the countries.
The U.S. and its partners will uphold a rules-based international order and support international law so as to avoid conflict, he said, adding that it was in America's national interest to have strong, successful, prosperous partners, friends and allies, according to Vnexpress.
The U.S. also believes in the centrality of ASEAN and in Vietnam as a capable, successful country that naturally plays a leadership role in this region.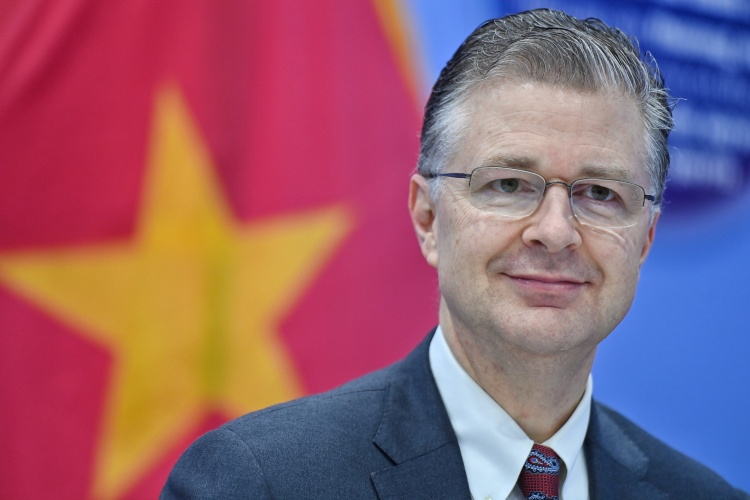 Photo: VnExpress/Giang Huy
Kritenbrink said he thinks expectations on Vietnam will only grow in the years ahead, including in the U.S.
"This is demonstrated by the very capable performance that Vietnam has rendered as chair of ASEAN, and now as a two year member on the U.N. Security Council."
President Joe Biden and Secretary of State Antony Blinken and other American leaders "have made very clear the emphasis they place on the Indo- Pacific region in general and our partnership with Vietnam in particular. More than that, the U.S considers Vietnam to be one of the most important partners in the world," the envoy said.
On East Sea (South China Sea) issues, Kritenbrink said the U.S. continues to believe in the peaceful resolution of disputes in accordance with international law, in the sanctity of freedom of navigation and freedom of overflight and that all maritime claims should be based on international law.
Washington will always stand by its partners and allies in support of a rules based international order, continue to oppose the actions of other countries in the region, particularly China, who through its actions appears intent on intimidating provoking and threatening other countries, including in the East Sea, Kritenbrink said.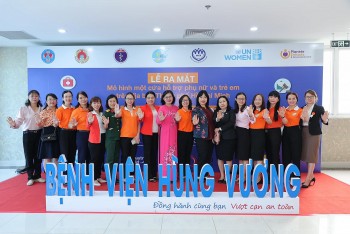 Viet's Home
What is the one-stop centre for women and children experiencing violence?