Ambassadors highlight relations with Vietnam
Over the past few days, several ambassadors to Vietnam and the United Nation chief have expressed their appreciation towards relations with Vietnam.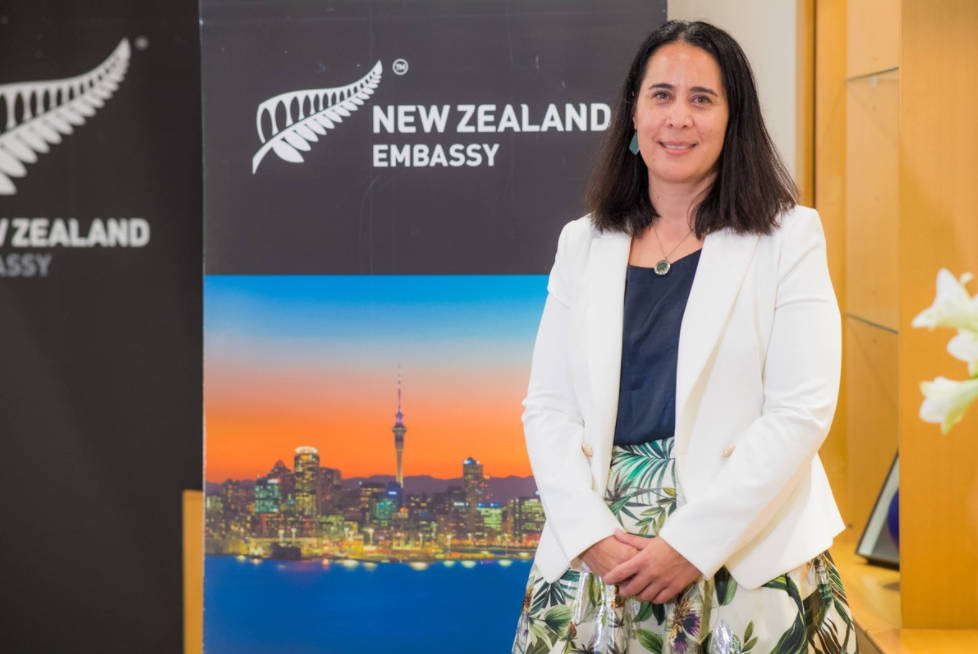 New Zealand Ambassador to Vietnam Tredene Cherie Dobson. (Photo: New Zealand Embassy )
New Zealand Ambassador: Diplomatic ties upgrading marks an important milestone in bilateral relations
In an interview on June 19, New Zealand's newly-accredited Ambassador to Vietnam Tredene Cherie Dobson said that the upgrading of ties between New Zealand and Vietnam into a strategic partnership in July 2020 was an important milestone in bilateral relations.
"The relationship between Vietnam and New Zealand is in great shape. In 2020, our Prime Ministers launched our Strategic Partnership, which marked a significant milestone in our bilateral relationship. In almost every area, the relationship continues to go from strength to strength. Despite all of the difficulties posed by the pandemic, I am proud to say that our two countries have successfully maintained regular high-level virtual political exchanges, defense and security cooperation, strong growth in bilateral trade, and expanded education links," said the ambassador.
Regarding economic cooperation, Vietnam is New Zealand's 14th largest trading partner, while New Zealand's exports to Vietnam have seen good growth in a number of sectors, particularly food and beverage with over 25% growth. "New Zealand and Vietnam are both very innovative economies and we need to take greater advantage of that," the ambassador said.
She said that the embassy was working very hard with Vietnamese partners to describe ambitions for the Strategic Partnership in a detailed action plan, meanwhile, two prime ministers had laid out the challenge of how the two countries could deepen and broaden their relationship, according to VOV.
"New Zealand and Vietnam have also historically worked extremely well together in regional and multilateral forums, and I look forward to continuing that tradition, with New Zealand as this year's Chair of APEC. We will be looking to work closely with Vietnam and other APEC members to ensure that we can build back more resilient, sustainable and inclusive economies in our region.," she said.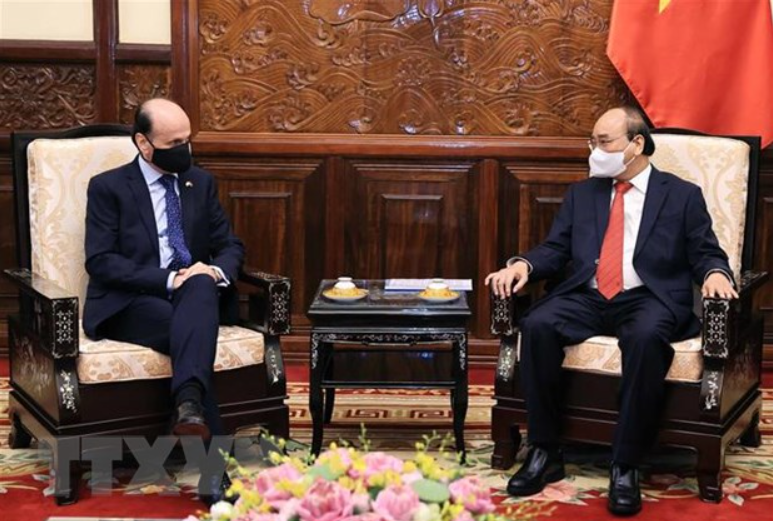 Newly-accredited Argentinian Ambassador to Vietnam Luis Pablo Maria Beltramino presented his credentials to Vietnamese President Nguyen Xuan Phuc. (Photo: VNA)
Argentina's Ambassador hopes two countries to strengthen cooperation
Newly-accredited Argentinian Ambassador to Vietnam Luis Pablo Maria Beltramino has expressed a hope of lifting bilateral ties to the strategic partnership level, especially as the two countries will celebrate the 50th anniversary of diplomatic relations in 2023.
In an interview granted to Vietnam News Agency after presenting his credentials to Vietnamese President Nguyen Xuan Phuc, Ambassador Luis Pablo María Beltramino spoke highly of the extensive cooperative relations between the two countries.
In terms of trade cooperation, he affirmed that Argentina is willing to diversify its exports to Vietnam to meet the country's demand. Expressing his delight at the development of comprehensive cooperation in the past through many signed agreements, the ambassador also spoke of areas of potential the two countries can develop in the future.
In the international community, Argentina and Vietnam have supported each other for many years and share a common vision on different issues and global challenges such as climate change, human aid leadership, and the Covid-19 pandemic, the ambassador said, expressing his hope that the two countries will strengthen cooperation to overcome the challenges for the benefit of the two peoples.
UN Secretary-General Antonio Guterres. (Photo: United Nations)
United Nations Secretary-General showed grateful for Vietnam's contributions
President Nguyen Xuan Phuc and re-appointed UN Secretary-General Antonio Guterres have affirmed their recognition of the importance to and expressed their elation at the positive developments of the Vietnam-UN relationship over the past time during their online phone talks on June 19.
Secretary-General applauded Vietnamese socio-economic development achievements, especially amid its ongoing Covid-19 containment efforts. He acknowledged the country's positive and responsible contributions to the UN and global issues, especially at the UN Security Council, the implementation of SDGs, climate change adaptation, and Covid-19 prevention, noting that the nation is an important contributory faction to peace and stability in the wider region.
The Secretary-General is especially grateful that the country has successfully treated a UN staff member with the Covid-19 vaccine, thereby demonstrating the spirit of international solidarity to overcome the pandemic.
With regard to the international and regional situation, both sides have highlighted the importance of maintaining and promoting peace, stability, security, safety, and freedom of navigation on the basis of respect for international law. This is especially true with regard to the 1982 United Nations Convention on the Law of the Sea (UNCLOS), while affirming ASEAN's central role in resolving regional issues.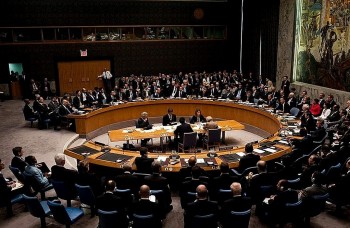 Friendship
The "International Day of Women in Diplomacy" is recently adopted by the United Nations (UN), which is to be celebrated every year on June 24. UN General Assembly Abdulla Shahid said that the resolution opened the door to discuss the challenges of women in diplomacy face, to celebrate women in diplomacy and to inspire the next generation.