Ambassadors cycle on World Bicycle Day
Ambassadors of the Visegrad Group countries on June 3 cycled around Hanoi's main streets to commemorate World Bicycle Day.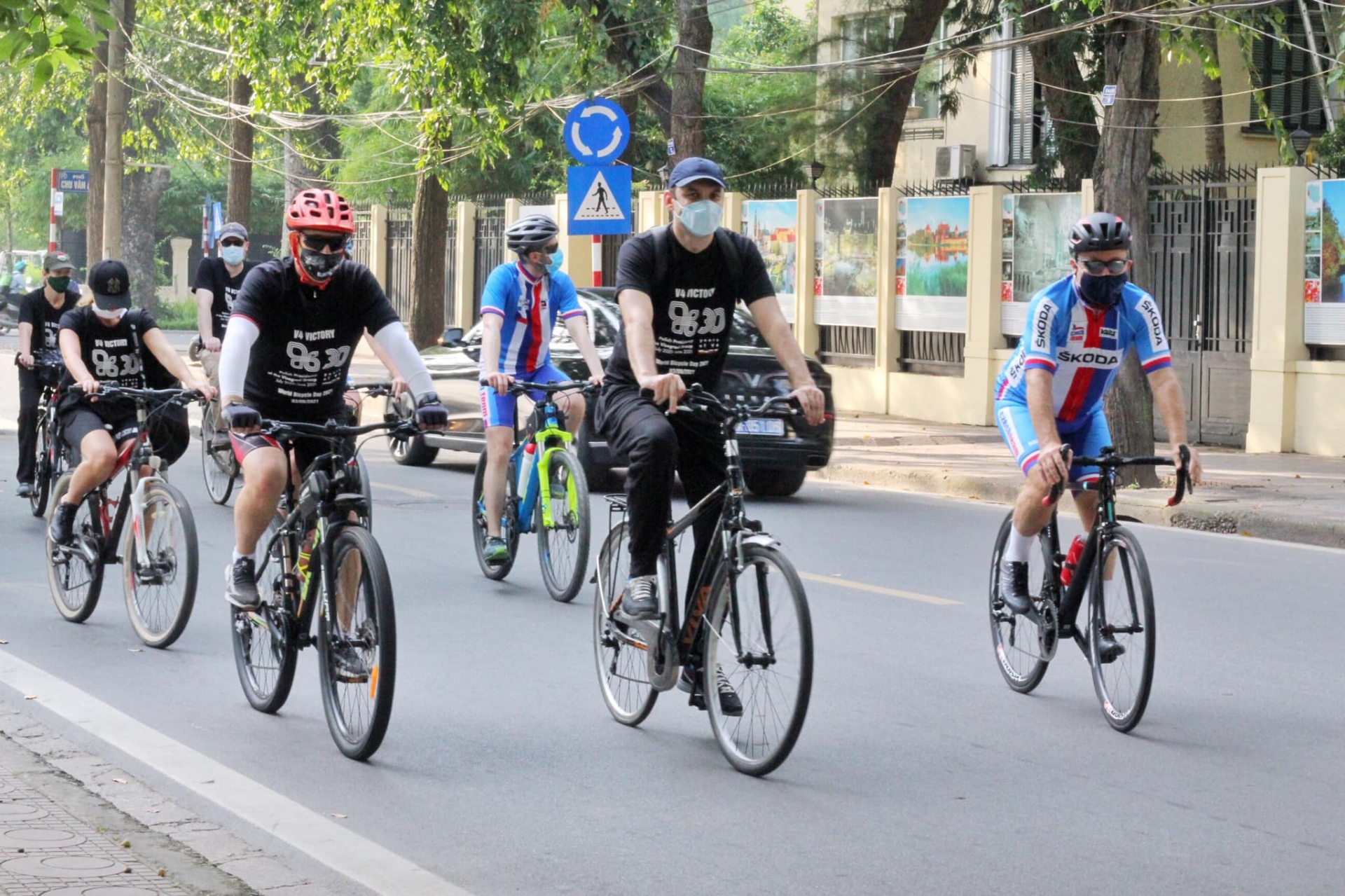 To mark World Bicycle Day, Ambassadors of Poland, Czech and Hungary have collaborated to strengthen the cycling culture of the European Union. Photo courtesy of the Polish embassy's Facebook
In celebration of World Bicycle Day, declared by UN General Assembly, initiated by the Polish professor Leszek J. Sibilski, Embassy of Republic of Poland in Hanoi as Presidency of Visegrad Group (V4) have organized a bicycle ride in Hanoi with the participation of representatives form V4 embassies in Hanoi.
The aim of this event is to emphasize the important role of bicycle in sustaibable transportation, preservation of environment, access to education, health care and sport.
During the Hanoi bicycle tour, V4 representatives have passed next to important national historical, govermental and art locations in Hanoi such as Museum of Fine Arts, Temple of Literature, Foreign Ministry's building, Embassies of Hungary, Poland and Czech.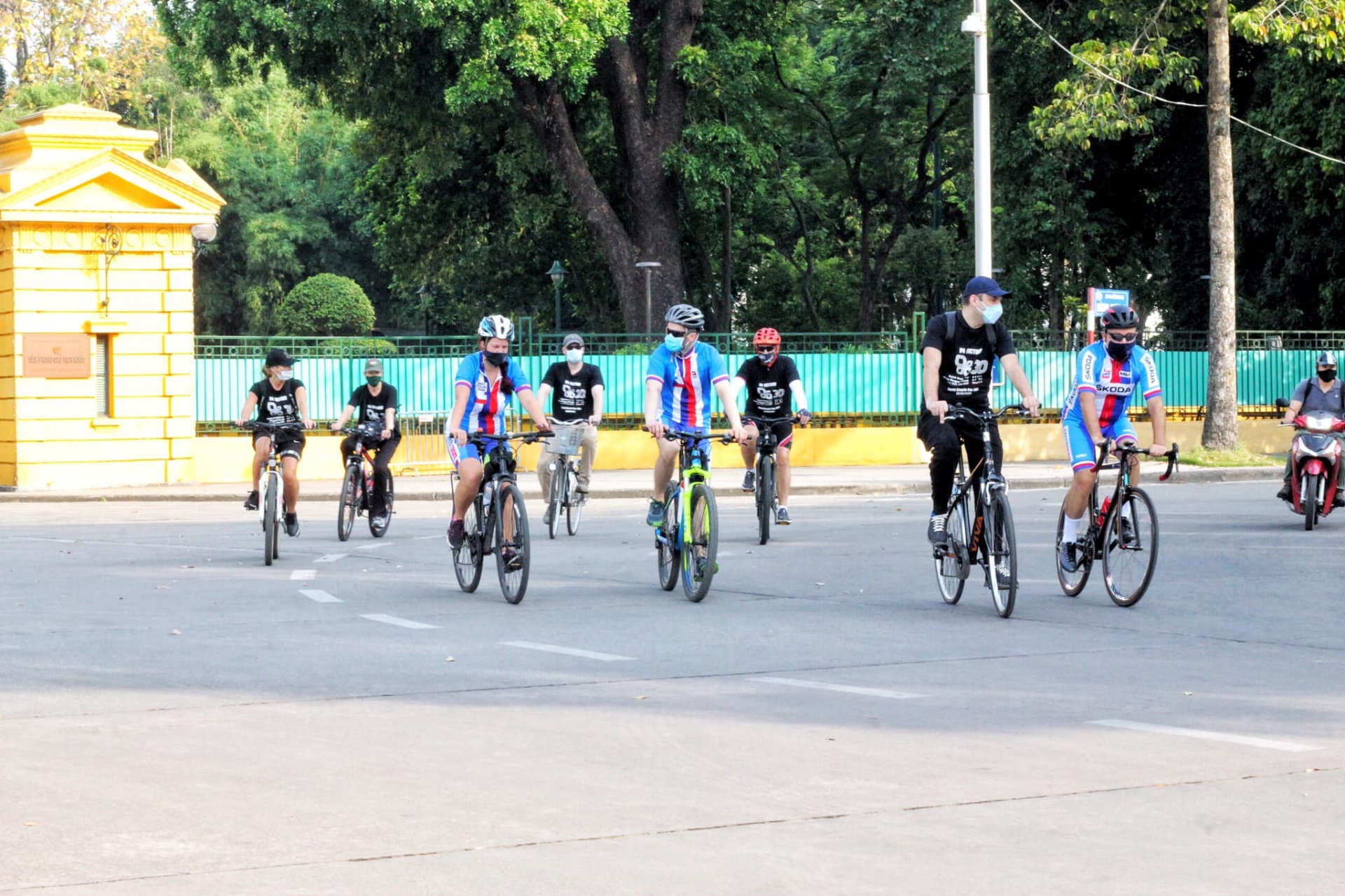 The diplomats marked the day with a special outdoor event. Photo courtesy of the Polish embassy's Facebook
On April 12, 2018, the UN General Assembly adopted resolution declaring June 3 as World Bicycle Day to encourage member states to devote attention to the bicycle in development strategies and improving road safety.
Vietnam was one of the first countries to co-sponsor this resolution.
Apart from the ambassadors of the Visegrad Group countries, Swedish Ambassador to Vietnam Ann Mawe too bicycled her way to work a few times each week to highlight the importance of bicycling in fighting air pollution and climate change.
In a Facebook post on May 25, the ambassador wrote that, for her, cycling has always been an environmentally-friendly means of transport.
"It's inspiring to pass through the vibrant street life and enjoy the beautiful landmarks of Hanoi a few times each week," she added.
Swedish Ambassador to Vietnam Ann Mawe poses for a photo with her Made-in-Vietnam Thong Nhat bicycle. Photo courtesy of the ambassador's Facebook
She and members from the cycling club of ambassadors often cycle around Ho Tay (West Lake) on the weekend, she said, adding that they then enjoy fresh coconut juice or coffee following the trip.
Mawe previously described her journey to work in Hanoi with colleagues at home in an article published in the Swedish Ministry of Foreign Affairs' magazine last year, in which she noted that the most beautiful bicycle trip in Hanoi is the one around Ho Tay, the largest lake in the capital.
The bicycle as a companion of Vietnamese people in the past, at present and in the future. In the past, the bicycle played a crucial role in the cause of national independence and freedom.
Nowadays, it has become an economical and popular means of transportation in both rural and urban areas.
The bicycle has been the aspiration for many artistic, literary and musical works in Vietnam.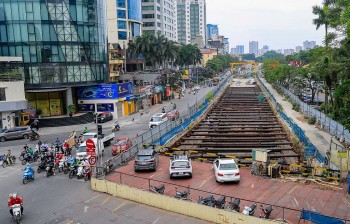 Economy
Vietnam Business & Weather Briefing (May 22): A series of consecutive increases for references exchange has ended, meanwhile, the rise in gold price slows down.