Ample Room for Vietnam-Brazil People-to-People Exchanges: VUFO President
President of the Viet Nam Union of Friendship Organisations (VUFO) Nguyen Phuong Nga has said ample room remains for Vietnam and Brazil to enhance exchanges between their citizens.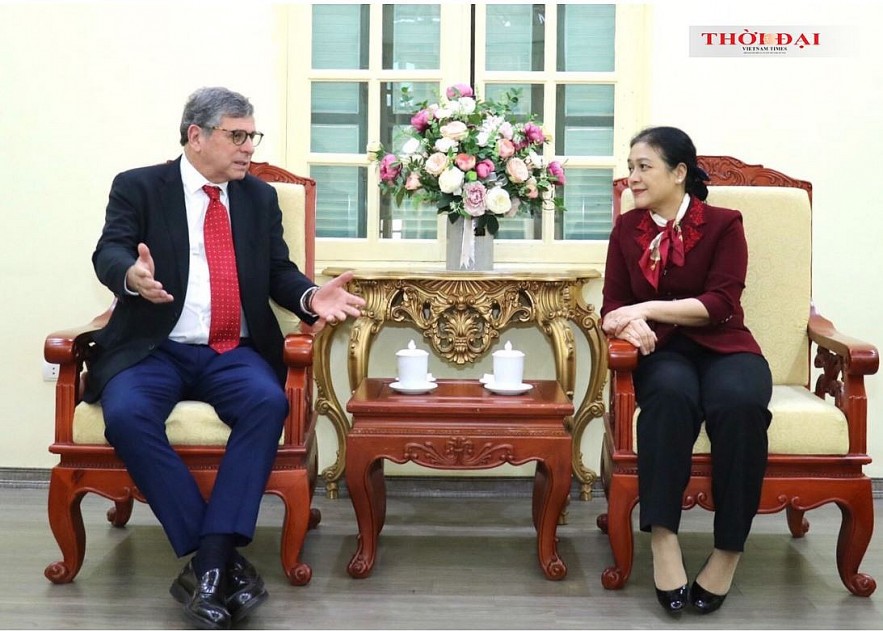 President of the Viet Nam Union of Friendship Organisations (VUFO) Nguyen Phuong Nga (R) and Brazilian Ambassador to Vietnam Marco Farani. Photo: Vietnam Times
At a reception for Brazilian Ambassador to Vietnam Marco Farani in Hanoi on April 7, Nga said VUFO and the Brazilian Embassy will continue their collaboration in promoting activities in order to strengthen solidarity, friendship, and people-to-people cooperation between the two countries.
Brazil and Vietnam boast long-standing cooperation and friendship, she said, recalling late President Ho Chi Minh's stay in the Brazilian city of Rio de Janeiro on his journey seeking ways for national salvation.
In 2022, Brazilian author Pedro De Oliveira won the first prize in the book category of the eighth National External Information Service Awards for his work featuring the life and career of President Ho Chi Minh, she added.
Brazil is Vietnam's important partner in the Latin American region, and the two countries share similar views and support each other in many multilateral forums, Nga emphasised.
The VUFO President noted her belief that with the good existing foundation, the bilateral relationship will grow further.
For his part, Farani expressed his delight at the positive cooperation results achieved by the two countries, saying more and more Brazilian experts and engineers are living and working in Vietnam.
The upcoming launch of a Portuguese-Vietnamese thematic dictionary will make it easier for Vietnamese students to learn Portuguese and explore the Brazilian culture, the diplomat said.
Farani said he hopes that Vietnam can act as a bridge to support Brazil in promoting its relations with other Asian countries.
On this occasion, Nga congratulated Farani on his new position in Vietnam, saying she believes that with his experience and enthusiasm, the ambassador will make positive contributions to the bilateral relationship./.