An Infamous Natural Wonder: Visit The Giant Russia's Big Stone River
Big Stone River in Russia has been still for thousands of years and is covered in rocks and stones, but when you get closer, you can still hear the murmuring flows of water beneath it.
The Big Stone River is a chaotic jumble of huge boulders flowing down the slope of the Taganay mountains in the Southern Urals, on the territory of Chelyabinsk Oblast, Russia. The river of stone is 6 km long and averages 200 meters in width. Parts of it are 700 meters wide.
The gigantic rock slide is believed to have occurred during the last glaciation some 10,000 years ago. At that time, glaciers covered the top of the ridges of the Taganay mountains reaching heights up to 4,800 meters. Under the immense weight of this ice, the top of the mountain was pulverized into millions of large boulders. When the ice melted away, these rocks slowly slide down the hill creating the Big Stone River. The geological feature is named "river" only because it resembles as such, not because it actually flows. The rock slide has been sitting motionless for thousands of years.
Big Stone River formations – Stone run
Photo: Uralskie zapovedniki
A stone run (called also stone river, stone stream, or stone sea) is a rock landform resulting from the erosion of particular rock varieties caused by freezing-thawing cycles in periglacial conditions during the last Ice Age.
The actual formation of stone runs involved five processes: weathering, solifluction, frost heaving, frost sorting, and washing. The stone runs are essentially different from moraines, rock glaciers, and rock flows or other rock phenomena involving the actual flow of rock blocks under stress that is sufficient to break down the cement or to cause crushing of the angularities and points of the boulders. By contrast, the stone run boulders are fixed quite stably, providing for safer climbing and crossing of the run.
Stone runs are accumulations of boulders with no finer material between them. In the Falklands, they occur on slopes of between 1 and 10 degrees and are the product of mass-movement and stone sorting during past periods of cold climate. They everywhere occur in association with poorly sorted, clay-rich solifluction deposits.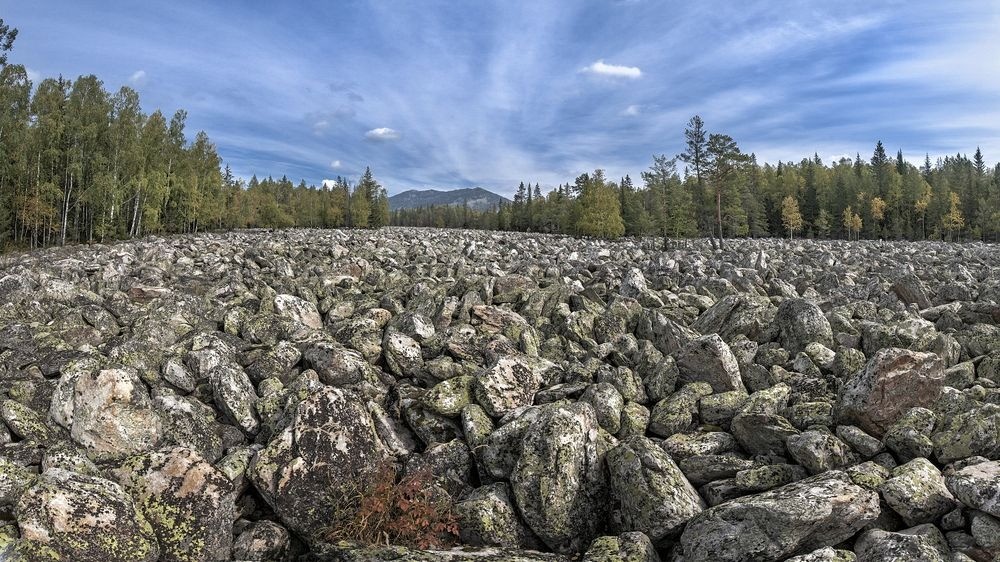 Photo credit: kucha.dirty.ru
The Falkland Islands and Vitosha Mountain, Bulgaria, both have an abundance of large stone runs. The highly specific combination of particular climatic conditions and rock varieties that existed there during the Quaternary explains both the formation of stone runs in those two territories and their absence in areas with otherwise comparable nature conditions.
For instance, while the present Falklands climate is quite similar to that of Scotland, the latter was completely glacial rather than periglacial during the relevant period, which would not allow for the formation of stone runs. On the other hand, due to geological and other specifics of the southern temperate and sub-Antarctic territories with a climatic history similar to that of the Falklands (the Prince Edward Islands, Crozet Islands, Kerguelen Islands, Macquarie Island, Campbell Islands, or nearby Tierra del Fuego and Patagonia), none of them features landforms comparable to the Falklands stone runs.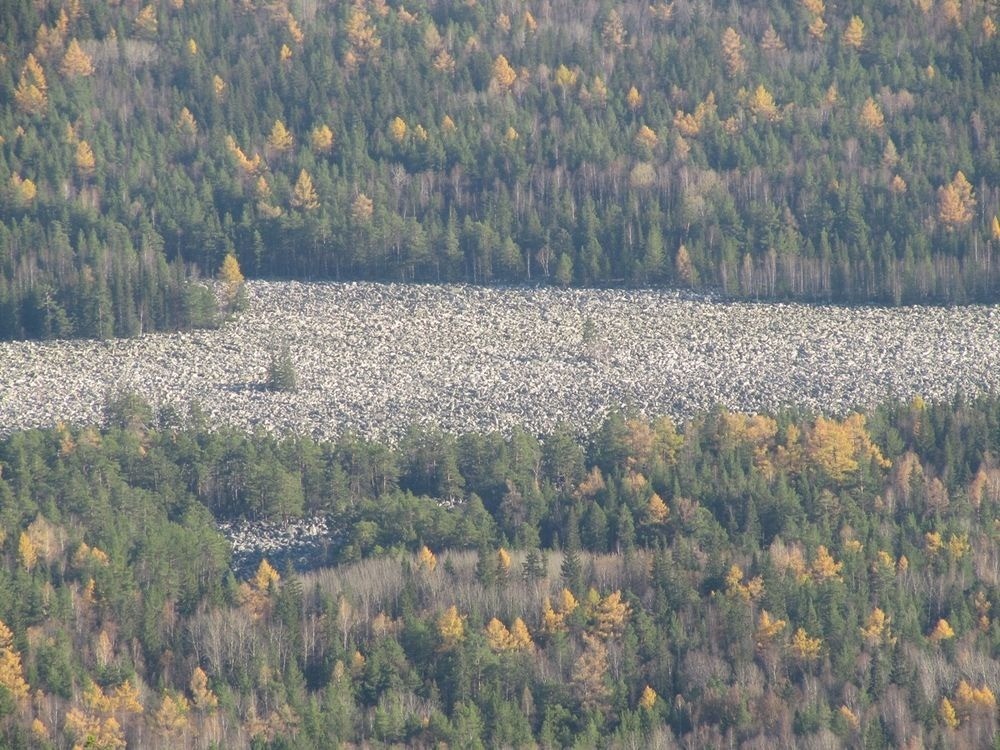 Photo: Mountainsfoto
What makes Big Stone River special?
Stone rivers, also known as stone runs, can be found all over the world, from Bulgaria's Vitosha Mountains to the Falkland Islands, but none are as impressive-looking as the Big Stone River, in Russia's Chelyabinsk Oblast region. Spanning 6 km long, this gigantic conglomeration of boulders starts off as several small "streams" with an average width of 20 meters that later join to form a large stone river with an average width of 200 meters (in some places up to 700 meters). Big Stone River is considered the most interesting sight of Taganai Park, and one of the most impressive in all of Russia.
Legends and stories of how the Big Stone River came to abound in the southern Urals, but scientists believe that it is the result of a glacier breaking off from the higher peaks of the Taganai over 10,000 years ago and flowing down into the valleys, leaving a trail of aventurine – a type of quartz – in its wake.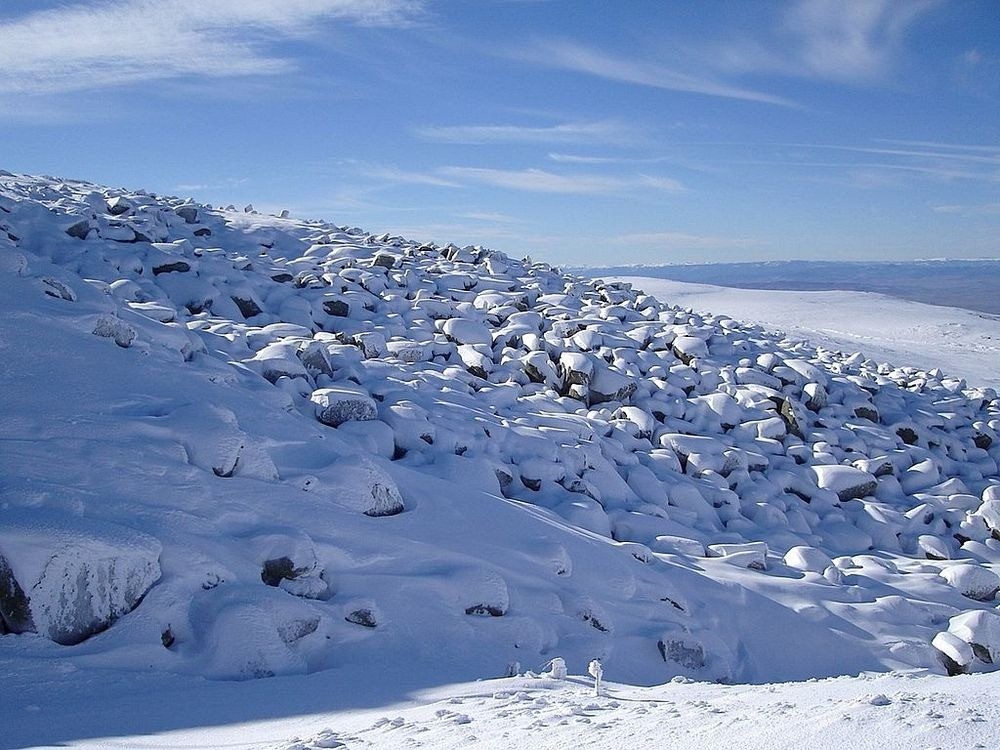 Photo: Nikolay Rainov/Wikipedia
The thing that sets Big Stone River apart from other stone run around the world and makes it live up to its name, is the way it cuts through a thick pine forest like a real river, only one that hasn't moved an inch for thousands of years. The layer of boulders, some of which weigh up to 10 tonnes, is between 4 and 6 meters deep, which makes it almost impossible for vegetation other than lichens to grow in the "river". The only notable exceptions are two old pine trees near the Otkliknoy Crest.
Outside of Russia, several stone rivers can be found in Vitosha Mountain, in Bulgaria. One of the largest extends over 2 km in length is located on the Subalpine plateaus at the Zlatnite Mostove ('Golden Bridges') site in the upper course of Vladayska River. Another stone river in Vitoshka Bistritsa River valley is up to 300 m wide, and other stone-run formations sprawl even wider on the mountain slopes.
Photo: Mountainsfoto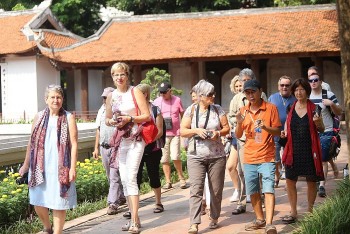 National
Vietnam News Today (May 24): Covid-19: Vietnam records 1,179 new cases, 3,862 recoveries on May 23; Foreign arrivals soar two months after border reopening; Vietnam, Cambodia boost defense ties; Heavy rain floods parts of northern Vietnam.