An unique style of crab noodle soup in Hanoi
"Vietnamese crab noodle soup" - Hanoi's style has plenty of versions which combine special ingredients such as fertilized duck egg, beef and stir-fried snail,...which bring the tourists interesting and uinque experience.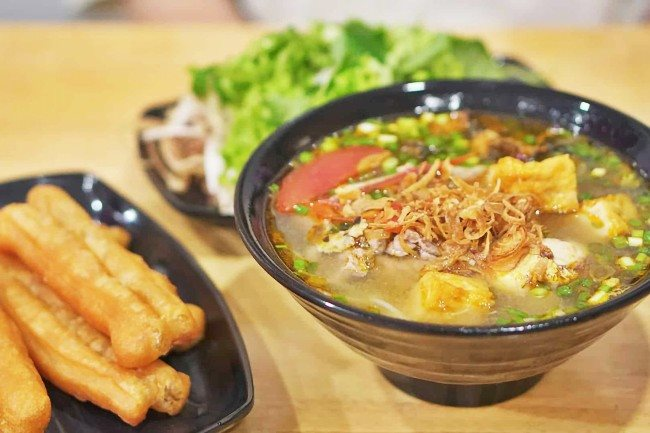 A bowl of Hanoi-style crab noodle soup - PHOTO: DAO QUAN
The main ingredients are of course crab flesh and fertilized duck egg. Rice-field crab is the best choice for the dish. A good field-crab has yellow roe, small pincers and glossy shell. In addition, its flesh will be quite chewy and have a sweet flavor after being cooked.
Healthy crabs are expected to run quickly and have all eight legs and a chubby body. Moreover, their pincers are always upward. Especially, when their belly shell is pressed, air bubbles soon appear. Those having a small belly shell are male crabs while those with a big belly shell are female. Female crabs have more roe than male ones. To remove the stink of crabs, their roe must be steamed first, which also makes the dish more delicious.
About the second main ingredient, a local cook often chooses young fertilized duck eggs which have no space inside when being put under light. Moreover, fresh fertilized duck eggs will sink in salty water.
The Hanoi-style crab noodle soup is served with hot Vietnam-style bagel twists, herbs, sliced banana flowers and mam tom (shrimp paste).
How to Make Bun Rieu – Vietnamese Crab Noodle Soup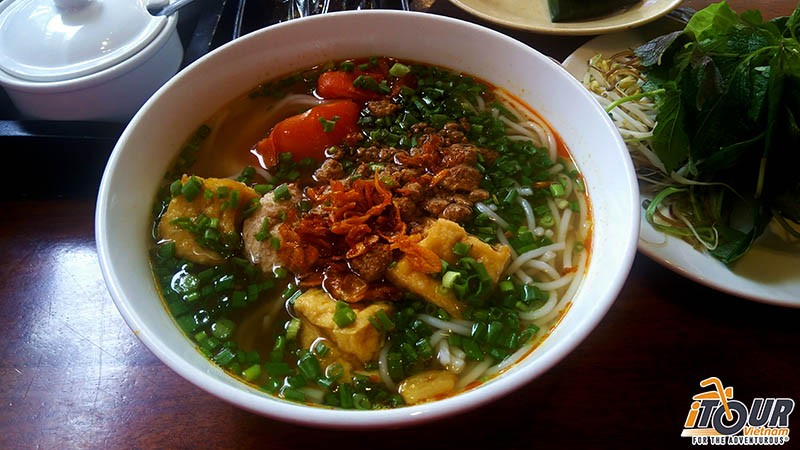 Bun Rieu is a dish you must try in your trip to Vietnam (Photo: Itour.vn)
Bun rieu is a well-known traditional dish, both domestically and internationally, consisting of crab and rice noodles.
It has a slightly sour taste. The broth is cooked from crab paste and broth, tomatoes, fish sauce, salt, and onion. Bun rieu is often served with fresh vegetables (shredded lettuce and chopped water spinach), and in order to strengthen the flavor, eaters can also add a bit mam tom (a pungent shrimp paste).
The ingredients:
• Bun (noodles made from white rice): 1 kg
• Crab: about 400 gr
• Ground meat: 100 gr
• Dried shrimp: 50 gr
• Eggs: 2
• Tofu, tomatoes, green onions, garlic, shallots, ham, shrimp paste, and some other spices.
Step 1: Wash the tofu and cut it into small blocks. Then fry until they are golden brown. Chop the green onion. Wash and cut the tomatoes and quickly fry.
Step 2: After cleaning the crabs, use a small stick or a chopstick and scoop the natural broth out of the crab. Puree the crabmeat with a few grains of salt, then pour the mixture into a bowl. Add water to dissolve the crabmeat and filter the liquid several times. Season the mixture and put it on the stove at medium heat. Stir gently and as the mixture coagulates, take the solid parts out.
Step 3: Add the fried tomatoes into the crab soup and season the broth with one tablespoon of shrimp paste. Continue to simmer.
Step 4: To soften the dried shrimp, leave them in warm water and then puree them carefully. Mix ground meat, eggs, pureed shrimp, and chopped garlic in a bowl. Use a small spoon to scoop meatballs into the pot of boiling crab soup. Wait for the meatballs to cook, then add the fried tofu and a little vinegar.
Step 5: The last stage is to fry the onion and add the solid crabmeat into the soup pot.
There you are! A tasty Vietnamese bun rieu cooked in the traditional way. Put some rice noodles in a bowl and then add the broth. The dish is even better when served with fresh vegetables.
Old crab noodle restaurants in Hanoi
Crab noodle soup is typical dish for Vietnamese noodle soup in hot days. If you still have the feeling of greasy food from the holiday, you should immediately find the vermicelli dishes below to change your taste.
Thanh Hong crab noodle soup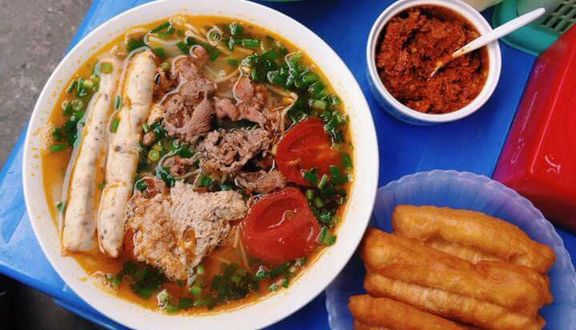 Photo: Foody
Thanh Hong Restaurant has been in service for more than 20 years. At present, it sells crab soup, vermicelli soup ... Initially, the restaurant serves traditional crab vermicelli, after that, there are supplementary foods such as fried beans, meat beef, spring rolls, spring rolls, ... Firstly, the restaurant is at Thi Sach Street, after many years, the owner moved to some places, now the official address is located on Hoa Ma Street with wide space, quite clean. The hot crab noodle soup, suspicious and full of color of crab, tomatoes, fried beans always make diners anxious to eat immediately. The bowl of vermicelli in this restaurant never lacked a part of veggies.
The restaurant is open from 6:30 a.m to 10:00 p.m so diners can drop by any session. A bowl of vermicelli is priced from VND 35,000 to VND 60,000, depending on the food with additional customers.
Hong Phuc Crab noodle soup
Located between Hong Phuc - a small alley cut with Nguyen Trung Truc Street and Hoe Nhai Street, this restaurant is just a sidewalk but really famous and very attractive. Crab noodle soup is quite simple, usually just add a spring roll, stirrup and raw vegetables for guests to eat. Attractive point in this restaurant is that the juice is just enough of the sweet, sour, spicy and indispensable concentration of a little shrimp paste. Although it opened for many years, the burden of rice noodles is still simple with a pot of water, plastic chairs lined up for guests sitting on the sidewalk. The restaurant is opened from 15:00 to late at night.
The price per bowl was about 25,000 - 50,000 VND.
Quang Trung crab noodle soup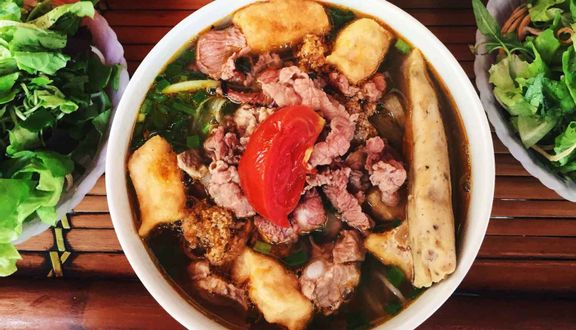 Photo: Foody
Ms. Huyen Restaurant located in Lane 2F Quang Trung has a reputation for both quality and price, with each bowl of vermicelli priced from 25,000 to 70,000 VND. However, the restaurant still attracts customers from near and far thanks to the medium-sized broth and without mixing tofu. When you eat, add a little vinegar, chilli and raw vegetables. Crab noodle is more expensive than other restaurants because it serves more quality food like stuffing snail, beef,... The restaurant only sells in the morning and noon from 6:00 to 14:00, but guests who come to eat breakfast a little late may have to find another place because they are out of stock from 9:30 am - 10 pm.