Recipe: Cool snail noodles - Hanoi's simple yet sophisticated dish
Cool snail noodles (Bún ốc nguội) is a popular and simple dish but "reaches the most sophisticated cuisine art of the Hanoian" as once praised by Vietnam's famous writer Vu Bang.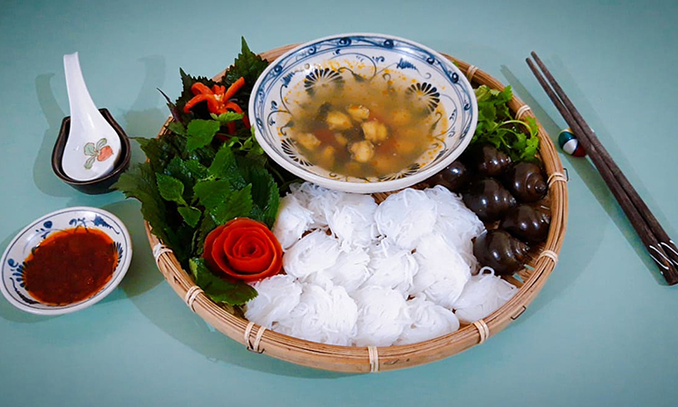 Photo: VN Express
To cook cool snail noodles, you only need familiar and simple ingredients, but to create this delicious dish, it needs meticulousness and dedication at each stage of the cooking process.
- Total time needed: 2 hours 50 minutes, excluding time for soaking the snails and bones (preliminary processing: 10 minutes, stewing bones: 2.5 hours).
- Level of difficulty: Medium.
- Servings: 4-5 people
- Total calories: 2336 kcal.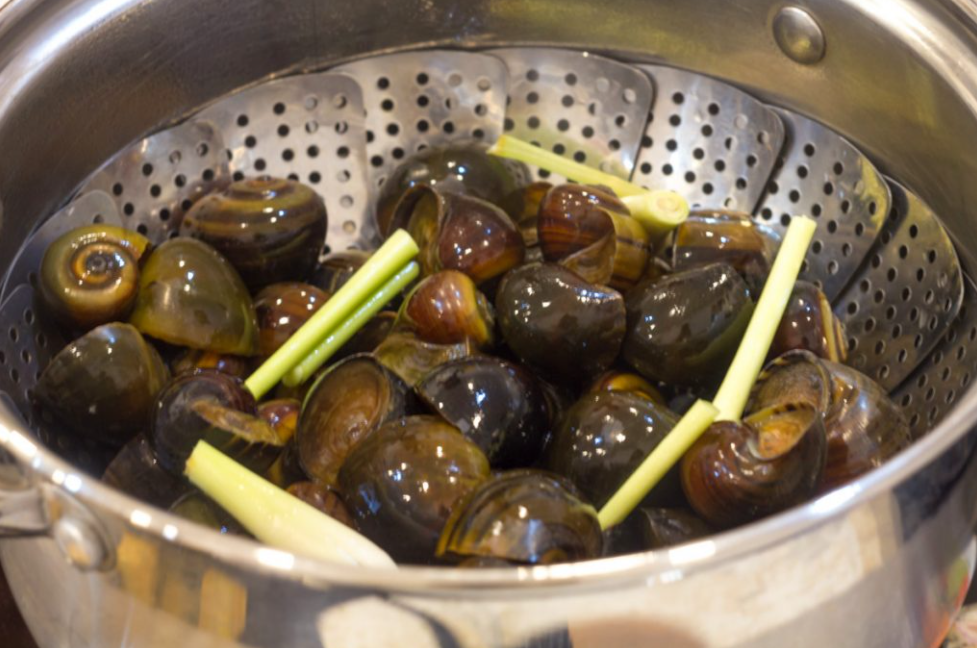 Photo: Savoury Days
Ingredients
A. Snails
- 1 kilogram of freshwater snails
- Rice water, 1-2 slice of chili, some fermented distiller's grains
B. Broth
- 750 - 800 gram of pork bones
- Snail broth
- Vinegar made from sticky rice (to taste)
C. Spicy liquid caramel
- 8 tablespoons of pork fat or vegetable oil
- 4 tablespoons of chili powder
- 2 tomatoes
- 2 teaspoons of salt.
- 1 tablespoon of dried, chopped onion
D. Other
- 1 kilogram of noodles
- Fresh vegetables (traditional cool snail noodles are not served with vegetables. But you can add some according to taste): perilla, lettuce, banana corn.
- Spices: Fish sauce, salt, seasoning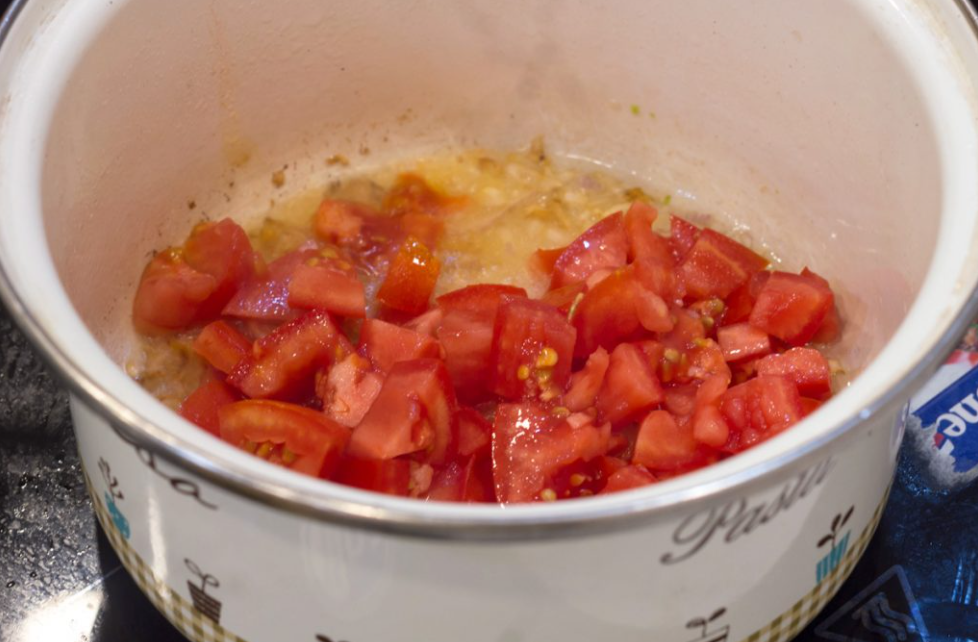 Photo: Savoury Days
Instruction
A. Snail
- Soak the snail in a metal bowl of rice water, chili slices, and fermented distiller's grains for 2-3 hours to release all the dirty mud, then clean the snail.
- Put the snail in a pot, add 250ml of water and 100ml of fermented distiller's grains. Boil the mixture, then open the pot, lower the heat, then increase the heat suddenly until the snail opens its mouth. Then turn off the heat, take the pot out.
- Cut the snails, remove their black intestine.
- Keep the snail water, filter to remove dirt, and put it aside for later use.
B. Broth
- Prepare the bone broth:
- Soak the bones in warm water for 1 hour to remove dirt and blood, then quick boil the bones, remove the water.
- Boil the bones with freshwater, onion, and salt (to taste). After the mixture got boiled, lower the heat and leave it there for 2 hours
- Mix the prepared bone broth, snail broth, and vinegar made from sticky rice and stir well. Seasoning to taste.
C. Spicy liquid caramel
- Cut tomatoes in half and put through boiling water to peel off the skin, then crush them finely.
- Stir dried onion and pork fat, then add the tomatoes. Cook until the mixture gets thicken then add the chili powder, season with salt. Turn off the heat to allow the chili to soak in for a few minutes, and then turn on the heat again to get a natural aroma.
D. Decoration
- Serve the broth, snails, and a little spicy liquid caramel in one big bowl, then put noodles and vegetables besides.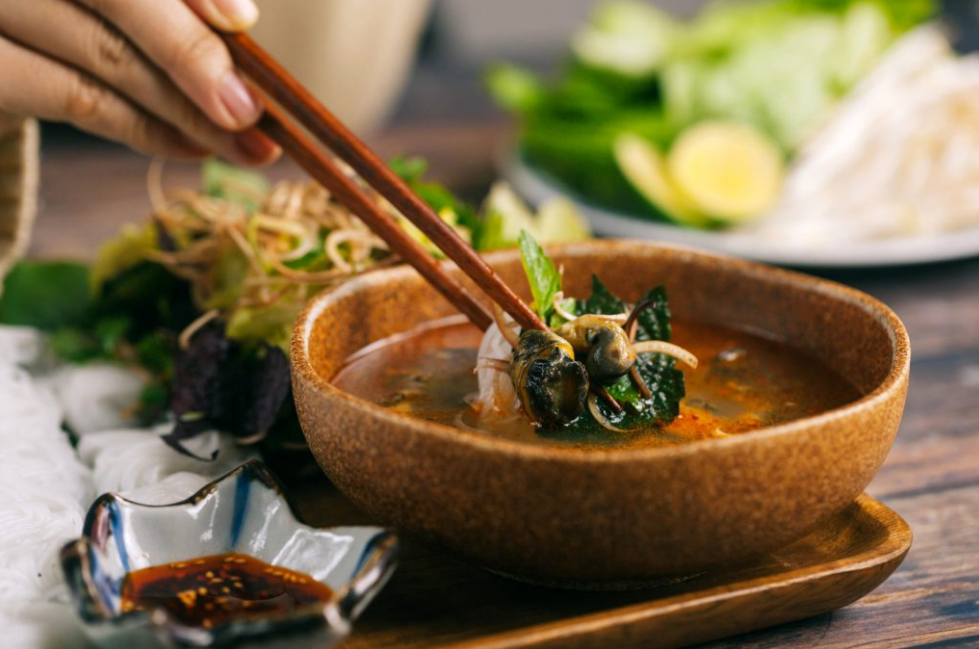 Photo: Savoury Days
Notes
- Proper preparation of the bones will help the broth to be fragrant, fresh, and clear. When the bone is simmered, do not add seasoning to keep the broth clear.
- Nicely boiled snails will be crunchy, fragrant, and fatty. If boiled for too long, it will get chewy.
- Vinegar has a mild and sour taste to eliminates the fishy smell of the snail. Snail is considered cold meat so it should be eaten with hot spicy seasoning to create harmony.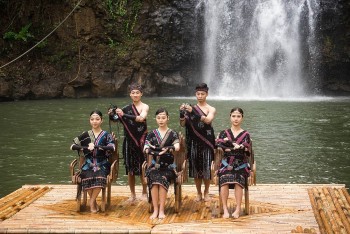 Travel
Many passengers applaud the creativity of the flight instruction video that Vietnam Airlines has recently introduced on their flights. This video not only creatively conveys the message of flight safety but also helps to spread globally the unique, indigenous cultural values ​​of the country and people of Vietnam.