Ao Dai Shines on London's Fashion Runway
Fifty Vietnamese Ao Dai designed by Love Collection were performed to open the House of iKons Fashion Week 2023 in London on February 18, attracting the attention of fashion houses. British design and fashion magazine.
House of iKons Fashion Week is an annual international fashion event organized by House of iKons since 2014 within the framework of London Fashion Week in February and September. This year, the event attracts 500 international models and 28 designers from many countries such as Vietnam, the USA, Italy, Finland, the UK, Thailand, and the Philippines.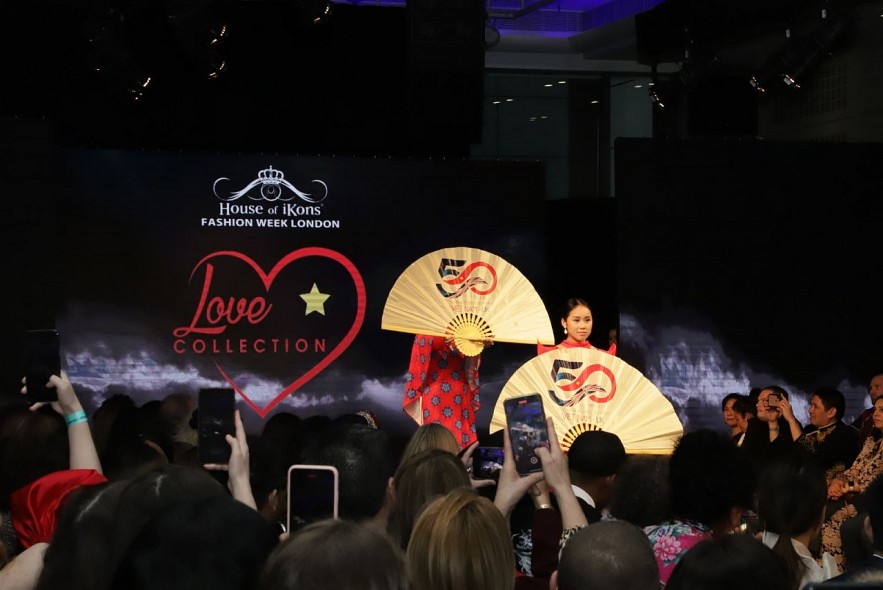 An Ao Dai collection was performed to celebrate the 50th anniversary of diplomatic relations between Vietnam and the UK (Photo: Hai Van).
The event was attended by Vietnamese Ambassador to the UK Nguyen Hoang Long, representatives of the Thai Royal Family, and fashion magazines such as Elle, Harper's Bazaar, Getty Images, and World Fashion Media News.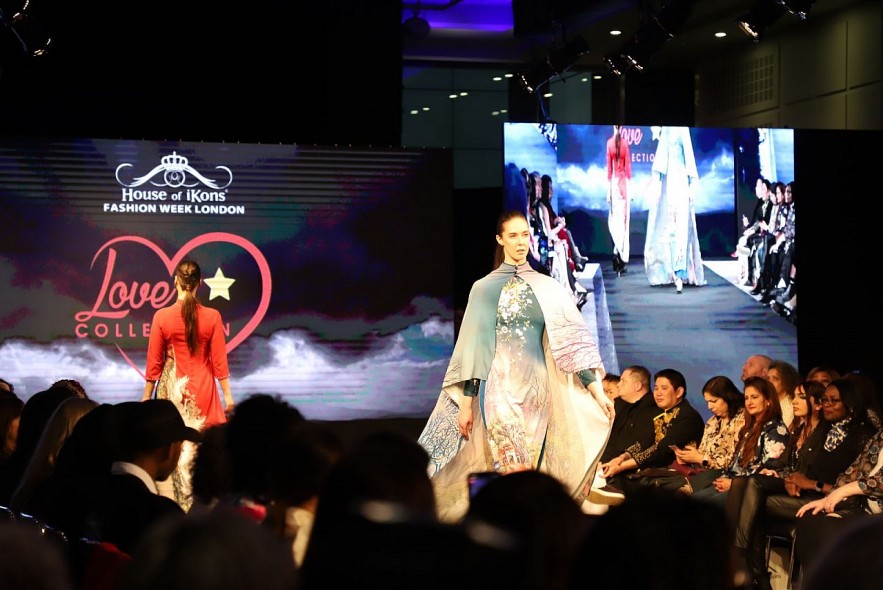 Foreign models join the performance (Photo: Hai Van)
Themed "Colors of Vietnam and the UK", teen designer Anna Hoang's Ao Dai collection was created to celebrate 50 years of Vietnam-UK diplomatic relations, using vivid colors and iconic symbols of the two countries such as lotus flowers, Tudor roses, and famous landmarks such as Hanoi, Hoi An, Hue, London, Tower Bridge, Big Ben clock.
Children's Ao Dai collection is designed in navy blue tones, symbolizing the sustainability and bright future of the bilateral relations. The collection was performed by international and Vietnamese models and children of Vietnamese origin in the UK.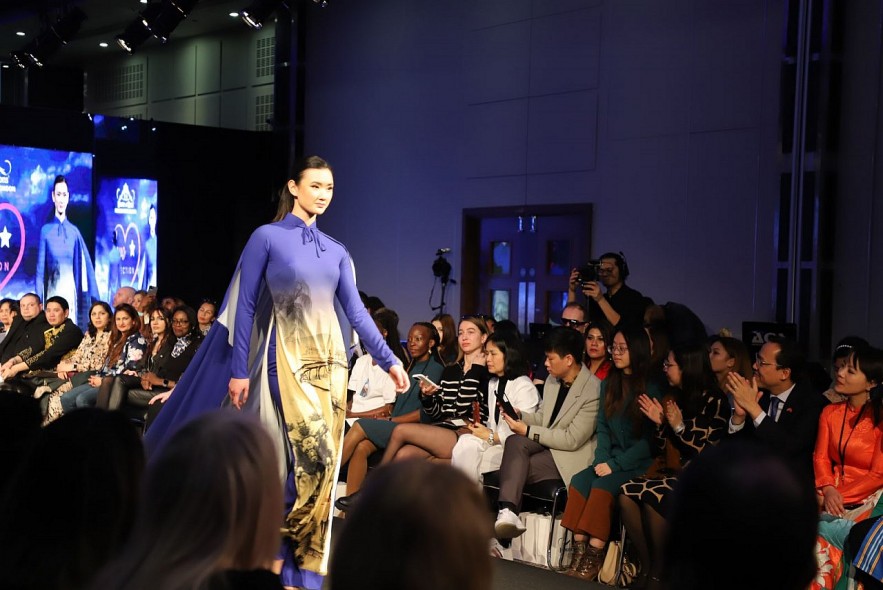 Ao dai with images of Vietnam on the runway (Photo: Hai Van).
At the House of iKons Fashion Week 2023, Love Collection displayed La Khe silk, a high-quality hand-woven saree and silk product of Vietnamese artisans; fans and conical hats hand-painted by Hue artisans; Zili coffee, a specialty of Di Linh plateau, Lam Dong and Vietnamese bread to promote Vietnamese culture and cuisine to British and international friends.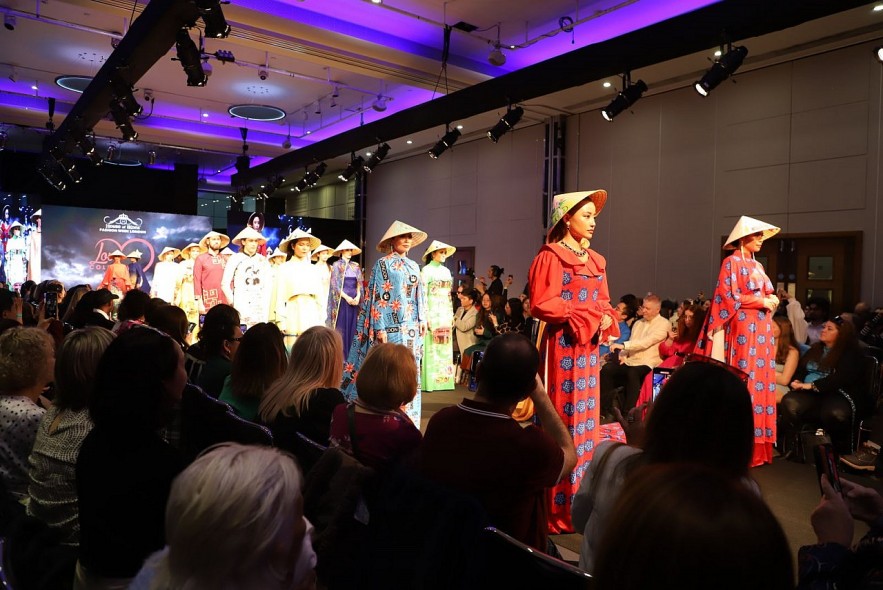 The show introduced the beauty of Vietnamese Ao Dai to the British audience (Photo: Hai Van).
Designer Anna Hoang, a 13-year-old Vietnamese born and raised in the UK, said that through the collection, she wanted to convey her love for her two homelands, at the same time promoting Vietnamese culture to the world.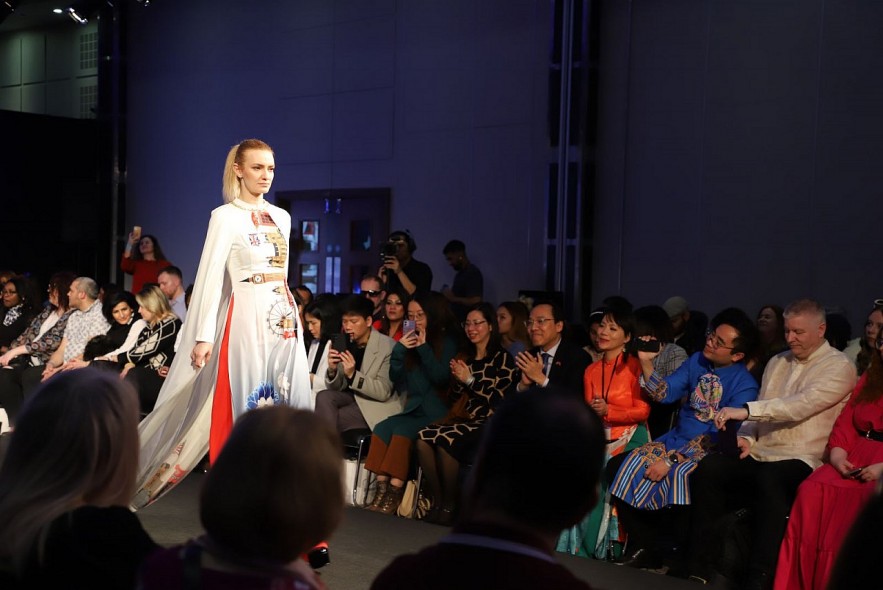 The collection features a unique combination of Vietnamese symbols and British landscapes (Photo: Hai Van).
Vietnamese ao dai fashion brand Love Collection was founded in 2019 by Anna Hoang and Emily Nguyen to honor and promote Vietnamese culture through traditional women's costumes. Its name, Love Collection, carries the designers' wishes to spread love globally.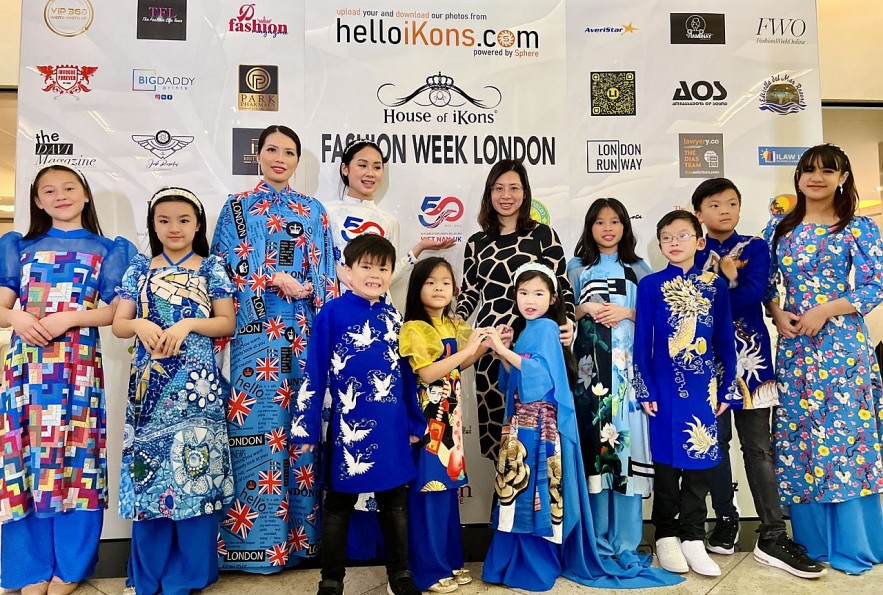 Minister Counselor, Deputy Ambassador of Vietnam to the UK To Minh Thu took a photo with designer Anna Hoang and models at the show (Photo: Hai Van).
Anna Hoang hopes that in the future she could continue to introduce ao dai and Vietnamese culture at cultural events in foreign countries.
On February 23, the collection will be performed at St Andrews, one of the UK's leading universities, to raise funds for the United Nations Children's Fund (UNICEF) and Southeast and East Asia Center (SEEAC). The collection received an invitation to the British Festival in Vietnam in September.