Apple fills key positions in Vietnam to open factory?
With Apple's recruitment of a number of positions in the two biggest cities in Vietnam, industry experts say that it wants to build a plant here so as to increase outsource manufacturing to Vietnam.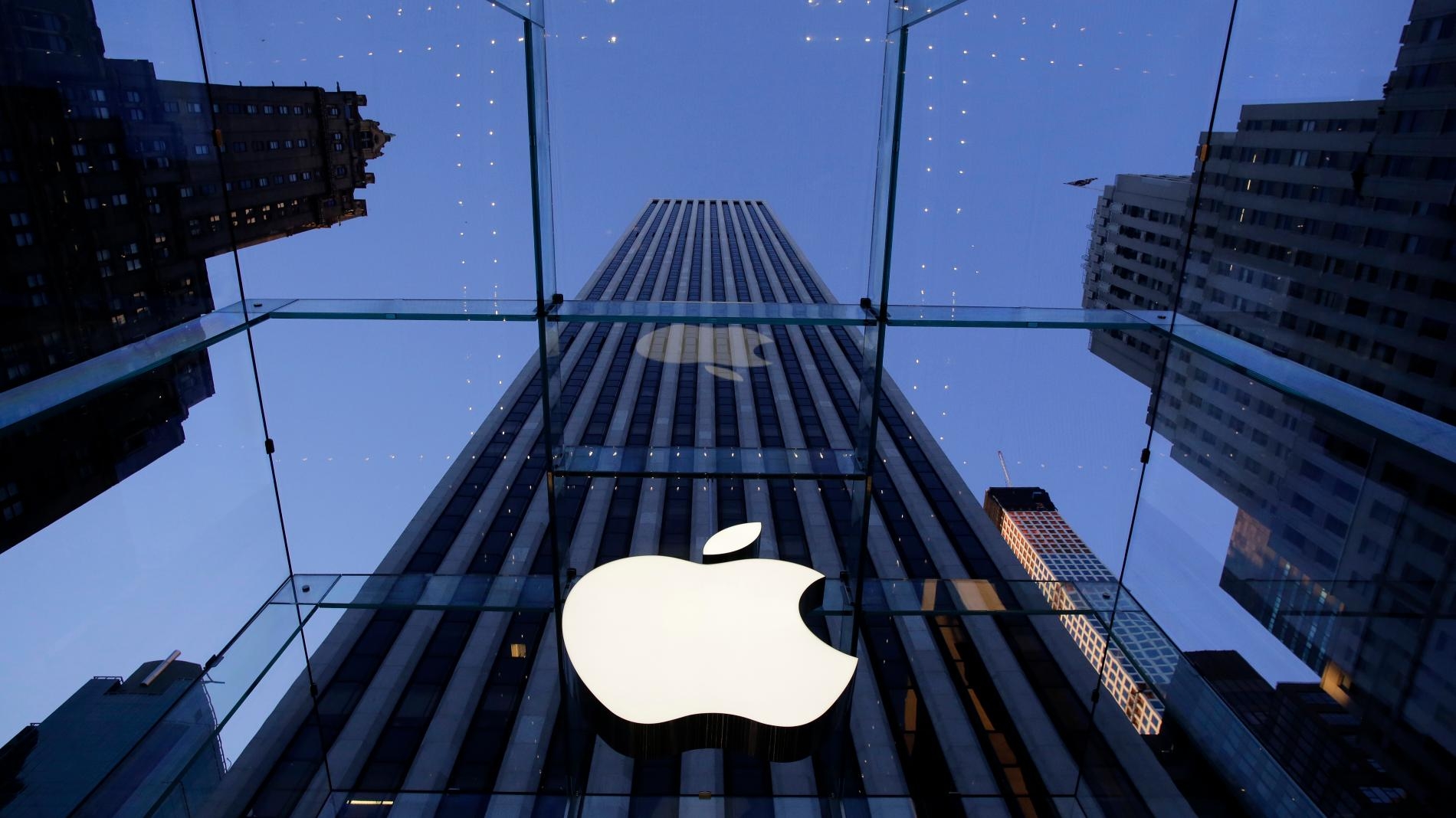 Apple has been recruiting a series of senior positions in Hanoi and HCM City, spreading rumors that the US-based tech giant is moving to build a plant in Vietnam. Photo: quartz
Since the end of February 2020, it is noticed that Apple has continuously been announcing vacancies for senior position recruited personnel in the two major cities Hanoi and Ho Chi Minh City. Apple's recruitment information is posted on its official website and Linkedin, and the vacancies include engineers, managers in a number of parts such as software development, production quality control, sales, and supply chain, ...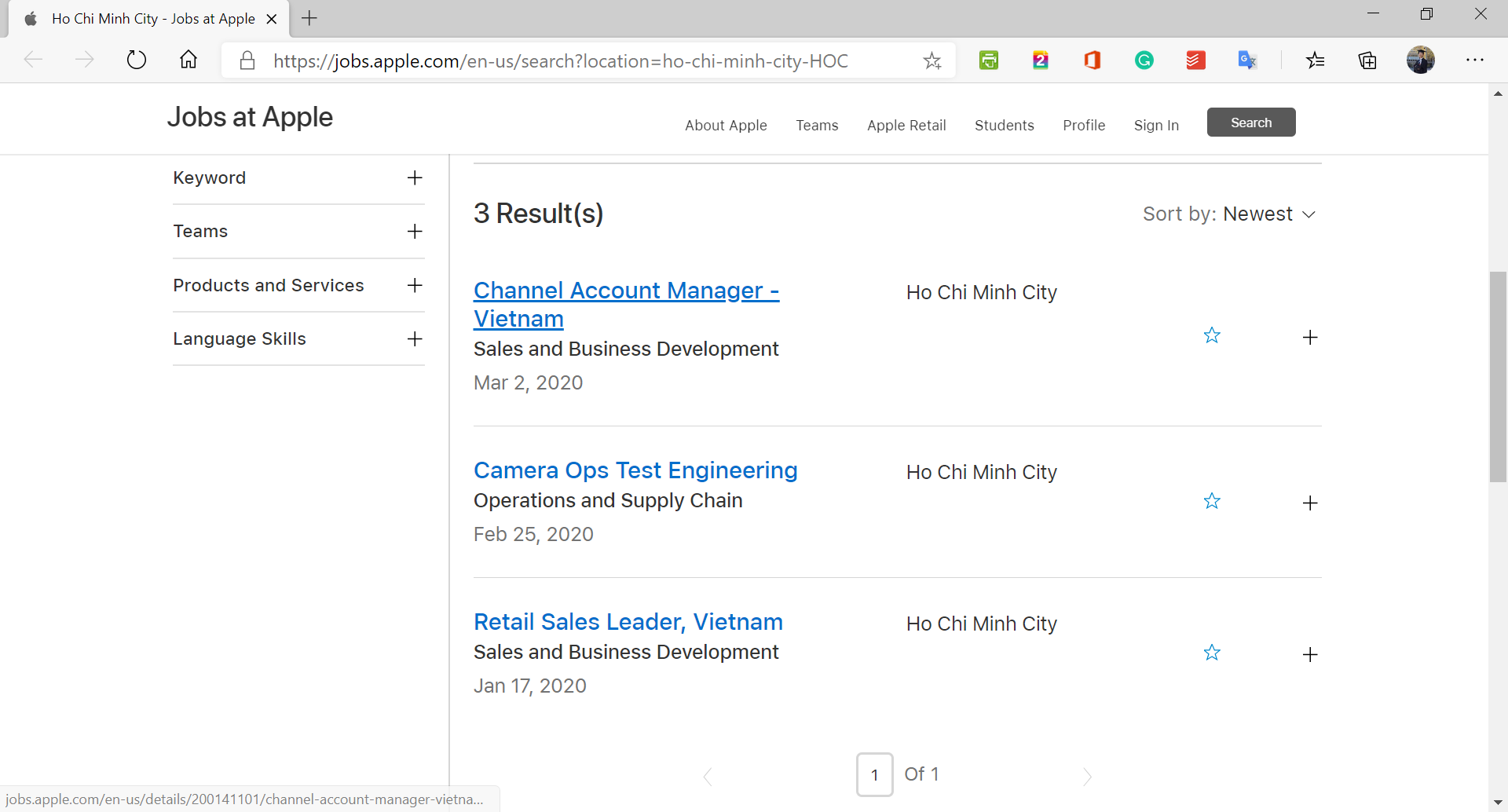 Some new job vacancies in Ho Chi Minh City are being seen on Apple's homepage

Some of Apple's general recruitment requirements are at least 3-5 years of experience in positions with a high level of language competencies of English, Korean, and Chinese. A good understanding of Vietnamese culture and market is the most compulsory criterion. For some other senior managerial positions, like Regional Operations New Product Manager based in Hanoi, it requests a candidate with "A minimum of 8-10 years ops experience, preferably in a high tech or computer-related industry" in order to "lead a team of engineers in support of new product development as well as sustaining operations in ensuring the contract manufacturer readiness for very high volume production", a job description posted on Linkedin recently with 173 applicants applied within only two weeks.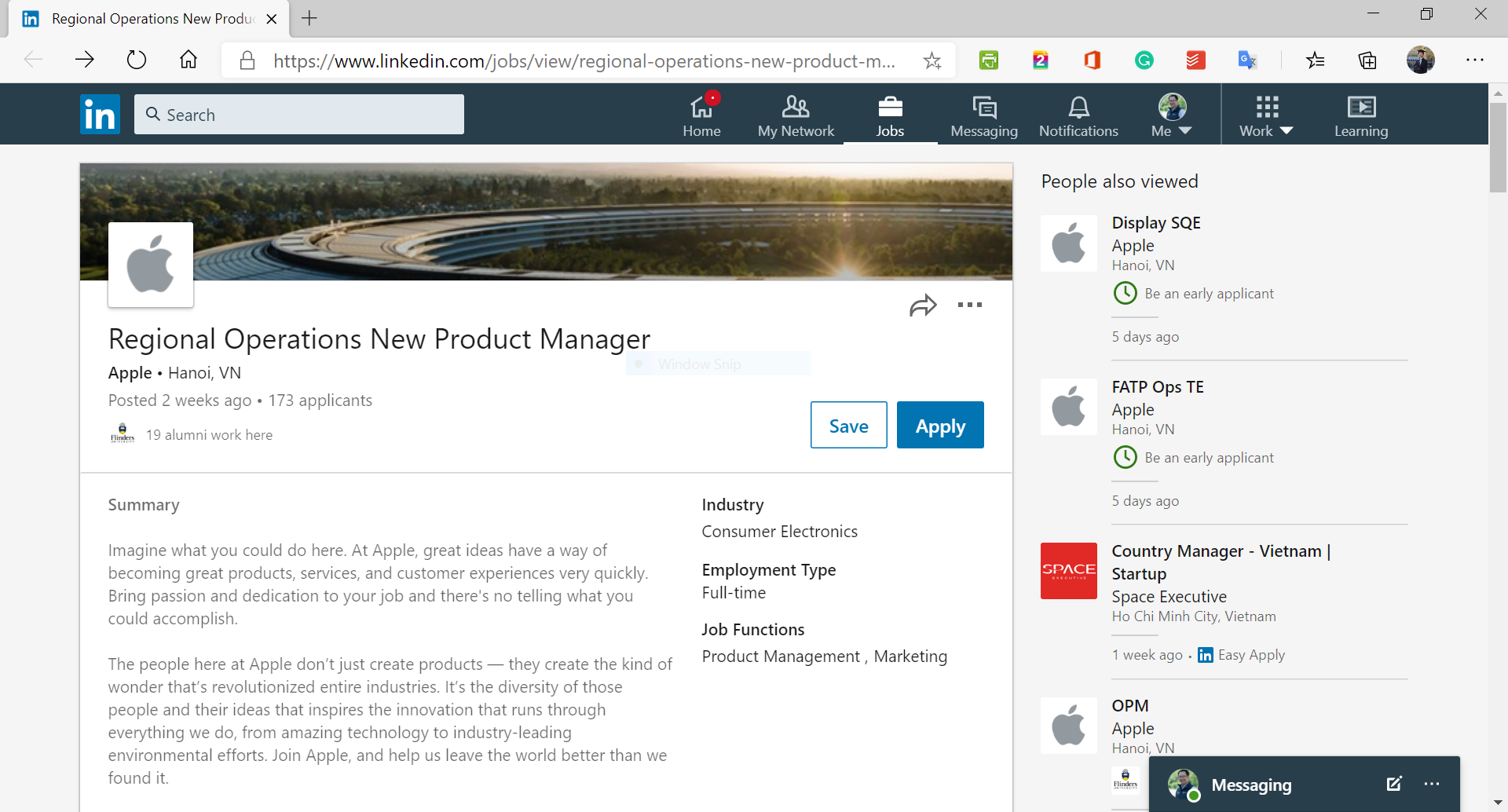 Hundreds of applications applied to this position in a very short time of announcement. Photo: Screenshot from Linkedin's website
The recent publication of Apple job postings in Hanoi and Ho Chi Minh City has made many people think that this could be a sign that the technology giant is speeding up its plan to move production out of China, especially when the complicated situation of Covid-19 epidemic caused Apple's plants and facilities in China to be forced to close down in the long term and positive signs of economic recovery are clear in Vietnam currently.
Nikkei Asian Review revealed that, in 2019, Apple wanted to accelerate its plans to shift "15 percent to 30 percent of production from China to other parts of Southeast Asia" with the aim of diversifying its supply chain, following with the test of its popular AirPods wireless headsets in Vietnam. One of Apple's important manufacturing partners in China is GoerTek, which currently has two assembly plants in Que Vo industrial park (Bac Ninh province).
Another Taiwanese electronics giant Foxconn, a major assembler of iPhones, also confirmed its operation with a facility in this northern province of Vietnam, reported by the New York Times.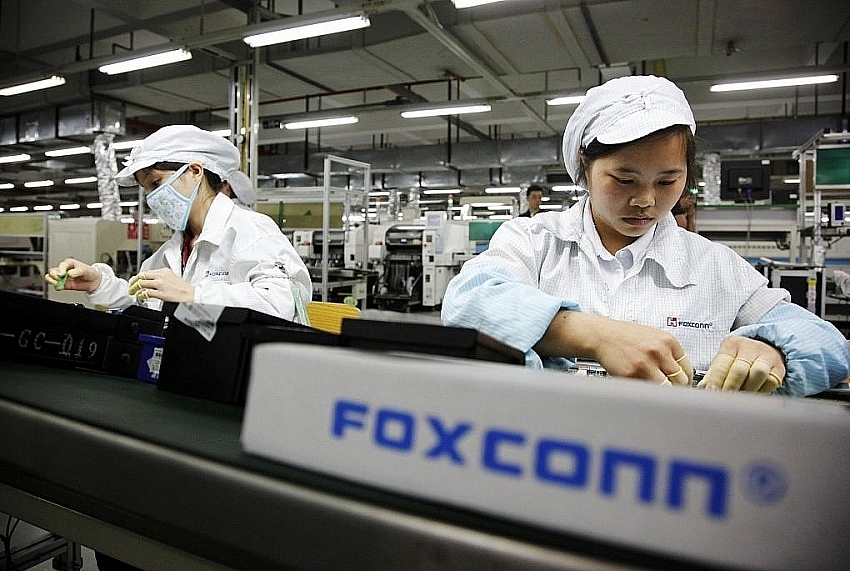 Foxconn, the world's biggest electronics contract manufacturer and a key supplier of Apple, has a facility in Bac Ninh Province to produce for Apple. Photo: vietnaminsider
According to VinaCapital's prediction about Vietnam's quarterly growth throughout the year of 2020, Vietnam is set for a zero growth rate in this second quarter. It means that, the Covid-19 pandemic fully impacted the economy for about one month in the first quarter (Q1) but has resulted in a growth reduction to 3.8% in Q1 from 6.8% growth recorded in the same period last year.

Meanwhile, the Covid-19 pandemic could fully impact the economy of Vietnam for a bit longer than two months in Q2 (with normal economic activity resuming throughout the month of June), reported recently by FiinGroup, a Vietnamese's data analysis provider.

Source: VinaCapital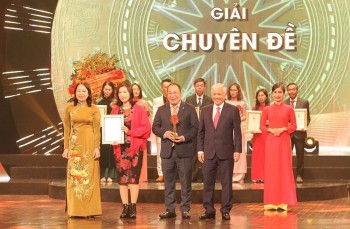 Overseas Vietnamese
VietnamTimes (Viet Nam Union of Friendship Organizations) is a reliable address for overseas Vietnamese to quickly and objectively update political, economic, cultural, and social news. The agency has created a helpful forum and connection between expatriates and the motherland.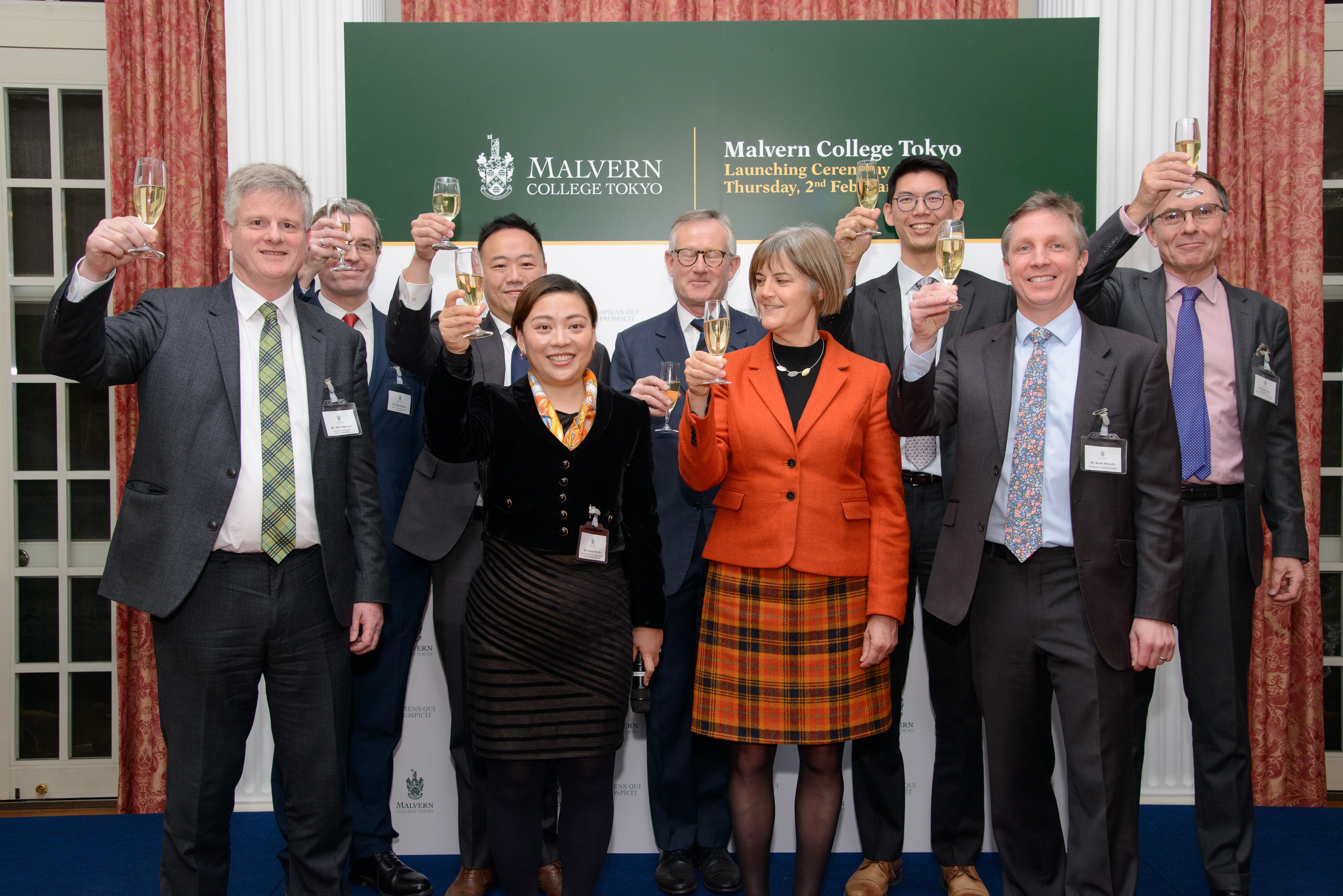 Economy
Malvern College celebrated the launch of its seventh overseas school, Malvern College Tokyo, at the British Ambassador's Residence yesterday.
February 03, 2023 | 11:18